New Windows Central t-shirts, hoodies, mugs and stickers now available
We just created a few awesome new Windows-themed designs, and they're now available on t-shirts, hoodies, mugs, tote bags and stickers via the Windows Central merch store.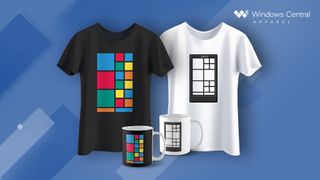 There is simply no better way to show your Windows, Microsoft or PC love than by rockin' a Windows Central hoodie or t-shirt, carrying your favorite beverage around the office in style, in a slick coffee mug with our modern new logo (or maybe a Windows Central-themed command prompt?) or slapping a sticker with our colors on your laptop or rig.
In addition to merch adorned with our bold site logo, we have a few more fresh designs, including two new Windows phone themes, both featuring Live-tile designs in black and white or multi-color, as well as a new Minesweeper theme. We loved our blue screen of blue (BSoD) design so much that we kept that one in the mix, too. They're perfect for showing off a bit of Windows pride or nostalgia.
We have t-shirts and hoodies for women, and we have t-shirts and hoodies for guys, available in a range of colors, regular and unisex fits, and in sizes ranging from small to 5XL, even with some tall or long options. In other words, we have Windows Central merch that'll fit like it was made just for you, regardless of your size or stature. We also now offer tank tops, because, summer. And tote bags, because, you need to tote stuff, right?
Let us know what you think of the new designs in the comments. And feel free to drop us some suggestions for additional designs. We'll be creating more soon, so your ideas could very well become a reality.
Must-have merch
New (retro) stuff comin' at ya

You're already great looking, but just think what a fancy new Windows Central t-shirt or hoodie could do for you! And your beverage will thank you if you enjoy it in one of our fresh new mugs. Show your Windows or Windows-phone pride on a shirt, draw attention with a BSoD hoodie, or represent the old-school Minesweeper on a mug!
Windows Central Newsletter
Get the best of Windows Central in in your inbox, every day!
Al Sacco is content director of Future PLC's Mobile Technology Vertical, which includes AndroidCentral.com, iMore.com and WindowsCentral.com. He is a veteran reporter, writer, reviewer and editor who has professionally covered and evaluated IT and mobile technology, and countless associated gadgets and accessories, for more than a decade. You can keep up with Al on Twitter and Instagram.
I'd love to see some pins.

@Harish Jonnalagadda do you see possibility of getting this in India ?

They do ship to India and shipping it $15 CAD (around $11 USD)

No, its not required to do that. Earlier they had tie up with https://www.makemymerch.in/ for couple of tshirt launches. So I was asking if they are planning to make this one too.

I don't see why not. I'll do a Twitter poll later to see how much interest there is.

@Harish Jonnalagadda did you get a chance to do poll ?

If you silk screen a "64" after the "C" on the hoodie... I'll buy one... ;-). Aka aka: C64. ... maybe windows should license Commodore 64 trademark.... its more catchy than "windows Core lite OS"

You do use both terms, but let me clarify. Swag is free, Merch is for sale. This is merchandise.

What happened to the American Apparel tri-blend option? Quality was great and it was nice and thin. What's the difference between classic and comfort t?

Back in the greatness of the Windows Phone days, I would've gone for this stuff. But, now it's just Xbox, and ads. I can't represent that🤷🏾‍♂️🤷🏾‍♂️🤷🏾‍♂️

You Speak Truth. #SeemsFaster

Yet your new t-shirt/mug design is the Windows Phone start screen...

Have you ever heard of the term "retro" ? 🙄

Yes, what's your point? Here's mine since you probably missed it while thinking about which emoji to use: For the last 18 months, WC has covered WP and responded to people who still use it when asking genuine questions with derision and snark. Frankly, it's off-putting, and then to use it to sell T-shirts & mugs, let's just say, have you ever heard of the term "hypocrisy"?

Oh dear...... 🙄
The sun's still shining why don't you go play outside for a while 😎

Figured you'd have nothing, besides stupid emojis that I'm sure you get a lot of mileage out of. It's probably your MO: post something condescending, get called out, and then act as if you're above it all.

"What Windows Central swag would you love to see?"
I've got the white WinCentral t-shirt. And I'm already loving that to bits 💙
Slimfit t-shirts and shirts would be nice, though 🙂 Also, WCOS and fluent design love, anyone?

I refuse to buy it because you removed the start button ;-)

Hmm, I ordered the colorful WP hoodie, got a confirmation from PayPal, but not from TeeSpring, and now the hoodie seems to have disappeared from the TeeSpring site? I'd appreciate if someone from WindowsCentral or MobileNations contact me through mail.

"We loved our blue screen of blue (BSoD)" Blue screen of blue? Huh? Blue screen of death.
Windows Central Newsletter
Thank you for signing up to Windows Central. You will receive a verification email shortly.
There was a problem. Please refresh the page and try again.