Windows Central Podcast 23: Why does Windows 10 Mobile exist?
This week on the Windows Central Podcast: We talk Microsoft Teams, the Alcatel Idol 4s Pro with Windows 10, and answer the ultimate question; why does Windows 10 Mobile exist?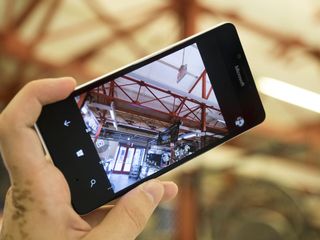 (Image credit: Windows Central)
With the big Surface news out of the way, it's time to focus in on some smaller announcements such as the new Microsoft Teams service, the launch of the Alcatel Idol 4s with Windows 10, and whether Microsoft is right to keep working on Windows 10 Mobile given its market share being so low.
Help us make this show the best Microsoft podcast in the world. Tell your friends, share it on social media using the hashtag #wcpodcast, and give us a five-star rating wherever you download your podcasts! Thank you so much for listening!
We've got two options for you, either the video podcast or the audio podcast, both featuring the same content.
Show Notes
Subscribe to the podcast
Hosts
Make this show great by participating!
Send in your comments, questions, and feedback to:
Zac Bowden is a Senior Editor at Windows Central. Bringing you exclusive coverage into the world of Windows 10 on PCs, tablets, phones, and more. Also an avid collector of rare Microsoft prototype devices! Keep in touch on Twitter: @zacbowden.
Looking forward to listening.

Will wait and hope the best for Microsoft

You are correct to say that when you build Windows 10 you build all version but each version has at least one OS module that's unique to it. Windows Mobile 10 has 2 OS modules that are unique to it (as Terry Meyerson recently points out), ARM processor support and and Cellular Connectivity (although the now discontinued Surface 3 did have this turned on with the desktop version.) He also doesn't point this out but there is a specific GUI subsystem for mobile.

The ARM chipset is going to become more problematic for those who build around it. With more demands made by both users and OS, it's limitations will shortly become apparent. Heat being one of the biggest! The 950xl with "liquid" cooling still gets as warm as a 930! In time there may be available a chipset, like the intel mobile / atom series. Again, these can cause power drain issues / heat etc. What ever MS do, I believe it has to be a full W10 on it. Then people may sit up and take note. Maybe a fold out screen to offer more real estate, whilst retaining a standard screen for cell usage, texts etc. Maybe I'm just bonkers! As much as I love the OS, the continual little niggles ie: Persistent SD card scans... are starting to bug me. When you've got 14 and if, like me, you do a weekly SR, it starts to grind, but if you don't do it other issues start to appear!!

I honestly don't think they're going to "do" anything. They're a cloud company now, and that is all.


That's a really dumb comment, taking into consideration the fact that they keep releasing new hardware

The SD810 isn't a good example. It was the first time Qualcomm used an ARM reference design in a high end chip. They didn't have time to make a custom SOC so it has some thermal issues. This isn't the case with the SD820.

This. The 810 was bad regardless of Android or Windows. The 820, however, is a different beast. Better battery life, almost no heat. It's a night and day experience.

"I don't need that, I'll email when I get home. *rolls eyes*" - That was the best line of the whole podcast!!!!!! I remember those days!!!! I had a Nokia N82 smartphone with a front facing camera and showed people and they laughed and said "A webcam on a phone? *rolled eyes*" as if it was stupid and that no one would use front facing camera....EVER. :)

Yeah, it's funny how people did not see the value in those things and now today, it's sacrosanct.

I still haven't used my phone's front facing camera for anything that wasn't trivial selfies or just to try out if Skype worked on WP8.1.

My front facing camera hasn't worked since the AU so I couldn't use it even if I wanted to.

I can certainly understand the logic of phones now being used as platforms for apps, internet banking, payments, reading blogs, newspapers and listening to music. So the idea that a "phone" making calls is a minor part of the equation is solid indisputable analysis. The modern phone is really a pocket computer that makes calls and is being refined in that direction annually. What a Surface Phone is potentially is a Windows 10 device running on arm that is a computer first running apps that can make calls. Yes I can see that. All modern handsets are heading that way incrementally. My problem with this is that as a platform for running apps on the arm processor Windows 10 is not the best choice. Many popular apps are simply not available and those that are havent changed in years. Daily apps are being removed from the WIndows Store. Now I can see a device that connects to azure and runs some kind of remote cloud based system of apps that people use through some kind of remote desktop of containers in highly secure way with a subscription element. However if you were going to choose a device to run mobile apps today and make calls for about 90% of people it would be Android, 9.9% IOS and 0.1% Windows 10. With that in mind the Surface phone would have to be some kind of awesome or just really a hyper-expensive device for business.

Agree with you on the future of Windows ecosystem and I'm optimistic about the future. I'm sticking with Windows 10 mobile. Roll on the next Insider build Microsoft :)

It will be suicidal for Microsoft to ditch the existing customers. Even when market share of windows mobile was dwindling, I purchased a Lumia 950 in India recently, only because of my interest in platform. It was advertised to be a volte phone. But no voice calls of recently introduced popular jio4g network can be made through this phone or any Microsoft phone, though data works. Microsoft has to give a firmware update. But in spite of complaints from numerous customers, Microsoft doesn't care about it.

I know you can listen to this particular podcast through the WC app. But given that MS has seen fit to remove another core feature from WP in the Podcast app, what is the best alternative? I haven't found anything that is both free and works well in the barren wasteland that is the Store.

The podcast app still works?

yes very much, though we need to live with old UI.

In the time it took you to write that drivel, you could have downloaded the MS Podcasts app from the store (the one you claim they removed) and started listening.
There are plenty of other available apps too....

I use the Podcast app to listen to all my podcasts and it hasn't let me down ever!

I use Grover Pro for all most podcasts on Windows 10 PC and Mobile.

Wondering what's the MS vision on Mobile... I can't stand my android phone any longer....

I can't stand the android phone I'll be forced to buy.

Good Episode. To Me windows has a future. I said this when i saw mango OS.
Unfortunate i say it now as well.
Never the less, Microsoft has great hardware, great design, and clutter free OS. Android is clutter, their material design has multiple feedback for the same action.
iOS, they haven't thought beyond rounded rectangles but a nice platform. Hoping microsoft will come up to standards pretty soon.
I shouldn't forget to mention, the Lumia 950 display and camera .. not sure how many years apple would that to have. Cheers,

If we are asking this question, then we are in bad shape.

My biggest issues with Windows 10 Mobile include issues with the PEOPLE APP syncing to my Phone, contacts are available but don't show up. I also have issues with the Skype preview as Zac indicates. I hope it gets better.

My drive to work just got loads easier.

Agreed that something exciting is coming up in mobile Microsoft world in future. Some kind of device and new philosophy that will strike my shoes out. Welcome to creators' world.

I've read that FB is working on a mobile project. Has anyone considered that MS might possibly offer the best opportunity for a partnership of sorts that would give FB a near-out-of-the-box opportunity to actually establish a legit contender to ios/android?

I love the idea of Surface phone running Windows 10 and x86 chip and hopefully include include virtualiztion for the android OS. That way you get android apps and eco system as a virtual app on beautiful Windows phone and get Windows eco system and UI too. Second choice would be if Microsoft gave up on Windows 10 mobile OS than for them OEM Android make their own Microsoft distro with apps built in

Looking forward to Nokia new phones. I'm happy for them. I'm not a fan of Android but to support them just to cheap on MS...

i love the comment every new update has new features. I have left mobile windows 10 mainly cause 2 years later we still dont have the features 8.1 mobile had like gestures, and a built in skype. Hell only 2 days ago i was able to drag and drop files into skype prieview. Ive been able to do that for nearly a decade. Microsft should never have released or changed software till they could offer at least the same as their previous os in 8.1 and they didnt. I think windows 8.1 mobile was the best mobile os, and im a 6 year iphone user. I even prefer windows mobile 10 to iphones ios, even if i hate the hamburger menu but lack of suport on their own mobile and os front has led to here maps and paypal to no longer be on the mobile windows 10 front. Thats just 2 apps to many for me. Im on s7 edsge now and although im ok with androdi and like touch wiz, id move back in a heartbeat to mobile 10, live tiles and cortana but there just isnt the suport from micrsoft and developers. I dont understand why micrsoft a software company cant put gestures into windows 10, hell most people with 8.1 loved it and praised it and yet 2 years later still they ignore this simple software. And wirelesspay? I personally want to live in a windows eco system mainly cause i still use a desktop mainly and game alot but if theres no mobile offering with the proper app suport then ill be looking at my next upgrade cycle at the competition. Truth is if apple or android had a desktop os that could compete with desktop windows 10 from a software like adobie point of view and a pc gaming point of view id already be saving to jump ship but microsft still have 2 years till i make that choice. I hope they can bring mobile to where it needs to be in windwos phones, it wont just be me thinking this way. Theres only so long i can watch my friends automate their homes, their shoping, their lives by being contained withing a androdi or apple eco system hell im probably only 1 year away from patience, still i hope hope micrsoft will miracuasly sort out skype after 3 years, gestures after 3 years home kit apps, paypal sat nav, google apps, cortana voice for home a working up and runing windows wireless mobile pay, as i can prety much use my current android s7 edge in every local shop. Micrsoft need to stop falling behind anymore.

Why dont you use Paypals Webapp?
With Webapps you have more Control and less Tracking.

oh yeh and can microsft do something about the incredibly long time it takes to download updates from their servers, its like living in the stone age, well 1998 anyway.

I mean, we did talk about the Unified Update Platform on this episode which addresses exactly that.

Exactly. SD scan every time I start up. Also a welcome messaging + notification even though my device never supported(still doesn't) it in the first
Windows Central Newsletter
Thank you for signing up to Windows Central. You will receive a verification email shortly.
There was a problem. Please refresh the page and try again.