Windows Device Recovery Tool adds support for Verizon's LG Lancet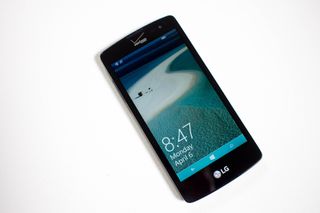 If you have owned, or plan to buy, the LG Lancet Windows Phone from Verizon Wireless, you will be happy to know that Microsoft has added support for the budget device to its Windows Device Recovery Tool application.
The app's latest version, 3.1.2, now allows owners of the phone to go back to an earlier software version of Windows Phone which is always helpful if something goes wrong and cannot be fixed immediately. In addition, the app has some unnamed "improvements and bug fixes" with this new version. For those of you who have yet to download the app on your PC, you can go to Microsoft's support page to grab the program (opens in new tab).
Buy LG Lancet for Windows Phone on Verizon Wireless (opens in new tab)
Thanks to Ryan for the tip!
"go back to an earlier software version" Interesting.

only useful when new updates come to Windows 10 Mobile

I wish i could return to the previous W10M build using this recovery tool..
Reason : Current build does'nt have the option to set SIM settings "3G/4G only" .
I was enjoying this feature in previous builds ... This is a step backward.. I hope future builds will bring it back.. :-/

+me it helps saving battery also

Setting 3g/4g. Settings search sim, select cellular and sim, Avril down and select sim settings. Voilà 3g/4g settings. works on mine

Do you think I'm a fool?.. I know how to toggle between 2G/3G/4G.. My point is pretty clear..I was talking about the ability to select "3G/4G Only" not just the maximum speed set to 3G/4G
( it was available in previous builds as well )

Absolutely, I hate when my Lumia keeps bouncing between 2g/3g when needed most

And it is eating my head right now.. Fed up of unwanted switch to 2G even when there is 3G readily available around.. MS should re-think this decision they made to disable the ability to set 3G/4G only in sim properties.

I too want this security feature, in an age where the government is indiscriminately intercepting phone traffic without warrant by forcing phones down to 2g which is unencrypted, I would rather lose my connection/call than participate in this passive acceptance of the degradation of my reasonable right to expect privacy when I'm not the suspect of a criminal investigation for which a warrant has been issued allowing such action to be taken. When you know your technology "SHOULD" be encrypted and that you have been led to believe that a warrant must be issued before your information is collected, MS should prioritize any feature that helps to ensure that to be the case within their ability. No, I'm not a conspiracy guy, I've been reading about this (albeit a bit late it seems relative to the news breaking) in respected publications and it saddens me how much we've given up in the name of "safety" and convenience. MS presents themselves as a champion of these things (defending client data being retrieved without PROPER due process through the country which holds the information for instance) so I'd like to see them extend that here as well as a high priority item for those that value such things as not being treated as a guilty until proven innocent.

Its only insecure if you have a sim card from 15yrs. ago

will 8x get w10? outta place but wondering.

does it have at least 8GB internal storage and Windows Phone 8.1 Denim update?

Where d'fuck is Samsung Ativ S recovery? Why am i still on wp8.0? When will be support for wm10?

This is why I didnt but the Ativ

This is why I now regret having bought the Ativ 2 years ago lol

You have gotten 2 years of use out of a perfectly (assumption) functioning device and you're regretting it because it doesn't support a preview of a new OS that hasn't officially been released yet? (yeah I see the lol, connecting the dots for those who haven't had a morning cup of coffee or stimulant of choice yet).

Its not a bad device if you interop unlock. & as said before MS has been in consultation to get all updated that can manage it. eg. 16gb storage will get it eventually

As long as you have the following you will get Windows 10 Mobile Lumia Denim update (WP8.1) at least 8GB Internal Storage

Lumia Denim is a firmware that's only for Lumias, not Samsung Ativ.

You don't need the Denim Firmware, only Lumias can have it. HTC One m8 for windows has no Denim but it already supports w10m, for example. All you need is wp8.1

Really most ativ s have already been updated to 8.1.1

My ATIV S Neo has 8.1, has gotten updates to Samsung apps, and I have been generally pleased with Samsung's support.

Can you install Windows Phone on the Android version through this? Hmmm...

only select phones in China can get W10M on their Android phones

Is that a piracy joke thing, or are they actually doing that? Because that sounds awesome. Posted via the Windows Central App for Android

Microsoft is actually legitimately doing that with an OEM in China. I remember reading about it here (on this site.... you can do the search if you want to read more about it)

Xiaomi (pronounced: She-al-me, meaning "little rice") mi4

Well this obviously means the tech preview is coming to that phone. Nice.

yes neccesarily, the only reason most devices arent in the preview is ebcause they have no recovery image, in otherwords if they were to bug out, they'd be screwed.

The Lancet is pretty nice for its price. Feels more premium in the hand than you'd expect.

Yeah but it's US-exclusive

I wonder how that phone is doing . Sold good.. or meh ? Posted via the Windows Central App for Android

Hope they fixed that hashvalue error crap, its too irritating. Does anyone have a fix for the same?

My daughter has the ativ se and saw w10 on my icon and wants it. Told her not yet. I'm sure they'll have it "soon".

buy her an Icon :) (j/k the best phone I've bought for a teen is the 640 on tmous as the MS store wasn't selling the unlocked XL at the time) and she wants it too. I can but won't because she couldn't put up with the glitches.

Lol I have an sgh-t899m(ativ s lte aws) still waiting aswell well worth it being how easily I can switch networks without unlock

The Lancet is a great little device. Definitely feels and runs better than the price tag would suggest. Perfect timing too!!! I bricked mine trying to force the Tech Preview months ago and just spent most of last night working on a solution with no success. If this had come 24 hours sooner I may have slept last night!!! :-D

Can't even download the tool, keeps showing hash value not correct

Yes, why MS is ignoring this error.

This is very good news. This means that Microsoft is testing W10 on the device and that Verizon might possibly let users get it.

I would not get my hopes up
Windows Central Newsletter
Thank you for signing up to Windows Central. You will receive a verification email shortly.
There was a problem. Please refresh the page and try again.