Windows Ink: How to use Sticky Notes
Sticky Notes are cool again. Wait, what?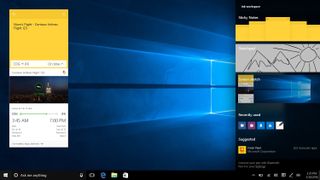 Sticky Notes are new and improved with the Anniversary Update, now sporting Pen support and Cortana insights thanks to the Windows Ink Workspace. With Sticky Notes, you can keep short, useful and insightful notes directly on your desktop or tablet without needing to use any real life paper notes! Sticky Notes can be pinned to your desktop or kept hidden away inside the Ink Workspace. If you're new to Windows 10 and the Ink Workspace, here's how to get started.
How to create a new Sticky Note
Tap the Pen icon on your taskbar to open the Ink Workspace.
Tap Sticky Notes. It will be the first option in the Ink Workspace panel.
How to customize your Sticky Note colors:
Select the Menu button. It is the three dots in the upper right corner of the note.
Choose your desired color.
How to enable or disable Cortana insights:
Cortana insights allow Cortana to read handwriting and text inputted into your sticky notes and suggest intelligent options via reminders. If you would like to disable or enable this feature, here's how you do it.
Select the Menu button.
Select the Settings icon.
Switch "Enable Insights" on or off.
Note: Cortana insights are only available in the United States. Users outside the United States will not have this option.
How to use Cortana insights
Cortana insights work when using terms like "tomorrow" within a note. Here's how to initiate an insight.
Either type or hand write your reminder. If Cortana recognizes actionable text, it will be highlighted in blue.
Tap the blue text.
Select "Add reminder".
Tap "remind me" in Cortana prompt.
How to add and delete Sticky Notes
The new Sticky Notes allow you to have multiple sticky notes stored within the Ink Workspace at one time. Here's how to add and remove sticky notes.
To create a new note, tap the + button located at the top left of a sticky note.
To delete the current note, tap the bin icon located at the top right of a sticky note.
Windows Central Newsletter
Get the best of Windows Central in in your inbox, every day!
Zac Bowden is a Senior Editor at Windows Central. Bringing you exclusive coverage into the world of Windows on PCs, tablets, phones, and more. Also an avid collector of rare Microsoft prototype devices! Keep in touch on Twitter: @zacbowden.
I don't understand why Cortana insights are disabled for users outside the US. Pre AU we had the inking notepad thing directly in the Cortana window which was very similar and worked outside the US. Ink to text in Windows works at the OS level & is already available in many regions.

... and there are people out there (like myself) having their devices switched to US just to have Cortana and all these features that are US exclussive for no d@mn reason... I don't even care English is not my native language, I don't care Bing cannot find a thing in my country, compared to Google... So "to maintain an excellent user experience" does not make any sense if I have to have my phone & PC switched to all that wierd US-ish stuff like 12h format time, $ etc... The struggle is real, brother -_-

Was there the inking notepad outside the US? At least in Germany I'm pretty sure it was not there.

I had it in Australia, but maybe I had region set to US at the time. I can't remember for sure. Even so, the OS can still handle ink to text and I can type these kinds of queries into Cortana manually so it's annoying that insights isn't enabled in sticky notes.

Cortana Insights are available in India, which is news in itself ! So there must be something wrong with your language/region/speech combo.

1, You should set "region" to US 2, In the taskbar, choose English as language BUT with local keyboard (Belgian in my case) and for me it works fine now

I really hope this sticks to all of my desktops. Then it will become super useful.

Closing Sticky notes still doesn't work right. It is crazy to me that something this simple can't be fixed.
_____________________________________________________ When you close the Notes Workspace, it doesn't close the notes. You have to right click on the taskbar to actually close the notes. I can't believe this is still an issue. Small issue sure, but super annoying.

I use Todoist, no need for sticky notes, can also use Onenote Notes if in a rush.

Need it in the UK, they are pointless without the added feature, may as well stick a real post it on my screen...

Maybe this is a super duper dumb question, but how do I enable Windows Ink? I have a 2-in-1 that doesn't come with native pen support, but does at least have a touch screen. Will Ink not work unless I have pen support? Or is there some way to enable it? I've tried to mess with registry stuff and that was a dead end. Thanks for the help, guys!

Right click (or long tap) the taskbar > check on "Enable Windows Ink Workspace button" Profit. Pro Tip: Check Amazon for a fine tipped capacitive stylus such as the ones marked for iOS. They are powered, but require no Bluetooth/App/connection. Works nicely on touch screens with a decent ppi of say 150 and above... Check Greywolf1967's hard work and research here: http://forums.windowscentral.com/microsoft-news-rumors/421931-if-ink-com...

Score! That worked! Thanks! I thought I tried that before with no luck. In fact, I think I tried that first thing. Must've been before AU.

Yayyyyy. Ink it UP, woot woot.

If you have AU update then you should be able to just right click on taskbar and select show windows ink.

Yep! Worked! Thanks! That was actually the first thing I tried back when, but it must've started working on a later insider build. That's the thing about being an insider, I need to get in the habit of trying things even if they didn't work the last time I tried! :-)

Ink workspace isn't available for the Acer One 10 for some reason .

Where is the menu button?

Anybody else experience inconsistency with Sticky Notes launching at startup if they were open before Win10 shut down? When the legacy Win7/8 Sticky Notes was replaced with the new Win10 version recently (I think Anniversary Update?), I've experienced the notes app not launching and thus not being shown on my desktop...haven't found a pattern yet to know what are factors to cause it.
Windows Central Newsletter
Thank you for signing up to Windows Central. You will receive a verification email shortly.
There was a problem. Please refresh the page and try again.