Windows Ink: How to use Sticky Notes
Sticky Notes are cool again. Wait, what?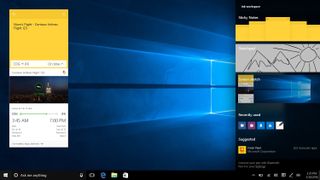 Sticky Notes are new and improved with the Anniversary Update, now sporting Pen support and Cortana insights thanks to the Windows Ink Workspace. With Sticky Notes, you can keep short, useful and insightful notes directly on your desktop or tablet without needing to use any real life paper notes! Sticky Notes can be pinned to your desktop or kept hidden away inside the Ink Workspace. If you're new to Windows 10 and the Ink Workspace, here's how to get started.
How to create a new Sticky Note
Tap the Pen icon on your taskbar to open the Ink Workspace.
Tap Sticky Notes. It will be the first option in the Ink Workspace panel.
How to customize your Sticky Note colors:
Select the Menu button. It is the three dots in the upper right corner of the note.
Choose your desired color.
How to enable or disable Cortana insights:
Cortana insights allow Cortana to read handwriting and text inputted into your sticky notes and suggest intelligent options via reminders. If you would like to disable or enable this feature, here's how you do it.
Select the Menu button.
Select the Settings icon.
Switch "Enable Insights" on or off.
Note: Cortana insights are only available in the United States. Users outside the United States will not have this option.
How to use Cortana insights
Cortana insights work when using terms like "tomorrow" within a note. Here's how to initiate an insight.
Either type or hand write your reminder. If Cortana recognizes actionable text, it will be highlighted in blue.
Tap the blue text.
Select "Add reminder".
Tap "remind me" in Cortana prompt.
How to add and delete Sticky Notes
The new Sticky Notes allow you to have multiple sticky notes stored within the Ink Workspace at one time. Here's how to add and remove sticky notes.
To create a new note, tap the + button located at the top left of a sticky note.
To delete the current note, tap the bin icon located at the top right of a sticky note.
Get the Windows Central Newsletter
All the latest news, reviews, and guides for Windows and Xbox diehards.