Windows Insider Program's 5 million members will get Windows 10 first on July 29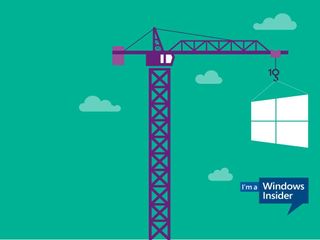 Microsoft continues to see growth in its Windows Insider program. The number of members that help test Windows 10 and Windows 10 Mobile has now reached 5 million people, according to a new update from Microsoft's Windows and Devices head Terry Myerson.
The last update on Windows Insider member numbers was made in mid-May, when Microsoft stated there were 3.9 million people in the program. As revealed earlier today, those Windows Insiders will the first consumers to have their Windows 7 or 8.1 PC to get the free upgrade to Windows 10 when it begins rolling out on July 29. People who are not signed up with the program may have to wait until sometime after that date to download the free upgrade. Windows Insiders will also continue to get updates to Windows 10 after July 29 to test before they are released to the general public.
Source: Microsoft
Nice. Well done Microsoft! :)

And finally no more builds? All stable stuff?

Should be - though going forward I'd imagine all the betas go to insiders for qa testing.

Can't wait :) It already feels complete in the latest build.

Do we get win 10 even when I don't hav genuine win7 earlier but an insider now ​

Nope...u will still continue on preview version

I think no.... And how u expect to get that? That's hundred's of hours of hard work and u ask them to give u free.....

Simple answer is you should have bought Windows 7.

Small mistake.. "will be the"

What about dual boot Windows 8.1 and Windows 10 TP..I'm on dual boot. Do I will get those early customer release on my Windows 8.1 or on the Windows 10 TP?

On the partition that you have the active Technical Preview installed.

What's the complicated answer?

Didn't they already clarify this ?? Those without genuine Win 7,8 or 8.1 licences, would only continue with preview versions & won't get the official one.


They did clarify. You'll get the final build, but you'll have to continue to opt into the Insider Preview program and will continue to get new builds after release with new features before they go mainstream. So as long as you are okay with beyond a perpetual beta tester, then you're good to go.

Sort of. If you stay in the Windows Insider program you keep getting new builds. The only drawback is you'll stay a beta tester until you get a genuine Windows 10 license and opt out of the program.

Being guinea pig or lab rat have its own rewards, mine comes July 29

Awesome!
Wait I'll be in Jordan which has the worst connection ever :(

Wait to get your upgrade before going to Jordan, after that, go to Jordan (Problem solved)

Did you expect any rewards when you signed up? They didn't promise any. People sign up because they want to be the first to try new things out and to be on the cutting edge, even if that means having to deal with buggy and unstable software for a while. People like to say they were one of the first to do something new.

Dont know if it'll upgrade to rtw as it says theres no compatible memory card reader driver yet compatibility check in w7 says nothing wrong even though I still have avg12 loaded(didnt like the jump to w8 ui lack of settings had to manage it using ccleaner)

First of all, try using some punctuation marks next time, especially periods. Second, W8 Ui lacked settings? Go to control panel and you have all the same settings as windows 7.

Did they clarify if you have to be a desktop Insider for this benefit, or does Mobile count, too? This scenario applies to me and couldn't find the answer to this.

If u see insider member then u are insider member no matter what.... And since win 10 and win10 mobile share same code base then y the difference in insider program....

There is a difference. Insider membership/status does apply universally, in terms of having a single account. However, if you are a Desktop Insider, you were most likely automatically added to the official release download que before anyone else had the chance to reserve a slot. It wouldn't make sense to add someone from the mobile insider program to the que for the desktop release, just because their a mobile Insider. The logic is most liekly that if you want to get in on Windows 10 as early as possible, youre either an Insider with the desktop version installed, or reserved a slot.However, that being said, it is possible that if you have an Insider account, even if it's just for mobile, that when you reserve WIndows 10 desktop, that it will note you're an Insider and add you higher up on the que. But this is all just speculation. Although the mobile and desktop versions share a code-base, that doesn't mean the programs are interchangeable. That would be like saying if deskop recieves a new build, you can download it on a mobile device at the same time.

Those are my thoughts, as well. Hopefully it'll be something along those lines. But if not, I guess the wait won't be too terrible. :)

That's our reward..... But Frankly speaking I never spent more than 2hours on win10 IP per week but I did test the mobile preview well.... And I hope when windows mobile will be RTM insiders will get the update from 8.1.x to 10 first for all devices independent of carrier.....

Does this mean Insiders will get it on July 29th when upgrading from the last pre-release build or also when upgrading from Windows 7 or 8.1? Right now I've got a dual-boot setup with Windows 8.1 and Windows 10 Build 10159 but at release I'd like to upgrade my 8.1 partition and delete my 10 partition.

Just delete it on the 28th and upgrade as usual? Posted via the Windows Central App for Android

What I mean is whether as an Insider, I'll get definitely get the upgrade on my 8.1 partition as well or only when upgrading from an older Windows 10 build.

Hi Gatanui, I have not seen an official announcement but I believe Microsoft will treat RTM like a slow ring build release and provide ISOs for all Windows Insiders on July 29th.

That's what I would assume as well. Here's hoping it will be like that indeed. :)

If ISO's aren't given, why not delete the 8.1 partition then upgrade to windows 10 official on the partition that is already got windows 10? Makes it more simpler, u'll be upgrading from the insider edition still so there shouldn't be any problem, and you still end up with one whole partition instead of the two :)

Simple: The 8.1 partition is my main install so I'd have to reinstall a couple of programs. Second, the 10 partition is to the right of the 8.1 partition, so enhancing the 10 partition to make use of the entire drive would be way too much of a hassle.

I am currently a windows insider.. I have a windows 7 pro key as well.. Do I have to roll back to windows 7 to get the free upgrade? Or Can I just activate the Windows 10 update which is going to be delivered for Insiders?

If you upgraded your Windows 7 directly to 10 then you have to do absolutely nothing.

That's the doubt.. Few days before there was an article about how Windows 10 free upgrade will be given.. And I remember something like rolling back to Windows7/8 if someone had installed W10 insider build ... So are you pretty sure that I dont have to do anything? I'm currently running latest W10 insider build.. Thank you :)

If you have upgraded to Windows 10 Pro on your Windows 7 Pro, then you need to do nothing. I understood what your point is, but that is valid only if you change versions. Eg. Go from 7 Pro to 10 Home or Go from 7 Home to 10 Pro.

Okay...That clears my doubt.. But I have done a mistake.. I had to flash my BIOS and I installed a non-genuine windows 7 just to install W10 tech preview.. But later only i got the Genuine key for my Windows 7 Pro. So I think I may have to clean install the Genuine Windows 7 Pro in order to get the free upgrade. Right? :/

Unfortunately, yes. But try contacting Microsoft support for this before you do anything. Going back to 7 is a highly cumbersome process if you don't have the right tools and knowledge.

Yeah.. I will definitely contact Microsoft support.. Anyways , thank you for the help bro.. Well , Appreciated..:)

Can you change from x86 to 64 version, during upgrade.

No. Might be after upgrading (not for free). But you can have x64 only if you have a compatible PC. And if its compatible, it will come preloaded with x64 OS. Not sure how you got x86 on x64

U'd probs have to manually download the 64x (64bit) upgrade. However remember that u can only use 64x software on a 64x hardware/computer. Don't use it on a 86x (32bit) hardware or major problems will occur. If you aren't sure of the hardware u are using (u may be but I'll mention just in case :) ) go into Windows Explorer, right click "my PC" (might be "My computer" on Win7? Forgot :s), click properties and on the processor information, if your computer can run 64x it will say "64x based processor". If it says this and u are running 86x, go ahead and (manually probs) upgrade 64x based Win10 :D

Does anyone know if we will get access to the ISO for a clean install? Posted via the Windows Central App for Android

I think so.. Every stable builds used to get an ISO release so far

I can only say... http://i.imgur.com/9dxmamf.png

I want to try insiders on my PC. I have a genuine copy of windows 8.1 but if I do it will it still be a preview version of windows 10 or just another build? I'm trying to get a definite answer to decide.

Does it really matter? Posted via the Windows Central App for Android

Everyone including Insiders will get the general build that will be released on July 29. That won't be a preview build, a general build. But if you continue as an Insider, you'll continue getting preview builds after that. After upgrading to the July 29 build, select stop getting preview builds from the Advanced options in Windows Update. And then you will have a non preview build. But if you only want non-preview builds, there is no point becoming an insider now as the general release is barely a few days away now.

Thank you Akhil. I'm going to take the plunge I'm so excited!

Great! But be sure to download Windows 10 Home through Windows Update if you are currently running 8.1 Home and vice-versa for Professional. Then you can stop getting preview builds whenever you want (assuming you are taking the plunge into the Insider program).

Great! You answered my doubt too!

There gonna be a server overloading

Hence why the Insiders are queued up first before the general public because the five million of us will be the biggest Day One server hit.

If i join the insider program... Will i be able to leave it whenever i want to?

As long as you upgrade from a genuine Windows 7/8.1, Yes.

That sounds good! I've been looking at videos of the latest build and i can't wait anymore!

I haven't signed up any insider programs and also didn't reserve W10 on my Iconia W4.Any problems for me during free upgrade?Or do I have to buy Windows 10?

No. Reserving will download the upgrade automatically as soon as it is available. But if you don't reserve it, you can manually check for the free upgrade once it goes live.

What about the people who don't have activated windows 8.1

You won't get a free upgrade.
But if sign up as an insider and keep downloading new builds every month or two, you can have an activated Windows 10. If you don't install new builds, the license will expire.

I am insider member and as I made my reservation, but I work with Windows 7 as the primary operating system. Even so, I can get Windows 10 on July 29? What I want to know!

Make your question more clear.

I am registered as part of the insider program, but I've never installed any build Because I work with Windows 7. And being a user insider, I can get Windows 10 this month?

U need to actually be running a preview build to get the update on the 29th. Having an insider account will do u nothing unless u are running the windows 10 preview already before 29th

u will get it but not on july 29

What does this mean? I have windows 10 installed on a secondary drive, whilst windows 8.1 is there on the primary hdd. On both of them I am logged into with my insider microsoft account. Will I get to be among the firsts to get the update on windows 8.1 or on windows 10? On both?

The way the announcement reads, if you're an Insider you get priority access; it doesn't mention having to actually be using the Preview.

That sounds really good. I guess i will be using windows 8.1 few days before the release, thus letting the update pre-download like I read in the days that the tool in the systray started to show up.

You would have thought they would start downloading to systems now, and just patch files before final release.

That's what the reserving Windows 10 program is. If u reserve your copy, it will automatically download the files needed onto the computer straight away, so when the OS has its official release on the 29th, it will be ready to install and will take less time.

You'll be the first to update on your current Windows 10 while it can vary for your 8.1 . But you will get the build on both.

Question; If we upgrade to RTM on the 29th but stay on the Insider program, will we still have that desktop watermark? Not a fan of that...

As long as he is running an Insider activated build even if it's an RTM build ..he will have a watermark i think..

No. Insiders won't get a watermark unless they choose to stop getting new builds without upgrading from a genuine and the corresponding version of 7/8.1

5 million times minimum 100 equal to one half billion dollars! That is how much MS will lose this year!

...you realise that Windows 10 is free for EVERYONE with Win7/8.1... It's just that insiders are the first in line so-to-speak. They aren't going to lose money. This is planned and they probs may get money still by the manufacturers who will want to put it on their new computers. Also they'll only be giving it for free for a year

Akhil rockstar helped me to make a decision. I tried on my phone but yet computer!

And I should repeat. If you want only stable releases and not preview builds, don't join the insider program and directly upgrade to Windows 10 from your 8.1 on/after July 29.

But it will be stable once we receive the general build on July 29th?

Yes. Insiders and non-insiders would get the same stable build.

Thanks! My computer is installing 10130 now...hope to get latest build soon...im a fast insider.

Oh Yeah! Thank you Microsoft! :D

Meaning most of us probably get it till a while after the 29th. :-(

Maybe non-insiders will get it day or two later? I doubt it will be too much longer after insiders. Probs am extra day

I am no insider but its good that MS acknowledged you guys and your contribution.

I have a question guys. If I formated my 8.1 pro disk and installed 10 as a fresh OS but I activate 10 with my 8.1 pro licence will I get an official genuine version of windows 10 pro? Just clarifying.

If it shows activated after you entered the 8.1 key in 10, then maybe yes. I'm not just not sure about that. Because Windows 10 uses a pre release key.

Thing is I don't want to format my disk all over again. It's not nice. Windows 10 has been my primary OS since October 1st 2014 so you know how much data I should have on there. When I activated it with a genuine 8.1 pro key, it said windows is now genuine.

Love the graphic. Not so enthused about this long winded technical preview. When does it become beta, RC1, 2 then RTM? We just preview all the way into the store? What gives?

The old "mentality" was that software releases were as follows: pre-alpha, alpha, beta, RC1 - RCx, then RTM. However, this has changed, even for Windows. Initial previews encompassed pre-alpha - beta. We entered the RC phase when they announced that features had been "finalized", with final touches being made before July 29th (bug fixes, visual improvements, and tweaks based on Insider Feedback).Manufacturers will most likely do as they have done in the past; release hardware based on the latest builds they've recieved from MS, and push updates via Windows Update when the user starts setting up the new hardware. As July 29th, to my understanding, starts with a Digital Version, they don't have to worry about manufacturing disks for the "Day one" release. To my understanding, the phyiscal copies will be in stores in August. Again though, updates can be sent to new installs to resovle any issues that weren't addressed prior to July 29th. In the past, companies tried to rely heavily on this mentality that everything must be perfect on day one. So RTM deadlines became necessary. This is not as relevent now, as digital copies can be updated before users even start downlaoding the upgrade. And for those that rely on physical copies, Software Updates can help resovle these issues. No, it's not a perfect appraoch to things, but it does allow more time to ensure everythign is as polished as possible. As a final note, the Insider Preview is planned (at least to my understanding) to continue for the forseeable future (well beyond July 29th). That being said, there really isn't a need to switch the name/definition for each phase; i.e. Insider Preview Aplha, Insider Preview Beta, Insider Preview RC1, etc. We all know that this is intended to be a preview of the final release. In a way, each build could be loosly considered an RC, in one way or another.

In other words, Microsoft Vista all over again. Because playboy all new versions of Windows are digital downloads and has been for years. So I'm not quite following a lot of your understanding of how Microsoft is re-envisioning product releases. This looks remarkably like Vista to this old head. :)

I think you msunderstood my point here; In the past Physical and Digital releases were either in tandem, or digital after physical. THey have revised this by switching to digital first, then physical. Because physical is delayed, THey can continue to fine tune the software after releasing the digital version on July 29th, and prior to releasing the physical copy in August. They are most liekly betting on more users opting for the free digital upgrade, rather than buying a physical copy. So this means physical copies can be produced at a slower rate than in the past, because they don't necessarily need to plan on selling 100 million physical copies in the first month. Hope that makes more sense. Not quite sure what you mean about this being like VIsta, all over again.

I think the "technical preview" was all of what u have stated. As I am using the latest build and I would say everything is working nearly 100% perfectly. They are just giving the final touches like better lock screen (which was in one of recent builds) and small bug fixes. The official update is on 29th of July (for insiders) and probs day later(?) for non-insiders.

Yeah, I read that clarification today. That's encouraging.

I hope they fix the install bugs before the 29th. I haven't been able to install it (10079 or 10136 ISO's) on my Surface Pro 3 yet.

I have a genuine windows 8.1 single language fully updated but I don't see the get windows 10 app. Does anyone knows why?

I have same dual.boot win7 no gmx, win8 gets gmx. Think its because of an app incompatibility on win7 or as its a multi seat key.

Make sure you have done all updates through Windows update. Important, Recommended and optional. All.

I had the same issue on my new Dell (2015) laptop, I found you need to install both recommended updates and optional updates, if you do that you will get a big update (don't remember the KB#) and after reboot you will see the get windows 10 incon on the right lower taskbar.

Personally I think that Windows Insider should get Windows 10 rtm a week earlier so if some issues crop up they can report it and get it fix.

I get the feeling there will be a build or two just before final release. Certainly would make sense, as this would allow them to ensure the servers on their end are 100% up-and-running, fully prepared for the "big day". But also to ensure there aren't any last minute bugs in the system that could cause major issues.

So does this mean if I have to upgrade to the technical preview on my desktop to get Windows 10 on the 29th? I already have the latest build running on my Surface Pro 2.

I have enrolled for Phone Insider, but not installed any PC builds, Will I get W10 on 29th July?
I am using W7

You don't necessarily have to be an insider to get Windows 10. Just an original copy of Windows 7 or 8.1

How do they know if you are an insider, if I am running windows 7 on one of my other computers.. Is it through email address?

Any other computer doesn't matter. If your other computer is receiving the update then its the general upgrade. Insiders get builds ONLY on Insider previews. Because obviously, only an insider would be running an Insider Preview.

I'm assuming you only have to be an Insider and don't have to had put Win10 on your current device to get it on July 29th correct? If you do, I'll have to bite the bullet and do it now since it's on a pretty stable build.

My guess is that it will be an update released to systems actively running Windows 10 via the Insider Preview. This would make sense, as these would probably be the first systems to ping the servers for the upgrade.

A question, does it use your current key for win 8.1 if we install as update.

I'm a bit confused here. Does Microsoft mean that people using an insider build will get the upgrade in the first wave or do they mean that people registered as insiders who are using the same Microsoft account for Windows 10 Insider Preview and Windows 8.1/Windows 7 SP1 receive the upgrade in the first wave?

Yay for us! Posted via the Windows Central App for Android

didnt know theres a windows central app for android. damn

Ok cool I can upgrade both my laptop and dell xps 210 to windows 10 full from the preview windows 10 *EDIT* Instead ima leave the laptop with windows 10 preview builds

I'm confused about the upgrade process, can anyone clarify this for me? I was running a genuine copy of W8.1 Pro with the Media Pack upgrade on my SSD equipped laptop. I created a backup image, formatted the SSD and installed the Win10 TP. I've been running W10 as my main OS ever since. Will I be able to install the release build of W10 on 29th of July via Windows Update and then activate using my existing Windows key, or will I have to install my W8.1 backup and upgrade to retail Win10 that way? I'm seriously hoping I can just enter my W8.1 product key and not have to reinstall W8.1.

Since you have your Windows 8.1 key I think you should get the ISO and install a brand new OS, I have upgraded from 8 to 8.1 in the past using Windows Update and is not a easy task, there is always small issues that are not present when you do a brand new install, also my account configuration was corrupted and I had to install a new local account. IMO ISO is the best way.

Maybe I'm going to cheat since I'm not an insider but I'm sure the ISO will be launched on July 29 on Microsoft blog so I'll retrieve my 8.1 Single language key using an external program and use a USB drive to get it on July 29.

From here forward, instead of releasing bugs, patches through Windows Update should be released. It's not possible to download a new build everyday.

Guys, the article didn't mentioned that insider can upgrade there windows 10 preview to windows10RTM. It just mentioned windows7 & 8.1.

Does this include mobile?

Will i get the full version of windows 10?
I upgraded from windows 8.1 pro so the preview is currently activated with my original license, not the insider key. It was reserved before i did upgrade.

im an insider but i still didnt get windows 10 yet
Windows Central Newsletter
Get the best of Windows Central in in your inbox, every day!
Thank you for signing up to Windows Central. You will receive a verification email shortly.
There was a problem. Please refresh the page and try again.