Windows Phone 7 Book Roundup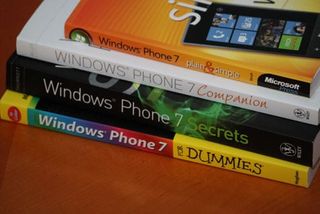 With the launch of a new platform like Windows Phone 7, there is a learning curve for everyone involved. One of the best ways to get familiar with Windows Phone 7 is to read this website, another way is to read a book. There are pros and cons to both methods; websites are more dynamic and up to date while books are easier to read cover to cover, or refer back to from time to time.
We've got several books in-hand, and after the jump we'll break down the similarities and differences.
Windows Phone 7 Companion
Written by Smart Phone Experts brother-at-arms Matthew Miller, Windows Phone 7 Companion is 260 pages of step-by-step introductions to each feature in Windows Phone 7. There are also a number of tips and hidden features throughout the book that will benefit users of all skill levels. As the title suggests, Windows Phone 7 Companion is perfect when paired with a new Windows Phone.
Amazon: $12.86 (opens in new tab)
Windows Phone 7 for Dummies
Everybody has heard of the "Dummies" books. Windows Phone 7 for Dummies is aimed specifically at new users, and teaches Windows Phone 7 from the ground up, starting with the basics. Dummies books are a great way of getting a running start, and the Windows Phone 7 is no exception. For a new user or someone with a fear of technology, Windows Phone 7 for Dummies is the perfect starting point.
Amazon: $16.08 (opens in new tab)
Windows Phone 7 Plain & Simple
Another one of the books that holds your hand through all of the major features of the platform, Windows Phone 7 Plain & Simple is similar to Windows Phone 7 Companion, just with prettier pictures and not quite as much depth. For a visual learner, Windows Phone 7Plain & Simple is definitely worth a look.
Amazon: $19.71 (opens in new tab)
Windows Phone 7 Secrets
Say what you want about Paul Thurrott, the man knows Microsoft. Windows Phone 7 Secrets is less of a tutorial and more of a complete indoctrination into the concepts and theory behind Windows Phone 7. I wouldn't recommend Windows Phone 7 Secrets as the best choice for beginners; but for regular readers of this site, this is the book for you.
Amazon: $26.39 (opens in new tab)
Do you already have any of these titles in your library? Give us your thoughts in the comment section.
One of these might be good for my non-geek friends. As for myself, I've got Programming Windows Phone 7 by Charles Petzold (it's free on his web site) and Wrox's Professional Windows Phone 7 Application Development.

I would go Windows Phone 7 Secrets all the way. There are few people outside Microsoft who have such in-depth knowledge of as well as access to WP7 product information as Paul Thurott.

That's my personal favorite as well, though I would recommend one of the others for someone new to smart-phones.
Windows Central Newsletter
Get the best of Windows Central in in your inbox, every day!
Thank you for signing up to Windows Central. You will receive a verification email shortly.
There was a problem. Please refresh the page and try again.