New Windows Phone 8 ad campaign set to air tonight on TV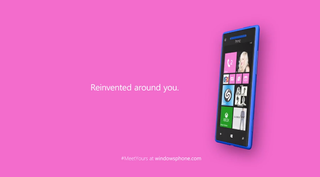 The other day we mentioned how the Windows Phone team was preparing the first wave of an ad campaign, with the slogan of Windows Phone being "reinvented around you". To jog your memory, the two videos we've seen so far feature Gwen Stefani and Jessica Alba. We've just received word that those videos will begin airing tonight in the U.S. with new ones featuring Andy Samberg and Cam Newton coming in later weeks.
You can also look for additional ads to start appearing in the UK, France and Germany. What's interesting, is that Microsoft will take a local approach to those markets and use relevant celebrities and apps to highlight the platform.
In addition to television spots, the company is planning a myriad of marketing options:
Maybe we'll see a return of something like the guerilla marketing of "Smoked by Windows Phone", which to me was a great way of getting actual handsets into consumers hands while highlighting the strengths of the platform.
So far this seems like a good start to marketing Windows Phone, we'll be able to see by January how effective it is. Oh yeah, we've also heard to look out for a Jay-Z television spot as well, maybe with the phrase "I got 99 problems but a static tile ain't one".
Windows Central Newsletter
Get the best of Windows Central in in your inbox, every day!
Thanks man! I'm excited to see the campaign kick off, hopefully a nice uptick in WP users will be the result :)

Welcome, Sam!
I was wondering what happened to Go Windows Go.

Like your writing style already. Good luck, here. BTW- the full 30 second Gwen Stefani ad is live on YouTube: http://m.youtube.com/watch?v=3CVBJ0FaCuU.

Is on baby ,Microsoft make me proud of my Lumia 920 best phone on the world .

Hi Sam! Nice write up, and like you, I'm excited to see the ads!
I know people are seeing and recognizing Surface, because when I show mine off, they're like "oh yeah! does it really snap?" I just smile and say, "YEP!" as I re-click the keyboard.
Windows Phone needs this same attention-grabbing promo.

I like everyone of you. Well, most of you. My Surface is a head turner at the local coffee shops.

I'm just glad we'll be getting the same marketing campaign in the US as Europe. For some reason, we always get the stupidest of ads. Nokia Europe commercials were good. Nokia US commercials and the "smartphone beta test" was terrible.

I would have liked those ads if it had not turned out to be a buggy phone launch AND so quickly replaced by the 920 with WP8. It was a bad call on that.

Welcome Sam, good write up. And yes, I feal like I was a beta tester with my lumia 900... Oh well.

Exactly, it turns out it WAS a Beta Test for the 920 and now us 900 owners are stuck. =(


Spam the commercial like they've been spamming the forgotten Blackberry Storm or Galaxy S3. People will go for any device that they see on TV these days.

Never saw any of the 'smoked by windows phone' bits on tv. A wasted opportunity by MSFT right there.
Also, in my personal opinion, I have yet to see a commercial that really made an effective impact for me. I would love to see commercials - with or without celebs - that focus on the People Hub and how it ties into the Me Tile for social network updating.
Then another for the Photo hub with highlights on sharing photos to various networks. Possibly one centered around the Skydrive integration.
And how about some ads with people who switched from IOS and Android to WP.

I completely agree on the people hub. For me it is a killer feature. No other platforms integrates email, phone, texts, and social networking in one spot like windows phone does. I think people using their phones for work don't care as much about apps as getting all their communications needs accomplished and efficiently as possible. I've used iphones and android devices. They can't do what the people hub does.

Agree completely. Isn't it funny how a lt f people were looking for the 'new' feature in WP8 to get people away from apple and google. Features are already there in WP7 people! Maybe they should just be highlighted more.

Would love to have one of the new phones if I could find one or have my vzw preorder arrive.

I got 99 problems but creativity ain't one. .... ..wait a minute...

I'm so happy they are starting a big ad campaign tonight. I wonder how many people who see an ad and want to buy a windows phone will actually walk out of a store with one or order one and have it shipped the same day?
Ugh, I know they don't want to underestimate demand and have phones lying around, but this is ridiculous.

The new Gwen and Jessica ads look real good.

FINALLY! Clear, stylish, and hopefully effective WP marketing.

The Jessica Alba ad came on while watching either The Colbert Report or The Daily Show via Hulu Plus on Apple TV.

Full swing here in UK. TV and Internet spots.

First , welcome Sam. :-)
Second , I think it's time for ios and android to find some corner immediately to run and hide :-)

I saw an ad for Windows Phone while watching "Criminal Minds" with my gf last night. Felt proud.
Windows Central Newsletter
Thank you for signing up to Windows Central. You will receive a verification email shortly.
There was a problem. Please refresh the page and try again.