New hands-on video shows Windows Phone 8.1 on a Nokia Lumia 630 developer device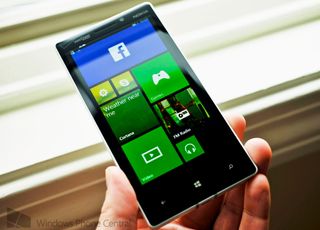 With Windows Phone 8.1 just days away from being announced, the floodgates are starting to open for leaks about Microsoft's new major OS update. This morning, a new video originally found on YouKu, the popular Chinese video hosting service, and published by the site Coolxap, has been released.
The video, like many leaks, is of abysmal quality, and it was originally shot vertically. We managed to rip the video and reorient it, so it's easier to watch. See it after the break...
So what exactly are we looking at? The device in question is definitely a Nokia Lumia 630. There are many clues that give it away, including the 5 MP camera on the back with no flash, the rear speaker in the lower right corner and placement of the volume and power buttons on the right. Seeing as the phone is matte black, and there's little flare on the front, there's just not much to look at with this phone.
Looking at the OS itself, it's a seemingly current build of 8.1 with virtual keys on the front of the device, as noted on the Lumia 630 hardware. Some other features observed in the video include:
Action center
New Podcast app
New FM Radio app, pulled out of Music hub
Video and Music Xbox apps separated into two apps
New Store layout, as we recently reported
IE changes, including new Tab section, private tabs
IE tabs are displayed in multitask view
Pull down to close apps in multitask
New stock Photos app, with sections All, Albums, Favorites now on separate panels
New stock camera layout
Apps that are installed on the device: Storage Sense, Battery Sense, Data Sense
While the video and OS are in Chinese, we can confirm its authenticity. Surprisingly, the voice-assistant app Cortana is not revealed on the video, which may suggest this is either an older build of the OS that feature won't ship on Chinese versions of the OS initially – we're betting on the latter, unfortunately, due to the time required for language localization.
To wrap up, there is not much revealed as new in this video, but since many of you are yearning to see it in action, there you go. Sound off in comments on what you think though we suggest you wait until next Wednesday for Microsoft to tell the whole story.
Stay tuned for Windows Phone Central's live coverage next week at Microsoft Build in San Francisco!
Source: Coolxap, YouKu; Thanks, qwe123878, for the tip and translations
Windows Central Newsletter
Get the best of Windows Central in in your inbox, every day!
Daniel Rubino is the Editor-in-chief of Windows Central, head reviewer, podcast co-host, and analyst. He has been covering Microsoft since 2007 when this site was called WMExperts (and later Windows Phone Central). His interests include Windows, laptops, next-gen computing, and for some reason, watches. Before all this tech stuff, he worked on a Ph.D. in linguistics, watched people sleep (for medical purposes!), and ran the projectors at movie theaters because it was fun.
Yeah... ! And it does seem very much faster !
Anyone noticed the dialer ? Was that the stock dialer or was it some app ?

It's call Smart Dailer.. Not sure if it's an app or not but I found this in China Store http://www.windowsphone.com/zh-cn/store/app/99E8BD8B... But the logo is different..

You can use 'rapdialer' its more cooler and it has more function http://www.windowsphone.com/en-us/store/app/rapdialer/40c99615-6a06-4256...

Actionable notifications????

Yeah, I finally looked that up... I really hope this is in the update.

http://m.youtube.com/watch?v=NSeXuy3y0T4 check dis out same spacs nokia x can run this kind of games poor windowsphone

Poor poor you.. Still lagdroid fan boyishism... :-P
I wont buy a lagdroid even if it is made of gold (unless i can resell it and buy a better windows phone ;) )
Poor you who thinks lagdroid phones can ever be as fast, productive or classy (yeah that's the word) as wp..
Oh and please, its "specs" not "spacs" :-P

Well well, i know he's being a fanboy but what about you, are you an android hateboy ??

Well, I am. I hate Android/Google and I hate Apple. What of it?

Nothing, just wanted to know. Thanks

Why like a company that treats "you" as the product. Who doesn't care about your privacy. Thinks your momma is a datapoint and creates a phone OS that is fragmented, podgy and a battery killer with a pre iOS7 ugly interface? I'm not hating, I just don't like Google. I also don't think Android is anywhere near the quality of WP - or I would have bought the best Android headset and would be over at Android Central telling WP fanboys how poor WP is. But I am not there, because WP is far superior to Android. Simple.

That's like a little kid ;) what do you mean by "the best of android" ? Can I assume that you're talking about any android flagship. Well, a flagship phone doesn't mean that it's the best product. I'm not a celebrity, I mean I just don't care about my privacy. My private email address is in my PC and Facebook account is on it's official app. again, you're saying that google treat android consumers like a product, that's the Same problem with Microsoft Windows phone, they treat their consumers like a servant, (such as, the WiFi dependency, no matter if you've a stable 3g or 4g connection, if you want to download apps or games which is over 100 mb, you've to found a WiFi zone. Same thing applies to system updates)
maybe Larry page knew about the iOS7 UI in 2007. So he just copied it. Maybe ;) I've a lower midrange android device, Moto g(2 months old), that's as smooth as my Lumia 720(9 months old). And I like both of those devices. please, at least comment about a thing that you've used recently.

You're likely to have lots of lags, random actions, delayed actions, and possibly end up with a hard reset in 5-6 months on your moto g. Dont get me wrong, I've seen it with my friend's htc sensation s, it costed ₹24k at that time, and now... When he clicks on call, the call takes place after 1 minute (literally), in that while, he can play games, or even pick up a call from another person :)) man seriously ? How would your phone help you in times of need then if you cant even make a call instantly ? (that is not the only thing, it doesn't even work properly now, and he's got very few apps)

Are you living under a rock ? You're telling me that Moto g lags !!!! Wow. With 4-5 apps multitasking, whole day on data connection and more than 5 hours of gaming for 2 months I've not experienced any kind of laggy situations. ok, I'm giving you a challenge, give me a link where people posting about "lag on Moto g". again, it's 2014. Not 2011 what you're talking about. Htc sensation. OH WAIT, YOU'RE USING INTERNET EXPLORER :D STOP TROLLING

Who said it lags ? Actually lag meant hanging etc, not the lag in games. And i said that just like all other androids, it would possibly lag in a few months. Another friend of mine who used to say only low end phones hang, has started hating android since her note 2 started hanging/crashing too. And the sensation I'm talking about was released 2 years ago, and bought 1.5 years ago... Not 2011.
I cannot be certain it would hang, as i seem to understand that google did something to reduce the hanging after a few months, but i do know that my 520 is still functioning like brand new without a single reset since 6-7 months, a feat unheard of in the world of android. Every day i see my friends complaining about their s3, s4, note, note 2 hanging/crashing. My dad's colleagues complain everyday about crashes. Everyone has reset their phone multiple times since i bought my 520. But not me. (dont say they're old phones, if you pay 40000 for a nice phone, they should atleast work properly for 2 years. Apple and nokia are reliable, long lasting phones on long lasting os. Its sad to think someone bought an s4 and had to reset it in 3 months because it became slow.
Moto g is a good phone i know, and i do hope to see android phones which dont become bullock carts after a few months, but i haven't seen that happening till now. Android still becomes lagdroid after 5-6 months, sadly.
Oh, btw, i dont use ie :D and I'm not a 70 year old, I'm 18 :-P
Lastly, its more a matter of personal preferences, so leave it :). This isn't a place to spread negativity and fight :). You like android, you can use it along with your nokia, no problem (obviously :-P), why fight ? ;)
Stay happy and have a nice day ! :)

As i said before, Samsung isn't the only android manufacturer. Try vanilla android, i.e, nexus phones and tabs, play edition devices or less skinned android. They don't lag. And yeah, ui lag too. not only android,but i love wp too. BTW have a nice day too

As far as i know, android was a blackberry type OS until Apple launched the iPhone and google decided to stop their first OS build and copy iOS from top to bottom. So yeah the UI was copied. You can check this out. Whatever google didnt replicate Samsung went on to and now we have a few iPhones and lots of other iPhone wannabes. Only reason android escaped the copy cat tag was because oems launched bigger phones. Had apple down that before, android would be a complete knock off

With 82% market share. Buddy read about some facts and economics. and yeah. Android isn't Samsung. Samsung galaxy is android.

I hate anything that cant do what a phone is supposed to do: that is, be reliable and secure. I dont hate apple, because it has those 2 things. Besides, its as fast as wp.. But I'm a wp user, I'm not switching to apple, wp the best ! :) Oh, the parallax effect in the tiles, man I'm never ever leaving wp !!! ;)

....i love WP too, and just don't want to leave it. WP is best in privacy things and quite a reliable OS with a great interface. Never tried apple thingy, so no comments about that :P

I'm a WP "fanboy" but I don't hate Android. I was a half-and-half user when I first bought WP7.5 but completely left Android when WP8 came. I don't hate it but with WP8.1 just around the corner, I know I'm never ever going to use Android ever again.

Lumia 720 is my first wp experience, and it's awesome. I came from Symbian, n8. Now I've an android. Ii just feel complete ;) waiting for a worthy successor of my Lumia.

I thought that to be able to a million different tasks right on my phone would be awesome, but Android changed that, now I want whatever my phone can do to always do without thinking (lagging/stuttering) I love android for what possibilities it has, but at the same time I hate it because those stutters make me want to throw it against the wall. I loved how iPhone saved me but I couldn't resist the OMG awesome Lumia 800. I got it just for the pure aesthetics of the phone, granted I was sometimes frustrated as it did not offer much but as soon as I learned what to expect, I left iPhone! With the 920 (and soon 1020) I believe I now see the possibilities of WP. I wonder what would Android do to WP if suddenly all lag dissapears! I sure do want to see that, but then again, I'm devoted to WP now <3

Seems slow and crappy. It must be ad-droid.

Ffs, use a tripod! That's all I could think of the entire time I watched the video.

New link for this VIDEO
http://v.youku.com/v_show/id_XNjkxMjEwMTU2.html

I hope you're not a 5 year old boy for whom a phone is defined by the games it runs ?
Besides, windows phone runs those games (many high end ones are available here too) better than lagdroid. So think before you post. The same specs lagdroid phones have trouble running even asphalt 7 at super low graphics, while my 520 runs even asphalt 8 super smooth.

Is there any modifications in the games hub?

"Girl you know what it do, girl give it to me. I got somethin' brand new, girl give it to me."

If you guys are done defending your choice of products. I don't think anyone pointed out how the capacitive buttons actually changed rotation with the phone in landscape or portrait that was pretty cool no?

Yeah i noticed. Good to see it ! Pretty cool ! Thank god they stay at the same edge of the phone, unlike android tabs, i hate it when the bar switches edges (on my bro's tab) and he's left screaming how its eating up the screen space for games.

Android & ios,be very scared!

I will be curious over the next 6 months how WP8 will look considering 8.1, Google APIs becoming available for .NET and rumors going around that Google wants to bring Chrome to WP8.

U want google chrome? I guess internet explorer > google chrome!

Not sure I'd make that claim until IE on mobile is able to consistently play videos on web pages like Chrome for mobile does. That's a biggie for me.

It's pure fanboism. IE is good in WP because other available browsers are just nothing, only uc is a bit better than others because of the "download" tab,it's the only way to download a video on a wp device.

Guys give it up. There was a huge misconception with the .NET libraries article. Nothing has changed as far as Google APIs goes, since many months ago. The new .NET libraries are wrappers for already existing APIs.

The possibility of Chrome coming is not because of the APIs. It's because, after years closed, Google has opened the Chrome for WP ticket in Chromium which means they're at least now looking into the possibility of bringing Chrome to WP. Doesn't mean it will come...but it means that it's no longer out of the question as it was until now.

Fair enough about that. I was referring to this though: "..Google APIs becoming available for .NET.."

Seriously, why? Is there anything shown here that's not already on those platforms?

Currently, IE still performs quite poorly and there really aren't many options for browsers for WP8 outside of IE and UC Browser. If they've tweaked the mobile version of IE 11 as they have for W8 then I will be more open to IE. Until then, I still think Chrome is the best browser in the mobile market. I hope MS gives them a run for their money with IE11.

Ok, I keep seeing this and I REALLY want actual examples. I have not had a single issue with IE on my devices. So please enlighten me and tell me what's wrong with it.

With my experience with IE, there have been multiple websites that I have been to that have either 1) Not opened properly or 2) Have not opened at all due to timeouts (Opened in UC Browser after with no issue). When I was on Android, Chrome was its saving grace.

Name them. As I have ZERO issues with WP IE. IF you cant name the site, it didn't happen. Jog on chump.

Yikes. Someone is a little too emotionally tied to his/her phone. Don't get too worked up when someone says the application has opportunities to work on. Take a breath. Remember to inhale and exhale.

First you claim IE performs poorly, and when you're asked for samples where it performs poorly you cry they're being emotional?!! Speak of twerpness!

Try trulia.com. Sure it loads but good luck trying to navigate around. Bear in mind that it redirects you to its mobile site which should be optimized for mobile browsers. Again breathe in. Breathe out. It will all be okay.

Actually, I had a issue with it opening a page on ADP, a paycheck stub service my work uses... It opened fine on iOS, which was embarrassing at work yesterday... My HR lady said "what kind of phone is that? I never have trouble opening pages on my device"""... I've had similar instances where I couldn't open a page, so I sent it to my friends Droid, and it opened up just fine... WPIE10 is good, compared to WPIE9, but it's a step behind the others... It just is...
......................
MS knows this, so I have confidence that they developed IE11 with iDroid devices at hand.. At least that's what they should be doing to make sure WP users have a equal, or better experience than others... We'll just have to wait and see....

I won't go as far as saying IE is perfect on WP8, but I rarely have a major issue past a site not being touch friendly. I stayed connected to a site for 2.5 hrs yesterday moving away from IE and back to check on my queue placement. I presume you have tried desktop and mobile modes? Also, clearing your history regularly could help with secure site connections. Could that be automatically cleaned up, sure.

Personally, I really enjoy using ie10.. I only have issues with it every once in awhile.. But, when I do have issues I immediately test the same page on iDroid devices, and they don't have those issues... It's not that IE10 is bad at all, but it's not near the best, and we want to best for WP, ALWAYS❕..... Now, The old WinMo, Android, iOS browsers were crap... Pretty much every browser on all four major platforms today are relatively great...

1. Open two different pages in two different tabs on ie. 2. Switch from tab1 to tab2, it'll start reloading the entire page (waste of time and data) 3. Again switch from tab2 to tab1, it'll reload again ;) 4. Do it with infinite loop. 5. Have fun

Just tried, didn't happen for me.

Better way, switch to uc browser, it caches every page.

Try surfy... And as far as I've seen ie11 is gonna be awesome, you wont need chrome after that..

My company uses ADP and I have no problems on my Lumia 1520. Kinda slow but still opens..

The main page opens, but open a pay stub, and it pulls up a blank screen... Now, if yours works then get back with me, because it will be interesting to see why mine doesn't... I'm using a AT&T 1520...

If it takes you to adp.com/logins.aspx. It will give you the blank screen. I believe Android and ios users have an app for but opens just fine.

https://myaline.adp.com/public/login/login.fcc?TYPE=33554433&REALMOID=06...

You're nuts. No, not just nuts... Batshit delusional.

I was just thinking the same thing.

Except that a recent WPC article suggests the Developer Preview has been delayed. :'(

That article didn't suggest a thing. It clearly stated it's been delayed and it's not only wpc who said it.

Does it have the ability to add tiles? I know that was a rumor floating around that you can change the amount of tiles on a device that is a certain size?

Doesnt the screenshots only show the standard 4 tiles or am I missing something? I'm asking if it can switch between 4 and 6.

You're missing something, namely the toggle switch for 'Show more tiles'.

Does Microsoft still has some surprises or have they also been leaked in the past days? :)

If they tell you it won't be a surprise anymore :)

Screen shot looks to be the Icon with standard tiles ;)

Edit: Nm, stupid question.

I need screen mirror so bad, release, it now!

I really hope landscape view comes. Much needed on the 1520

Landscape would be awesome on the 1520....

We need LS view in the Multitasking window!!!!

Windows phone 8.1 sure as hell better have some under the hood making it faster.

I can't wait to hear Cortana's voice!

Still kept that x to close apps while having swipe down.

Who cares. At least you can close the damn app. Get over it.

Whoa you mad?
I'm sure lots of people care about having multiple options for closing apps.
Why all the anger?

Yep!! It's about time MS learned to give us options to choose from.. This was the problem with WP7xx- WP8.0... We need more than one way to do some things..

So, the best way isn't good enough?

Who died an left you in charge of determining what the best way to close an app is?!

NO New live tiles, i don't even care anymore.

I wasn't liking the 630 but in this video it is so pretty!

the point of 630 is dual SIM, mate.

Partially. Dual SIM is a variant of the 630. There will also be single SIM for other markets.

630 dual sim?????
Didn't know that.... Really need one like that

The 630 looks like the 810 from tmobile.

yup..and both look terrible. Who am I kidding ? My Lumia 822 looks bad, too. :D

Is that WP8.1 on the icon??? :D :D

Looks really good! Really interested in the dual sim variant (635). Just wish the damn thing had a flash - why would they not include that?

To lower the price. Don't think of this as a successor to the 620, think of it as a successor to the 520.

Its more like a predecessor. Only that it has more ram and a newer os... 520 has a camera butoon, and has capacitative buttons :)

But that's because it was a requirement from the OS. If it wasn't, Nokia would have removed those things from the 520 ;)

Alcatel did remove the camera button way before Nokia launched the 520

Given the 1xxx series phones, it looks like they are repositioning the whole lineup slightly. So the old 6xx device spec/price level devices may now be numbered 7xx. Accordingly, e.g. the 530 may be significantly cheaper than the 520 was (at announcement), as may the 630 relative to 620 . Some rumors on the price points seem to suggest this is the case. e.g. 620 price at announcement sans taxes and subs was $249, whereas some rumors claim 630 would be less thant $200. We'll soon know.

Hahahaha...seems legit here!!!

Dan, have you seen any possiblity we will be able to disable the hardware buttons in favor of the virtual buttons? Would love to be able to do this on my 1520.

Doubtful. Though I suppose you could through a registry mod, assuming you could gain access.

So - you'd like less space and 3 hardware buttons on your phone to not work? That seems weird...

It's not wierd if you have a 6" phone. Also, this would unintended button pressing. Have you actually picked up and used a 1520?

I have and don't have issues with the buttons. If the buttons are there I would not want to use screen resource for redundant buttons that already exist. But that's just my opinion.

Respect your opinion. Just having the choice/option to customize\disable (say leave the home button on) would be nice. Many times when I hand my phone off for people to view photos or take pictures, they end end up pressing the back or home button. Also, from what I recall, the virtual buttons do not always display. I'm sure I'll be corrected if I'm wrong on that.

Any time I hand my 1520 off somebody ends up in Bing... The option would definitely make sense, it absolutely never hurts to offer customization. Especially because the virtual buttons have that slick theme color option... Bow-wow. +1520

Hopefully the tweaks to how buttons behave in different situations will partially address that too.

That's the only time I struggle with my 1520 is when im trying to hit the back button one handed. On screen controls move it 5-9mm higher up and requires less reach, I'd like the option..

By now the only thing I really want to know about 8.1 that hasn't leaked yet is if there are changes to the accent colour pallet. If there are more colours, a colour wheel or if everything will remain the way it was in that department...(I'm excluding the skinning, obviously).

A new color and that's all

Well, that's disappointing. Thanks for the info though ;)

I mean, its not like you were staying with Windows Phone anyways...

Yet I'll still own a 1020 as a camera. And I'm likely to get the 930 (if it's released under the Nokia banner). So it's not like I won't be dealing with the OS at all. Only my daily driver will be switched to Sony's Android once Nokia is gone. My photography camera will remain the 1020. And I'm thinking about getting another 620 or a 520 as an mp3 reader since Creative has apparently disappeared from the market. AND my 920 will still be my daily driver until the 930 comes out or Sony releases the Z2 Compact. So I have tons of reasons to still care about what comes to WP ;)

Good question. From the moment I got my 920 I've never understood why the color choices were so limited. I want to drag my finger over a color pallet and choose whatever color I want. 24 bit, 18 bit, shit I'd even be happy with a 16 bit pallet. This isn't rocket science. Our phones can display these colors. Why can't we select them?

Wait, FM radio can use speaker? So that means it doesn't need something plugged into the phone to use FM?

Incorrect. The cord is the antenna. But you can redirect the audio to the device speaker.

Ah, I understand now. Thanks.

It can use speaker even now, but not as an antenna, if that's what you're asking.

You still need something plugged in, the cable/headphone acts as an antenna. For example I plug my bluetooth speaker which also has AUX and comes with a cable that plugs into the headphone jack and works perfectly at work, picnics, outings, whatever.

you need the antenna..ie a plugged earphone. all lumia with fm has this option

FM will actually become practical when they figure out how to put the antenna internally, so you don't have to worry about carrying the ear phones.

Also when it gets a good radio receiver. Even with a decent headphone cable the reception is really poor (really unusable on all but a handful stations) compared to my Sansa Clip FM radio.

Soft key.......... Wtf so pretty!!!!! I want it!!! Why I bought 1520...

So a soft key is worth more than a huge battery, amazing screen, and amazing camera. I see... Priorities

Don't judge. Sometimes I like chubby girls, sometimes I like skinny girls.

Why would they take the radio app out of the music hub?? I like the music and games hubs

Feature discovery. So you can pin to your Start screen. So it can be updated and tweaked if necessary. I can go on...

Then let us be able to manually put it in the hub. I really like not having to have 4 diff music/podcast apps on my home screen. Some might like that. Why not allow both?

Were gonna leak something quick grab our worst camera
Why ?
Because its a leak

Let's also shoot the video in portrait, not landscape, because you know...it's a leak.

The camera recording it is a Nokia Lumia phone. Which appears to be a white 920. Based on the reflection.

Not seen the video yet, but that's because I want to see it once and for all on April 2nd! Oh didi forget to mention, I cant wait!!! :D

It's thick but seems good

Compare the size of the micro-USB relative to overall thickness on this and on the 920. 630 looks fairly thin, actually. Looks like a promising device for the lower end, hopefully price is right.

You have to keep in mind that it is a developer device, not the final product. It could change a good deal before it gets on the shelf.

Nope. Developer device just means it's factory unlocked so you can deploy apps.. the only thing that changes is software. But it is the same device that will hit shelves

I remember reading about grid view of app list. Is it confirmed feature?

I would like that. More options are always better.

Honestly, I don't see how this could in any way be easier or better. Finding things on WP is so much easier than any other OS as it is.

True, does seem a tad sluggish. Hopefully they can optimize further. Also, some of the apps start with the tutorial the first time - hopefully once you have skipped it, the app would open slightly faster?

Two words - developer preview. I think the purpose of this video was more to demonstrate UI and features rather than performance since it's not final.

Love seeing that so many features are being moved out of the OS so those things can be updated more quickly and regularly.

Dev preview got delayed tho, huh?

Ya that's saddening if it is true.

I'm sure you guys can wait a week, it's not like 6 months or anything.

One week is fine unless they keep stretching it further.

Maybe Win8.1 Update 1 and WP8.1 developer preview and modern apps for Office will be all released together in the April 8th?

Yes that's a possibility. If the Dev Preview is not released on 2nd April itself. Keeping my fingers crossed. Maybe they can manage to pull it off nicely so that it is readied within a week and then released successfully on 2nd itself.

idk how this is exciting, they will announce it in April and release it next year just like Amber and Black updates. I only need BBM to be released and full-instagram.

Because the majority of this site's readers will have done the Developer Preview, meaning by the end of April, a lot of us will have 8.1 on our phones.

Yes I will.. And I don't care if it voids my warranty..

Uhhh... so if something happens just reload 8 and black and uh they will never know....

I've avoided doing this in the past, but after this last episode of waiting for T-Mo... I'm pretty sure I'll be doing it this time.

You have no idea how many times I told people Dev Preview method in the forums. Well, I know you could REALLY quick, but...

How do you get the dev preview?!

well go and search in the forums everyone is tired of tellling ...go to the forums .....

Dan, any final word on CORTANA
will it be in this final version or to be pushed out thru GDR's??

Cortana is definitely arriving with Windows Phone 8.1... It may just be restricted by region for awhile, similar to the Kinect for Xbox One feature rollout. Don't stress.

Did not mention anything about cortana!!!!!!

I cant wait no longer....super excited!

Did abybody see a camera buttonon the side? I didnt. Please dont remove the camera button Nokia!

This is a low-end device, I wouldn't lose sleep over the idea of Nokia taking away the button for their most-touted feature. In reality, the removal of capacitive buttons and the camera button will only make this device more affordable. That is the joy of 8.1's digital-access options. (Virtual buttons, possible camera access via Action Center, volume controls, etc.)

PureView devices will not lose the camera button.

What is more interesting: Where are the screenshots from? Definitely not from the crappy video. Daniel seems to have some other source for them, maybe he even has 8.1 installed already on his device ;)

Silence.. I'll take it as acceptance... Surely he owns a WP8.1.. Those screenshots are watermarked "WindowsPhoneCentral"..

why do they keep on saying nigg@... racist chinese. <this is a joke people I am asian too>

Then, WTF are they saying??

in pin yin, it's "ne ge" basically, "um..."

I got a headache watching that SMH

How on earth they get the devices earlier.. I know it's prototype, but how? lol

Some factory workers normally get devices for quality tests and to see what needs tweaking.

I gather its now safe to assume that "sort Apps by most used" etc. won't be in this version? Anyway, who cares, there is so much other good stuff there! And the 630 looks very promising.

The new dialer seems to be cool. Could be the stock one or an app like RapDialer. But the missed call notifications (seen in the lockscreen in the video) are not available to third party dialers unless ofcourse MS has loosened the restrictions a bit. Can't wait till April 2.

Rock windows phone 8.1 !!!

Nice to see they are able to record videos using toasters!

Its Nokia phone doing the recording based on the reflection. Pretty fancy toaster I'd say. Just poor resolution from the way it was uploaded I suspect.

If china isn't getting cortana then India probably won't get it at first either. Hope we do...

Didn't u read article. The video might be showing early version of 8.1. Cortana is built into OS.

dude just change region to US and enjoy all the stuff .........keep in mind to change all microsoft related accounts to US region. Xbox,outlook,win 8 desktop or laptop region ..everything.........Basically you should be a virtual US citizen.and then BLISSSSSSS

The UI of the virtual keys looks pretty clean.

Still hoping lol that the dev preview would come next week. Tho it prolly won't

Actionable notifications ????

"Nigga nigga" said the boy

Really? Just because they were saying it in the video does that mean we have to repeat it like a bunch of 4th graders???

oh god. change language to english and then post video. i couldnt understand anything about options.

Here in Turkey, youtube is blocked by the government. So I can not watch the video. So embarrasing...

Yes, its time for his regime to go. Vote the right way in the upcoming local elections, and make sure your friends and family do too! Good luck! :)

Do as the Ucranians..... overthrow that government!

So no one here is gonna rag on Nokia for not having a camera key like you guys did Samsung? Ok... I'm really excited for 8.1. The action/notification center looks exactly like what i've been wanting and this video confirms it. I'm also digging seeing the updated store in action.

You should see comments above yours...

this is not a high end phone and hence NO for as you say "rag".....or as i would say nagging..

Is that on screen buttons? Why do they need such a long bezel at the bottom then? Bad phone design.

Choose: fat phone with no bezels of thin phone with bezels. Internals have to go somewhere.

Thin with bigger screen. There..

It will still have bezels though. Also, not everyone likes big phones. This already has a 4.5" display. It's big enough.

1) It's not that big, looks to me smaller than on e.g. 520/620 2) where would the USB port, speaker, screen connectio pins, antennas etc. go? I can promise you its not all just empty space there. Note that the phone looks fairly thin also (compare USB port relative to overall thickness of 630 vs 920 and you'll notice that is the case) for a cheap phone 3) cheaper phones asssembly is kept simpler (and thus, again, cheaper) than high end 4) drop test durability is also a factor in such design choises, as is ergonomics.

But the phone seems to have CBD. That means Glance. Woohoo!

... Build conference in few months... Then in few weeks... Here it comes, Tuesday :D

We need one more short cut key in the notifications centre

At the 1:21 mark... rotating virtual buttons!

That cortana pic overlayed on that icon has me excited, weather updates! might be able to replace my weather tile with cortana.

Guess what?? I have April 2nd off from work!!! Bwahahahaha

Did anyone notice the new "phone" section ?

Btw the article says "wait till next Tuesday for Microsoft to reveal the whole story." Isn't //build// on Wednesday?

I don't think we're seeing the design of the handset, i think what we are seeing is a device in a cover that hides the design of the device much like what Apple and Blackberry did to hide a device that was still in development. I think we're still in for a few surprises next week, what we're seeing could be early os leaks and not completely whats coming.

Like the way the onscreen navigation buttons change orientation when the device is tilted....:)

Can anyone update on the Slo-Mo feature, is it coming with the stock camera?

If it is a 620 evolution, why it doesn't have flash and frontal camera?

Because this isn't an evolution of the 620. It's an evolution of the 520. The problem here is that the 620 was REALLY good. Even overall better than the 720. That created a lot of expectations in regards to the 630.

So no start screen and applist landscape orientation?

The start screen would have to use a wrapping stacks mode like W8 to support landscape, so I'd say no (and don't even want it, personally).

If Win8 has this, then WP8 should have this too, imo. And you can turn off rotation, just in case you don't want it. Also, using a device like 1520 or 1320, navigating to and from some apps that are in landscape mode and off to another ie copy/paste needs some UX consistency. The user should not need to turn his/her phone just because he/she has to navigate to/back to the start screen and applist.

Dan, any final word on cortana??
will it be out soon or in GDR's ...

Now is that a Lumia device cause it looks weird, fat

It's not fat. Again, look at how large the micro USB looks relative to overall thickness. Compare how e.g. the 920 USB port looks. 920 looks to be at least 2mm thicker than the 630.

In the video length is 3.14 seconds, while in the source length is 7.04 seconds!

http://v.youku.com/v_show/id_XNjkxMjEwMTU2.html

not holding my breath... patiently waiting. = )

Well I don't regret buying 620 now. :):):):) I will keep it till the next iteration of WP.

The photo hub looks very bland without background pictures.

I really want to be able to add the internet sharing off and on to the quick pull down, I really hope I can. I turn my hotspot on and off all the time, it'd be nice to be able to do it quicker.

http://v.youku.com/v_show/id_XNjkxMjEwMTU2.html here it is

Did anyone else see the back arrow rotate when he went from landscape to portrait in the camera app? Pretty cool!

Why is that cool? It does that now too in WP8.

Chris/Binoy are referring to virtual buttons(back, window and seach). On current devices those are physical/hardware buttons.

That wasn't what they referred to, it was the back button in the camera app. Either way WP8 has rotating buttons now too though. Guess I don't see the big deal.

I think other 2(windows logo, search) virtual buttons rotate too. Pretty neat. <3 <3 it.

On 2:09 (youtube video) - that this mean - i can search in phone book with numbers (like some Android devices)? Now we cant- there is abc below numbers, but its only for information...

There is a T9 keyboard in 8.1, so potentially it shares some logic with a T9 contact search.

Why WP was born in US, but leaked in China? Funny.

All these delicious leaks coming in

So I didn't see it but is it confirmed now that the WiFi, BT etc indicators in the pull down are in fact toggles and not just shortcuts to the menus?

New video: Customizing home startscreen: https://www.youtube.com/watch?v=16MExHLa0tI&feature=youtu.be

Looks nice! Finally we know that the tiles skin is staying in the background with a little parallax.

Interesting that not all tiles are transparent, at least in this version. Kind of nice actually, enchances the depth feeling, if that's what one wants. I do generally agree that MS should have gone the other route (as well?) of trying to unify the Windows and WP home screen experiences a bit more. But having this background picture function removes another reason for whining for some. :P

Looks way better then I thought!

Lost interest when I saw the 'loading...' screen. I thought we'd be done with this bullshit in 8.1.

Low end device with a non-final firmware. Shall we wait a little before jumping to too many conclusions?

I don't like the on screen buttons.

It's looks classier the way it is now. This 630 is very ugly when it's off

Lame quality video showing another fugly Lumia. Thanks for the effort?

@DanielRubino, I keep reading about IE Tabs appearing in multitask view, but don't they already? Whenever I long press the back button I see all the different tabs that are open (the ones I am browsing) while in multitask view. When I close that tab in multitask view the tab basically closes (page link intact for when I open it). So I don't understand why its highlighted as a feature, or if I'm missing something. Can you please clear that?

You're correct, they already do.

Once again, as I've said many times, IE tabs are *already* shown in multitasking view ...

I can understand taking time to develop full Chinese support for cortana, i just hope they release it with English as an option worldwide rather than restricting it to US/UK.

Still no option to turn encryption on and off. Drats.

I'm just glad to see Verizon logo on it. I hope this means the 930 is the monarch for t-mobile.

Onscreen navigation buttons plus Bezel equal to reduced screen real estate.it will be nice to have the buttons auto hide like windows task bar, and make them appear by swiping from the bottom. It's time to get rid of the huge bezels and have phones like the Galaxy S3,4,5 or the new LG phones

Videocall by network plzz
Windows Central Newsletter
Thank you for signing up to Windows Central. You will receive a verification email shortly.
There was a problem. Please refresh the page and try again.