Windows Phone 8.1 SDK reveals burst photo mode, password management in IE 11 and more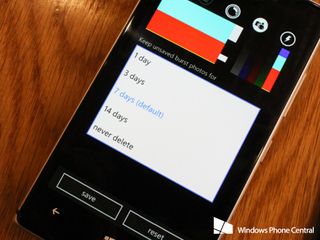 Windows Phone 8.1 SDK leak
This past week we've seen a flurry of new surrounding Windows Phone 8.1, the upcoming update to your favorite mobile operating system. The information we're getting comes from developers who are leaking screenshots, info and more onto the web.
Today we're looking at the latest information and screenshots to come out of surrounding Windows Phone 8.1. Want IE to remember your passwords? How about having your photos automatically deleted? Details below.
Burst camera mode and auto-delete of photos
Windows Phone 8.1 will bring a new burst photo mode in the default camera app (check it out in the lead image above). This will allow you to take a lot of photos at once for those awesome action shots. Of course that's a quick way to fill up the storage on your phone. In the settings for the camera app you'll be able to automatically delete unsaved burst photos after a selected time frame.
For example, have those unsaved photos deleted after 1 day, 3 days, 7 days, 14 days, or never. The more options to users the better. (Source)
Messaging, passwords and more
Here are some more screenshots from the SDK. First up you see the ability to mute a thread in the messaging application. This can be particularly useful when you get looped into those group SMS's that never seem to end (I'm looking at you grandmother).
Middle screenshot shows off the ability for IE 11 to save and remember your password for websites. A very useful tool and hopefully we'll see it syncing with IE 11 on Windows 8. If not, we'll stick to using a password manager. And the last screenshot shows off a new feature called storage sense. You can select the default save location for various media on your phone.
Have a microSD card in your Windows Phone? Have music and photos automatically saved to the micro SD card to save space on the actual phone for apps and games. A very handy feature.
Contact lists, weather in the calendar and filters
We've shared the screenshot of the calendar above before, but we might have glanced over a pretty cool feature – the ability to see at a glance what the weather is like. Check it out that week view and you'll see weather implemented into it.
Too many Twitter and Facebook contacts littering up your contact list right now? In Windows Phone 8.1 you can filter out your contact list to only show people with phone numbers. Speed dial contacts? Coming in Windows Phone 8.1.
VPN support has been one thing many Windows Phone users in enterprise have wanted for a long, long time. It's finally coming in Windows Phone 8.1. The screenshots above show it off. (Source)
Windows Phone 8.1 and Windows 8.1 collide this spring
Windows Phone and Windows 8 are on a collision course. While they'll crash and collide with the Blue update (aka Windows Phone 8.1), they won't be one and the same just yet.
However we're going to see a lot of overlap between the two when Windows Phone 8.1 launches in a few short months. One area we'll see some overlap will be with the new Live tiles and notifications. In Windows Phone 8.1 Live tiles will be cross-platform with Windows 8.1. We won't see those really large Live tiles on Windows Phone, but we'll see the other sizes.
Blue is just the first step to bringing the platforms together. We'll see even more convergence with the Threshold update.
Windows Phone 8.1 will introduce a variety of benefits for developers who want to design once and deploy everyone. We'll see things like a converged developer platform, converged app model, shared app identities & entitlement, and a unified push service for apps on Windows Phone 8.1 and Windows 8.1.
In Windows Phone 8.1 sharing apps with Windows 8 will be a lot easier. Right now you build a Windows 8.1 app and a separate Windows Phone 8 app. However, going forward developers will be able to build a Universal App that works across platforms.
Background images on Start screen?
Earlier this morning, Verge writer Tom Warren tweeted a few images showing the Windows Phone start screen with a custom background and a cheeky smiley face:
With all of this leak talk, you may think that this was just another leak of a beta SDK feature that some of you have asked for in the past. But no, custom backgrounds are not in this beta SDK. However, we can say in this case, don't take Tom's mockups literally. Take that as you will/insert winky nod.
Finally, despite everything coming out from the SDK, there are still numerous 'user facing' features that have not been revealed at all. Many of which you have not even heard about.
Recap of leaks
There's been a lot of new information about Windows Phone 8.1 this week thanks to the leak of the SDK beta. Here are some quick highlights of what we learned this week to bring you up to speed.
JavaScript and HTML for app development
Rebranding of SkyDrive to OneDrive
Support for Virtual Private Networks (VPN)
Swipe down to close apps in multitasking view
Back button no longer closes apps, instead it suspends them
Separate volume controls for ringtones/notifications and music/media
Navigation bar
Dedicated Bing app for podcasts
Mirror and project via wireless display or USB-out. Miracast support
New weekly calendar view
Battery Power Sense – app to monitor which apps draw the most power
Upload files through Internet Explorer 11
Mouse and keyboard support
That's just a small sampling of what we've learned about Windows Phone 8.1. Don't miss out on our previous coverage of the Windows Phone 8.1 SDK leak:
Source: @AngelWZR, Windows Phone Lovers, Windows Phone Hacker
Get the Windows Central Newsletter
All the latest news, reviews, and guides for Windows and Xbox diehards.