Windows Phone 8107 rolling out for unlocked and beyond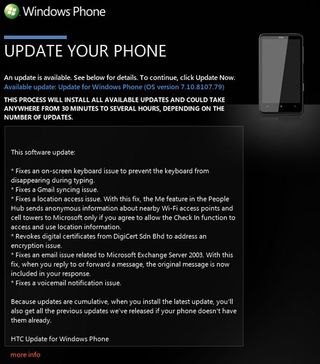 According to a number of sources the Windows Phone 8107 update, which contains the much needed keyboard fix (among others), is starting to gain momentum in the roll out. We've already caught wind of the update heading to Bell, and we have word that unlocked owners in South Africa and Italy are receiving the update on a number of handsets, as well as O2 UK announcing the start of the release on Twitter.
It's still not clear what's happening with the update in terms of who will be receiving it (who aren't unlocked), but we would expect most carriers will be rolling out an update that addresses some OS annoyances. Let us know in the comments should you receive the 8107 update notification (as well as whether you're unlocked or not).
Source: Plaffo, O2 UK, thanks everyone who sent in tips!
Rich Edmonds is Senior Editor of PC hardware at Windows Central, covering everything related to PC components and NAS. He's been involved in technology for more than a decade and knows a thing or two about the magic inside a PC chassis. You can follow him over on Twitter at @RichEdmonds.
I JUst got update for my Samsung omnia 7

Did you finaly got Internet sharing?

Have it since mango. (t-mobile omnia 7)

Whaaaat I haven't on mine :( unlocked, Swisscom.

Just got the update on my HTC Titan unbranded (Portugal)

3 ATT Samsung Focus v1.3 rockin' 7720, oh wait a minute, that's not the update. DOH!

I am updating too, unlocked Omnia 7

What would the version read after the update? 7720.x? I just installed an update for one of my T-Mo HD7's, but not the other.

No love at my Dell Venue Pro unlocked here on Brazil

Just got it on my unlocked Lumia 800; just waiting for the Nokia update now. I'm on O2 UK network, although I guess the network doesn't matter in the case of an unlocked phone, correct?

Nothing on my unlocked Lumia 800 yet in Ireland (on Meteor fwiw). I'll be checking it every 5 minutes now.

Just got the update on my omnia 7, unlocked and on o2-uk, had to do it manually through zune...

Finally downloading on my LG Optimus 7 (OPN on O² Germany).

Received it 30 minutes ago. LG E900 - Europe Open ROM in Brazil.

updated my unlocked omnia 7 in portugal!

Nothing yet either on devidce or by plugging into Zune.
HTC Titan unlocked and unbranded in UK.

Htc Radar in the Netherlands also received the update.

Samsung Focus 1.3 here in Toronto -- being uptdated now!!!

Is your device unlocked ? or on a Canadian carrier-locked?

Can someone grab this and post it for us stuck on the carriers? I have an HTC Radar on Tmobile. I installed it manually, but want the official in case something is different...

Anyone got it for Samsung Focus i917 Unlocked yet?

My phone is unlocked, i haven't got a notification yet :(, was on o2, but unlocked so now on Three UK (HTC HD7)

Got it! Got it! (Samsung Omnia W in Bulgaria)

What sort of unlock is required to recieve updates on the unlocked schedule?

Still nothing here - Samsung Focus on AT&T, USA

hopefully they are working on the Samsung Focus on AT&T a little longer to add Visual Voicemail!

LG Optimus 7 from Personal Argentina got the 8107 update too!!!!

Shit, I'm on Movistar with the same phone and nothing yet

When is Orange UK going to give us the delicious build 8107 goods!?

I asked on twitter - and they responded that they had no information.
This could mean they're sitting on their hands ... or it's still in testing. Time will tell!

Thanks for the heads up. Shame, it sounds like I'm going to be waiting for a bit yet...


Just got the update for an unlocked HTC Titan here in Austria

has this increased the accuracy of the finger input detection? i'm running the leak and it hasn't fixed this, nor this disappearing keyboard COMPLETELY (rarely happens now) but it still does

I got the update message at around 1PM EST but I had to leave for work. I plant to upgrade when I reach in tonight. Unlocked Samsung Focus - Rogers. Toronto - Canada.


I think I'm done with WP here in the US. This is rediculous. I have a broken device that cannot be used for work because every Exchange email cuts off all previous members of the thread.
Hello Android, I guess.
Stupid that WP will be abandonded because it doesn't support a MS product, but it's been 4 months and I'm not waiting any longer.

Do a search for "windows phone force update" and you'll get the updates.
Just have patience as it can be tedious to have the correct timings... But seriously... Going Android will test your patience daily.

Just updated my Lumia 800 with the 8107. I've an unlocked phone. I'im in France.

I got it today on my non-unlocked LG Optimus 7 (Carrier: CLARO Argentina)

Uf, nothing from Movistar as of yet. They didn't bother answering my tweet asking for the update rolling date

No update for my HTC Mozart on Telstra, but I didn't expect anything anyway. Telstra never delivers early.

Updated on my former T-mobile (now unlocked) Samsung Omnia 7.
Still no tethering. Oh well...

Dell Venue Pro just received the update then. Unlocked DVP.

Nothing available for LG Quantum on AT&T in San Francisco.

When will this update named 8107 be in Asia(India). Is it depends on network we are connected or something about dates that when we get.I have unlocked HTC HD7 so let me know about this update....

I am installing the update on my phone right now! I am in India and have a HTC Mozart running 7740 currently.
After this update OS version would be 7.10.8107.79

on Verizon, with the trophy, plugged in and it's showing a update available. I manually updated to 8107 but, I guess this is the Verizon offical one...
Installing now.
Edit: Confirmed, Offical Verizon wireless 8107 update on my unlocked HTC Trophy. It updated firmware and radio too, I checked the versions.

I got it too! LG Optimus 7 OPN (Macedonia).

Just updated my Samsung Focus 1.3 on Rogers in Canada! Now running 7.10.8107.79, but still no Internet Sharing.

I can also confirm this for my Rogers-branded Focus.
If your phone is dev or Chevron unlocked, you can Google instructions on how to enable internet sharing. I enabled it on 7740 and it's still enabled after the update.


I just got an update on my Verizon Trophy. I checked the version under about phone and it reads 7.10.7720.68 after the update. ??? I can not get my wife's Trophy to update. Mine went straight to the update screen as soon as I connected via usb to my laptop. I have no idea what the update did since it did not change the software version. Also on a side note it's way past time for Verizon to anounce another WP device since 3 of my 5 lines are at upgrade now status. Where I live AT&T is making a lot of improvements to their network and should have LTE up and running by as soon as mid year. The 900 will be too much to resist if Verizon does not get their act together by then.

that the version I have had since the mango update was done several months ago! samsung focus rev 1.3 ATT

Updating my unlocked (US, on T-Mo) Dell Venue Pro to 8107 as I type.

I received an HTC Update for Windows Phone on my Verizon HTC Trophy today, but I have not yet received the 8107 update. I still have the Mango RTM build. Attempting to use the "force update" trick multiple times did not work for getting 8107 for me.

Did a manual check on Zune for the update and there it was, 8107.79 just waiting for me.
I have an unlocked Samsung Focus v1.3 on C&W Panama (+Movil).
I hope I keep the internet sharing ability that I enabled while I was on 7740.

Just got update: unlocked titan, AT&T

Just finished updating my unlocked HTC Titan to 8107 via Zune. I'm on the Optus network in Australia.
All seems good and shinny.

Updating now on unlocked omnia 7 :)


just received on vodafone DE on LG E900 OPN. Exchange 2003 forwarding problem still exists.....;-(

LG Optimus 7, unlocked, Portugal. Still nothing...

Unlocked Omnia 7 in Croatia

just got the update notification.. only because i connected the phone to the computer.. eugh don't have time to update now, wish backup didnt take so long :P

Nokia Lumia 800 on 3 UK. Not sure if the phone is locked, but it is branded with the 3 splash screen. I did have a quick look for a non-3 sim card to test whether it is locked or not, but could not find one. Just updated to OS version 7.10.8107.79 which also included the Nokia firmware update to 1600.2483.8106.11500. The updates seem to of fixed an issue I had when scrolling length ways up and down the screen. If I scrolled and left my finger on the screen, the screen would shift up and down for as long as I kept my finger on the screen. This never happened while swiping the width of the screen. I wonder if this problem was related to the disappearing keyboard issue. However, this problem did not alway occur and I have just updated the phone, so I can not say for sure that it has been fixed. Additionally, the battery status tool in the diagnostics app now shows a 'Full Charge Capacity' of 1483, previously it ranged between 1507 and 1524. Unfortunatelty, I have not received the updated battery status tool that displays a graph even though I uninstalled and reinstalled the diagnostics app, which is susposed to correct this according to a seemingly knowledge person on the Nokia Disscussions forums. Like other people have noted, the soft keys no longer display when the brightness is set to medium or high. However, I think this was done on purpose as the only time most people would set the screen brightness to medium or high is when they are using the phone under bright light and illumination would not be necessary. Moreover, I think the sensitivity of the automatic brightness setting has been adjusted and now selects a more accurate screen brightness setting, well in my opinion anyway.

Just got the update on my Trophy

8107 rolling out to Singapore now. I'm using Optimus 7.

Just installed on my HTC 7 Pro on US Cellular.

I don't see any change in the GMail syncing delay/lag after updating to 8107 on Dell Venue Pro.

Nothing so far on Orange UK, (HTC Mozart). But then the phone has never found an update. ever. have to plug into zune and check. but was nothing there last night.

Update Successfully installed on my HTC Mozart! :) This in India

No update yet for HD7 on Tmobile US. Tried force update in Zune and nothing happens time and time again.

Those reporting getting the update on the HTC Trophy, please specificy which carrier you are on or region you are in. Thank you. :)

Got the update last night for my unlocked DVP T-mo.


Still nothing for unlocked HTC Titan un UK :(

Got 8107 using the network trick on my Mozart in India :D

Do hd7 in Singapore have any updates??

I can confirm I just got a notification for the 8107 update for my unlocked HTC 7 Mozart. Updating as I speak.

At last in Movistar Argentina for my LG E900!!!
Windows Central Newsletter
Thank you for signing up to Windows Central. You will receive a verification email shortly.
There was a problem. Please refresh the page and try again.