Windows Phone Accessory Review: Otterbox Commuter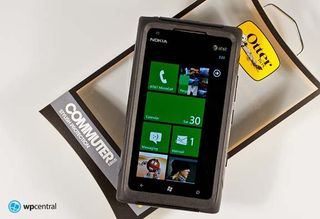 Otterbox makes some very nice cases for our Windows Phone. Recently the company released their popular Commuter case for the Nokia Lumia 900 and we've taken it out for a test drive. The Commuter is very similar to the Case-Mate Tough but beefier. The rubber sleeve is exposed at the corners of the Windows Phone and protects nicely against falls. The case also forms a frame that recesses the screen to protect it from scratches.
While the Commuter does provide a nice level of protection it does add noticeable bulk to the Lumia 900. Bulk some may not find appealing.
The Commuter is a two piece case with a rubber sleeve that fits snugly around your Lumia 900 and a hard shell case that wraps around the rubber sleeve. Buttons are covered with a rubber extension and the micro-USB port is covered by a rubber flap. There is a cutout to expose the speaker and headphone jack.
For those wanting a little scratch protection for the chrome accents around camera, the Otterbox has cutouts for the camera and light but keeps the chrome concealed and protected.
The fit and feel of the Commuter is nice but adds noticeable bulk to a slim Windows Phone. If I had to compare the Lumia 900 fitted with the Otterbox to another Windows Phone it would be the HTC HD7 or maybe a slightly thicker Titan. The case does offer excellent protection for the Lumia 900 but at the price of size. It doesn't make the Lumia 900 feel like a brick but if the attraction to the 900 was the thin form, you may not like the Otterbox.
Overall, the Otterbox Commuter is a very nice case that offers a respectable amount of protection to your Windows Phone. It does add noticeable bulk to the Lumia 900 and some may not mind the size increase. If you don't mind the increase in size, it would be hard to go wrong with the Commuter.
The Otterbox Commuter can be picked up directly from Otterbox (opens in new tab) or through third party vendors such as Amazon.com (opens in new tab). The case is running in the neighborhood of $35 and comes in black and gray/white color patterns. Otterbox also makes the Defender (opens in new tab) case (a little beefier than the Commuter) that we're in the process of taking a look at and will get a review up shortly.
Windows Central Newsletter
Get the best of Windows Central in your inbox, every day!
George is the Reviews Editor at Windows Central, concentrating on Windows 10 PC and Mobile apps. He's been a supporter of the platform since the days of Windows CE and uses his current Windows 10 Mobile phone daily to keep up with life and enjoy a game during down time.
Now if I could only find one of these for my hd7.

Try eBay. I've had one for my hd7 since January 2011

I was going to suggest Amazon, since that is where I bought mine, but apparently it is out of stock now.

I own the Defender, at first I was concerned because the last Otterbox Defender I owned was ripping apart at every seem from normal use. Luckily they redesigned their rubber, they made the joints that cover the headphone jack and charge port a lot stronger and the rubber doesn't attract dust like it used to. I'm very happy with it, it only cost me $35 new, so I don't see how the Commuter could be worth that. I easily recommend the Defender if you are looking for a strong case.
The differences between the Defender and Commuter: the Defender is 3 layers, hard shell then rubber then hard belt clip. It also has a built in screen cover, and the headphone a charge ports are covered by rubber flaps.

I have this case for my Lumia 900 and while it's nice and protective, it makes the phone very thick and feel huge. I really couldn't deal with it and I used a Commuter on my old iPhone 4 all the time. I decided to go with the Speck Fitted, it's still protected and a lot slimmer. I wish Otterbox could have made the Commuter slimmer. The Defender looks abolutely massive.

I was never a big fan of otterbox cases....because they whatever phone to big and bulky...plus the 900 is not in big of such a case I think. Put on a good skin tight cover and a screen protector and its all good

I like my Lumia 900 raw... :-)

Same. Since there is no white Nokia case, I have to have mine raw.

I had one for my blackberry, the defender series. Best phone case ever, that phone took a lot of abuse at work and at home.
If they had one for the LG Optimus 7 I would get one for sure.

I got an otterBLOCK on my phone I ordered it a couple months ago on amazon and never got it cuz limited supply so wen I checked back recently I got the otterBLOCK commuter again and got it loli only use it at work and take it off wen I get off cuz nothin' looks better then a caseless cyan Dallas Mavericks lumia 900 ;)

Don't understand u with all those grammar mistakes...

Was that all one sentence?
Cuz? Wen? Loli?



When you buy a beautiful design peace like the Lumia 900/800 , you shouldn't hide it in a case. It's like having a nice car and covering it with cloth while driving, doesn't make sense. If youre on an outdoor trip, ok, but for everyday usage i'll never understand people that pack their gorillaglas+colycarbonate phones into cheap plastic cases.

I know, right? What's the point of falling in love with a design when you won't be able to enjoy it because it's "protected" with a case?

How are you going to enjoy it when it breaks because there was no good case protecting it?

That's the dilemma. But i rather risk breaking it , than not being able to enjoy the art of design and not to forget the feel of it in my hands. Lumias just feel great in your hands with their slick unibody, no phone feels like that, if you wrap that plastic case around it, it feels rubbish. I want the whole experience, it's not an iphone with it's body made of glas (!).

Dude its really really really hard to break a lumia 800/900. I drop mine all the time face down just to show how incredibly resistant it is. A gel case is more then enough protection believe me

I drop my Focus all the time too. Everytime it happens, I picture the screen being shattered before I pick it up, but no breaks. The phone body is however, littered with nicks and scratches. The screen has numerous scratches also, even though it lives by itself in my pocket.

It's called having children. Duh.

Since I generally wear my phone on my hip, I wouldn't mind the bulk from the Otterbox so much BUT there is no belt clip for it. I have the Lumia 900 and keep it in a belt clip case designed for the HTC Titan. I also have a Qubits case on the phone and both the case and phone fit perfectly in the Pebbled Premium leather case. All this protection for less than a couple big macs, fries and medium drinks. :)

The Otterbox Defender comes with a belt clip.

I hate big bricklike cases for phones. Why would you want to make your phone bigger than it already is?

I've been lamenting the lack of an Otterbox since I've been using WP7's. I'll be grabbing a Defender. Adding a little bulk to a phone is a small price to pay for the kind of protection an Otterbox provides. The stupid rubber "bumper" cases that Nokia sells for $20 are a joke when it comes to protection.

I wish the AT&T store would carry these. My wife works for the Post Office and gets 50% off all accessories. Haven't paid full price for an Otterbox ever.

But the Nokia rubber cases look like u have no case... Beauty comes first if u get a nice looking phone.

You'd be surprised how many people value having a phone that can withstand everything you throw at it more than a phone that looks pretty. It's not too uncommon really.

Ok first of all, the lumias 800/900 do not need anything more than a gel case to protect it from scratches. I have owned an 800 and now own a 900 and believe me, they do not need to be protected. I know this because I regularly drop them (screen down most of the time) to show people just how though they are. Neither of the phones has received a single tiny scratch. So unless you work in construction or some other very risk prone environment you will not need anything mire than a gel case

No!! Such a beautiful phone made by Nokia cover with a thick ugly looking design from outerbox might as well carry a tool box on your belt too.

I have the defender series for my lumia 900, i love my phone, and honestly dont hate the look of the case. Even though I would like to have it raw, I dont dare to risk it, my toddler uses it so i cant. Defenders are super safe, love that about it and dont even mind that makes the lumia 900 heavier. What is super annoying and frustrating is that if you need to take a pic with flash, the design of the case messes it up, comes out looking sort of cloudy and yellowish. If it werent for that detail I think the lumia 900 defender series case its perfect for any ocassion.

After I covered my original (2g) iPhone with a case, all my phones since have been naked (OG Droid, Droid X, Pre 2). After I was done with the iPhone, I thought, that was really stupid to have a case on it and cover up the way it looks which the original iPhone looked cool with the aluminum back. Plus, I carry my phones in my front pockets when I'm wearing pants, and back pocket when wearing jeans. A case only makes it harder to slide in and out (that's what she said).

What's the point in having a svelte phone only to cover it up and make it twice as big?

I really enjoyed my Lumia 900 naked too, until I was standing too close to my wife when she was folding clothes and she knocked my phone out of my hand and it hit the tile. The screen popped out a little at the top left corner and AT&T doesn't want to fix or replace it because it was dropped. It still works fine and has no scratches, but the case I now have won't fit tight at the one corner...:-(

Look on Youtube for a tutorial on taking the phone apart. Super easy and the "warranty" sticker is a joke. It is a very simple design and very easy to reset the screen in the case.

I don't know about your 920, but mine can heat up with heavy use. Sometimes even not so heavy use. I would worry about all the insulation this case would add to the phone. Will heat dissipate quickly enough with this case around it?