Windows Phone and SkyDrive featured again on TV's Hawaii Five-0 [Video]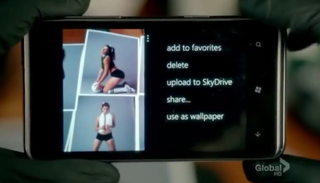 We received numerous tips that Windows Phone and SkyDrive were shown off, prominently, on Hawaii Five-0 recently. So we went ahead and found those clips for your viewing pleasure. Turns out they used it twice, with what looks to be the HTC HD7 and while the exact usage of Windows Phone is suspect, we suppose it can't hurt to show off some of those features, eh?
This is the third time, at least, that Windows Phone has appeared on Hawaii Five-0. See earlier last November here and here.
Daniel Rubino is the Editor-in-chief of Windows Central, head reviewer, podcast co-host, and analyst. He has been here covering Microsoft since 2007 when this site was called WMExperts (and later Windows Phone Central). His interests include Windows, Microsoft Surface, laptops, next-gen computing, and for some reason, watches. Before all this tech stuff, he worked on a Ph.D. in linguistics and ran the projectors at movie theaters, which has done absolutely nothing for his career.
LOL I wonder how much Microsoft coughed up for this kind of air-time. Pretty neat to see our OS being featured in a "prim-time" show like this though.

finally an example of what a money can do :)by the way, loved the "okay, phone got a hit" when she uploaded the thumb print. Will that be a new feature in SkyDrive wave 5? LOL

LOL, that was like a damn ad. Hahah, I'm sure that cost a lot of money.

Yeah it wasn't really subtle haha

Hmmm. I think I like this show now...

I don't know where they come up with the sounds for these shows and movies. When turn my phone on it doesn't beep, when I tell it to upload to Skydrive it doesn't beep, and there's no tone while it's uploading. If those sounds were there, I'd disable them because they sound like 80's video game MIDI tones.

maybe you have a faulty phone, cause I have those same ringtones.

I was watching when I saw this and was simulataneously excited and mortified. Excited to see this kind of marketing/placement.... mortified at how stiff and forced it felt. Maybe they'll figure out their groove eventually, but still good to see this stuff out in the wild.

stiff? It looked easier than what I have to do. I don't get skydrive as a default option. I have to go to "share" and then select skydrive

They should be doing this every chance they get. This must have been done before Mango, using the camera button to take pictures that is so NoDo. I was in an office Depot the other day when and Android user remakes how I could use a phone that only had 6 tiles(thinking that was it for the whole phone). So plant the seed everywhere.

really, I still push the button sometimes

Much easier to use the hardware button then tap the screen.It's one of the things I like about the phone.

I can't help but feel this seems entirely useless when you can just do like Motorola and throw TV commercials up all over the place for each and every iteration of droid that comes out every 5 daYS.

Sooooooo cheesy and forced. As a fan and user of Windows Phone, I find stuff like this turns me off of both Skydrive AND Hawaii Five-0.

Nice. I dig it. I dig the show too as a matter of fact.

I really liked it to. I try not to get into any more new shows, and this has always looked good. Seeing our OS in prime time is pretty awesome! More than what I saw for my Pre Plus :'(

Windows Phone has also made several appearances on NCIS Los Angeles. They never really mention it but they show the handsets quite often.

I too have noticed Windows Phone on NCIS Los Angeles. It's what their entire team uses. The thing that tipped me off was that I thought my phone was ringing and when I checked, nothing. I looked back up at the TV and noticed them answering the phone. Boom there was the Windows Phone in his hand. After that I've payed more attention and notice that the series really pushes Microsoft for it's computers and phones so way to go. Nice to see something besides the fruit based company being utilized. Especially since we all know how awesomely our phones perform for such a young stage in it's life.

haha i love it, makes a change to seeing crappy apple products in every program i see :)

And no one commented on how hot that chick was in the second picture. Good for you guys... I guess.

My only complaint is that photos uploaded this way to SkyDrive are at a low resolution. That might make analyzing finger prints a bit difficult...

Yes it is cheesy. Yes I like it, at least it is getting the phone interface in front of people. I have seen a couple of the WP7 placements on Castle.Just glad that Bing didn't make it into The Walking Dead. That would have hurt.The worst is KIA. I have seen them on several shows and sometimes it is very forced. On the Glades they have discussed a feature of the Kia several times as part of the script. "Hey, you're talking to me on the built in bluetooth speakerphone aren't you?" "Yes" "Sounds great".One another note, has anyone noticed that the screen on smartphones never turn off when people are holding it next to their head? I originally laughed because it was during the time the iPhone was actually having that problem. But since then I have noticed both iPhone and Android phones doing that on TV. Think it has something to do with light passing through actor's heads?

Hmm, if I were him, I would have hit "use as wallpaper" on that first one.

Your site is good Actually, i have seen your post and That was very informative and very entertaining for me. Thanks for posting Really Such Things. I should recommend your site to my friends. Cheers.
70-652 vce // 70-576 vce // exam 70-668 // exam 70-271 // 70-401 vce // exam 70-519 // exam 70-431 //

This is a big important step for WP and rounds off the already well received Office hub. If you are using OCS 2007 then you are right Lync is not compatable as it runs off the 2010 technology. In fact install Lync on your computer running OCS 2007 and you will find a nice spangly copy of Lync but no way of using it.
Windows Central Newsletter
Thank you for signing up to Windows Central. You will receive a verification email shortly.
There was a problem. Please refresh the page and try again.