Official Comedy Central app now available for Windows Phone and Windows 8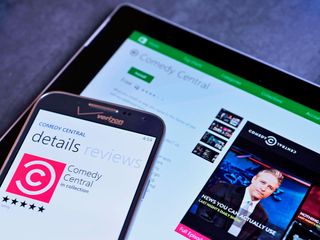 Here's some great news for Comedy Central fans (like Daniel Rubino). Comedy Central now has two new apps out for Windows Phone and Windows 8.1. Let's check them out!
Are you loving Universal Windows apps right now or what? That's what we're looking at today with Comedy Central on Windows Phone and Windows 8.1.
With most television channel apps you need to sign in with your cable or satellite provider's info to authenticate. To watch everything you'll want to pair the app with your TV provider sign-in. But select shows, like South Park and The Daily Show can be watched for free in both apps without a TV provider sign-in.
Here are the features in these two apps:
Full episodes available next day
Stand-up specials
Archive selections, including every episode of Chappelle's Show
So much funny content. We're not sure if we want to start with The Daily Show, The Colbert Report, South Park, Tosh.0, or Key & Peele.
Tell us what to watch first and let us know what you think of these Comedy Central apps!
Thanks for the tip Mitchell B!
Windows Central Newsletter
Get the best of Windows Central in your inbox, every day!
Keep the official apps coming this is great news!

You hit the nail on the head with this one. Keep 'em coming!

Yessss! Can't wait to watch Jon Stewart and Stephen Colbert pretend they're still non partial moderates lol

Me too. You know what I would like even better? PAMCAKES!!! Sorry! Couldn't help myself. No, really, the shows really are good. I like them.


You obviously don't watch either show. Stewart makes it clear he's a liberal and Colbert plays a batshit insane rightwinger.

But on a real note: I think the linking of Windows 8 apps and WP8 apps has definitely helped stimulate the arrival of all these official apps that we keep getting.

We knew it was an inevitable development. I had wondered for the last year whether or not people like HBO were waiting to just write the app once as a universal app. It would appear that theory was correct. Lots of people sitting on the sidelines waiting for the inevitable release of a universal set of APIs.

This app makes my day complete. Stephen Colbert and Jon Stewart are my most favorable TV personalities and I can now watch their Shows anywhere anytime

But this time you cant blame microsoft

They'd blame Microsoft for Apple Maps and Facebook's "social experiments" it's in vogue to blame MSFT just like it is to blame Bush for things like Obamacare and Benghazi. Don't ask questions they don't like those.

Hahhaha this is awesome :)

Let me stop you right there most of the apps that have been release has come from India. And is not the US fault that CC is located here if you want more contents from your country organize petitions so they can deliver.

Comedy Central is a US TV station. They likely can't legally allow anyone else to use it.

Comedy Central is also shown in the UK, yet this app isn't available here either. Try again.

Doesn't change what I said? Licensing likely makes it so they can ONLY do this in the US. Licensing doesn't suddenly go away because you release an app.

I don't understand your statement. If it's a licencing issue why does the official comedy central app for apple and android work in the UK, but they can't perform the same trick with WP?

"I don't understand your statement. If it's a licencing issue why does the official comedy central app for apple and android work in the UK, but they can't perform the same trick with WP?" They don't. Have you read the reviews of the iOS app (plus, there isn't an Android Version).

Yeah, it's just that here in the Netherlands they keep on advertising about how awesome it is to watch south park wherever you want to and now you can't even download the bloody thing.

We have Comedy Central here in Ireland and the UK

Kind of. You can watch alot for free though. Just look for episodes w with out the lock symbol

How are there already comments, haha I was waiting for this....

The app is not available for your device. Nice. I was watching Friends on this channel in Ireland... But anyway, great to see more official apps.

Change region to USA, install, change back if you want.

Yeah it sucks another US only app.

I'm really surprised with all the love universal app coding has been getting

Is it tho? I didnt see the universal app logo. EDIT: nevermind, it's there for the WP app, but no mention in the Windows Store.

Not possible to dowload it in NL :(

Why you don't work in the UK? Comedy Central is in the UK

I am pleasantly surprised that there is no provider login required. Edit: Spoke too soon. I tried to watch a South Park video clip in the "Free Sample" section and it wants a provider. Which is weird because South Park makes all of its episodes and loads of clips freely available on their website.

What! I just posted an hour ago on the app gap article how I wanted this. Ask and ye shall receive. F'n A Comedy Central you rock. Thank you.

You had me at official app.

Everyone needs to watch @midnight. Funniest show on CC.

I'm a Review fan myself. Freaking hilarious!

Review is definitely hilarious. Went to a taping of @midnight and Andy Daly was one of the comedians. That guy is a riot!!

I love official apps and I love universal apps, I'm loving how windows is growing, I cant wait when the number of apps isn't a argument

Installed on my L1520. All I get the CC splash screen wth the dots scrolling.

Wait a few seconds and it should load, loaded fine for me on my 920 here in the UK... but cant watch anything other than the free samples. (Incase your wondering we do have the channel in the Uk).

Currently waiting for the official NASA app.

YES! really happy about this. And the app even supports DirecTV as a provider!

I am literally SHAKING from excitement! :-D

Unless you like south park and the Daily show.

Woah, we can watch south park? YES!

Boo. Can't watch anything but the free crap. No love for Comcast in the app.

To bad comedy network(the cdn equivalent that licenses their shows for Canada) is own by bell

Just in time for the new season of Drunk History!!

Dude, this is.. DUDE! Got something new to watch on my trips next to all those other shows.

Looks like app is not available in the UK (although we do have the channel), time for a region switch I guess lol. Edit: Need to log in to watch any shows other than the free samples.. Oh well.. Least its another official app we can tick off the list as now available in the store.

I no longer need hulu plus.

No love for Dish Network either..

If universal apps have been getting this much love in a short time, just think when threshold gets here!

Cool!! But all the new apps don't have Charter or Xfinity as providers. Wtf

Finally!!! Been wanting this one!

Hopefully adult swim is right around the corner

When official mobile nation app is coming?

Need an xb1 app to finish the trifecta

This is actually a decent app even if you don't subscribe

Great news for WP community.

Great app, do you tjink they can fix xbox music? that would be great.

Please bring it to the UK! This is bullshit! I watch Friends all the time on Comedy Central here... :(

Only thing I would watch on CC is Drunk History...glad to see some more official apps though

It better have all south park episodes.

Yeeeessssss yesssssss YEEEEEEESSSSS! Really really missed this app on iOS

my Aunty Isabella got a stunning blue BMW X5 Diesel from only workin part-time on a computer. More Info,,,,,,,,,,,,,,,,,,,,.................www.jobsBlaze.c­om

You know what, fuk u comedy central. Android has been around longer than this new version of windows mobile, and iFags have had a version for a while. What too many ways for us to circumvent your information gathering scripts? Or too easy to bypass your obnoxious advertising? Again, fuk you CC. I hope LizardSquad DDoSes you fuktards.