Windows Phone app master Rudy Huyn working on a Secret app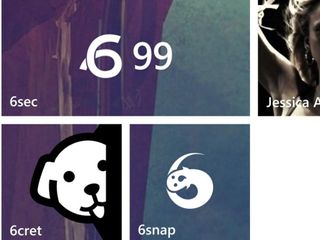 Rudy Huyn, one of the most well known third party Windows Phone app creators. revealed on his Twitter account this week his plans to make an app based on Secret, which connects to a social network where anonymous gossip and information leaks can be posted.
While the app is available for iOS and Android devices, Huyn revealed on Twitter that his third party app will be called 6secret, which is similar to the apps he has made for Windows Phone in the past (6tag for his Intagram app, 6sec for his Vine app). Huyn indicated that development of 6secret is almost done but he is still working on the logo, and posted an example of one design on his Twitter account.
Huyn previously announced he was going to team up with Tinder to create an official Windows Phone app for the dating service after making a third party app, 6tin. That partnership never actually took place, however, but the 6tin app is still available to download.
What do you think of Huyn's plans for a Secret third party app for Windows Phone?
Source: Rudy Huyn on Twitter
We got Cryptic at the moment.. But its very buggy.. So looking forward for this app..

And a reliable hangouts app (I know group hangouts won't be possible) because everything in the app store is horrible

I second the hangouts app.

6Hang-outs app please Rudy! (I third it) Too many friends use it. Also a 6gmail app wouldn't hurt either.

Why on earth would you want to use Google+? It's a freaking ghost town and it's a Google service.

Why is it bad because it's a google service? That's stupid thinking.

I think Rudy should work on getting the video share function on 6tag (from the photo gallery) working first. I can't share any videos from my library :( to IG.

Still waiting for a proper tagged app..

Yes, it's bad because its a Google service.
That and the fact that it's the worst social media experience you can find.

I think that logo is cute enough to go with the app's name.......

The logo should be of a woman whispering in another woman's ear...

How Is that even a secret ? Lol

Why not just named 6cret?

That's a cool name my friend, I hope Rudy see's this ! Cheers

If you look closely, the name is actually 6cret! 6Secret is the project name.

The app concept sounds pretty trashy and juvenille. But Rudy is a great developer, so i'll download it and check it out regardless.

It's a popular app that already exists. He's making a WP version of it. It's not a new/original idea.

I'm aware this isn't an original concept. I think it's juvenille & trashy.

I think it's a waste of time. Most people have a preferred selection of apps and don't download new ones.

If people don't download apps then how did they ever get a preferred selection?

They rely on the recommendations of friends and family. Once they have the apps they want, folks rarely download new apps. Note "rarely", not ever.

Then everyone on this chat should be an outlier bc we download tons of apps to try them!

I downloaded new apps almost each day.

Is 699 a WWE Network App? That would be awesome and a play on their $9.99 marketing campaign.

No, that's 6sec, it says it right under the 6 99 the tile is showing...

That's 6sec and a tile count of 99 ;¬)

That's the 6sec(third party app for vine) and 6 is the logo of app and 99 is the number of unread notifications.

Oops, I got attracted by the big numbers!

That's what she said! :-)

Omg that is literally what I thought when I saw the picture lol, and now I'm disappointed :(

Is official Facebook app really that bad? Because after the big update I'm happy with facebook app.

It's not thaaaaaaaaat bad, but it lacks a lot of features from the apps on Android and iOS (and even W8.1)

It's time quit fb. Live a better life.

My life is great! But thank's for the tip and for caring ;)

The FB app is not thaaaat bad. But Rudy could probably do it a lot better.

+710 Yeah Rudy should work on a third party app for Fb.

It is bad because it rarely shows any post from friends. Ask I get is feeds from liked pages.

I agree the new fb really puts it on par with other systems

It does, but Rudy could definitely do a better job of it

Did the 6 prefix all start with the Vine clone?

What's the significance then?

It did, because of the 6-second video concept of Vine. Hence, he named it 6sec, and thus his subsequent apps started with the prefix "6". Before 6sec, he made a 9gag app, which has not been named 6gag, so it started with the Vine client.

First finish the live lock screen! Its quite laggy..

I'm not responsible of this app, I don't control the update process, sorry

Thanks Rudy, I am looking forward to it

Do you plan on releasing a youtube app of some sort?

So, Microsoft is using your name only to gain numbers without your real involvment? I am sure that is going to taint your image as a developer for this community. Associating yourself with a sub-par app for your quality, is just a gamble for publicity.

No, I've worked on this app as a contractor. It's not my personal App, I've already submitted an update weeks ago, no idea why it's not on the store

But you developed it, why Microsoft published such an ugly pre-alpha-release ?

I was just a developer, I'm not the designer, I didn't choice wallpapers, neither responsible of features, etc.. To be honest, I understand your point, I just do my job, the application can be improved, but I don't make decision

is there a 6book in the works?

I'm waiting for '6Music' too Sir Rudy ;) Posted via Windows Phone Central App for Android!

6sense for me, the app to spot dead people. Usually those On iPhones to be fair.

6music would be sweet..plz rudy..:)

YES!!! A 6music would be fantastic!!

Still, I didn't really get what this app will do, somebody explain please?

Wish it was a WatchESPN app

Same here. All of the ESPN apps need to be updated.......

I don't care about that app anymore, because the world cup is finished. :P

Did you seen the Jessica Alba Tile ? Interesting...

Good call. Interesting indeed... LOL

Whoa! I just commented about it. :P

That's good news but is the app really that big a deal on ios & Android?

Its a great move (purpose, importance of the app are irrelevant), as its a requested and popular app.
Would suggest the logo to get rid of the black contour on the dog, just leave the main white image.

Dont even know this network

He should team up with Microsoft for Xbox Music and Video.

It's better they give us the old hub back. The app still crashes. And and a music app still shows loading resuming with the songs in the SD card to get loaded. They should get the old hub with an operating system update to us.

No, they shouldn't. The reason for them separating apps from the OS, is so they can be updated independently of the OS thus less waiting. The Xbox Music app at the moment doesn't quite meet a lot of people's expectations, but given the time, I'm sure we'll have a much better experience and forgotten about the whole Xbox Music fiasco.

Hey please first work on the basic media apps for window phone...u r doing such waste of time Making these kind of app.

Can he make 6tin work with the notification centre first???

Exactly! He should improve his other apps before adding to the collection.

tinder servers as well as snapchat servers, etc.. doesn't support microsoft push notification, can't do anything on this case

Funny, other apps has working push notifications. Seems like, if he would want push notifications there would be push notifications.

Just the official apps work with instantly push notifications.

So does Microsoft need new APIs, or is it Snapchat's fault?

And about Microsoft Push Notification Service?

Facebook of wp is also way behind version of android ...work on that these are things which wp users want ok

Rudy didn't make the fb app..how can he work on it..

If you want functionality, try jdb for facebook.

What about live lockscreen app?

How about and for kik instead of 6secret

Secret? The app that a Brazilian judge has ordered removed from iOS and Android stores because of abuse?

Unfortunately people here in Brazil use the app in evil ways.

This is a waste of time. Secret is a mess, and just got sued out of of Brazil. Pando has shown what this app is really used for, so why pick a fight (which you know is coming about reverse engineered API's) over a piece of trash like this?

Third party twitter client by Rudy will be awesome

I would be thrilled to see Rudy working alongside the Xbox Music or Skype team...guess that won't happen any time soon :(

Create 6book(facebook):-p

Rudy needs to make a NHL Gamecenter app

Rudy Hyun.... Is a coding ninja.... How does he manage so many apps..... Where would the windows ecosystem be without him

I wonder why he loves 6 as prefix.. I love 6tag though:)

Use the new msging API to create a true messaging hub for SMS, FB, Google, Skype, Whatsapp. Use the new music API to re-create the music hub and a music player that actually works and looks beautiful, like Zune used to be.

I don't get the 6 in front of all the names, they are all good apps but not a fan of the 6 in the logos or names, I get the "6sec" for vine but other than that its pretty pointless and just screams knock off on every other app

Just a gimmick, as well as "i" for apple

It's a lucky number for u. I hope u excel in life Rudy with the 6 branding of apps too. Windows store should recommended and display your apps too while opening the store.

Rudy, any chance you are working on a 6box Music app? PLEASE SAY YES

Rudy Huyn = god (no, god doesn't exist)

He does exist how do you explain the universe

Atoms don't tell the whole story

No...... Rob Halford = God \m/

I think he should improve his other apps for now, instead of adding to the pile and spreading himself thinner.

I second that. Especially TVShow has been in urgent need of bugfixing and the addition of sorely needed features for way too long.

Rudy should develop a Facebook app. One of the best developer on windows phone.

It's not like you can develop everything you want. There is a reason why no one has made a really good Facebook app yet.

Who else want a full featured hangouts app??

I don't know y apps like snap chat so popular not coming to windows phone. I guess apple or google is really bribing them not to make apps for Windows phone or is that such big companies are being lazy to build apps for windows phone.

while these apps are doing well, they are not big companies. many of these startups could have 5 or 10 engineers working on them, so they have to decide where to put resources.

Why Microsoft didn't fix the '99' limits ?

what about fixing the live lockscreen app first?

Rudy did send in an update about 2-3 weeks ago, but it's not approved by Microsoft yet!

Wonder what Rudy will think of this?
http://www.engadget.com/2014/08/20/brazil-judge-wants-secret-app-removed/

The brazilian law doesn't allow anonymous application, it's their choices, Secret does nothing bad

Too many things to brazilian justice worry, too many corruption in action around the nation and they want just block an app..
I'm tired of this justice corrupted. I'm ashamed of this actual administration of my country..

I'm waiting for a innovative app from you Rudy too, so people will stop to call you Rudy-Copy....

Never heard that, but is kinda true...

Or maybe its his thing to make great versions of official apps whose companies refuse to make an app (or a well made app) for Windows Phone. And I'm grateful for that.

I'm still waiting for Huyn to fix all the bugs in his TV Show app.

Microsoft need to hire this man! Surely everyone has his apps on the platform?

They did hire him. He did their lock screen app.

Rudy needs to make an Xbox music app

Or to add features to fuse like saving our sites to the cloud.

I honestly don't agree with the existence of services like this. It only promotes hatred when the people whom the 'secret' is about find out. For the life of me, I can't figure out how any platform stands to gain with something like this.

Hey john! What's that Jessica alba's app? :P so you a fan of hers? :D

It was better if he creates a facebook app.

6tag should be called 6gram. That's all.

If I recall, intsagram sues/bans any similar app with 'insta' or 'gram' in it. Didn't want more confrontation/or have his app blocked.

Someone asked earlier, and I was wondering myself, why sixes?

A little disappointed he's working on this. Not because i want him to work on something else, but because secret is just a gossip app and the way Secret is made is very damaging to people. Secret is almost exclusively used to put people down. Other publications have shown how it can cause suicides and they showed how Secret doesn't care about that and make no real effort to prevent it. I've had friends who quit their jobs after seeing how people at their work talk about them. I guess at this point my hope is just that out doesn't get super popular on WP8.

Are you sure Rudy?? This app is polemic, people are making bullyng and saying they will commit siucide and uploading nudes on this app. Just read some reviews in the App Store: https://itunes.apple.com/us/app/secret-speak-freely/id775307543?mt=8

No difference with facebook or twitter, just a current bashing, the main idea of the app is pretty cool, but they are always some dumb people...

You're right, people always find a way to make a bad use of useful resources and mess it up ¬_¬

I really hope its a facebook app.

All I can say i want the app

Yes i knew it.....rudy is working for the nsa......

6leaks for WikiLeaks from the Wikipedia developer Rudy Boy ;-)

maybe ask.fm or some of google service

Sounds interesting. I would download it.

In my opinion all his apps are working fine bug fixes are always welcome but wouldn't place bug fixes over a new app. And if he doesn't bring us the new apps who will ?!

Tell him to fix and update 6 sec while he's at it

Hey Rudy.. Not sure if u play fantasy football.. But if u do, have u considered making a yahoo fantasy football app? Since yahoo doesn't have one for windows :(

Wasn't a big fan of the 6 in the names in the beginning either but now I see it as a trademark. if you see a name like this you know there is quality behind the app.

FB app please!!!! 6book... ;)

I have a feeling that this guy I getting paid by Microsoft or secretly by the companies he copies. No one makes these apps for free for nothing. I'm waiting for him to create some cool Google apps if he is allowed

He is. He has a partnership deal with Microsoft if my memory don't fail me.

I work with microsoft on some projects, to help company to create their official apps, but I'm never paid to make unofficial apps! All apps published under my real name (rudy huyn on the store) are made my myself without external help.

I thought for a second that he was making an app "secretly"...

I think its sad to see such a well known developer wasting time, skill and effort on a app to represent Secret. Secret was fun for 5 minutes.
But on the other side. Premium apps for WP is always welcome...

The app > appstore n play store launcher (mini emulator) so wp users can download n running all apps from other platform (ipa n ipk files)... Wp users ftw hahaha

Can you guys at least be polite when you're referring to Rudy in the comments? "Ask him to do..." "He should first..." "do this.." "do that..". He doesn't owe us anything people. Request him. Let us not ward off few devs we have got :)

+1 An example, I was not a user of Secret.ly, I just receive hundreds of emails asking me to do it. So if I see that a lot of users request an app, I will study it

I guess that you can say that it'll be a.... 6ccess

6cheers for Rudy! Rudy! Rudy! Rudy! Rudy! Rudy! ;)

So, these third party developer apps are nice and all, but how bout we just try and get the real company to make a app?

Dude never replies to support questions, screw him

I think "dude" really gets lots of questions and is real busy, you should thank he's here to support WP and our community to the fullest

So is it 6cret or 6secret?

I like Rudy's apps more than the official ones, but while I know he'll nail this one by making a stellar app, I will not use it because I've seen how we Brazilians use Secret in totally horrifying ways.

Can we get a 6Backgroundwallpaper?

Please make yahoo messenger with Voice and Video Call facility...

Rudy 6tag keeps on crashing when i upload images in my Lumia 630. Any update soon?