Windows Phone App Review: Photosynth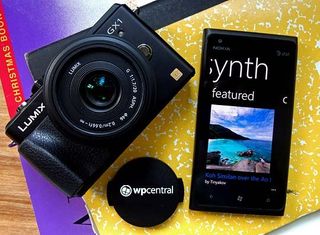 Simply put, Photosynth for Windows Phone is a game changer. Photosynth is a panorama app that mocks at large group shots, laughs when there isn't enough room to back up, and smiles when a picturesque landscape is in front of the camera. The camera app opens up a new world of photography for your Windows Phone and does so rather nicely.
Unlike other panorama apps for your Windows Phone that sticks to either a vertical or horizontal plane, Photosynth can do both and handle 360 degrees of capture. No longer are you concerned if you can't back up enough to capture tall buildings in a landscape shot. No longer are you worried that you won't have enough room for a group shot.
Throw in an online interface, the ability to share images through Facebook and Twitter, share your images through BING, embed images and upload/store/share images at Photosynth.net this little photography app is very impressive.
Photosynth's main pages cover capturing the pictures, your Photosynth library, and a page highlighting featured photographs from other Photosynth users. From the three-dot menu you have options to refresh your library view, access the settings, access a very nice help section, and rate/review the app over on the Marketplace.
Settings cover two areas, application settings and Photosynth account settings. Photosynth account settings basically allows you to authorize the app to access your Facebook, Twitter and Live accounts for uploading and sharing purposes. App settings cover these areas:
Sound
Capture Hints
Autosave
Location Services
Gyroscope
Sharing License
Restore Defaults.
The Share License level setting is a really nice touch. Basically you are able to set your copyright level which determines how others can use your images. There's a link in this setting that will pull up a copyright information page but in a nutshell, you have a range of options that starts with the least restrictive where others can download, tweak, remix and build upon your photographs as long as you receive credit for the original. Then there's the more restrictive option where photos can only be downloaded and shared, with no changes allow or commercial use. Most will not think of copyright issues with their Windows Phone photography and it's nice to see Microsoft adding this setting.
Photosynth: Creating Panoramas
Before you can capture and stitch photos with accuracy, you will have to calibrate your Windows Phone (twirling it about in a figure eight pattern). There will be on-screen prompts to walk you through that process is needed. Once calibrated, to begin creating a panoramic image go to the Capture Page, frame your first image up in the preview pane, and tap the screen to start capturing.
After you take the initial photo, a frame with center point highlighted will appear. Simply move your Windows Phone left, right, up or down and as the framing aligns Photosynth takes the next photograph automatically. For the best results you need to move your Windows Phone in a slow, consistent manner.
The framing window may change colors as you move around capturing your photos. They are:
Green: All is good with the alignment and photos are captured automatically.
Yellow: Things could be better with the alignment and if you are insistent on taking the photo, you'll need to do so manually by tapping the screen.
Red: Something is rotten in Denmark and you've screwed up the alignment so bad that you need to back up to where your last photo was taken and start over.
Once you are finished capturing all the images, just tap the check mark and Photosynth will start building your panorama. The time needed to build your final image varies with how many images are captured but in general, the process moves along rather nicely.
Once built, you have the options to edit the images properties and/or share the photo. Editing the properties cover naming the photo, cropping the thumbnail as it appears on the Library Page, and set a location of the photo. Sharing options cover Facebook, Twitter, Bing Maps, Photosynth.net, email or to your camera roll.
Prior to sharing the image, you will be given the option to clean up the image by cropping the image and evening out the ragged edges. The un-cropped image can be autosaved to your camera roll (option is in your settings) but in sharing it to the camera roll you can crop the image before saving.
Photosynth: Image Quality
There is a slight learning curve on capturing the images that will build your panorama. It's best to start small by capturing a 3-4 image horizontal panorama to get the hang of things. Overall, Photosynth does a very nice job of stitching the individual photos together to create some really nice panoramic images. Every now and then you will see uneven stitching or noticeable framing lines but more times than not, Photosynth gets it right.
Handheld vs. using a tripod? Photosynth can easily be used handheld but you have to be slow and consistent with your movements. Not necessarily slow as a snail's pace but slow enough for Photosynth to properly match things up. I found that a tripod does comes in handy with large, horizontal panoramas. iStabilizer makes a nifty little tripod mount that will fit most Windows Phones (I've used it with phones ranging from the HTC Titan II to the Samsung Focus Flash). The tripod gives you more stability, consistency and control over your camera movements.
Having said that, if you have vertical movements in building your panorama, the tripod can get a little tricky. While you have a more stable movement, your movements may be restricted with your tripod head. You really have to twist and turn to get those full, 360 degree shots and the tripod may not be flexible enough to cover every inch.
Photosynth: A few bugs to iron out?
One last observation with Photosynth is that we tried the app out on both the Nokia Lumia 900 and HTC Titan II. Photosynth worked like a charm on the Lumia 900 tackling panoramas built from three to as many as thirty six frames. Using Photosynth on the Titan II was a different story. The app crashed often when building a panorama from more than three or four frames. There were even a few occasions when the Titan II locked up completely.
All may not be lost though should Photosynth crash. If the app shuts down before the photosynth completes, you may be able to go to your Library page and find the capture waiting to be synthed. Just tap on the library thumbnail and the stitching process starts over again.
We aren't sure what was causing the issues with the Titan II. With the larger camera sensor, it could be a memory issue in storing a large number of photos in memory while Photosynth does its job. Whatever the reason, we hope Microsoft can find a solution to allow Photosynth to run more stable on the Titan II. It's frustrating to have such a nice camera and not take advantage of Photosynth with confidence.
Photosynth: The website
The Photosynth website gives you the ability to view and store your panoramas online. You also have the ability to view panoramas from other Photosynth users, chat in the Photosynth forums, and read up on all the Photosynth news. The online viewer for panoramas allows you to zoom in or out as well as a play button to automatically rotate your image.
In addition to the website, you can download desktop Photosynth apps to build panoramas from photos captured from your stand alone digital camera. Once built or uploaded from your Windows Phone, you can share your panos much like you would with the Photosynth Windows Phone app. Images can be shared via email or Facebook as well as embedded.
Photosynth: Overall Impression
All in all, we are very impressed with Photosynth. It took Microsoft some time to bring this app to the Windows Phone platform (some may say too long) but it was well worth the wait. There's still some room for improvement but after taking Photosynth out the past few days, we still think the app is very impressive. Microsoft does need to shore up the stability issues on the Titan II, as well as other Windows Phones. But as far as alignment, stitching and building the panoramas Photosynth does a very nice job of things. I wouldn't mind seeing a few more in-house editing tools but there are other options readily available on the Windows Phone or on your computer.
Asides from creating impressive panoramic images suitable for printing, Photosynth creates some fantastic 360 degree images that are neat to view within the app or from the Photosynth website. Sorry to sound repetitive, but this app really does open up the capabilities of your Windows Phone camera. From stunning panoramas that not only stretch horizontally but also vertically to the 360 degree views, Photosynth helps further tap into your photographic creativity.
If you use your Windows Phone camera at all, Photosynth is a must have app. Photosynth is a free application and you can grab it here at the Windows Phone Marketplace.
Get the Windows Central Newsletter
All the latest news, reviews, and guides for Windows and Xbox diehards.
George is the Reviews Editor at Windows Central, concentrating on Windows 10 PC and Mobile apps. He's been a supporter of the platform since the days of Windows CE and uses his current Windows 10 Mobile phone daily to keep up with life and enjoy a game during down time.