Windows Phone App Review: Photosynth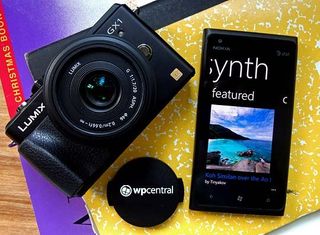 Simply put, Photosynth for Windows Phone is a game changer. Photosynth is a panorama app that mocks at large group shots, laughs when there isn't enough room to back up, and smiles when a picturesque landscape is in front of the camera. The camera app opens up a new world of photography for your Windows Phone and does so rather nicely.
Unlike other panorama apps for your Windows Phone that sticks to either a vertical or horizontal plane, Photosynth can do both and handle 360 degrees of capture. No longer are you concerned if you can't back up enough to capture tall buildings in a landscape shot. No longer are you worried that you won't have enough room for a group shot.
Throw in an online interface, the ability to share images through Facebook and Twitter, share your images through BING, embed images and upload/store/share images at Photosynth.net this little photography app is very impressive.
Photosynth's main pages cover capturing the pictures, your Photosynth library, and a page highlighting featured photographs from other Photosynth users. From the three-dot menu you have options to refresh your library view, access the settings, access a very nice help section, and rate/review the app over on the Marketplace.
Settings cover two areas, application settings and Photosynth account settings. Photosynth account settings basically allows you to authorize the app to access your Facebook, Twitter and Live accounts for uploading and sharing purposes. App settings cover these areas:
Sound
Capture Hints
Autosave
Location Services
Gyroscope
Sharing License
Restore Defaults.
The Share License level setting is a really nice touch. Basically you are able to set your copyright level which determines how others can use your images. There's a link in this setting that will pull up a copyright information page but in a nutshell, you have a range of options that starts with the least restrictive where others can download, tweak, remix and build upon your photographs as long as you receive credit for the original. Then there's the more restrictive option where photos can only be downloaded and shared, with no changes allow or commercial use. Most will not think of copyright issues with their Windows Phone photography and it's nice to see Microsoft adding this setting.
Photosynth: Creating Panoramas
Before you can capture and stitch photos with accuracy, you will have to calibrate your Windows Phone (twirling it about in a figure eight pattern). There will be on-screen prompts to walk you through that process is needed. Once calibrated, to begin creating a panoramic image go to the Capture Page, frame your first image up in the preview pane, and tap the screen to start capturing.
After you take the initial photo, a frame with center point highlighted will appear. Simply move your Windows Phone left, right, up or down and as the framing aligns Photosynth takes the next photograph automatically. For the best results you need to move your Windows Phone in a slow, consistent manner.
The framing window may change colors as you move around capturing your photos. They are:
Green: All is good with the alignment and photos are captured automatically.
Yellow: Things could be better with the alignment and if you are insistent on taking the photo, you'll need to do so manually by tapping the screen.
Red: Something is rotten in Denmark and you've screwed up the alignment so bad that you need to back up to where your last photo was taken and start over.
Once you are finished capturing all the images, just tap the check mark and Photosynth will start building your panorama. The time needed to build your final image varies with how many images are captured but in general, the process moves along rather nicely.
Once built, you have the options to edit the images properties and/or share the photo. Editing the properties cover naming the photo, cropping the thumbnail as it appears on the Library Page, and set a location of the photo. Sharing options cover Facebook, Twitter, Bing Maps, Photosynth.net, email or to your camera roll.
Prior to sharing the image, you will be given the option to clean up the image by cropping the image and evening out the ragged edges. The un-cropped image can be autosaved to your camera roll (option is in your settings) but in sharing it to the camera roll you can crop the image before saving.
Photosynth: Image Quality
There is a slight learning curve on capturing the images that will build your panorama. It's best to start small by capturing a 3-4 image horizontal panorama to get the hang of things. Overall, Photosynth does a very nice job of stitching the individual photos together to create some really nice panoramic images. Every now and then you will see uneven stitching or noticeable framing lines but more times than not, Photosynth gets it right.
Handheld vs. using a tripod? Photosynth can easily be used handheld but you have to be slow and consistent with your movements. Not necessarily slow as a snail's pace but slow enough for Photosynth to properly match things up. I found that a tripod does comes in handy with large, horizontal panoramas. iStabilizer makes a nifty little tripod mount that will fit most Windows Phones (I've used it with phones ranging from the HTC Titan II to the Samsung Focus Flash). The tripod gives you more stability, consistency and control over your camera movements.
Having said that, if you have vertical movements in building your panorama, the tripod can get a little tricky. While you have a more stable movement, your movements may be restricted with your tripod head. You really have to twist and turn to get those full, 360 degree shots and the tripod may not be flexible enough to cover every inch.
Photosynth: A few bugs to iron out?
One last observation with Photosynth is that we tried the app out on both the Nokia Lumia 900 and HTC Titan II. Photosynth worked like a charm on the Lumia 900 tackling panoramas built from three to as many as thirty six frames. Using Photosynth on the Titan II was a different story. The app crashed often when building a panorama from more than three or four frames. There were even a few occasions when the Titan II locked up completely.
All may not be lost though should Photosynth crash. If the app shuts down before the photosynth completes, you may be able to go to your Library page and find the capture waiting to be synthed. Just tap on the library thumbnail and the stitching process starts over again.
We aren't sure what was causing the issues with the Titan II. With the larger camera sensor, it could be a memory issue in storing a large number of photos in memory while Photosynth does its job. Whatever the reason, we hope Microsoft can find a solution to allow Photosynth to run more stable on the Titan II. It's frustrating to have such a nice camera and not take advantage of Photosynth with confidence.
Photosynth: The website
The Photosynth website gives you the ability to view and store your panoramas online. You also have the ability to view panoramas from other Photosynth users, chat in the Photosynth forums, and read up on all the Photosynth news. The online viewer for panoramas allows you to zoom in or out as well as a play button to automatically rotate your image.
In addition to the website, you can download desktop Photosynth apps to build panoramas from photos captured from your stand alone digital camera. Once built or uploaded from your Windows Phone, you can share your panos much like you would with the Photosynth Windows Phone app. Images can be shared via email or Facebook as well as embedded.
Photosynth: Overall Impression
All in all, we are very impressed with Photosynth. It took Microsoft some time to bring this app to the Windows Phone platform (some may say too long) but it was well worth the wait. There's still some room for improvement but after taking Photosynth out the past few days, we still think the app is very impressive. Microsoft does need to shore up the stability issues on the Titan II, as well as other Windows Phones. But as far as alignment, stitching and building the panoramas Photosynth does a very nice job of things. I wouldn't mind seeing a few more in-house editing tools but there are other options readily available on the Windows Phone or on your computer.
Asides from creating impressive panoramic images suitable for printing, Photosynth creates some fantastic 360 degree images that are neat to view within the app or from the Photosynth website. Sorry to sound repetitive, but this app really does open up the capabilities of your Windows Phone camera. From stunning panoramas that not only stretch horizontally but also vertically to the 360 degree views, Photosynth helps further tap into your photographic creativity.
If you use your Windows Phone camera at all, Photosynth is a must have app. Photosynth is a free application and you can grab it here at the Windows Phone Marketplace.
George is the Reviews Editor at Windows Central, concentrating on Windows 10 PC and Mobile apps. He's been a supporter of the platform since the days of Windows CE and uses his current Windows 10 Mobile phone daily to keep up with life and enjoy a game during down time.
Works great on my gyroscope-less HD7!

You able to take pictures straight up and straight down? That is where I am finding issues. Can't close a complete 360 panorama sphere, at the top and bottom.

This is actually a problem with both gyro and non. Move bit by bit up and manually tap the square to take the picture.

I move it so slow that rigamortis sets in. It turns red and then it won't let you take manual pictures.

You may be moving the camera too slow. The app may be sensing no change and throwing up the red frame as a result.

That's a good point. I try moving faster and report back. Thanks for the advice.

Loving this app. Using my camera in a whole new way now.

Coworkers and other people alike, jaws dropped and went crazy when they watched me use the app on my L900 Cyan. They where in awe over the body and was amazed at the Photosynth app working so easily. Even the iPhone people didn't even know what the app was or even existed to their platform.

It's a little hard to take good pictures. All my pictures are too overlapped or matt at the border lines. Anyone can help me?

Yes,... Move the camera more slowly, let the app guide you, and be steady. This is akin for accuracy not speed.

Great app! Now, how about Instagram??

Who cares about instagram

Yes who cares of instagram. It's just gonna fade away soon. Also hate instagram because it's a Facebook owns it now

It's great that this app has FINALLY come to WP as it's really the only one I missed having dumped my iPhone last year. Works really well on my Lumia 800, even without a gyroscope. Can be a bit tricky to get the full 360, and I think that's down to the lack of gyroscope but even so, it's very effective. Image resolution seems pretty low though, considering the camera is 8MP... Overall though it's a great app. This platform just gets stronger and stronger! :)

this needs to be integrated into base camera app for wp8

Needs exposure lock like in iOS version. Aldo cropping lin the app would be nice. Still a great long overdue app for WP7.

Strange it sometimes crashes on titan2...From a developer point of view, we have not fragmentation in WP so there should not be difference at all.
In my opinion the app does not expect 12mpx image data, have u tried to set res to 5mpx...? Another issue is phone hungs...Maybe due to ram or CPU cooling issues..?

The app crashed once for me on the Lumia 900 when I was stitching around 40 frames. There are comments over at the Marketplace and on the Photosynth forums where the app crashed on the Trophy and Omnia 7 with larger stitches. When I get back home, I'll dial back the resolution on the Titan II and see how it reacts.

Dialed back the resolution on the camera, saved the settings, and opened Photosynth. It crashed on the first attempt after capturing twenty frames. Restarted the app and it worked fine on the next two projects. But here's the caveat... I'm not sure if Photosynth has its own internal camera settings or if it simply uses the in-house camera app's settings. I'm leaning towards the thought Photosynth has its own settings because I can tell an improvement with the Lumia 900 pictures. If so, I would imagine for quality purposes the app maxes out resolution.

I did not have many problems with my T-II. It did not crash at all when I made several panoramas, some even horizontal and vertical with over 6-8 shots. I only had a little problem getting it to show green a couple of times but I worked it out. Love the app. The final resolution is maybe less than the built in HTC app but the 360 ability is awesome.

"Simple put"
Come on, you can't even get past the first word without an error? You're better than that, George.

Curse you spell check... thanks.

This app is pretty awesome!

I have this app on hd7. It really is superb.

It should be said that I ha e had the app crash several times on my Lumia 900

When stitching a large image I have had it crash on my Lumia 800 too. But opening the app again and clicking the unstitched tile finishes it.

Very informative article, thank you!

I confirm crashing on Samsung Focus S too. waiting for an update.

I have made several full 360 panoramic photos with my Titan II with no issues at all so far. Strange the Titan you used had issues. I was just taking and storing on the phone and not sharing, but the one panorama was at least 40 photos and worked perfectly.

I've just used the app once in my office on my Focus. One thing I noticed was it didn't seem to like the wall behind me. It did great with everything on 3 sides where there is plenty of detail, but once I got to the blank white wall behind me it kept getting lost. Not to surprising, though, since there was nothing to give it a reference to stitch with.

I had a problem with a blank wall as well, I guess it needs contrasting items to help keep up with where it is at in space.

I love this app....but I'd like to know how to increase the resolution of the final photos. Anyone know? For instance, I snapped about 40 photos (full 360 degrees), but ended up with a final photosynth that was only 4 megapixels! That is NOT RIGHT at all. How do you end up with a final photo that is less megapixels than a single, normal photo on the camera? Strange.
http://bit.ly/KKVQ8p
Ideas?

Crashes constantly for me, and I lose all progress. I wish it saved a panorama while in 'creation' mode so I can go back to it later rather than only saving them in stitch mode.

How does this app compare to the built in panorama mode on the HTC Radar? I can't currently test it, but I will later on today.

The HTC pano app lets you stich, what?, three or four images together that are taken on either the horizontal or vertical plane. Photosynth doesn't have those limitations. You can shoot vertically and diagonally as you capture your pano for a full 360 degree, spherical image. I feel a panorama app round-up in the making....

Works great on HTC arrive windows phone 7.5 it's give me 360 with no problems.

Overall, i am very impressed with what the app can do. I really enjoyed using it even though my device lacks a gyroscope. It does take some time to get used to how the app works, and takes time to get everything perfect. My problem is waiting for the camera to readjust to the lighting when taking ourdoor panoramas of the sky. My panorama does have some noticable errors between the lighting and alignment (guessing that is where the gyroscope comes in handy). Other than that my friends are blown away by the quality and the fact i have a complete 360 degree panoramic sphere of my yard outside my home.

This app would make a great commercial as one of many great apps/features for the Windows Phone platform in spite, specifically this app, being on iOS. It is funny that my friends who do have iPhones had no clue this app existed on their platform. As far as my Android friends, they were impressed with the app and as far as i know there isn't an app quite like this one. This is by far my favorite app on the platform to date. It blows any other photo app out of the water. I believe this will be the future of taking photos.

I have tmo's hd7, and even though the app says I don't have some features like gyroscope, it works very well. Its weird that it says that because other apps I have installed say that I do. Hmmm Whatever, it works great. Im glad WP has this available because I've seen the app on my friends ios and was jealous of them having the app.

360 degree shots are crazy! Once you get the hang of this app it instantly becomes the best photo app for your Windows Phone. I love it!

Anyone who likes Photosynth on their phone should check out Microsoft Labs' Image Composite Editor (ICE) for their desktop photo editing.
Doesn't have the fun watch-the-panorama-build user interface that Photosynth does, but it DOES have the same remarkable image stitching abilities, which in my experience give better results than dreadnought apps like Photoshop.

For whatever reason, Microsoft Labs has some of the top guns in the photomosaicing field, and has been nimble enough to get their work into the hands of end users.

I have photosynth and it is fun to work with just one thing how do they get 360 degree photos I always seem to overlap the start with the last part of the 360 degree part I sort of miss a quarter of space to make it a whole 360 degree picture so why do I miss always the space at the end to make it a whole 360 degree loop and nicely fit the start to the end and have the whole surroundings on it
Windows Central Newsletter
Get the best of Windows Central in in your inbox, every day!
Thank you for signing up to Windows Central. You will receive a verification email shortly.
There was a problem. Please refresh the page and try again.