Windows Phone App Review: SplashID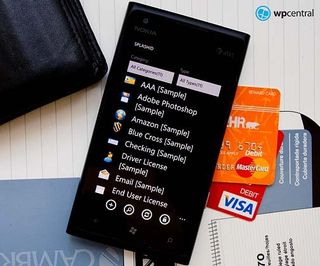 The other day we shared that SplashID had been released on the Windows Phone Marketplace. The password management app is a carry over from the Windows Mobile days and has experience some success on other platforms. It's a robust utility and left a nice first impression but there are a few reservations that may not have SplashID appealing to everyone.
SplashID lacks a trial version and with the price just under ten dollars, we wanted to take the app out for a spin and see how well that first impression lasted. SplashID is a nice app for your Windows Phone but are the lesser priced alternatives a better option? SplashID does have a desktop component but it comes at an additional cost. Considering the cost and some of the design features, that nice first impression tends to fade a little and one has to ask, is there an equally as capable alternative out there?
When you first launch SplashID you are called upon to establish an email address to associate with the app and set a password. From there, you are sent to the main screen that will list all your passwords, accounts, birth dates, emails, etc. For now, the screen is populated with sample data. As you build your own database of information, you can easily delete these sample entries.
At the top of the main page are filters to help thin the list down a bit and control buttons line the bottom of the screen to add an entry, search the entries, sync the data with your desktop, and lock down the app.
From the three dot menu you have options to export your data via email (sent in .vid format), edit your password, delete multiple items, edit the categories and types, and view the about screen.
Entering an account, username, password or other bits of information that you need to keep track of is simple. Just tap the "+" button and fill in the blanks. There are twenty-one types of entries ranging from bank accounts to vehicles and two types of categories, business and personal. If you need to tweak or add a category or type of data entry, all you need to do is tap the three dot menu and go to work.
One nice feature with SlashID is the ability to sync with a desktop version. This allows you to keep track of all you passwords from the two locations you are likely to need them the most. This requires the SplashID desktop that is available at SplashID's website (opens in new tab) at a cost of $19.95.
While SplashID makes a nice first impression, it tends to fade when you look at the price and design. In using SplashID I couldn't help but think the developers simply slapped the old Windows Mobile design onto a Windows Phone app. SplashID could have taken advantage of the Metro design and laid everything out in panoramic fashion. I think by using the panorama design you could have had pages for each category, eliminate the need for filters and have a smoother flowing app. Instead you drill down to all the screens. I like the features of SplashID but the delivery pales in comparison to other password management apps that have made use of the metro design.
The other issue that detracts from SplashID is the cost. I have no issue paying $10 for an app if it sets itself apart but with several alternatives on the Marketplace (Password Manager, Cryp2pass, etc) it is hard to justify the higher price. The desktop component is a nice touch but that is an additional $19.95 which drives the price up significantly.
Understandably, the information these apps protects and manages are sensitive and far more valuable than $30. But with alternatives available on the Marketplace that are just as capable, SplashID's appeal begins to fade. Add the outdated design and the choice becomes more difficult. The choice comes down to weighing the options and determining which of these type apps fits your needs and tastes the best. While SplashID isn't a bad choice, we just can't say it is the clear cut choice.
SplashID has a decent amount of flexibility in creating/editing the types of data you store and the cross-platform/desktop components are nice features. If the design would take advantage of the Windows Phone metro features and the pricing could be more competitive, SplashID would easily make it to the short list.
We won't say that SplashID is a bust but, you may want to look at the alternatives first before making the investment in SplashID. SplashID is currently running $9.99 and you can find it here at (opens in new tab) the Windows Phone Marketplace. The desktop component is running $19.95 and you can find it here at SplashID's website. (opens in new tab)
George is the Reviews Editor at Windows Central, concentrating on Windows 10 PC and Mobile apps. He's been a supporter of the platform since the days of Windows CE and uses his current Windows 10 Mobile phone daily to keep up with life and enjoy a game during down time.
No way in hell will I leave all my online login information on one online server in the hands of complete strangers. I can't seriously believe that you are pushing this app especially in these times where companies throw peoples personal information around openly on the net..

i'm more appalled by the $10 price tag. They have a lot of balls!

Never heard if LastPass I take it?

Yeah I use Last Pass. it's a really good all in one password manager. works on Phone, computer and or just log on from the website if needed.

It depends how it's done. I don't know anything about SplashID but lastpass is great.
It keeps a copy of all your passwords locally and backed up in the cloud.
The reason why it's not scary is because the passwords are encrypted locally first then sent to the lastpass servers. At that point all data is encrypted so they can't get into that information and peek anyways.
The only potential weakness is your vault password.

-Chris

This looks too childish with the icons they use. They should have a trial. After using sky wallet and seeing this app, sky wallet looks superior to this, and for half the price. This doesn't follow the theme of the windows 8 UI. It just looks amateur maybe they should update the icons they use.

I am very happy with Sky Wallet.

If they had a trail version to give a whirl before kicking out the money, maybe. No way I'll try without a test run.

I like the idea, but I'm also poor. I will probably just make a spreadsheet on SkyDrive or something. Maybe encrypt it if I get paranoid.

KeePass Password Safe is free, and has clients for EVERY major platform. PC, Mac, WP, izphone, iPad, Blackberry, Android, J2ME, Linux, etc. The WP app is called 7Pass. Place the password file on SkyDrive and you have a file file that can sync to most devices/desktops/etc...

Some idiots will buy this but u should raise the price to 19.99 just to take advantage of those that do. Good article WPCentral!

Woww this is way to expensive and there are much cheaper and much better alternative to this !!!
I use Handy Safe (since my Symbian days) and decided to buy WP app (£1.49 + free trial)...
This was one of the very first apps I bought on my new shiny Lumia nearly a year ago!
This works great, is well presented (with card logos, "business card view", nice icons, kind of Metro style, etc)... and extremely easy to use.
I also invested in the Desktop application (£5.99) which synchronises with my lumia perfectly well over Wi-Fi...
That way, I have one (strongly 448 bits) encrypted data file on my device and one on my PC...
All features are present on both application, hence you can easily creat a "card" on the Desktop with a full size keyboard and then sync with the device at the push of a button (once setup!), or create all on the device while on the move...
They support all Oses (PC, Mac and all Mobile OSes)...
Not free but certainly well worth a look... recommended.
http://handy-safe.com/


I use 1Password across my WP 7.5, PC, laptop in the office and MacMini. Love it.

I used to use Spash - first in my Symbian, then in my WinPhone days. It was cluttered then and it is dissapointing that they didn't take advantage of Metro to clean up the design.

I wasn't 100% sure from the article: you CAN or CANNOT enter new log-ins to the database via the phone.

sky wallet os the way to go. no way 10.00 for this:


I can't remember, but isn't SplashID the one that only lets you have ten fields maximum to enter data in?

I've been using SplashID and the desktop client since Palm OS era.... Just purchased the WP client and WAS happy with it. Then I found that it synced perfectly just once.... it crashes everytime it sync with my Desktop.
Windows Central Newsletter
Thank you for signing up to Windows Central. You will receive a verification email shortly.
There was a problem. Please refresh the page and try again.