Windows Phone App Review: Weather Flow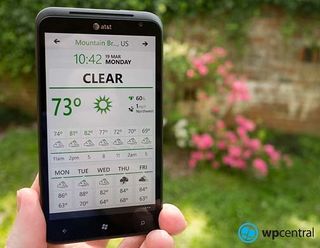 Looking for a basic weather forecast app? Take a look at the Windows Phone app Weather Flow. The app is from the developers of AppFlow and Cocktail Flow and is a visually appealing app that presents you with current conditions and a five day forecast.
Throw in an hourly forecast, two design layouts and an interesting live tile and Weather Flow is a basic, very nice looking weather app worth considering.
Weather Flow has two layouts to choose from. There is a metro styled layout that has current conditions displayed up top, an hourly breakdown, and then your five day forecast. Forecast information displays the projected high/low and a weather icon illustrating the expected conditions.
The other layout option is described as "rich" that replaces the metro style with a nicely animated weather background. Current conditions remain at the top of the screen but the hourly and extended forecast are side swipable at the bottom of the screen. In the settings you can choose which layout you prefer as the default view. Otherwise, to switch between the two layouts all you need to do is swipe up or down to switch layouts.
Regardless of which layout you prefer, at the very top of the screen is your location listing and from the three dot menu you can access the settings and pin the location to your Start Screen.
From the Weather Flow settings you can add locations (predictive keyword search) and tweak the display settings (units, background color, default theme). The Live Tile displays the current forecast and how the weather will compare to yesterday (e.g. "today will be cooler") with an icon to let you know if you should take an umbrella.
All in all, Weather Flow is a visually appealing weather app for your Windows Phone. While it lacks detailed forecast information, weather radar, and weather alerts it does what it does really well. I really liked the weather comparison to yesterday that shows up on the Live Tile. The more I use Weather Flow, the more it grows on me for its simplicity. If I need more, there's always apps like Accuweather but for the basics, Weather Flow does rather nicely.
There is a free trial version available for Weather Flow that will let you try things out before buying. The full version of Weather Flow is running $1.99 and you can find it here (opens in new tab) at the Windows Phone Marketplace.
George is the Reviews Editor at Windows Central, concentrating on Windows 10 PC and Mobile apps. He's been a supporter of the platform since the days of Windows CE and uses his current Windows 10 Mobile phone daily to keep up with life and enjoy a game during down time.
Tried it yesterday. Pretty nice, but overall I still like WeatherMaster better.

WeatherMaster is easily the best weather app I have ever used.

I like the app because of its simplicity. Also I like to have an app that can match my color tile theme.

Of all the places you could have had in the UK, you chose Dundee. Lol

Great app but I still prefer weathermaster
Maybe this will change with future updates

App very pretty. My issue with weather apps is that no two display the same readings for the same city. Sometimes the differences are remarkable.

I agree. I just compared between two apps and weather.com and got 3 slight variants. I thik Weather Flow shows the feels like temp which is perfectly fine. Although when I went to enter my own vs. via GPS location my temps changed dramatically. I highly doubt it'll be almost 90 here in Pittsburgh. GPS was dead on though. I still will use AccuWeather for detailed weather but this is great for live tile and weekly forecasts. The time stamp is a good idea as well.

I like it but the live tile never updates for me.

Damn it's nice looking. I hope the livetile works well and updates properly.

Pretty decent, but check out the Amazing Weather app

The trial version allows you to open 10 times before you have to buy. It seems like a really nice and visually appealing program that gives you a minimalist look or a richer more colorful expereince thats reminiscent of HTC sense in many ways.

Why do app developers insist on limiting app launches for a trial period. If you accidentally close it, oh well you're screwed, you just burnt up one trial launch. What a complete failure in terms of enticinig someone to buy. Give me a trial period that is useful and I might try it. Also, it doesn't follow your location. You have to select the location yourself (WeatherMaster does this well). It doesn't display maps, and it doesn't relay severe weather information. It has a LONG way to go before I will drop money on it.

finally a good looking and animated app that doesn't lag. Metro version is very ugly, besides metro doesn't mean monochromatic, the colorful version is metro too. GJ developers!!

The demo version of Weather Flow lasted all of about 20 minutes on my HTC Titan before I purchased the full version. THIS is what Windows Phone developers should be doing. Smooth transitions and beautifully done. IMHO, nothing wrong with the WeatherMaster app. But Weather Flow is truly something special.

Hello! I absolutely like this new application and want to download it to my phone immediately! I always hesitate what should I wear for the day in the mornings and it ends up in going out in a light dress while it is raining or sweating in the jacket on the sun.
Berry Donnet, download also word search maker
Windows Central Newsletter
Get the best of Windows Central in in your inbox, every day!
Thank you for signing up to Windows Central. You will receive a verification email shortly.
There was a problem. Please refresh the page and try again.