Windows Phone App Roundup - Kids + Family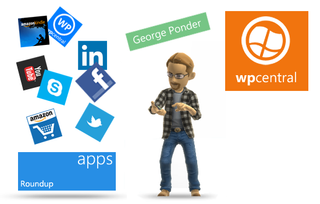 This weeks Windows Phone app roundup is focused at our smaller audience. Games that will keep our children entertained and possibly teach them a thing or two. Some of these apps may be appealing to our older readers as well. We've even thrown in a few apps that will help you keep your children safe.
We searched the top Kids + Family apps on the Marketplace and put together a collection of a handful of these apps. These titles may not appeal to everyone, but if you have children (especially infants) these apps may come in handy. Keep in mind, if an app doesn't make the roundup it should not reflect poorly on things. These are just a collection of apps or games that have stood and if we've missed an app, sound off in the comments and share a recommendation.
Coloring Book (free trial/$.99): Coloring Book is a basically a coloring book for your Windows Phone. The app contains a collection of twenty-four pictures that you can apply a wide range of colors to. Just tap the crayon color at the bottom of the screen and apply the color to any section of the drawing.
You can email finished drawings or hit the trash can icon at the top of the screen to start over. One nice feature is that your coloring progress is saved. There's not much to Coloring Book but it's a nice time waster for those short rides or while you wait for dinner to be served at a restaurant. There is a free trial version of Coloring Book with the full version running $.99. You can find it all here at (opens in new tab) the Windows Phone Marketplace.
Draw! (free version/$.99): Draw! is a free form doodle app for your Windows Phone that is rather healthy on the features. You can load images from your Pictures Hub, capture new images with your Windows Phone camera, select a cartoon to doodle on or just start with a blank screen.
Draw! will load the last picture you were working on when you return to the app and if you need to clear things up and start over, just shake your Windows Phone. There are tons of effects, stamps and your masterpiece can be saved to your Pictures Hub.
There are two versions available for Draw! on the Windows Phone Marketplace. A free, ad-supported version (opens in new tab) and a $.99 ad-free version (opens in new tab).
Animal Sound Box (free version/$1.99): Animal Sound Box is developed as a sound association learning tool. The app will help children 2 to 5 associate animal sounds with pictures of the animal. For grown ups, Animal Sound Box is a great app to drive your wife, children, pets, and others crazy.
Animal Sound Box contains over thirty animal sounds and you can activate the sounds by tapping the screen or flip the phone upside down. The cartoonish graphics are nice and the sounds fairly realistic. Animal Sound Box supports multiple languages and is available in two versions on the Marketplace. You have an ad-supported, free version (opens in new tab) and an ad-free version (opens in new tab) that is running $1.99.
Mickey Mouse Videos (free): Mickey Mouse Videos is a small collection of Disney videos featuring the famous mouse. The app can be pinned to your Start Screen with notifications when new videos become available.
The videos stream and playback is best over WiFi. The collection is mostly older cartoons from the 30's but can be just as entertaining to a toddler. The only downside to the Mickey Mouse Videos is that some videos have not been optimized for mobile viewing, resulting in a playback error.
If Mickey Mouse isn't your cup of tea, the developer also has a collection of Looney Tunes (opens in new tab) cartoons as well. Mickey Mouse Videos is a free, ad supported app and you can find it here at (opens in new tab) the Windows Phone Marketplace.
Baby Flash Cards (free trial/$1.99): Baby Flash Cards, as the title implies, is a flash card app for your Windows Phone to engage, entertain and educate your child. There are twelve sets of flashcards with Baby Flash Cards ranging from numbers to letters to food to animals.
Cards can be displayed in two manners; with the picture and text description and with only the picture that requires a tap to reveal the description. With the full version, Baby Flash Cards will let you record voice descriptions with the flash cards as well.
You can find Baby Flash Cards here at (opens in new tab) the Windows Phone Marketplace. There is a trial version available with the full version running $1.99.
Baby Monitor (free): Baby Monitor is a nifty little Windows Phone app that turns your Windows Phone into a baby monitor with video and audio capabilities. Baby Monitor uses your computer webcam and microphone to send the audio and video feeds to your phone.
Set up is easy. Just download the desktop app from PCRemoteServer.com (opens in new tab) and connect your Windows Phone over your home WiFi network. From there your webcam feeds should be playing back to your Windows Phone. There is a short lag with the video feed but audio comes in clear enough to alert you when your baby is awake, crying, or just babbling away. Baby Monitor has an independent audio and video on/off buttons and it is a power bandit. If you are going to use Baby Monitor for any length of time, make sure you have your Windows Phone connected to a power source.
Baby Monitor is a free app and you can find it here at (opens in new tab) the Windows Phone Marketplace.
Offender Locator (free trial/$1.99): Like Baby Monitor, Offender Locator is a Windows Phone app to help address safety issues. Offender Locator taps into the National sex offender registries, utilizes your Windows Phone location services, and maps registered sex offenders in your area. The database is updated daily.
You can search for offenders by your location, a contact's location, a specific street address, or an offender's name. The app will let you save key locations (home, children's school, daycare, etc) for quick reference. Offender information includes the registered name, address, offenses and distance from the search location.
Offender Locator is a free app that you can find here at (opens in new tab) the Windows Phone Marketplace.
So there you have it, a handful of the top Kids+Family apps available on the Windows Phone Marketplace. These apps may not appeal to everyone but if you have small children and need to find something to catch their attention for short periods, something to help their development or monitor their safety some of these apps may come in handy.
Again, these roundups are a collection of apps that stand out to us and we realize there are more worthy titles on the Marketplace. If we've missed a Kids+Family app that you'de recommend, sound off in the comments and share a recommendation.
George is the Reviews Editor at Windows Central, concentrating on Windows 10 PC and Mobile apps. He's been a supporter of the platform since the days of Windows CE and uses his current Windows 10 Mobile phone daily to keep up with life and enjoy a game during down time.
Ponder is your real surname? I bet school was a pleasant experience!

I suggest to try my app "Baby calculator" http://www.windowsphone.com/en-us/apps/707ef9e0-6fe0-44cf-92b2-4e8b66a86a9b that I have recently translate to english. The principal characteristic about this app is the audio: the parents can recorder the audio for the childs, and the childs when push the buttons listen a family voice that reproduce the number. Another crazy use, is to recording a random sound to any botton :-D

Haha that so isn't a calculator!

WP needs a feature that will lock down the system buttons so a 3yo can't escape apps. My 3yo likes the Draw! app, but a swipe on the windows button (easy on Lumia 900) can get her into mischief.


+1...I totally agree with you on this!! I have KidTV Pro, which is an awesome app for kids of all ages, and my grandson gets frustrated when he accidentally hits any of the Windows keys.

Same here. My son will hit something when he's playing Monsta Fish or Netflix and gets frustrated. That's one that the iPhone does better since there's a physical button.

Great List! Thanks!
We have an ABC Tracing app that is free - http://bit.ly/abcwp7
I also wish there was a way to lock the system buttons - but I doubt that will happen.


Kids TV is the best app out there. This is the one area that needs attention from developers. Most of the apps are poorly constructed for kids. Any button in the app that leads to a purchase is not cool. Even the apps with a big name behind them are for the most part broken (I'm looking at you Sesame Street). I would love to see something from Disney or Pixar. Heck, even Nickelodeon is strangely absent.

Well you can put this app to the list "Baby Phone" since is simply awesome. Lots of fun for my little daughter!!!www.windowsphone.com/en-us/store/app/babyphone/a9912904-5ea3-4f24-bc9d-e623d01506d4

Great selection, however this game Animal Game For Kids should be on the the list. Nice work WPcentral!!!

Try Drawing Pad. It gives you more than 40 drawing tutorials. You can practice by drawing on the screen http://www.windowsphone.com/s?appid=9d041a58-839c-4b52-8054-8ecc214290f5
Windows Central Newsletter
Thank you for signing up to Windows Central. You will receive a verification email shortly.
There was a problem. Please refresh the page and try again.