Windows Phone App Roundup: Shopping Apps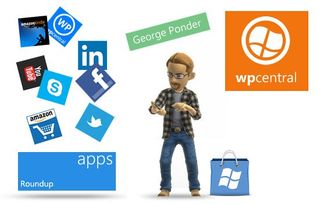 In this week's Windows Phone Roundup, we focus on apps that could come in handy with your shopping needs.
From taking care of purchases from your Windows Phone to monitoring auctions to even buying/selling an automobile or just trying to find the best deal the Windows Phone Store has a healthy selection of shopping oriented apps.
Best Buy (free): The Best Buy app for our Windows Phone is a handy way to search Best Buy's product catalog, view the weekly sales items and find the closest store.
While you can't order merchandise through the Best Buy app, you can check store availability. A nice feature in itself to save you from driving across town for nothing.
The Best Buy Windows Phone app is free and you can find it here at the (opens in new tab) Windows Phone Store.
Amazon Mobile (free): Amazon Mobile allows you to search millions of products offered through Amazon.com (opens in new tab), check your orders, make purchases, access Gold Box deals, and all the other functionality visiting the website would offer.
Additionally, you can quickly compare prices while out and about with a bar code scanner. Just tap the search bar and a "scan it" button will appear under the keyword search field. Scan the bar code of the product you are considering and if Amazon carries it, the listing will be pulled up.
If you're an Amazon.com shopper, the Amazon Mobile app is a must have app for your Windows Phone. It is a free app that you can find here at the (opens in new tab) Windows Phone Store.
Kelley Blue Book (free): It's that time of the year where consumers often look for end of the year deals on cars. The Kelley Blue Book app will help you determine automobile values and other car related information.
You can research purchase prices, trade-in values and re-sale values (for those who prefer to sell their old cars themselves). The Kelley Blue Book can also locate local dealers and features Twitter feeds from Kelley's website. (opens in new tab)
The Kelley Blue Book is a free app for your Windows Phone and you can find it here at the (opens in new tab) Windows Phone Store.
Ebay (free): The Windows Phone Ebay app lets you monitor your auctions (buying or selling) while on the go. You can search for items, place bids, and use the "Buy it Now" feature on select listings.
The Ebay app will even let you create auctions from your Windows Phone. As with the Amazon Mobile app, if Ebay is your cup of tea the Ebay app is a must have app for your Windows Phone.
Ebay is a free app for your Windows Phone that you can find here at the (opens in new tab) Windows Phone Store.
RedLaser (free): RedLaser is a very handy shopping assistant for your Windows Phone. With RedLaser you scan barcodes and QR tags on products you're shopping for. From there RedLaser will pull up pricing comparisons from hundreds of thousands of retailers.
Additionally, RedLaser will find local retailers that carry the merchandise. The local results also include mapping and contact information to help get you to that particular store.
RedLaser is really a handy app to have when you're looking for the lowest price online and locally. RedLaser is a free app for your Windows Phone that you can grab here at the (opens in new tab) Windows Phone Store.
Groupon (free): Everyone likes to save and the Windows Phone app Groupon is designed to help you do just that.
Groupon searches for local deals from over five hundred cities world wide. The deals features 50-90% off of merchandise, dining, entertainment events and vacation packages.
A Groupon (opens in new tab) account is required to take advantage of these deals and they can be purchased from your Windows Phone. The Groupon account is free and the deals can save you quite a bit.
Groupon is a free app for your Windows Phone and you can snatch it up here at the (opens in new tab) Windows Phone Store.
With the Holiday Season fast approaching, we all will find ourselves hitting the stores with a little more frequency and trying to find the best deal possible. In addition to these apps, don't forget about BING Vision on our Windows Phones. With BING Vision you can scan barcodes, QR tags and Microsoft tags to find product information, availability and pricing.
We've just touched on a handful of shopping apps for your Windows Phone. Should we have overlooked your favorite shopping app, feel free to offer your recommendation down below in the comments.
Windows Central Newsletter
Get the best of Windows Central in in your inbox, every day!
George is the Reviews Editor at Windows Central, concentrating on Windows 10 PC and Mobile apps. He's been a supporter of the platform since the days of Windows CE and uses his current Windows 10 Mobile phone daily to keep up with life and enjoy a game during down time.
I thought this would be a review of apps like Shopping Cart.

Why do these apps get restricted to specific areas, its ridiculous. A Canadian who lives in a border town can shop in the US as easily as in Canada and most likely will, product selection and price. Come on Amazon.

Let me get on my soapbox one more time (and then some more later if necessary)...
It is a travishamockery that the Amazon app does NOT support Bing Vision App Connect!!!!!!!!!!! I have brought this up several times in various forums, but never gotten any feedback. I even submitted an inquiry to Amazon and got a polite form-letter response indicating they had no clue what I was talking about. :( :( :(
Can somebody please get Amazon with it in this regard??
App Connect baby - it's awesome!
Can I get an Amen?
(and please don't tell me, "Amazon's got it's own barcode scanner"...that's not the point)

I had to Google what App Connect was, and I've been using WP7 for 2 years (Yes, I tried using the built in Bing for the same search, but it was useless). When do App Connect suggestions come up? I've never seen it displayed, but then again Bing Vision is crippled to Barcode & QR for me.

I don't know if Infuriating is the right word, but check this out to see why it bothers me so much!
http://www.youtube.com/watch?v=Y3-yH8Y89K0
Obviously, somebody missed the memo!


Not sure that this really helps you, but my understanding is that connectivity to apps like that is only available in some regions. I know that the UK for example isn't one of the regions....I really want to put something like this in the apps that I develop, but very hard to include it at the moment

I'm not sure whether our experiences are different - when I search for "xbox 360" like that video, I only have web, local and images... I don't have reviews, prices, apps etc. I can see that it would be a pretty awesome addition to searches!

Surprisingly only KBB was restricted to me in Oz... I wonder if they'll all work as well too!

Have you guys tried Shopper's Top Ten? It shows the top selling items in different categories. Since I'm a lazy shopper, it's nice to see what other people think are cool gifts.

Prisjakt is a great site and app if your shopping electronics and gadgets in Sweden. It have a barecode scanner so you could tag a Xbox (as a example) and see the best price and if its worth buying it where you stand.

ShopSavvy is much better than Red Laser, especially the scanning of local stores when scanning a barcode. Been using Shopsavvy for a while, tried red laser when i first saw it, and shop savvy is much better IMO.

Does wp8 have any decent entertainment apps? I was playing around with an android phone in at&t and found what I think is an amazing app called media hub. Does wp8 have any apps that allow me to purchase or rent blockbuster movies in HD?
Windows Central Newsletter
Thank you for signing up to Windows Central. You will receive a verification email shortly.
There was a problem. Please refresh the page and try again.