Windows Phone apps to help you tackle Super Bowl Sunday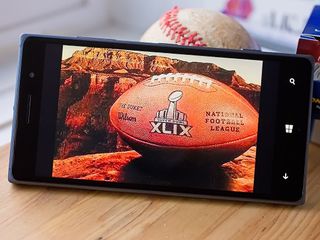 Windows Central Roundup: Windows Phone apps for Super Bowl Sunday
Super Bowl XLIX (opens in new tab) will kick off this Sunday at the University of Phoenix Stadium in Phoenix, Arizona. The New England Patriots will face off against the Seattle Seahawks at 6:30pm EST. For those planning events around the game, the Windows Phone Store offers a handful of apps that might come in handy as you try to survive the Big Game.
This week's roundup will offer up a few suggestions to help you tackle Super Bowl Sunday. These Windows Phone apps will help you keep track of the game score, stats and news as well as help you well stocked with food. We even toss out one of our favorite YouTube apps to help you keep up with all those commercials that will air during the game.
NFL Mobile
The most obvious Windows Phone Super Bowl app would have to be NFL Mobile.The app is your one-stop source for information pertaining to the NFL and delivers news, video highlights, stats, scores and more to your Windows Phone or Windows 8 device.
Key features for NFL Mobile include:
Catch all the game day action with NFL.com video on demand
Keep up with all the breaking news from around the league
Sign up for your favorite Team Alerts, NFL News Alerts and Tune In Alerts
Stay on top of your team's progress all season long with real-time updates
Get a comprehensive breakdown of every game through the app's Game Center
Follow your NFL.com fantasy team directly in the app and watch a live stream of NFL.com "Fantasy Live"
There are a few premium features that Verizon Wireless customers can upgrade to that include access to live games on Thursday, Sunday and Monday nights and local Sunday games plus, they can stream NFL Network 24/7 and get NFL RedZone on Sundays.
In addition to the standard features, NFL Mobile has a special section dedicated to Super Bowl XLIX. The Super Bowl section maps out all the Super Bowl events occurring throughout the weekend, videos of Super Bowl coverage, information about the The University of Phoenix Stadium (stadium policies, maps, etc.), and more.
Domino's Pizza
Super Bowl Sunday is the busiest day of the year for pizza delivery with orders expected to be well into the millions. On top of all the slices of pizza being gobbled down, billions of wings are expected to be consumed as well. If you are hosting a Super Bowl get together or just looking to grab a bite to eat while enjoying the game, the Domino's Pizza app is a convenient and easy way to stay stocked up on pizza and wings.
The Domino's Pizza appwill let you place delivery or carry out orders from the company's full menu. Key features include:
Coupons finder to help save a little cash
Track your order with Domino's Tracker
Speech recognition to select your menu items
Build Your Own feature lets you make the pizza just the way you like it
Cortana integration (limited markets)
Some can even order Dominos from Xbox One consoles and there is a Windows 8 app available in limited markets as well. Regardless of which app you use, you will need to create a Pizza Profile to access saved addresses and payment information to make ordering easier or you can order your pizza and wings as a guest.The Windows Central Staff uses the app often and it is sure to come in handy during Super Bowl Sunday.
Bing Sports
This one was a tough call, which boiled down to ESPN Scorecenter and Bing Sports (now known as just Sports). Sports received the nod for the slightly friendlier user interface.
Sports delivers scores, news, videos, schedules, standings and more not only for the NFL but for other sporting realms as well. You can follow your favorite collegiate sports, MLB, NBA, Rugby leagues, NASCAR, PGA, and a few dozen soccer leagues.
The NFL Section of Sports will have videos from pre-game interviews, news from top stories such as Deflate-Gate and the latest Marshawn Lynch controversy. Pre-game coverage can be found through either the Patriots or Seahawks team schedule (found on the team page) or the scoreboard page in the NFL Section.
Sports is a great choice of sports information apps for your Windows Phone, not only for Super Bowl Sunday but also year round.
myTube
While many will be glued to their television sets cheering on either the Patriots or Seahawks, many will be eagerly waiting for those television time-outs and any other commercial break to see the latest and greatest advertisements. Just in case you have to take a bathroom break or get the door for the Domino's Pizza delivery and miss a commercial, many of these commercials will land on YouTube.
All of which makes it convenient to catch up on all the commercials. myTube is a great Windows Phone YouTube app to not only watch the Super Bowl ads while on the go but also tap into all the other YouTube videos you subscribe to.
myTube features include:
Watch video while reading comments and browsing, and even listen to it while using other apps
HD video support
Rate, comment and share videos
Browse playlists, and add videos to your own
Browse and subscribe to your favorite channels
Save videos for watching when you have a limited connection
Pin channels' uploads, favorites and playlists to your start screen
Double wide live tile
Offline playlists
myTube also has the ability to save videos to your micro-SD card (should your Windows Phone have an expansion card slot), to download only the audio portion of a video to save space and the ability to sign into multiple YouTube accounts.
Whether it is catching up on all the Super Bowl commercials, you missed, checking out ads from Super Bowls of the past or just surfing YouTube for your favorite videos, myTube can handle it all.
And there is more…
Cocktail Flow
Cocktail Flow is a feature rich, sharp looking Windows Phone and Windows 8. It is a great option for those needing a little help finding just the right adult beverage recipe for Super Bowl Sunday or any other event you are hosting. Recipes can be searched by ingredient, occasion, what bar stock you have available and a surprise me feature that will randomly generate a drink recipe.
Big Oven
Need a few ideas on what to serve at your Super Bowl party? Big Oven is a Windows Phone app with over 300,000 recipes to sift through from appetizers to main dishes. The Windows Phone app also includes Recipe Collections to make it convenient to find dishes for events such as party time recipes, recipes for the big game, romantic dinners and comfort foods.
Liquor Run
While Cocktail Flow will help you tend bar, the Windows Phone app Liquor Run will help you keep your bar stocked. Whether you need a few more bottles of booze or just need to keep the refrigerator stocked with your favorite beer, Liquor Run will find the closest liquor, beer or wine stores based on your current location. The database includes over 40,000 U.S. based stores with turn by turn directions on how to get to them.
These are only a small sampling of the Windows Phone apps available to help you survive Super Bowl Sunday (or any other get together you may host).
As with all our roundups, if we have missed your favorite Super Bowl oriented Windows Phone app there is no conspiracy afoot. If you have a recommendation for a Windows Phone app to help survive Super Bowl 49, toss it out in the comments below. Oh and feel free to offer a shout out in support of your favorite team if the need arises. (Go Pats!)
George is the Reviews Editor at Windows Central, concentrating on Windows 10 PC and Mobile apps. He's been a supporter of the platform since the days of Windows CE and uses his current Windows 10 Mobile phone daily to keep up with life and enjoy a game during down time.
Um... NBC Sports. They're streaming it. That's almost a must have this year for us.

Exactly what I was going to post

Remember? Terry Myerson said that Windows 10 for Phones is coming out after the Seahawks win the super bowl? ;) I sure hope they win :D

This is the first year in actually excited for the Super Bowl. And that is only because sometime after it Windows 10 for phones will be released. Maybe days after, maybe weeks after. But its exciting with they used the superbowl as the timeframe for it.

Go Seahawks!!
Everything is there,except win 10 .

I just read somewhere windows phone insider preview could be launched after super bowl.. Hence excited for that but still go Seattle Seahawks..

To be precise they mentioned that it would be launched after seehawks would win the super bowl

Don't forget the Seahawks Mobile app, Go Hawks!

Pizza hut doesnt have an app? I hate dominos.

Pizza Hut has an app. It's a web wrapper but it works fairly well. And I hate Domino's too...

I hate no pizza. As long as I have PIZZA!, then I'm good.

I agree. That's why they say that pizza is like sex; it cant be bad, just less good!

So Dominos sucks in the US too? pizza hut is the bomb!!

Wouldn't NBC Sports Live Extra be at the top of this list?

Nothing ruins a party like crappy Domino's pizza...

I can't download mytube!!!
Please help guys

Wait for them to publish a fix. It is a known issue.

Thanks for the post George. I've got 'em all ready for my trip to the SuperBowl today! I'm happy for the updates they've done to NFL Mobile so that it actually works without crashing now. It beats the ESPN app for NFL now. Kip

After Superbowl, comes windows 10 for mobile phone

Its finale...so when is windows 10 coming to phone?

Superbowl hasn't even started, still around 5 more hours for that.

When does the super bowl end?

I'm on the Windows Phone app and there is no link to the Dominos app on here, just to a Papa Murphy's one.

Wp10 preview release it...ms ..

Need an app for tracking squares.

I'm watching the Superbowl for the first time. I'm in Australia and its an interesting sport. The joys of having a VPN setup ;)
Windows Central Newsletter
Get the best of Windows Central in in your inbox, every day!
Thank you for signing up to Windows Central. You will receive a verification email shortly.
There was a problem. Please refresh the page and try again.