Windows Phone Central app v3.8/9 now available!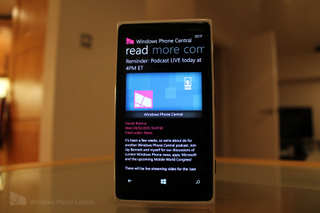 Here's the big one folks, we present to you the v3.8 update to our official app, live now in the marketplace.
Available on both Windows Phone 7 and Windows Phone 8, this update is the product of several months of work migrating to WP8 natively, but we've also thrown in a few new features to keep things fresh and exciting.
This update supports Windows Phone 8 fully, including the 720P screen resolution (which should make HTC 8X owners very happy), as well as full support for all 3 tile sizes on Windows Phone 7.8 and 8. It's taken a fair amount of time to bring the codebase over to Windows Phone 8 in a way that allows us to fully support version 7 wherever possible. Hopefully you will never see the product of that work as everything will appear seamless, in which case we can now focus on bringing some very cool stuff to version 4.
Windows Phone 7 users you will find that v3.8 now supports double sized tiles, as well as featuring the bug fixes that are part of this release, and the higher definition icons. Windows Phone 8 users should see v3.9 available, with the same tile support but also featuring lock screen notification support. Please note though, that for lock screen notifications you will have to customise your tile to use the plain tile count style - this is a limitation in the Windows Phone SDK and one that we cannot work around.
You can find the full changes, and an image preview of the new wide tile above:
New live tiles including Double wide tile
New Wallpapers!
Full Windows Phone 8 Support
Using high definition icons
Support for lock screen notifications
Re-wrote the forum link enrichment code to correctly find all forum links
Fixed the app title not retrieved bug
Several other smaller bug fixes
As always we really appreciate your feedback so please comment, post on forums or generally get in touch through the app to let us know your thoughts and suggestions.
Download the official Windows Phone Central app here in the Store. (Remember, the app has an "unlimited trial" making it free. It only costs $0.99 to remove the ads and add bonus features. The choice is yours!)
Note: The app is just freshly published, so if you're using our app now, try and use the download link within the app (searching may still show v3.4). If you don't see it, as usual, hold on for a few hours!
Un-pin: You may also need to unpin and re-pin your Live Tile to see the new doublewide, give it a go, it works!
Been waiting for this update for a long long time, thanks Jay!
Love the double wide tile btw, very efficient use of space on either side!
Edit: I am getting an error when I try to save one of the wallpapers to my phone. And sometimes it just crashes the app when I enter the wallpaper section.

nice update, but wtf's with removing the option to customize tile back between text and image..? ...that's been around since v1 and I'm really shocked u removed that basic level of customization.. I love having the count and toast notifications but hate the tile back with the image, especially as its often a cut-off image on the square/mid-size tile and fucked with my layout.. can you confirm why this was removed???

Certainly. That customisation was introduced in a version 2 patch and was when I couldn't make the text and image display in an effective way. When switching to this new tile I found that if i left in the old customisation code it completely broke the tile because it was using part custom renders and part default sdk tile code. Still, i will work on something for the next update without images as you have responded negatively to this change

Such a good response Jay. Thank you. I too also like the tile without image but it is not worth hours of your pain to get it working.

I like the tile better when its not switching. Just the number of new items is enough as I'll see the images upon opening the app anyway.

wow, thanks for the great response and I really appreciate it. also, want to emphasize that I do really love the app and feel its a perfect showcase of what a wp app can be, so great work jay! and I didn't mean to be so negative, its just that I tend to be somewhat ocd with my tile layout so when I place a tile that's in my accent colour, I tend to prefer it stays that way, and flipping to an image breaks that.. as I'm now also realizing that the change is probably tied to the double-wide implementation, I can see the difficulty in maintaining that. I'll echo a suggestion made in response to this comment, that I think the ideal solution (and hopefully easiest to implement) would be to provide an option to disable flipping outright. for me personally, that'd be the ideal as I get notifications and a count which matter most and it keeps the tile looking consistent. best.

I'll put both of these in as options in that case

Awesome thanks! I too prefer the old options.

I would prefer the tile to spin instead of flip.

Not possible with the Windows Phone SDK ;)

How cool!! There have been a series of app updates since yesterday. WPC app is one more now. Thanks WPC team!!

The app looks great on the 8X's screen resolution! Awesome stuff, awaiting v4 now...

Looks awesome! Great job!!!

You might need to unpin and repin the Live Tile for the wide tiles to work in WP8. After updating the app wouldn't go double wide, but unpinning/repinning helped. Great update Jay!



Good call. I kept trying it. But unpinning it works perfectly.

I agree, it wasn't working at first, then it once I un-pinned and re-pinned the type.

Wow, amazing! Thank you for this update. I have an 8x and the app not taking advantage of the full screen was bugging me. If I could give you a better than a five star rating I would.

Wow guys the new 720p resolution support is a KILLER feature you guys did! I saw a huge diff right away and my eyes are more relaxed while reading, and everything just looks sooo clear! Wow. Thank you :D I love my 8X and I have loved WPCentral since the day my Optimus 7 came with NoDo. Keep up the amazing efforts guys!

This update is absolutely fantastic!!!! Great job guys! I've gotten a lot of people to purchase your app and this warrants the purchase even more!! Keep it up! Best WP site there is!


I cant get it to go to double wide on my 920?

U beat me on that Daniel :)

Unpin from Start then pin it again :)

This is all I ever wanted.

Love the double wide tile. First one on my start screen.

Nice job Jay...the resolution support for the 8x makes this app even more awesome

Hey the new update is awesome , really good job it was really worth buy the app, i hope you keep improving the app more and more.

Now I really wish they would post another article soon so I can see the lock screen notification. Lol

Just posted a review for this app today asking about the windows phone 8 app, and now it's here. Go jay!

Double wide tile is amazing!!

Awesome awesome awesome!!! BEST use of wide tile among all other apps out there.. Brilliant work Jay!

SkyScanner uses the double wide tile beautifully too. Worth checking it out.

Nice update looking forward to 4.0

I understand that you can't work around the plain tile count, but curious, why?

Not really helpful, Hit the Lights.

Basically the only way to have lock screen notifications is to set the tile's count property, resulting in that black tile count. Before we were rendering it as part of the tile image, which doesn't set the tile count property, thus no lock screen notification :(

Ah, thanks jay. Any information on you submitting the app for the app star thing? You would be in the top 5.

Awesome! Keep us informed! :D

Now you can submit the app for the Next App Star Jay. :)

Double wide tile working fine on WP8 but not on 7.8 (Nokia Lumia 710) FIXED: I just re-install the app. :)

Love the double wide tile!

Yay! Your app is the best news app ever. This app is worth the 99¢! :) Been waiting for the tile sizes :D

Am I the only one who's App shuts down when you try to open the Wallpapers section?

Edit: Solved. If you experience that problem just reinstall the App. ;)

I just updated this at the local bar. I'm half drunk and I can still tell how awesome this update is!!!

Wonderful, Great, Beautiful, large tile is great. Yep! Good Job! Thanks!

So the trial ver. doesn't have multi sized tile, cuz it doesn't have live tile. Pity one of the most integral feature of WP is being limited to premium, especially for someone who stuck with a damn wrong region account & cannot add any payments. Seems the Xbox migration only applies to Xbox, not MS acc-wide

Depends on where you are I suppose, but the Store does offer carrier billing (obviously where supported)

I finally made the decision to buy the app! Nice work! :)

Awesome!. You guys are doing absolutely great!..Keep up the good work!..Thanks to the entire WPC team!

Same issues as the first comment.

Gr8 wrk guys.... Im using wp7.8 n collecting money to buy wp8 dev...

Very nice, thanks alot! I am just wondering, why doesn't Whatsapp, for example, have to set the ugly black circled count for lock screen notification?

They are using a different shell tile layout, the "iconic layout" specific

Okay, thank you for the information :)

Exuse me... But why am I unable to download the paid version in the store? I mean, I already had this app, but then it was deleted and now it asks me to buy it, whereas I have already done that in the past.

If you're are new to Windows Phone, that's normal. If you try to "buy" an app again that you already bought, when you try to purchase it, it will tell you that and you'll just redownload it no charge.

Hm, sorry. My bad being a newbie to the OS :) Solved...

I thought full WP8 meant fast resume :D, the update is a welcome change, thanks Jay!

Best site, best dev, best support!!!

This update does not work well with my Nokia Lumia 620, clicking on wallpaper sends you back to the Windows phone home screen,

Maybe it's just the placebo effect but damn does the app feel smooth after the update!

Double wide tile still doesn't work on my 7.8... Already tried re-pinning the app as well as re-installing the app...

Same here - on my NL 710 with WP7.8, I tried to un-pin/Pin, uninstall - reinstall and everythign I could think of. No luck so far - just can't get the elusive double wide tile. Ideas?

I am able to get the double tile on my 900, however I can't get the live tile to update.

i looked up the app, update prompted, listed as 3.9
when updated, i check the about page to see "Version: 3.8.78"
??? wut is goin on

otherwise the app opens almost instantaneously after the update. seems to take better advantage of a 2nd core

It's version 3.8 of the app but i had to mark the wp8 XAP as a higher version to ensure that windows phone 8 devices choose it over the other version. This will be cleared up next release a little :)

Looks Awesome on the 920!

double wide dosn't work on 8, but it works on my 7.8

U might need to UNPIN ur tile from previous version and repin it

Love the update Jay! Brilliant!

Double-wide doesn't work on 7.8. Focus Flash

Unpin then re-pin. If the problem still persist, uninstall then re-install the app

For Lumia 920 win 8 phone, the version is showing as 3.8.78. But in market place I see it as 3.9. Do I have the latest version? And also for some reason, my screen became soooo bright. I had to uninstall the app and reinstall the app to fix the issue. Did anybody face the same issue?

The app is WAY faster. Dayum!

Like the new live tile. I did notice that the header in the screenshot has the WP Central logo and the full name Windows Phone Central. My screen still just has the text WPCENTRAL with no logo. I have the live tile and checked the version on the about screen. I have the new version running. No big deal, just an observation.

Its a setting. Open up the settings and you can personalize the header.

Thanks. Hadn't spotted that setting.

This is great, handed over my 99c!

Awesome. Just updated. And now commenting via the app

Looks Amazing on my HTC 8X, thanks... and it looks even better with pay version :P

Awesome ... https://t.co/V9YxQkeB2x

How about adding iconic style tile count (Large number next to app icon - like mail or messaging live tiles)? Also wpcentral for win8 will be highly appreciated :-)

I have the free version.. And am on 7.8 why am I not getting double wide tile?

same here. thinking its for paid users only. i already reinstalled it and repin

It is for paid users only on 7.8, as it can only be kicked into gear when you're using the live tile

My double wide tile works perfect but my normal size tile is grey and unpinning doesn't seem to work any ideas?

Thanks Jay for this update. But i am not getting the double wide tile on my Samsung Omnia W.

Works great and I've been waiting for this update for a long time :) One small thing tho, none of the icons anywhere on the app are hi res. They still look blurry. On a Lumia 920.

I assure you that the highest offenders have been updated, but for some on the browse screen I made the call that they didn't need an update

Live tile not working double wide function I mean. I uninstalled it and reinstalled plus did the pin unpin thing not working

I can't get the double wide till to happen. I unpinned repinned. Uninstalled reinstalled. Turn my phone on and off. Any other suggestions? WP7.8 L900

Have you got live tile enabled?

Yes, live tile is enabled. Live tile isn't working now at all since I updated and uninstalled reinstalled. I have the paid version.

It is working now. A couple comments down someone said sign in and I did and now it works fine. I don't understand how that matters. Thank you Jay for the app and the response on here and on Twitter.

I have the paid version. I've had it for a long time.

Why does the appshow under bacground tasks? What does it do?

Background audio streaming when you play podcasts, and updates the tile if you have live tile enabled

is double wide tile only available for paid users? it doesnt work on my 7.8 -dvp, forced update.

Correct, only for paid users

JayTBenett I am not able to get double wide tile at all.
What could be the reason ?
I tried everything, reinstalling pinning again and turning on and off the phone.

After unpinning & repinning, try to wait for a couple of minutes and let the app sync a bit,then try changing the tile size. That worked at least for me.

Do other mobile nations sites get so many awesome updates like this to their apps? I appreciate the update Jay. Btw, the guy named Hank in a yellow Pancho at Burger King is still waiting to inform Daniel of some WP information. xD

No more blurry icons! Thank you!!!

Lock screen notification works great, but after unlocking my live tile didn't show a count. This worked prior to the update on my 920, I'm using a small tile.

Since everyone is unpinning and pinning the tile I did the same and it works now.

Super! Now the screen is filled on my htc 8x!

Gotta love the double wide tile! Thanks! :)

Jay, I have to say, your app is the best executed in the WP store. Its distinctly Windows phone in a way that no other app I can think of does. Great job!

I'm a happy HTC 8x owner :)

this app could be made free. even if ad-supported trial version is offered, it must be fully-functional. It says, live tile is supported in full version only :-/

Go buy the app. Its only 99 cents. :)

You hear that bird jay? Cheap, cheap

Jay has mentioned previously that he had to charge 99 cents for him to make it worth his while to spend so much time on the app. And as a bonus to users that pay they get the live tiles and the different tile sizes. Plus Jay works full time and does this on the side. Considering how often the app gets updated the cost seems reasonable to me.

double size tile doesnt wrk. i unpinned it and reinstalled. doesnt wrk. 7.8 user here

You need to have the live tile enabled for double tile support on 7.8

oh, makes sense. i didn't buy the app. :( ugh...
i find it hassle to buy apps in marketplace because i dont live in US/Europe.

Looks good. Still has some dodgy animations, but a nice app that seems even faster again?

Wow im amazed at how much different the app feels now that it is optimized for the 8x

720p support! Yes! And as always, excellent work.

Thanks guys at wp central. This app is my go to app each and every morning.

did you guys take out the feature of being able to customize the live tile in 7.8 with the latest article pic? :( cause all i can do know is change how the number is displayed and the color, the tile on the article looks extremly nice with a pic....

Brilliant. Great update. Love the wide tile and lockscreen notifications.

Hey Jay, latest article picture is not showing on the wide tile, just the title.. What might be the problem?

That happens if the image failed to download for any reason, it's like a safety making sure that you still see up to date headlines and count values even if the image failed over your connection for some reason.

Jay, one word: Excellent!!

Unpin and repin folks. Say it with me... "Unpin and repin." (some of you didn't say it)

Unpin and repin only didn't work for me. I got my double wide tile to work by signing in. Before that live tile didn't work at all.

Jay, is it possible to get a more fully featured post editor tool e.g add images via the app etc?

Version 3.9 in the store, but the app shows version 3.8.78?...

It's a little trick I had to do in order for the correct version of the App to download for Windows Phone 8 users. This will be sorted in the next build :)

Oh, ok. No hurry, good job by the way. Really love your app! All thumbs up!

Outstanding. Now all we need is an App for Surface Pro!

New wallpapers but alot of the more interesting ones removed :(?

Yeah those all came from a competition we held last year, but they're all the old branding. Chances are we'll hold another competition some time :)

Great cheers Jay! Look forward to it.

Works fine on my Lumia 900 i love the double tile ,THX for the update.