From the WPCentral Forums -- Nokia Lumia 900: Week one recap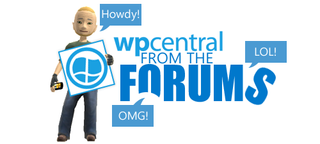 Wow! What a week we have been having so far. If you haven't heard, Nokia is launching a new device in the US on AT&T called a Lumia 900/ We have all the news on the front page and even more discussions in our forums.
This week we are approaching the April 8th release date of the Lumia 900 so we are trying to curve our excitement by talking with some AT&T reps that already have the device. If you are interested in talking with an employee of AT&T that has a Lumia 900, you can check out one of these threads.
We started the week in anticipation of the March 30th date when we would be able to pre-order our Lumia 900. Forum member scrapple started this thread "Preorder time on the 30th?" so we would have a place to talk about something we could only wait to do and we spent the 30th talking about who has already pre ordered there Lumia 900. Then comes this thread "Backordered Status?" where we discuss our order statuses. You can catch our official opinion on this topic on our main page: AT&T Nokia Lumia 900 sold out of pre-orders? Probably not.
If you're in the St. Louis area, sporting a Windows Phone (Lumia 900) and if you would like a chance to hang out with other people who love Windows Phone, come join speedtouch at our first ever Windows Phone Meet up. You can get the full details in this threads: [April 14] St. Louis Windows Phone Meet up.
Our developers have been hard at work giving us lots of new Windows phone apps. You will have to visit our Spotlight forums to get in on all the App goodness. Here are just a few of the titles that have been posted:
Applications Spotlight:
Games Spotlight:
Remember, the forums are more fun when you register, so sign up today.
Get the Windows Central Newsletter
All the latest news, reviews, and guides for Windows and Xbox diehards.