Windows Phone Central Game Roundup: Family Games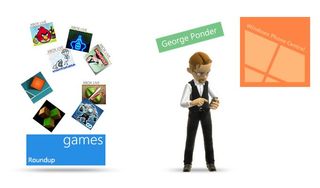 Windows Phone Central's Roundup of Family Games
With Windows Phone 8, you get the Kids Corner and in this weeks roundup, we are focusing on a selection of Family Games from the Windows Phone Store. These games can be installed and added to your Windows Phone Kid's Corner to offer your kids a little entertainment to pass the time with.
While these games are "family friendly" that doesn't mean they are boring for adults. They can be full of challenges and rather entertaining.
We've got an Xbox Live title, a couple of repeats to the roundup and a few games that we're taking a look at for the first time. And as always, if we've missed your favorite Family Game feel free to sound off in the comments.
Max and the Magic Marker (trial/$.99): Max and the Magic Marker is a multi-level platform game for your Windows Phone where you play the role of Max. He used his Magic Marker to create a monster that has escaped and now he's trying to catch it. You use the Magic Marker to help you navigate through the game by drawing bridges, steps and other objects. You keep your marker full of ink by collecting ink balls along your journeys.
There are fifteen levels that span three worlds that includes over a dozen Xbox Live achievements. Just watch out for rain showers that will cause your Max to wash away. You also have blue blobs and other dangers to avoid.
Max and the Magic Marker is a wonderfully drawn up game and between the puzzles and action, it's a game that will keep everyone from kids to adults entertained. There is a free trial version available for Max and the Magic Marker with the full version running $.99. You can find Max and the Magic Marker here at the Windows Phone Store.
Froad ($1.29): Froad is a unique reaction game for your Windows Phone where you play the role of Froad, a hungry toad. The goal is to feed Froad a steady diet of insects before the his hunger meter hits zero. The longer you last, the better your score.
A series of insects and such will cross the screen and your job is to tap on the ones Froad is in the mood for. The bug of choice will appear in a thought bubble and when you tap on that bug, Froad will snatch it up as any other frogs would. With his tongue.
Be careful not to eat the bad bugs (scorpions, bees, bats, etc.). Yes, I know a bat isn't a bug but the result is the same. Froad will get ill and won't be able to eat for a few seconds. All of which drains his hunger meter. Again, the goal is to make through as many days as possible before Froad's hunger meter hits zero.
Froad is a fun game for your Windows Phone. Nicely animated, challenging but there isn't a trial version. The full version of Froad will run you $1.29 and you can find it here at the Windows Phone Store.
Fishing Girl (free): Fishing Girl is a Windows Phone game from developer Elbert Perez who brings us Impossible Shoota, Traffic Cop, Steam Castle and several more Occasional Gamer games.
With Fishing Girl, the object of the game is simple... catch fish. You need to complete daily challenges to advance through the game and new lures and equipment upgrades can be purchased to help you along the way.
Casting your lure is simple, just tap the screen to start your back cast and tap again to send your lure out into the lake. To real your lure in, just tap the screen. In letting the lure settle down towards the depths increases your chances of catching a bigger fish. Once hooked, tap and hold the screen to reel your catch in.
Game play is entertaining and the minimalistic graphics look good. It's a game that is easy to get hooked on. Fishing Girl is a free, ad supported game that you can find here at the Windows Phone Store.
Apple Bin (free version/$.99): Apple Bin is a fun puzzle game where you shoot apples from a canon and try to land them in a basket. The challenge being there is a series of obstacles between the canon and the bin.
Apple Bin has sixty levels of play and the goal is to land an apple in the basket in the fewest shots as possible. Some levels require bank shots around obstacles while others require you to destroy the obstacles to clear a path to the basket.
Each level gets a little more challenging than the last and each level can be replayed for a chance at bettering your score.
There are two versions of Apple Bin available at the Windows Phone Store. You have a free, ad supported version of Apple Bin found here and a $.99 ad free version of Apple Bin that is here.
Spark Art (free): Spark Art is a doodle game (or is it an app?) that has you creating drawings from sparkling, colorful, exploding lines. You can save your Spark Art creations to your Pictures Hub and then share them with others from the Pictures Hub.
There's really not much to Spark Art but it has that intangible quality that makes it interesting. Kids will be challenged to create artistic and unique drawings while adults will simply doodle away making the most of the sparkly lines. If you mess up or just don't like your creation, shake your Windows Phone to erase and start from scratch.
It would be nice if there were some color choices but the randomness of the colors seems to add to Spark Art's appeal. Spark Art is a free app/game for your Windows Phone and you can find it here at the Windows Phone Store.
The Windows Phone Kids Corner is a great tool to give your children access to your Windows Phone without running the risk of them deleting files or accessing areas they shouldn't. The Family genre of games and apps listed over in the Windows Phone Store is a collection of fantastic games to not only teach your children but also give them something to help pass the time with.
This week's roundup just scratches the tip of the Family game selection in the Windows Phone Store and if you have a favorite, feel free to recommend it in the comments below.
Get the Windows Central Newsletter
All the latest news, reviews, and guides for Windows and Xbox diehards.
George is the Reviews Editor at Windows Central, concentrating on Windows 10 PC and Mobile apps. He's been a supporter of the platform since the days of Windows CE and uses his current Windows 10 Mobile phone daily to keep up with life and enjoy a game during down time.