Windows Phone Game Review: Battle Sub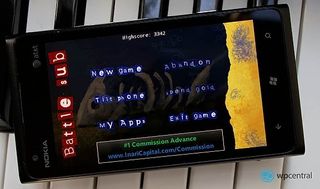 Battle Sub is a neat little game for your Windows Phone. With Battle Sub you command a one-man sub cruising Oceania taking on various missions, taking out killer sharks, enemy ships, and giant octopuses. All the while snatching up treasure and avoiding running out of oxygen.
Battle Sub is nicely drawn up, has its fair share of challenges, and isn't a bad time waster of a game. In a way, Battle Sub reminds me a little of I Dig It. Except Battle Sub is played under water and I Dig It is played under ground.
Okay... your main menu with Battle Sub has options to play the game, abandoned a game in progress, toggle between tilt phone and joystick controls, spend any gold you may have collected, view other apps by the developer and exit the game.
You can control your sub by either a virtual joystick that sits in the lower right corner of the screen or with your Windows Phone tilt controls. If you try the tilt controls, it won't surprise me if you immediately pause the game and switch back to the joystick. The tilt controls are great for descending and turning your sub but ascending to the surface and moving left/right are tough. It may be an issue of calibration but I found the joystick to be a lot more responsive.
As you launch a game, you're given the choice of three difficulty levels (easy, medium, and hard). Before you choose your difficulty, take a few seconds to look through the help screen (you can only access it here) to familiarize yourself with the tid bits of the game. From there you jump straight into the game.
Battle Sub's game screen is laid out as follows. Your score, health and oxygen levels are scattered across the top of the screen. Along the left side of the screen are your Primary and Secondary goals. In the bottom left corner is your joystick and in the bottom right corner is your torpedo launch control.
Goals vary from gathering items off the ocean floor to taking out a set number of targets. If you complete a secondary goal before you accomplish the primary, a new secondary goal is generated. When you tackle a secondary goal, a bonus item will become available to give your sub a boost in firepower or replenish your health.
Your sub has a limited amount of oxygen and as the meter slowly runs out, you'll need to run to the surface to catch your breath. To help you along (and to stay submerged longer) you can find air bubbles in the water that will replenish a portion of your oxygen.
As you work towards accomplishing your Primary and Secondary Goals you'll run across sharks, attack subs, giant octopus and schools of fish. You fire your missiles to take out the sharks, enemy subs and octopus. The schools of fish just swim about and change direction when struck by your sub. If you make contact with the sharks, octopi, and subs you'll lose health points. If your health meter hits zero or you run out of oxygen, the game's over.
Along the bottom of Oceania you'll run across treasure chests of gold. Collect enough gold you can spend it to repair your ship, boost your oxygen or boost your torpedoes.
Battle Sub is a nice time waster of a game. You can also find yourself getting pulled into the game for longer spurts of time as well. The graphics and animations are nice, sound effects good and game play challenging enough to keep you interested. While I like Battle Sub, there is room for improvement.
For starters, the Battle Sub needs the help section more readily available. Gameplay isn't difficult to get the hang of but it would be nice to know what all the items and targets mean during the game. The price of repairs is a bit high (especially when you're earning gold 4-6 coins at a time) and lastly, there's no way of saving a game in progress. It would be nice to be able to jump into things where you left off, especially if you're having a killer round.
While there's room for improvement, Battle Sub is worth a try. It doesn't take long to get a handle on game play and you may find yourself playing longer than expected.
Battle Sub is a free game that you can find here at the (opens in new tab) Windows Phone Marketplace.
Windows Central Newsletter
Get the best of Windows Central in in your inbox, every day!
George is the Reviews Editor at Windows Central, concentrating on Windows 10 PC and Mobile apps. He's been a supporter of the platform since the days of Windows CE and uses his current Windows 10 Mobile phone daily to keep up with life and enjoy a game during down time.
Hello "George Ponder" what's up ? you will be pleased that in the meantime i have read your whole article once and again. it is completely tips able post! this review looks good as well as it's design too attractive. i am in love it. teenage mutant ninja turtle
Windows Central Newsletter
Thank you for signing up to Windows Central. You will receive a verification email shortly.
There was a problem. Please refresh the page and try again.