Windows Phone Game Review: Pairanoia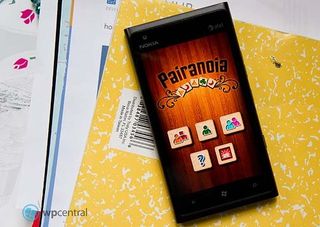 Pairanoia is a Windows Phone puzzle game from Beautiful Mind Games, the developers of Triangula, Quadrata and other puzzle games for your Windows Phone. Pairanoia is a game that calls upon you to match up tiles with assorted colors and shapes. As you create the matches you earn points in an effort to out score you opponent.
Pairanoia does take a few games to get the hang of things but once you do, it's an entertaining way to pass the time.
The main menu for Pairanoia presents you with options to play a game against the computer, play a solo game or play a two player "pass and play" game. You can also access the help screens from the main menu as well.
Playing Pairanoia against the computer has three difficulty levels (basic, moderate and advance). Each game mode has five draw pile sizes (x-small to x-large) that dictates how many tiles you have to pull from.
The Pairanoia game screen is laid out with your gaming scores up top, your tiles displayed beneath the scores and then your playing field. At the bottom of the screen are controls to start a new game, your tile draw pile number, a button to complete your turn, a button to rate the game and a button to access the game's options.
Options covers enabling hints, volume level, access to the help screens, show stats, and player's turn options.
Game play goes something like this. When it is your turn you are given a number of tiles to place in the playing field. Tiles are placed to create pairs of either the same shape or color but not both. So a blue star can be placed next to a blue circle but not another blue star. If you make a wrong move, a bubble window will appear to remind you of these rules.
Once you've created all the possible pairs, you tap the green check mark button at the bottom of the screen to complete your turn. Any unused tiles will be recycled and your opponent gets a try.
Play is concluded when the draw pile is empty or there are no more possible moves. In the center of the upper stat panel, in between the scores, you will find a trophy button. Tap this and you can access the online leaderboard where you can submit your game score.
All in all, Pairanoia is a simple but challenging game. The best way to learn the game is to play a game using the x-small draw pile. Once you've gotten used to the tile placement then jumping to a larger pile or more difficulty level is more of a fair fight.
There are two versions available for Pairanoia. You have a free, ad-supported version that you can find here at (opens in new tab) the Windows Phone Marketplace. An ad-free version of Pairanoia Premium is running $1.29 and you can find that version here (opens in new tab) at the Marketplace.
George is the Reviews Editor at Windows Central, concentrating on Windows 10 PC and Mobile apps. He's been a supporter of the platform since the days of Windows CE and uses his current Windows 10 Mobile phone daily to keep up with life and enjoy a game during down time.
nice! BMG games are always great. challenging yet fun and simple to play quick rounds here or there.

I am not sure why you do more reviews on games that are not Xbox Live enabled then ones that are. I am certain more readers would be interested in Xbox live games...though the quality of these titles has been very sub standard lately, it is good to get reviews of actual good games that Microsoft didn't get their grimy hands all over!

Non-live games need to get much more attention, in my opinion. The Live titles get a good boost as it is. With the number of indie titles being released it's also hard to find the gems among them, and the fact that marketplace ratings are regional makes it hard to get a reliable number of user reviews in smaller markets. So, I'm all for more of this kind of review.

I agree in some sense It is good to see other titles out there...but i am just pointing out readers don't necessarily read or want to see reviews of these indie games. If the amount of comments for these articles is any indicator, no one cares or reads these. And in addition to providing the news to the people...they also need to monetize the site. Maybe they make ends meet, because these types of reviews are often shorter and not as week thought out or written..so maybe getting less page views doesn't matter.

I am the developer of Pairanoia, and I can tell you that I see a very noticable increase in downloads every time WP Central posts a review of my game. So the suggestion that "no one cares or reads these" is definetely wrong.

The game is set up pretty well so that who goes first or second doesn't really decide who wins the game. It's quite fun once you get into Pairanoia and understand it. - AflacAssist.com
Windows Central Newsletter
Thank you for signing up to Windows Central. You will receive a verification email shortly.
There was a problem. Please refresh the page and try again.