Windows Phone Recovery Tool gets a mandatory update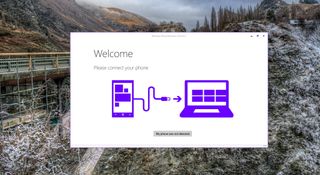 Owners of Windows Phone devices can check out a new version of the Windows Phone Recovery Tool, which allows them to reset their phone back to a previous version if needed by connecting it to a Windows PC. The new version number is 2.1.2 and is a mandatory update for the app.
Even though this is a required download, this new version apparently is a pretty minor update. The change log says that this download adds some missing translations, and also includes some "small usability improvements and bug fixes." For those of you who have yet to download the app on your PC, you can go to Microsoft's support page to grab the program (opens in new tab).
Thanks to Aakash for the tip!
Windows Central Newsletter
Get the best of Windows Central in your inbox, every day!
Are you talking Mobile, or PC version?

Sad that now people's default is to think others are out of context...
I'm talking about the tool this article is based on, letting us install W10m. I want that. I think my 1020 is superbly fubard.

Why do you want this, if you can do it through Windows 10 settings? Pretty much the same thing.

This app is the complete opposite as to what u seem to think it is... This is a tool that rolls the phone back from Windows10Mobile to WindowsPhone8.1. In other words, if someone doesn't like Windows10Mobile, they can go back to WindowsPhone8.1. This isn't a tool to download Win10Mobile. If u want to do that, search the app store for "Windows Insider" and enroll.

I think you didn't get what he said. He want to clean install W10M, instead of an upgrade. Maybe when Win10M RTM comes out we will be able to fresh install just like you can with 8.1. The only way for now is upgrade to Win10M and then factory reset through settings app.

I know what this app does and I want it to do more. I don't want an update, I want a reformat and a fresh install, of W10m.

This is exactly what I've been wanting. Since the last time I did a rollback to 8.1, all it did was re-install the 'same' WIinsider version of 10 mobile, I was already on. You should be able to clean install from the Recovery Tool then, choose either rollback to 8.1 or the latest Insider edition, from within the Tool.

The only problem I see with that would be firmware for the device. Doing a clean install would wipe everything. There is no way to currently install the needed firmware, without the manufacturer pushing it out. Otherwise, I would think you would have to find a way to flash it, if you can manage to find them. Just sounds like a whole lot of trouble for cellphone. Now, I'm no IT expert, but just trying to think through my experiences with PCs ive had. I just don't think it would work the same for phones.

No. Most chips are made by the same few companies, and designed by even less. We have to stop thinking that ATT or even HTC own our phones. They are PCs with a cellular modem, that is it, honestly. Hopefully there is a modular WXm phone that will be released otherwise Android will pave the way for that market... which we'll see how big, but still important to making my point more prevalent.

Yeah, I understand that, but I was referring to OEMs not the carriers. Even with owning the device itself, OEMs don't put the firmware for those devices on websites, which makes getting the needed firmware very hard to get your hands on. Now, with smartphones becoming more powerful that may actually become a reality at some point, because I think people will start to keep there phones much longer than the 1-2 years. I've read rumor articles of possible Intel powered phones that might make what you're looking for a reality, if they ever make them.

Like I said though, not many companies are the actual designers. There are many more different phones, than different chips. Generic drivers have worked in windows for a long time, even for networking. Now obviously with spectrum highly regulated, that is an over simplification, it is still possible. Anyway MS is only doing W10 preview on one non ms phone so at this point it is a non issue.

Can I get the denim update with this app?

Yes.. but I am not sure abt ur region..
Try once..

Yes. After resetting my phone from 10 to 8.1. I was directly updated to Denim Update.

Thanks going to try after the update because all I get is Lumia Cyan on my Lumia 625.

It doesn't work, says that I'm on the latest version

Still cannot recover my Lumia 625 that went dead (QHSUSB DLOAD mode) while I was just scrolling on the start screen...

Sad to hear..
I found a page that is a guide that *might* fix your phone. Hit me up on ankitjc@live.in and I'll send you all the info I got

I've tried with all measures I could find, including XDA's step by step guide, a guide on MS community, another similar one. But everytime I flash the HEX files and MBN files using thor2, for most parts it succeeds, but when flashing starts writing files, it says eMMC error, and the process rolls back. So I guess, my phone's hard disk is also broken and not just the boot loader.

Glad to see some update here. I have a bricked Lumia 820 - qhsusb_dload non-responsive.. Caused by this tool, while reinstalling WP8.1.. From WP8.1
Here's to hoping they can fix it in future updates :)

I'm facing the same issue with my Lumia 1320.

WPRT was updated in May to include a way to restore the device's bootloader. Open WPRT, Connect your Lumia, click "My phone was not detected" then Lumia, and it should download the emergency package, then flash it. If nothing is ever detected after selecting Lumia: open Device Manager, select View>show hidden devices, and uninstall any drivers related to your Lumia + the emergency downloader. Then reconnect your Lumia and try again.
If the problem persists, reinstall WPRT and repeat the process.

And make sure that it's plugged into a USB 2.0 port and not 3.0 or 3.1. That can also cause issues with detecting a bricked phone.

Why WPRT recovers to cyan, and not to denim?
It would be better.
Its annoying to update again after rolling back from WM10.

The problem is not solved, setup failed 0x80091007 - the hash value is not correct, I tried to install it on 4 PCs :(

I have a doubt. Where are the downloaded files stored? Can I delete temp, contents ?..I do clean my pc frequently, Will doing this remove my downloaded files? I do not want to download gb of data again.

C programdata ms nokia package something like that, don't if they stick with the same path as the old Nokia.

My files went into the hidden folder C:\ProgramData\HTC so I'm sure yours would be in \Nokia.

Open wprt setting, theres a path to your download folder,

Thank you all . So that means its not in temp or ... Its safe to clean temp files

New build by tomorrow evening. Calling it now!

Gabe said once that they don't publish builds during weekend. Hopefully late tonight or Tuesday

I know it's off topic and maybe been asked today dozen times.. Is MS going to present 950s these days or in October X?

be nice if w10m would get a mandatory update to next version.. 11024 sounds nice

The software is anti-brick software. But its also very useful if you want to do the cleanest install of a new build, you can reset on your phone, but without this tool, you'll restart back into W10M without your apps and settings. The best test and experience of a new build is to reset all the way back to 8.1 and then to roll all the way forward to the latest build, and this tool allows you to do this. This takes time, but if a build is buggy on your device, this can be like a complete transfusion of new clean blood. I am wishing and hoping that this is prefatory to the release of the overdue next W10M Build. We could use the long weekend to rollback/rollforward. Which would be nice.

I wish this is true. Have a L920 that is stuck now on the spinning wheels since I tried to install W10M. No matter what I tried, it's not recognized by the "anti-brick" software. I can let the batteries run down and when I plug it back into the USB charger it comes back to the spinning wheels again with no way to un-brick it.

If only they updated this to help the numerous users that have hard bricked devices trying to roll back to WP8.1 via the recovery tool. I being one of them.

Can we get a Mac available option as well? Sheesh I own a Mac!!

Wait you own a Mac and you have a Windows phone why would ....nm forget it

Becasue Macs are BAMF's just like Lumias..

WPRT makes my phone gets back to carrier version sofware (most recent version). Probably it checks the original product code and/or IMEI to update the firmware. Happens with all of you? There's an way to avoid carrier fw installation by this tool after an unbranded version fw installed?

I've had to use this and also the Nokia recovery tool to bring back bricked devices. I keep the both installed on my SP3 to use depending on the phone status. From a Nexus 6 via the Windows Central App for Android

To be clear, I've never had to use the RT for an official carrier upgrade, as those have always installed without issue on my WP devices. I've only used the RT after joining the Windows Phone Insider Program and started to install successive builds of W10M as they became available. The W10M builds have usually installed without bricking, but some less stable builds would bog and slow down with time. When that happened, I used the RT to get all the way back to 8.1 (which I assume has been to the pending official ATT release. But then I would reenlist in the Insider program, download and roll forward to the latest W10M release. This was way more time consuming than a straight upgrade, but resulted in a relatively "clean" and much more stable OS. As the restore function was inadvisable for this context, I would also have to reinstall many apps (on WiFi), after finally logging in and syncing the phone back to my Microsoft account, which had previously been skipped while the rollback/rollforward process completed. At the end of the long day, I have a stable OS with the latest versions of apps and early access to a lot (but not all) the W10 enhancements. I have thought of the RT as a rarely used utility for normal, non-beta operations. But with the RTM of W10M a few months or weeks off now, perhaps Microsoft's continued tweaking of the RT is a safe-guard in case of wider need once the upgrades to W10M proper start rolling out to all users.

Finally they fixed the hash code error! I am stuck on w10 but now after a week i dont wanna go back because its cooler in some ways than the old boring 8. Still great to see the problem fixed.

What's the difference between Lumia Recovery Tool and Windows Phone Recovery Tool?
I don't know which one to install for my Lumia 535 dual. Its both a Lumia and a WP :)