Windows Phone Store and Windows Store dev resources merging, 21 new payout markets added for both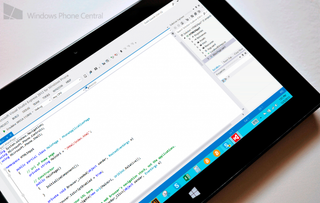 Microsoft is changing up how developers get resources for Windows Phone and Windows 8. In fact, they're actually merging developer resources for Windows and Windows Phone. That's not all, they're adding twenty one new payout markets and highlighting the new Kinect for Windows 2.0 SDK. Details on all changes below.
New unified developer resource for Windows Phone and Windows 8
Wanted to grab the developer resources for Windows Phone? Microsoft had a site, dev.windowsphone.com, that was one your one-stop shop for all things Windows Phone development. Now that site redirects to dev.windows.com (opens in new tab). This new site will be where developers get resources for making Windows Phone and Windows 8 apps.
This isn't just simple web redirect, instead you'll now find a unified site with content and guidance for both platforms. Here are some highlights of the changes:
Unified documentation: You'll now get a comprehensive, combined documentation set to help learn app development for Windows devices across phone, tablet and PC.
Single location for code samples: Code samples will now be on the new dev site, the difference is that they are now easily accessible directly from one Dev Center page
Single location for developer forums: The Windows Store apps and Windows Phone developer forums have been merged into one set of forums.
The dashboards for Windows Phone Store and Windows Store haven't merged yet and remain separate. You'll select which one you want to enter when you click on the Dashboard, but can switch between them using the left-hand navigation pane.
Kinect and Windows Store opportunity
Microsoft also highlighted a new developer opportunity with the Kinect for Windows 2.0 SDK. Apps created using the new SDK may be released to the Windows Store once the final, RTM version of the SDK is available later this year. In the meantime, developers are encouraged to download the public preview of the SDK to get an early start on development.
New payment markets
Starting this week, the number of markets that developers can submit paid apps has been increased. Here's a list of the 21 new payout markets available for developers in the Windows Phone Store and Windows Store: Albania, Antigua and Barbuda, Armenia, Azerbaijan, Belarus, Bosnia and Herzegovina, Botswana, Comoros, Dominica, Fiji Islands, Georgia, Iceland, Liechtenstein, Mauritius, Monaco, Mongolia, St. Vincent and the Grenadines, Tajikistan, Tonga, Turkmenistan, Uzbekistan
The new total of available markets for Windows Phone and Windows 8 developers to earn revenue is now up to 149.
Source: Microsoft
Windows Central Newsletter
Get the best of Windows Central in your inbox, every day!
Breaching the threshold...getting ever so close to it...!

I look into the future and what I see is Windows everywhere.

I have one right next to me

I have hundreds around me..

This is awesome news. So many times when searching for resources and trying to locate WP8\8.1 specific content it's confusing\ jumbled\ nonexistent. This will definitely help those devs (like me) to no longer worry as much about trying to make sense out of what is what.

Windows on my TV, Fridge, Phone, Home, Toaster HaHAha :)

Can't wait to get a toast notification from my toaster.

I already do! In the form of toasted bread. :P

It's breakfast time, put that in your Action Centre.

And eat it at a glance :D

Could be sooner than you think. Microsoft are giving away free Galileo boards if you want to hook up your toaster yourself ;)

Hopefully payments are unified

No, they're not. I really wish they would just combine everything. It's silly to have two separate streams of income (three if you count Pubcenter), and it's silly to report on different versions of a universal app in different portals (that also have slightly different layouts and functionality).

Slowly but surely we are approaching the unified store signaling threshold is not too far way.

This unification of the documentation has nothing to do with Threshold, but has to do with Windows Phone 8.1 and Windows 8.1 that use the same code and the same documentation and don't make sense to have a separated documentation. And we have already now a unified store (for Windows 8.1 and Windows Phone 8.1)!

It's still not unified. Yea, they have the "buy once, install anywhere" thing, but it is still two separate stores. I would like to see it all become one so that I can buy Gameloft games and play on my phone AND my desktop. As it is now, Gameloft doesn't really do anything for desktops. Just an example.

When they get around to merging the dashboards, they better use the one from the windows phone site. The windows store dashboard is just awful

Finally Albania is on the list

When will this be merged with dvlup and the Visual Studio portal?

nothing reflected the MSFT at war with itself more than these two ridiculous stores. Amazon wouldn't do this. google wouldn't do this. Apple wouldn't do this. Only bone headed MSFT tried and off course it was a bad idea. Glad they fixed it. Hopefully whoever pushed for this will be out with tomorrow's layoffs.

how soon will it be windows ONE one OS one experience

"Albania, Antigua and Barbuda, Armenia, Azerbaijan, Belarus, Bosnia and Herzegovina, Botswana, Comoros, Dominica, Fiji Islands, Georgia, Iceland, Liechtenstein, Mauritius, Monaco, Mongolia, St. Vincent and the Grenadines, Tajikistan, Tonga, Turkmenistan, Uzbekistan" its all good. Just not the biggest markets. How many people in Lichtenstein and Monaco?

Actually the first time I ever came across Liechtenstein.

Ever?! Where the heck did you go to school? Or maybe I should ask when. Probably not taught anymore.

Probably should ask when. I'm still at school. Even if it's my last year of high school. So yeah... Never heard of it. By the sound of your comment, it sounds important. Will Google it...I mean Bing it.

Any other WP devs get email from MSFT asking to "approve your Corporate account registration" with Symantec? The link looks legit but I'm leery of doing anything with it until I find out more. This post on WPCentral.com makes me more comfortable with it. Thanks

I didn't get a email like that, I don't know you should be weary.

Uh, why would a Microsoft dev site ask you to approve your corporate account registration with Symantec? Hope you checked where those links go...

I couldn't find Bravos in the list :-)