Windows Phone Store Collection: Revisiting the AppCampus Showcase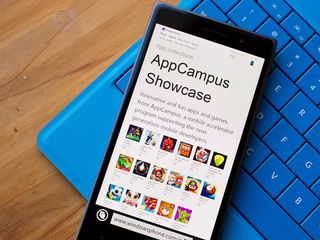 A few years ago, Microsoft partnered with Nokia and Aalto University to create the AppCampus. The initiative was created to help developers build new content for Windows Phone and has had tremendous success.
Some of the alumni of the AppCampus include Project Tripod, Dark Lands, Mash&Co. and Zombies got a Pogo. The collection of apps has grown so that the Windows Phone Store has an AppCampus Showcase Collection to highlight a few of the games that have darkened the campus hallways.
We have touched on this Collection before and felt it was time to revisit things and shine the spotlight on a few of these Windows Phone games for this week's Windows Central roundup.
Perfect Kick
Perfect Kick is an AppCampus installment to the Windows Phone Store that has you testing your soccer (also known as football in some parts of the world) skills in a penalty shootout styled game.
Once you create a character, you have the options to play a practice match (offline play) or challenge other Perfect Kick players in a match. The shootout is a best of five match and the game mechanics are very simple. When it is your turn to challenge your opponent's goal tending abilities, swipe at the soccer ball in the direction you want to travel.
When it is your turn to defend the net, just swipe at the screen in the direction you want your player to jump/defend. Timing is key in defending your goal. Just as is in real life, if the timing of your moves is off just a bit the ball will sail past you.
As you win matches, you will earn gaming coins that can be used to buy new gear in the shop, some of which will give your character's abilities a boost. Additionally, as you win matches your experience points will grow and your character will become more responsive in defense and skilled at kicking the ball.
Perfect Kick has Lego-ish styled graphics and challenging game play. The Windows Phone game should appeal to the most soccer/football fans, as well as those simply looking for a fun game to pass the time with.
The Machine Free
The Machine has been around for some time now and never fails to impress. The grayscale graphics look good, there is plenty of challenging game play and a couple of gaming modes to keep things lively.
You control a blob of ink and by tapping on the screen to have your blob jump around the machine. You stick the blob to the walls of the machine, ride gears and weave your way to the finish line. The three gaming modes includes an arcade mode, normal mode and hardcore.
The arcade mode is described as an "endless climb" with the goal to send your blob as high as possible in the machine. To help keep things challenging, there is a collection of gears working their way up the screen and if the gears catch your blob, game over.
The normal and hardcore modes is a collection of gaming levels (15 levels each) where you have to guide your ink blob through a maze of gears, traps and dangers to reach an exit point in the machine. As you might guess, the levels in the hardcore mode are noticeably more intense than what you find in the normal mode. Just be careful to make sure your ink blob doesn't dry up before it reaches the exit. You will find ink dots scattered about each level that will replenish your blob and keep it from drying out.
Graphics are nicely drawn up, game play simple but challenging and overall The Machine Free is a nice AppCampus chapter in the Windows Phone Store.
Save the Hamsters Free
Save the Hamsters Free (or Underground) is an AppCampus sequel. The original, Save the Hamsters, is a math based puzzle game while the sequel is more of a color association puzzle game.
Your hamsters are now underground, trying to find the right hamster hole to drop into. In the way is an assortment of obstacles that have to be destroyed to clear a path so each of the colored hamsters will drop into the corresponding colored hole.
Along the way you have to collect seeds that will unlock additional gaming levels. The first few levels of play are extremely easy but once you get past level seven or eight, the game can be a bit of a head scratcher.
Save the Hamsters Free has over 200 levels of play, daily prizes, video hints to help guide you through a puzzle if you get stumped. The free version is ad-supported with the option to go ad-free and have unlimited hints through a $2.99 in-app purchase.
After playing Save the Hamsters Free for a few days, it comes across as a quality sequel to the original. The educational value is not as obvious but I can see the appeal the sequel can have with our younger readers as well as the more seasoned gamers.
Happy Chef 2
Happy Chef 2 is a time management game (or should I say hot plate management) where you are a short-order cook trying to make all your customers happy and earn a few bucks along the way.
The game has over 100 dishes to prepare from pizza to French cuisine. There are also five global locations to cook from, over seventy levels to tackle and five mini-games to keep things interesting.
Add a few themes, upgradeable kitchen, and dining equipment to the mix and Happy Chef 2 turns into a feature rich Windows Phone game. The graphics are nicely done and game play can be challenging. It all boils down to management and not losing track of which customer gets which order.
Game play includes cooking, plating, serving and collecting cash. I liked that some dishes require multiple steps to complete. For example, you will get an order for pizza with sliced tomatoes on top. This requires you to bake the pizza, plate it and then top it with the tomatoes. The extra steps add to the challenge of the game.
Happy Chef 2 is not an overly difficult game to pick up on, but will keep you on your toes. It also has that across the board appeal that will make the game attractive to Windows Phone gamers young and old.
Oh and if you prefer gaming from your tablet or laptop, Happy Chef 2 is also available for Windows 8 devices.
Each of the four AppCampus games have a certain level of appeal. I do not know if there is a bad title in the group unless a gaming genre just is not your cup of tea.
The AppCampus has been a fantastic support system for Windows Phone developers with plenty of quality apps and games popping up on the Windows Phone Store shelves. From the music game SongArc to the puzzle game Polyhegrams to social networking app Foundbite, the AppCampus has a somewhat distinguished alum.
If you have tried any of the Windows Phone games highlighted in this week's roundup, let us know what you think in the comments below. Also, feel free to toss out your favorite AppCampus title.
Get the Windows Central Newsletter
All the latest news, reviews, and guides for Windows and Xbox diehards.
George is the Reviews Editor at Windows Central, concentrating on Windows 10 PC and Mobile apps. He's been a supporter of the platform since the days of Windows CE and uses his current Windows 10 Mobile phone daily to keep up with life and enjoy a game during down time.