Windows Phone Store Collections: AppCampus Showcase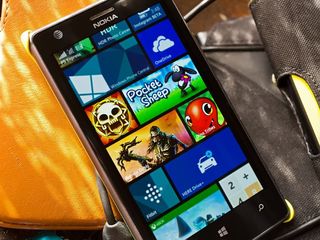 Windows Phone Central Game Roundup: AppCampus Showcase
For those not familiar, the AppCampus project is a collaborative effort between Microsoft, Nokia and Aalto University to help build new content for the Windows Phone platform. It is a great resource for developers to tap into as they strive to develop new apps and games for the Windows Phone Store.
The AppCampus has helped produce titles such as Dark Lands, Foundbite, Project Tripod and SongArc.
The AppCampus Showcase is one of the many Windows Phone Store Collections and highlights a large selection of Windows Phone titles developed through the AppCampus initiative. The Collection features over fifty apps and games produced with the help of the AppCampus and we've pluck a few games to highlight in this week's Windows Phone Central Roundup.
To avoid repetition, all the gaming titles in this week's round are available for low-memory devices.
Pocket Sheep
Pocket Sheep is an arcade game where players are tasked with helping a herd of sheep navigate through a maze, ultimately arriving at a lush, green pasture ripe for grazing. While the gaming concept sounds easy, guiding the sheep around the twists and turns is a lot like herding cats out of your living room.
Game mechanics are rather simple. You tap and hold the screen to scoot the sheep along. The game does support multi-touch so if a sheep strays from the herd you can gather it with a second finger. You may feel as though you are playing a game of pocket twister but after a few failed attempts, you get the hang of having your fingers multi-task. You'll also find yourself spinning your Windows Phone around often to get the best angle of approach to push the sheep in one direction or another.
What do I like about Pocket Sheep? The graphics are well drawn up with, dare I say, a certain level of cuteness. But don't let the sheep's cuteness fool you. The mazes can get interesting with moving bridges, volcanoes and other dangers to overcome. Some of the levels take on more of a puzzle game feel with all of the moving parts and such. It is a simple, attractive, yet challenging game.
What I don't like? Pocket Sheep has thirty levels of play and ninety collectable cards to earn (achievements). While the game may not be everyone's cup of tea, the only real downside to the game is that it needs more gaming levels.
There are a few nits about the pop-up ad banners, that can get a little annoying, but I've seen worse. I would have preferred the ads limited to the main menu and game level maps but as is they are not too imposing. Plus they help keep the game a free offering.
Pocket Sheep has a 4.5 Star rating over in the Windows Phone Store, a rating that we won't dispute. It is an enjoyable Windows Phone game that fits in nicely with the Kid's Corner as well as your main gaming library.
Dino Tribes
Dino Tribes is a prehistoric match three game where you are tasked with creating matches of three or more of the same dinosaur character. Instead of creating the matches in the traditional swapping out adjacent puzzle pieces fashion, Dino Tribes has a line sliding mechanic. You slide complete columns and rows to create the matches.
Game play is spread out across multiple levels and there is a daily challenge available. Each gaming level has a scoring target to reach in a set number of moves. Power-ups are available when you create matches of four or more. You also have a game store where you can purchase upgrades, boosts and power-ups with the gold you earn during game play.
What do I like about Dino Tribes? I do think the sliding mechanics help Dino Tribes stand out a bit from other match three styled games. Another feature that helps Dino Tribes stand out is support for Nokia Mix Radio. If you have Mix Radio installed on your phone, you can stream your favorite tunes while you play Dino Tribes.
What I don't like? If you can get past the fact that Dino Tribes is another match three styled game, it's actually not a bad choice of games. But what hurts the game is its instability.
Some have reported the game wipes out your gaming progress but the issue I experience was the game locking up. It seemed to happen most when I launched the daily challenges and while this was easily cleared with a restart of the game, it was somewhat frustrating.
I imagine the instability is the main reason behind the 3.5 Star rating in the Windows Phone Store and if the developer could iron out these issues, I could see the game garnering a 4 Star, maybe a 4.5 Star, rating.
Permia Duels
Permia Duels is an online combat game that is reminiscent of the fantasy board games or possible the old battle card games of days gone by. The duels take place in the fantasy land of Permia and are played out on a hexagonal grid. You have deck of cards that represent your fantasy units that can be trained and promoted to increase their strengths.
Permia Duels does have a lengthy tutorial when you first launch game play. While long winded, the tutorial does do a good job of covering game mechanics.
Game play is one of numbers and strategy, taking turns to put your cards into play on the game board. Each side of the card has a strength number and when placed adjacent to an enemy card, the higher number wins and the card is flipped to serve the victor. Battles are played out until all cards are on the table and the player with the most cards flipped is the winner.
What do I like about Permia Duels? Game play will test your skills of strategy, much like a game of chess, while maintaining simple game mechanics. Permia Duels is one of those games that are easy to pick up but not so easy to dominate. Game time is also on the short side, making Permia Duels a nice choice when you only have a few minutes to spare for a game.
What I don't I like? Permia Duels has the potential of being an entertaining, challenging gaming network for our Windows Phone. However, the game is plagued by bugs that render the game useless at times. I ran into issues where the game locked up, graphics did not load correctly and the game crashed.
At first, I thought it was a connectivity issue but even on a Wi-Fi network, I ran into problems running Permia Duels on my Lumia 925.
Permia Duels has a strong following, a 4.5 Star rating in the Windows Phone Store but with the instability, we would knock the rating down a notch. It is also is a universal app that is available for the larger screen of Windows 8. If the developer can improve the stability, I can see Permia Duel being a fantastic Windows Phone/Windows 8 game.
Pirates Don't Run
Endless runner games can be a fun way to pass the time with and we've got plenty of endless runner games to choose from in the Windows Phone Store. Pirates Don't Run hopes to catch your eye with its pirate theme and comic book story line.
The game has you running for your life, being chased by a collection of undead skeletons. As with most endless runner games, you control your character by a series of screen swipes with your tilt controls handling your characters side to side movements. There are also plenty of gold coins to collect as you try to stay one step ahead of the evil skeletons.
Pirates Don't Run has a gaming store where you can spend those coins on power-ups and to unlock additional pirate characters to run.
What do I like about Pirates Don't Run? Again, I think endless runner games are fantastic time wasters and can be rather addictive. Where I like the Temple Run series (partial to the Brave theme) it is nice to see a pirate themed runner. The running course changes up enough to keep things fresh and the background images are well drawn up to the point of being a little distracting.
What I don't I like? There are a few key elements in developing a successful endless runner game. You need good graphics, challenging courses, useful power-ups and responsive controls. Pirates Don't Run does a good job at all of these elements save one.
The swipe controls were not always responsive. Quick, short swipes didn't seem to register and at times it would take a second or two for the gesture to register. All of which resulted in your character meeting their fate. I did find that longer swipes worked out best but when the pace of the game picks up, you may not be able to take the longer, more distinct swipes.
Nonetheless, I found Pirates Don't Run to be a nice addition to the endless runner genre and the 4.5 Star rating in the Windows Phone Store seems to be spot on. I'd feel more comfortable with the rating if the developer could fine tune the screen gesture though.
Best of the Bunch
It is a tough call to say which game in this roundup is the best of the bunch. All four titles have the potential of being fun games to pass the time with.
Pocket Sheep is a cute, challenging game but may not appeal to everyone. It's not a bad time waster but the game is a little one dimensional to have it top the charts. Permia Duels is a nicely drawn up board game that will test your skills of strategy, much like a game of chess would. However, stability issues hold this game back and can be frustrating.
Pirates Don't Run and Dino Tribes are two genres of games that are well represented (some may say overly represented) in the Windows Phone Store. Pirates Don't Run is a nice endless runner game that is really only held back by the quirky controls. Endless runner games are well suited as time wasters and if the swipes were more responsive, Pirates Don't Run would be tops.
I like how Dino Tribes takes the match three gaming concept and puts a twist on game play. Being able to move columns and rows to create the matches helps the game stand out a little but it may make game play a little too easy. Still, it's an enjoyable game and with the simpler gaming mechanics it should be attractive to gamers young and old.
So which game is the best? It's a coin toss. The developers have done a good job of tapping into the resources of the AppCampus to deliver some nice Windows Phone games to the Store. All are free and all support low-memory devices making them easy to take for a test drive.
Let us know in the comments which you prefer and let us know what your favorite AppCampus title is.
Get the Windows Central Newsletter
All the latest news, reviews, and guides for Windows and Xbox diehards.
George is the Reviews Editor at Windows Central, concentrating on Windows 10 PC and Mobile apps. He's been a supporter of the platform since the days of Windows CE and uses his current Windows 10 Mobile phone daily to keep up with life and enjoy a game during down time.