Windows Phone Tango update being pushed out for HTC Mozart? [Updated]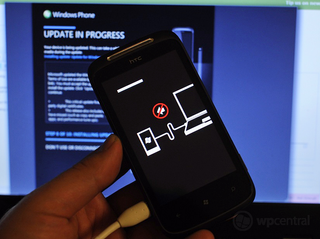 We just got a report in that the venerable (and underrated) HTC Mozart is receiving a Windows Phone "Tango" update. The news comes form the personal blog of Aviraj Ajgekar, who is a Technology Evangelist at Microsoft Corporation.
That puts him pretty high up there as far as credibility. What's more, he documented the whole experience noting that his Mozart (we assume un-branded) received no less than three updates, going from OS build 8112.7 to 8773.98 to 8779.8, putting it just slightly ahead of what we understand to be "standard" Tango or Windows Phone Mango, Commercial Release 3 (CR3).
The whole update only took a few minutes to download mostly due to the fact that "Tango" only offers a few fixes and updates to the OS (mostly around enhancing MMS).
No word if HTC is pushing this out for their other devices but we have a feeling we'll be reporting on this a lot more for HTC phones very soon.
Carriers are reportedly going to push out Tango in June while unbranded devices presumably will get it earlier. Nokia already has the Lumia 710 Tango ROM completed with internet sharing on board and we expect the Lumia 800 and 900 to get it as well.
Update: Aviraj has deleted the post from his blog and no one else is reportedly getting this update. Is yet another Microsoft employee being misinformed or was this an internal update for testing?
Source: Aviraj Ajgekar's Blog (opens in new tab); Thanks, Joe (@astroXP), for the tip!
Windows Central Newsletter
Get the best of Windows Central in in your inbox, every day!
Daniel Rubino is the Editor-in-chief of Windows Central, head reviewer, podcast co-host, and analyst. He has been covering Microsoft since 2007 when this site was called WMExperts (and later Windows Phone Central). His interests include Windows, laptops, next-gen computing, and for some reason, watches. Before all this tech stuff, he worked on a Ph.D. in linguistics, watched people sleep (for medical purposes!), and ran the projectors at movie theaters because it was fun.
I want this for hd7 already i need mms messaging

I want this on my HTC TITAN already :/

Killer! I hope this is the beginning of a slew of updates for all!

Its awesome that such a vintage beast like the Mozart gets the first update. Many bought this phone off contract in the first days of WP7. It great to see they're still thinking about it!

Exciting stuff. I really hope Tango brings a firmware update for the Titan. There are a handful of things this phone needs to make it even more awesome.

Can't wait for XDA to intercept the cab!

Can someone do a run down of what's expected in Tango (or point me in the right direction)? I know there are a few enhancements in MMS, but from what I've seen is that they are changing the way background tasks work and taking away the option to automatically upload to SkyDrive?

That's for low end devices like the lumia 610 and ZTE Tania

Bet ya that HTC Trophy will be next since it has very similar hardware specs. Wait... It will be the last one, THANKS VERIZON.

You mean it will be the second one. T-mobile and Verizon releases updates MONTHS before AT&T does.

I'll let you know if my Dell Venue Pros on T-mo get updated.

I asked Dell if they'll bring Tango to the DVP and they said they dont plan to do it

https://twitter.com/#!/DellCares/status/194534235200176128

At least AT&T and T-Mobile has way better Windows Phones.

Disagree with the original post... Verizon has been pretty aggressive with Trophy updates. I think it's a very solid phone.

Any ideas if additional languages will be added or at least RTL support ?

Can't wait for the "manual update" links to snag the cabs for it... since I doubt AT&T will be in any kind of rush to deploy it. I kinda hope that there will finally be an update for the Titan though, because while I love my phone, there's some glitches here and there that need addressing.

Nope, my open-market Mozart isn't getting anything

Has there been any official statements from MS?

Hey guys with mozarts, do any of you have issues with recording 720p video? Like when I record it is all choppy and not smooth, anyone else have this? And anyway to fix it? Thanks

mha6181, have this issue on Mozart. Not a fix but a workaround: set vga (640x480) resolution for video, save settings, reload camera, go to video, check that 640x480 is saved as default resolution settings for video, switch it to 720p, take a video and check if it is smooth. DO NOT save 720p as default video resolution. You will have to switch to 720p everytime you need to take a video.
Works for me, but it is definitely a bug.

Thanks man works a treat, for now :/ needs to be straightened out! HTC!

I just want Internet sharing for my onmia 7. why can that be so hard to implement? :(

Even though originally you could only get internet sharing (tethering) through homebrew means, you have now been able to get it from Samsung for ages now. Just check for firmware updates for your phone :)

I have internet sharing on my Omnia 7 =D

Hey anybody tell me wer tango comes official update for my samsung omnia 7 ?

Internet Sharing for Lumia 800 please!

Is the local scout to be disabled I have read this on many internet sites and will my hd7 get Apollo update?

No, you will not lose any of the features you already have. Only devices with lower specs (256 ram) will have less features (ie lumia 610, the ZTE devices)

UK Debranded Mozart, nothing through just yet

This is very good news, just speculating but whichever phones do get this update will probably give us an idea of which ones will be getting Apollo

Did i tell you how much i love my lumia 800 ? :D

Sounds good. Bring on the update for my Lumia 900.

Any change LG devices will get it?

Everyone seems to be super excited about Tango and Apollo, but I don't know what will be different. Anyone knows?

this is probably just Microsoft dogfooding to the second tier of employee testers, which is why this Softie is so excited.

I have Tango on my Verizon Trophy (custom rom) and I didn't notice any changes vs 8107. If we want new features and new things, we will have to wait for Apollo...

If your with Verizon, I would say install the Answar's customr Tango rom, it even has Internet sharing that works on it....and besides full unlock too :)

The only thing I want from Tango is Internet Sharing. The 800 and 710 need it badly...

Tango should just make the phone run a bit smoother, it isnt taking anything away. There are a few extra bits but nothing worth talking about.
Windows Phones run smooth anyway, so I doubt anyone will see the difference. Would be great if the people found the battery lasted a bit longer as a result, but thats about the best you can hope for.
I really feel they should have added some cusotmer alerts and a few extra theme colours, like grey or yellow... that would have made a good few people happy. I oftean see alot of anger about the alerts thing.

Hello,
The post on Aviraj Ajgekar's Blog has been deleted....strange no?
Thanks,
Santos

No updates in sight...running Mozart on a Swedish network, OS version is reported as 8107.79

Hmmm, seems strange, the images seem wrong, i cant remember what my last update screen was like but i dont remember seeing version numbers in the white box, and the blurry section of the other image leaves a lot to the imagination, photoshop's a great tool, you can make things look really authentic, if i make one too then that'll be two people on the planet with these updates installed :-)

The "other" image is my photo -- that's not claiming to be this update but it's a legit photo. Regarding the white box, OEMs can put whatever they want in that and I've see OS numbers there. That's not unusual. The fact the post is gone though is suspicious. Possibly could be an errant update (i.e. released early) or it was only for Microsoft employees i.e. for testing purposes.

has anyone else received this update? no one has reported so far!


Just got an upgrade today. OSversion: 7.10.8107.79...totally different to the version number stated above! weird.

me too!! it stated that it was a HTC update. Now the OS version is 7.10.8107.79. not sure if that refers to Tango update

Will AT&T push a update? They normally DO NOT. Your 2year contract with the carrier should be void if they do not support Available updates to a OS in a timely manner. Besides, when Applo drops my 2 year contract phone will have a year+ of App envy. Anyone who buys a WP now, is just gonna be pissed at MS and AT&T.

Got my update today on HTC Mozart Telstra Au branded running on Telecom NZ :) VERY HAPPY, WIFI FIX FINALLY!!! :D
Windows Central Newsletter
Thank you for signing up to Windows Central. You will receive a verification email shortly.
There was a problem. Please refresh the page and try again.