Check out Windows Phone fan fave Tile Me! now with HQ image and custom text support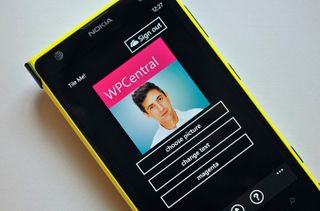 It was ten days ago we brought you news on the first version of Tile Me!, an idea started by David Kimball on Reddit to help people show support for Windows Phone on various social networks. The idea was then turned into an app by developer InfiniteLoop and brought to all Windows Phone devices.
The concept behind the app is simple: create a Me Tile image of yourself that can be used on other social networks and not just your Windows Phone. The resultant image is bold, eye catching and says to the world, "Hey, I use a Windows Phone".
Since the release, the developer has been listening to your requests and now version 2.0 is the realization of that feedback.
We should mention that there are now two versions of Tile Me!: Free and Paid. The free version lacks some of the advanced features of the paid one, with the latter costing $0.99. So what's new? There have actually been a few updates spanning up to 2.0, but we'll just lump them together for convenience:
High resolution output (1000x1000 pixels)
Added PNG format support
Save to SkyDrive
Custom Titles (available in free version too)
One of those features was requested by us, namely the PNG support. PNGs have better image quality than JPEGs (less artifacts) with the tradeoff of also being larger in file size. Now with the paid version of Tile Me!, users can save a their creation knowing that they are getting a high quality image. The image gets uploaded to SkyDrive, which is fitting for safe keeping and sharing. Likewise with the 1000x1000 pixel feature, helping to ensure a better quality photo even when saved locally to the phone in JPEG format.
The other big feature is the ability to create custom text. This option was requested by many, though some were saying it goes against the grain of Windows Phone (which only says 'Me'). Regardless, the choice is now yours as you can put your name, your website or whatever you want in that area. It's an extra bonus and makes the app that much better. This feature is in both the free and paid versions.
What can we say? If you're a fan of Windows Phone and want to show support for the platform, you can grab this excellent app to create a unique profile image for your Twitter, Facebook, LinkedIn, and Instagram networks. It's a little touch that can go a long way.
Pick up Tile Me! Free here in the Store or opt for the high resolution JPEG and PNG support with the $0.99 and ad free option here. Windows Phone 7.x and 8 supported.
Daniel Rubino is the Editor-in-chief of Windows Central, head reviewer, podcast co-host, and analyst. He has been here covering Microsoft since 2007 when this site was called WMExperts (and later Windows Phone Central). His interests include Windows, Microsoft Surface, laptops, next-gen computing, and for some reason, watches. Before all this tech stuff, he worked on a Ph.D. in linguistics and ran the projectors at movie theaters, which has done absolutely nothing for his career.
Don't really understand the use of this app.. It would be good if it had some type of action from the home screen.

It's for use outside of Windows Phone. You can set things like Twitter and Facebook images to it, so you can show your supprt of WP on a larger platform.

Oh.. I wish it have the same action as the me tile. I don't always want to use the image from my live account or Facebook.
SOMEBODY SHOULD DEVELOP AN APPLICATION LIKE THAT.. Just don't forget to give me some credit.. Lmao

If you want a tile creator that allows you to put images on tiles with the tile animated, you should try "Skinery Tiles Pro". Currently it's on V.1.0 and v.2.0 is on Beta. On v. 2.0 you'll be able to do all of that ;) Oh, did I mention Skinery allows you to personalize tiles for integrated Apps? Yeah. There's also that. (WPCentral app is one of them ;) )

I am part of the v. 2.0 beta. It is a great app.. One of my favorites! It just doesn't have the ability to open the "me" section of the phone.

Ah, but no App can do that. Microsoft doesn't give the permissions. Kinda sucks but it's entirely Microsoft's fault.
And WPCentral doesn't do anything to help Skinery get noticed either. They seem to be quite partial towards certain Apps.

We responded to the developer when he asked to be able to use our app as one of the tiles, and I even gave him some feedback on his ideas. I don't know if he's ever contacted us with news or a request for a review (I don't run that part of the site) but we're generally as impartial as we can be and help any developers we can.

I was wondering where all those, Windows Phone avatars came from in Twitter. And I created one using Paint.NET: the hard way.

Moreover, one can get same and better results just with Paint. Windows 8, Windows 98, any of them.

I can see a few applications beyond profile picture creation. Once I get enough points to redeem on Bing I'll be looking into this app. Thanks Daniel.

What if Daniel is actually a wax sculpture o.o

Iwant gif support, for animated tile.

GIF animations are a planned feature.

I plan on making a gif avi soon and this helps thanks developer ..if you don't see a point in this remember the Android people have their robot avi's ours is this l

Free version isn't 2.0, shows 1.1

Yes, the free version is 1.1 since it does not have the paid features like PNG, 1000x1000 pixels etc.

Does it grab your profile pic automatically from Twitter, Facebook, etc? If not it should.

You can choose from any of the pictures in your Phone library (Facebook, Skydrive etc.) however, you will need to update your profile picture from the Me tile, the one you have on your start screen from the OS).

This looks cool. How did I miss the original article about this app? Now I just need to get something cool for Twitter, since I got TileMe now.

I love this but the only issue I have is that when you set it as a profile picture on Facebook, the me tiles pulls the picture through and then adds another me banner as it does being a live tile but this then ends up with two me banners on your tile on the phone.

To fix this follow these steps: 1. Tap on your Me tile on your start screen.
2. Tap on your picture.
3. Select your original picture (without the Me Banner that you generated using Tile Me!)
4. Under post to, deselect everything except you Hotmail (or Outlook or Microsoft account).
5. Tap Post.
This will leave your Facebook/Twitter profile picture from Tile Me! but change your Email picture to the original without the banner. The Me tile on your start screen will now use the one without the banner.

I'm loving the magenta/yellow combo you use, Daniel. I've decided to use it on my yellow Lumia 1020 as well. My gf hates it (she hates loud colors) but I freaking love it. :)

Yeah, there's just something about that combo that's awesome :)

Lol couldn't stop finding funny that in that relationship is the girl the one that doesn't like bright colours on stuff :P

I think her main problem is yellow is her least favorite color, so she hates any combo I choose because she can't see past that. This is something she openly admits to every time I try to show her something on my phone. First words out of her mouth are "Your phone's yellow and I hate it." XD

Okay, found a way around it. I posted the normal version of my pic to outlook only. Then went and changed the pic to the tile version on outlook so now I have the tile version on Facebook and Outlook and the normal on my phone. Yay.

Oops, I gave you instructions above without reading this comment :) Good work!

Hey Dan on to a different subject any idea when att Is going to release gdr2

Wish I was rich instead of so handsome

I'm twitter and Facebook profile pics are set as "me"

I actually had an idea for an app called Tile Me about a year ago, but never got around to creating it, so if anyone feel like it, go ahead. The idea was inspired by some tile-app I had on my wp 7.5, cant remember the name now, but you could take a nature-photo, and break it into multiple tiles for your homescreen. So my idea was to take a profile picture, and add a sort of "multiple tile" effect on it, break the image into 4 squares, different color-shading.

Daniel, I'm starting to think you really like your picture to be in every headline image

The best idea ever. I feel proud to set this image as my profile pic on the social networking sites...#WindowsPhoneRocks...

It's only a buck! I like it well enough....

Before purchasing, I wonder if Facebook will still make the image look like shit when uploaded as a profile picture. I tried making my own via Photoshop. Looks really good on PC, but once uploaded, it looks ... you get the picture.

Try uploading from PC rather than your phone. Upload the hi-resolution PNG to Skydrive first and then upload that image to your Facebook profile. Edit: If you want, I can send you an image generated by Tile Me! so you can test it out first:)
Windows Central Newsletter
Thank you for signing up to Windows Central. You will receive a verification email shortly.
There was a problem. Please refresh the page and try again.