Windows Phone Wallet could get a big boost with former Amazon Payments leader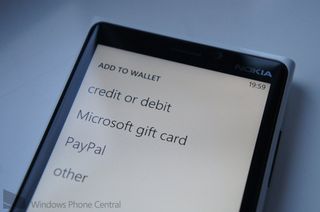 Could a Windows Phone Wallet expansion be in the works now that Apple had introduced Apple Pay for iPhone users? While nothing has been announced by Microsoft, the company has poached rival Amazon's product leader of Payments in Iain Kennedy. Described as a 6-year veteran at Amazon, Kennedy had worked on the company's "local commerce efforts."
According to Re/Code, Kennedy had been leading efforts to build a local payment system for Amazon that sounds like Google Wallet, Apple Pay, and even Softcard. It's unclear if Kennedy will be putting his expertise to work to help expand Microsoft's Windows Phone Wallet, which could be potentially be a direct competitor to Apple Pay.
So far, neither Kennedy nor Microsoft is disclosing what his new role will be in Redmond.
Thanks, Laura, for the tip.
Source: Re/Code
Windows Central Newsletter
Get the best of Windows Central in in your inbox, every day!
Chuong's passion for gadgets began with the humble PDA. Since then, he has covered a range of consumer and enterprise devices, raning from smartphones to tablets, laptops to desktops and everything in between for publications like Pocketnow, Digital Trends, Wareable, Paste Magazine, and TechRadar in the past before joining the awesome team at Windows Central. Based in the San Francisco Bay Area, when not working, he likes exploring the diverse and eclectic food scene, taking short jaunts to wine country, soaking in the sun along California's coast, consuming news, and finding new hiking trails.
Mobile first. MS is backing it up with their purchases and hiring.

Ms is serious about mobile for real!!

Apple should have named their service as "iPay" many ppl would have made fun of it... http://haha1314.com/uploads/allimg/131001/1-131001224050.jpg

Apple's taking a new turn. Apple pay, apple watch (yes, not iwatch) you get the idea

everytime u watch on ur watch NSA is watching u :O

NSA: we'll be watching you watching your watch through Apple watch.

I honestly think the reason Apple did not name them iPay and iWatch is because they couldn't secure the trademark for a cost they found justifiable. Pure speculation on my part.

No need for speculation. Ipay for example is a well estabilished service already.

Oh their is pleanty to make fun of at the expense of apple. apple is like George Bush, there is always something.

I'll believe it when I see it.

Haha MS is serious about mobile 5 years too late...

Absolutely essential! Microsoft absolutely needs a modern, secure, robust, *mainstream* payment system that *bypasses* carrier chokepoints.

Well MS's implementation for NFC payments system relies on a secure element stored on the sim. Apple has put that element on the phone. Also for Nfc payments to work for wp in the US is dependent on the involvement from a collective group consisting of T-mobile, Verizon & AT&T.

In the UK our bank cards are NFC enabled so no real need for phone duplication, imho anyway.

Well for online pay so you don't have to carry the card(s) around with you. But the good thing about NFC credit cards is that you can just use NFC to get the number on your phone, you don't need to type in the number. Am I right?

Don't know as I have not used my phone to pay. I have used my card twice for NFC payments, just not needed that much. So what happens if your iPhone is stolen, can it be used for payments by the thief? I only take out my wallet in secure areas, but will pull out my phone anywhere.

North America (USA more so than Canada) is typically about ten years behind Europe when it comes to using technology.

If it's reliant on the carrier's say-so and coordination, it's never going to go anywhere. The only way is Apple's method, by cutting out the carriers.

it's the mobility and cloud which matters not the crap apps. #Mobile First Cloud First

Maybe phone payments will happen finally

Well, first, before ANYTHING like that happens, they'll need to stop making the secure element exclusively available in the SIM card because the carriers will take forever to approve it. If they really want to be serious about it, they'll need to do what Apple did and take the carriers out of the equation.

Apple uses secure SIM as well and i do believe you can get a secure SIM from carriers right now

I did just that while at an AT&T store talking with a rep, I mentioned that I'd love to able to tap and pay. He said that I'd need the secure card and slapped one in my L1520 for free. This news is promising.

Apple's solution does not use secure SIM, they built their own (carrier free) secure enclave into the phone.

Apple doesn't use secure SIM. The secure NFC implementation is built into the new iPhone hardware. It's the best way to go, otherwise you'll just be waiting on the carriers say-so and their timetable. Apple's method is better because it cuts out the carriers.

I believe Apple also uses secure element sim cards. That is a standard implementation.

@btgusto @bugrahan You two completely misunderstand what Apple did then. Right now, Apple is able to put a secure element (which is where your CC info will be) into the hardware of the phone, so AT&T or Verizon can't stop Apple. Microsoft (for some stupid reason) put it in the SIM card (which you're both right that secure SIMs exist, but that's where you stop) which means that since the carrier controls the SIM card, then THEY decide when mobile payments are allowed, not Microsoft, which is why only Orange in France have allowed it thus far.
If they allowed it to be placed in the hardware, then any future phone that uses that implementation can put it there(although it also means that current phones aren't likely to get it). Otherwise, you're stuck not being able to use it. Google fixed it earlier this year, Apple never did it wrong, so that leaves Microsoft as the last mobile OS to do it this way.

This is correct. Though I hope some sort of solution is on the horizon for WP. We heard summer for softcard, but summer is quickly coming to an end.

Apple never did it wrong? You mean being over a year late to the party isn't wrong? Please. Take the Apple fanboyism elsewhere. It doesn't matter what Apple, MS, or Google have done because all of them are using NFC and the VAST majority of brick and mortar retailers don't have NFC capable register/terminals. Until retailers buy into mobile payments it is just a minor feature.

Did you just call me an Apple fanboy? ME?! HAHAHAHAHA that's literally the best thing I've heard all day! Holy sh*t that's amazing. You've literally had the dumbest comment I've seen today. Thus far, Apple has got 4 major CC companies to sign up to them, which is more than Microsoft and Google have done, so I don't see how they're late if no one else has got it right. Either way, I would rather wait a few years for the correct implementation rather than get a half-assed implementation right now. The only reason that retailers don't add it is because no one is requesting it because of it's limited use, which is the fault of Microsoft, Google, and the OEMs.

Not only credit card companies, they have at least 6 major banks on board and mine, Wells Fargo, has already contacted me to let me know they support Apple Play. This seems to be moving very fast (for Apple).

NFC terminals are everywhere! I use them all the time with my chip&pin card, just tap on it and tada. Apple did it the right way ignoring the secure sim, I have mobile payments turned on in my 1520, but have never used it because I am not sure if I have a secure sim or not. I dont want to be "that guy" who looks like an idiot tapping a phone and it not working.

I had to get a secure SIM from AT&T For my L1520. Now I'm waiting for a payment method.

Are you sure those are NFC Terminals? I thought the tap&pay terminals used RFID not NFC. At least that's what VISA told me when I asked them about it.

I want to say NFC or a signal that is very similar. Sometimes my GF will put her 920 on top of her tap and pay enabled debit card and the 920 will make the NFC sound until they are separated. But only sometimes. It's weird.

Come to Australia, MOST stores now take NFC payments from Visa and Mastercard (up to $100.00 limit) and have for several years!!! It's great but I wish I could use my phone (Lumia 930) rather than fsihing around with my wallet. Of course though Us Aussies get left behind because if it's not done in USA it's just not done anywhere

I could not find any reference regarding Apple not using a secure element sim card. Do you have a link or something?

They said it in their keynote - it's not secure (carrier encumbered) SIM.

I completely agree with you. I was hoping Microsoft will have this sorted by WP8.1 but clearly is not. What I want? To be able to pay with my Lumia 930 using nfc and tapping the contactless logo in the store. No carrier in the UK has such secure sim and my carrier (EE) has an app for android devices with nfc that turns them into a virtual debit card for payments. That sounds closer to Apple pay and to Google wallet. Man up Microsoft!

Don't really want to buy a new handset to get an Apple-like Secure Element as I like the Lumia 928 I have.

Unfortuantely, unless Verizon greenlights SoftCard to be used on the 928, you'll have to buy a new phone to do it. Either way, placing the secure element in the phone means that you'll no longer have that problem.

It's about time, I've been waiting 2 years to use the NFC function on my 920.

You can use the NFC to transfer pictures, files, apps, etc. to other NFC phones. (tap to share)

I just want phone payments. It isn't something difficult to implement

The wallet app on Windows phone has so much potential it would be stupid not to integrate the tap to pay feature.

+Greece, actually the tap n pay came here, but it needs a windows phone app also

Go to NFC in you settings menu, turn on tap to pay. Its there.

And it's worthless without a payment SIM. Don't know about you, but still waiting for one for my AT&T Lumia 1020. :/

I have one for my L1520 from AT&T.

I don't think Verizon has SIM cards ready for payment

Oh, do tell: How may I get my hands on one? I've looked online, but AT&T only ever shows Android devices as being eligible.

Wouldn't you think most devices would be eligible now? Including iPhone 6

Yes, I would think. My 1020 is more than ready to use NFC payments, I just need AT&T to provide the necessary SIM to enable it. :/

I also have one for my ATT 1520, but I don't think I can use it without a payment app

As long as they don't remove more functionality I'm happy, since cyan 8.1 official I can no longer add details for items that arnt apps, infact they removed my bank details I needed, great backwards step ms

To bad they never got as far as they did with marketplace carrier billing

Oh god. It's nfc. Why do people have to be a middle man. I just want an nfc card duplicator... Like that magnetic strip duplicator card that was on kickstarter.

About time I hear something about this app which has been dead on my phone

Now if would get retailers to support NFC.

Man I hope MM hangs around. Takes such a beating here and elsewhere. Hoping this is an upbeat in the effort.

For all Dutch or belgium people having WP, having Ideal as a payment option would be most welcome and surely would boost sales by 500% for me alone. [so if its a good idea or not :D ]

For the life of me, I'm still having trouble seeing the benefit of these. And I consider myself technically sound and progressive.

That makes us two. I like my piece of plastic. My wallet is always with me anyway.

good but please Microsoft poaching isn't good. I don't want u to be like guggle.

I'd just like the wallet to work. Still crashes upon open, and I'm unwilling to heard reset the phone to fix it as I'd lose too much game progress. I have to buy any apps through the WP website and in-app purchases are impossible for me.

reseting the phone wont lose your data. take back of pics and vids on OneDrive. after hard reset of your phone login in Microsoft account and u get everything back slowly

I think he pointed out game results and game progress which is not saved at the moment and therefore can't be restored.

There are a few games that did this as far back as gdr2

Apple Pay, Google Wallet, and WP Wallet mean jack if retailers don't step up.

This is one of the major benefits of Apple adopting NFC: it finally stands a chance of being widely adopted by retailers, hence, we may finally be able to use NFC to pay from WP.

I do not buy that statement. Android is used by FAR, FAR more people than iPhone is. Retailers haven't upgraded their hardware due to costs.

Except that Android's implementation thus far has been terrible. Until KitKat, they've had to do it via the secure SIM element in the SIM card, which makes it require carriers to approve it. Apple bypassing the carriers means that everyone with an iPhone 6 and beyond will have access to this feature, while only a very very very very VERY small percentage of Android users have had access to it.

black money is also the reason ppl still pay in cash.

Not here in the US - Apple has 42% market share and US merchants are under time pressure (deadline of Oct 1, 2015) to adopt new chip and pin/nfc compliant terminals.

I think nfc had been dead for a couple years now.

I don't see add credit or debit card option in my wallet, like it is shown in the picture. It only gives the option to add MS gift card

Because you need a secure SIM card.

I can't wait to see what materializes. I'm hoping they implement a solution that is simple, secure and available across a wide range of devices (from entry level to flagship phones).

They do its called secure element(approved by the gsma years ago) but each carrier/financial institution has to cooperate for it to work

I feel like Microsoft's best bet is to try to partner with another payment company rather than try to create a payment platform from scratch. It's going to be difficult to work out negotiations between the credit card companies without having the kind of clout that Apple does. Heck, even Google's been trying for years and didn't have much sucess. Now imagine if Microsoft partnered with someone that already has these deals in place, such as PayPal. Heck, I realize that there's a 0.01% chance of this happening, but they could even try to see if Apple is willing to partner with them and bring Apple Pay to Windows Phone. Having it on 2 out of the 3 major OSes would help to further drive adoption by retailers.

What would work better is engineering a takeover of blackberry @ a bargain basement price or working with them

That is a very interesting thought

All BS as far as I'm concerned, these phones have been out for a long and Microsoft never took the initiative to move forward with this payment stuff. Trying to tell me they wait till now when apple is doing it for them to get serious. Please give me a break Microsoft are a bunch of idiots.

Apple Pay.,?
A complete crap name with so much hype. Lumia users had it from 2012..

And yet no support at all. It is basically useless.

I hav only option for microsoft gift card and credit card..where is paypal..?

Maybe not officially supported in your country?

That's my point, Lumia had it since 2012 and did crap with it, instead they wait till god f****Ing apple makes a move before they want to do something. When is someone with some balls going to lead Microsoft from being dead last to something people actual talk about.

Lol MS doesn't even have a decent Cc processing app like square up.

Yes we need this asap I want to be able to pay for things with my Nokia Lumia 920 but I can't as of right now. I hope this is true

Would be nice to use my icons NFC for more than data transfer.

Hmm...isn't a new board member coming in that's also connected to a major credit card... Can't remember the details but it'll surface.... :)

So, I went and got a secure SIM for my Lumia 1520 w/Cyan. Took about 5 minutes. Guys said tap-to-pay should "just work" now. No way to test it in the store without buying something, though, so I left. There are plenty of payment options listed in my Wallet - 3 CCs, my AT&T account, and my Microsoft account. All of the NFC permissions are open. I've used NFC on this phone before to transfer pictures, so I know the NFC functions properly. Went somewhere yesterday with an NFC payment possibility (Panera). Opened up the Wallet app, typed in the PIN, held the phone to the reader and... nothing. So, how is this supposed to work? What is supposed to happen when I tap the phone to the NFC reader when everything is working?

I don't know there but in Orange France the secure sim acts like a debit card, which you have to top up. Also nfc must be turned on in ur Lumia.

As I already wrote, NFC is turned on. So with Orange France, what exactly do you do to pay with your phone? What does the phone do when it's working, and what does it do when it's not?

MS should have been the run away leader in mobile payments the moment they introduced the wallet app. You telling me one of if not the biggest enterprise software comany in the world could not get the same deals and alliances Apple just secured. Banks and CC companies that most likely operate using MS software. NObody wants to play ball with us? OR is this a failure of Joe Belfiore who said the wallet app would be "the best wallet experiece on any operating system"? I am so sick of MS not always putting their best foot forward or being JonnyComeLately all the dang time. The wallet feature that Joe showed off (go watch it again) was a HUGE selling point for me but last week was the first time in over a year i opened the wallet app.

That's exactly my point, that goes Joel Belford like all the other over paid mofos at bumbass-bumbass inc are just a bunch of lazy ass clock riders that have no passion for really building this brand. All they care about is getting on stage or in front of a camera, talk awhile bunch of $hit to get our hopes up and we buy into it all the damn time.

Joe Belfiore is just a puppet reading out the script on what he is told/allowed to say in a fanciful way. Just take a look at the 0x80188308 issue. he tweeted back in Aug 8 telling us to "sit tight" and thats it. Many people including myself have been tweeting him about status updates and never once did him posted any reply. What is so difficult in posting a simply tweet reply that they are still working on the issue? (if they really are)

They are waiting till everyone hard resetted their phones and the error disappears :)

It is all shit, apple, google and Microsoft should work together for one mobile paying standard.

It's about time. Because this should've happened when it playing ball with the carriers and working with Isis (now called soft card) wasn't yielding an app which is now OVER A YEAR OVER DUE.

I think they're working on an eCommerce model. They tried and experimented something similar in Brazil.

I don't realy care too much about actually paying with the wallet, I just wish they added back passbook support, it's the only thing I use it for... The possibility to add loyalty cards would also be cool though...

MS should ditch PayPal and use Nochex.

Hope att releases a secure SIM soon..

In India debit card facility is not working

To everyone complaining about MS taking too long, there's a lot more that goes into this than just writing and debugging code. Between internal auditing, external auditing, and any number of different compliance procedures there is a lot of red tape involved in implementing something like this. Add an overhaul of your OS to the equation and you're looking at even more time and complexity. Be patient and just be glad they're working on it as it shows they really are dedicated to WP.

That's just the thing: we're all tired of being patient with Microsoft. We're tired of everything always being half-hearted, and half-assed. It's unbelievable that a company that ruled computing for 20 years and has unlimited funds can't get anything right the first time. You be patient all you want. I'm tired of supporting incompetents.

@offbeatbop so other companies like apple dont have the same internal auditing, external Auditing, compliance, and red tapes to go through also. Sounds to me like a lame excuse to me. People dont care how hot dogs are made or want to know, they just want a hot dog. Apple has master how to deliver to people what they promise, the other guys including our precious WP8 just don't have their crap together. What amazes me is that WP8 is not new anymore its been out for a couple of years now but I still cants print from my phone WOOOOOW.

No, Apple actually destroyed the wallet app. We require a secure sim that we need to acquire from the carrier. Apple pay has the secure element in the phone so you can just bypass the carriers. Also because of the apple brand, many partners are supporting Apple pay but when it is Microsoft, no one wants to support wallet because of the tainted windows brand that Microsoft created. The only way Microsoft can change this is to change how they are perceived, and the only way to do that is through advertising and we all know how bad they are at that. Apple executes things right, Microsoft doesn't. Deal with it.
Windows Central Newsletter
Thank you for signing up to Windows Central. You will receive a verification email shortly.
There was a problem. Please refresh the page and try again.