A Second Look - Windows RT and that Surface tablet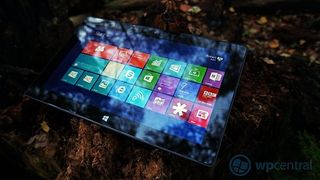 Ever since Microsoft first announced to the world their intentions to "re-imagine" Windows it has been a rather wild ride. Their new touch screen user interface, WinRT wasn't just radical for its looks, it ushered in a totally new apps eco system while simultaneously sending the Start Menu to the technology grave yard.
The changes to the OS ran deep and Microsoft had been busy readying Windows 8/RT to run on the highly power efficient ARM processors. Their plans for that became clearer when they shocked the technology world by announcing their own tablet computer, the Surface. With the changes to Windows came a new declaration that Microsoft re-position themselves as a Devices and Services company. They have built their eco system and the next logical step has been to control the hardware that uses it. The culmination of their efforts in re-imagining Windows and becoming a devices and services company can we seen best in one single product, their Surface tablet running Windows RT.
There is simply no better place to appreciate how far they have come since embarking on their fantastical voyage with Windows 8/RT than this one device. Not only can we see how far they have come but also where Windows is going, the whole story is here wrapped up in the Surface.
Windows tuned up to become a mobile OS
Windows has never been considered the most lightweight operating system and when Vista landed with a thud everyone knew things had gotten out of control. Windows had become obese, reducing the most powerful hardware to a tired groaning wreak within days of being installed. Steven Sinofsky was brought in to put the porky OS on a diet and to inject some performance back into it, the result was Windows 7.
The need to tame Windows and get it running better on portable devices meant the OS was finally ported to run on the power efficient ARM CPUs that are in common use in Smartphones and Tablets. Along with porting Windows to work on ARM came the need to compress and condense the OS further to knock it into shape for it coming role as something we use primarily when mobile.
Windows has gone from being a power hungry desktop operating system to something more akin to a mobile OS with the advent of Windows 8. In fact, the operating system has never done so much with so little. When running on an ARM CPU, we'll now measure battery time in days rather than hours. Mobile data awareness has also been built into the core of the OS, no longer is there such a need to worry about the operating system itself consuming all your metered internet allowance without your knowledge. Windows 8/RT finally knows the difference between a metered and an unmetred connection.
The Surface Tablet
The quality of construction and finish on Surface is top notch, the metal casing is dark and sleek, bringing to mind the the retro cold war tech of the SR-71 Blackbird Spy-Plane from days gone by. If you have ever owned or held a Zune HD device then the feeling of holding a Surface tablet will seem vaguely familiar, it oozes quality. The overall effect of the finish and machining on the unit gives it a luxury feel so few devices are able to capture.
When I first lifted the Surface from its box my initial impression was that it felt heavy, over the past week I still feel that the weight of the device is a touch over being what I would consider 'light'. Of course it's a little lighter when the Touch Cover is removed and I'd certainly recommend that if you're planning on holding it for long periods you detach that to save your arms that little extra weight.
The display is excellent, the whole of Windows 8 is colourful and animated and the 16:9 ClearType HD screen keeps up with the action well. Touch responsiveness is really good and it's possible to do surprisingly accurate things just using your finger. The kickstand is sturdy and provides genuine usefulness both for working at a table and just for letting you place the device where you can see it while doing other things.
The sound from the speakers was more than sufficient for my needs such as playing movies or listening to some Xbox Music in the quiet surrounds of my home office environment. I found the fidelity of the output from the headphone jack to be really good after testing it with some of my music files from mp3s to WAVs, no complaints there, full rich and solid sound. This will sound great when you're using with headphones and it will do a decent enough job when using the built-in speakers.
For the keyboard I opted for a touch cover and have steadily been getting faster and more accurate with it over the week since its arrival. I take keyboard quality seriously, I have owned ThinkPad laptops for many iterations and consider their keyboards to be amongst the best in the business. The touch cover is no match for that level of quality and provides no discernable feedback which is really odd at first. I would say there isn't much difference between typing on the glass of the screen to the keyboard itself.
The touch cover does a fine job of giving a rudimentary keyboard experience whilst not being too heavy and protecting your screen, job done. If you want more, then you can get the Type Cover (opens in new tab) or just invest in a decent USB or Bluetooth keyboard and mouse. Unlike some tablets, Surface gives you this important choice due to its wide ranging compatibility with Windows peripherals.
Battery Time
Surface is designed from the ground up to provide an almost all day usage scenario, does it deliver on this promise or trip up like so many have done before it? I tested the device extensively in mixed use throughout a day. In my most recent test I charged the battery to full and unplugged mid-day then threw everything at it.
In my test, the device was used to stream about four hours of movies from a network share. Hours were spent flipping between apps and using Microsoft Word and OneNote. I also engaged in browsing network shares and even backing up file history to a network location, most of this time had a soundtrack provided by music being streamed from the internet using the Xbox Music app. There was almost no point where I was not actively using the device during testing. The device finally gave out at 10:30 in the evening.
In what I would regard as exceptional "mixed use" the Surface gave me around ten full hours of watching movies, streaming music, working on the desktop and using the web and various apps. If I were to use this in a more normal way I would expect to get a couple of days use without needing to recharge it. This kind of battery time under such mixed conditions is nothing short of revolutionary for a Windows machine and frankly it's a joy not to have to worry about power for a change. Top marks here.
WinRT the new touch friendly face of Windows?
I have been using Windows 8 on a variety of different machines since it was first announced and I'll be the first to say that even as a semi veteran of Windows it has been quite the journey. My initial impressions of the new UI and the continued bouncing in and out of the desktop and the new start screen was jarring to say the least. Over time I have adjusted to the new start screen and the oddities that surround it. In all that time, bar a few odd occasions I had never spent any quality time using the new OS in what I regard as its native form factor, a tablet.
I far prefer using Windows 8 in tablet form as the swiping gestures and dynamics of the new WinRT user interface make so much more sense. There is a bit of learning curve on using the new touch gestures but within a week you'll have it sussed. Much of the experience of using the touch UI centres on the competency of the apps that have been created thus far.
At present I feel that Microsoft have a long way to go before their core apps such as Mail, People, Messaging and Photos are ready to do their job properly. They have certainly come a long way since the initial preview but still lack features and in some cases just aren't thought out properly for touch. These are teething problems and I would expect these to get fixed by way of updates sooner rather than later, how well these work for the most part will determine how people find the new OS. If you come at these apps from the point of view of Windows Phone then you'll see the cracks very quickly indeed. If only these apps had the same level of polish at launch as the Windows Phone 7 versions things would be rosy all round.
WinRT does have plenty going for it, it's fast and fluid for the most part and switching between apps by swiping in from the side and other methods is fun and more importantly efficient. Compared to app switching on my now-ex iPad 2 it's something of a revelation.
Search everywhere and in everything
The charms are a really good idea with some genuinely innovative ways of doing things. The first of my favourite features is the search charm. When you click on search, you not only have the ability to search for everything on your machine but you can use it to search for something within an app you have installed on your machine. Let's say I want to find a Surface tablet, no need to go anywhere but the charms bar, hit search then type in Surface tablet, you can then select an app in which you'd like to conduct the search, for instance eBay, this then launches the search within the eBay app. The result is that search is available everywhere you happen to be and can be intrinsically targeted. Good stuff indeed, why isn't this on Windows Phone, like yesterday?
App settings and sharing are always in the same place
Whatever app you're using, you can now access the settings in all cases by using the charms bar and clicking on settings. You no longer need to 'find' where each app hides away its individual settings, they are always consistent across the board. Sharing is also the same principle, if the app is capable of sharing then the Charms sharing icon will reveal that too. It's so good, I am already hoping it one day makes an appearance on our smartphones.
WinRT and that new touch screen future isn't quite here yet and the signs of work in progress seem as though they are posted throughout the OS. The most obvious place to illustrate this is in the PC settings panel which is the equivalent of the control panel of old. Some parts of PC settings are incredibly sparse looking and it's simply not possible for instance to configure Bluetooth settings from the new menu, you'll need to head to the Bluetooth settings on the desktop. It's so lacking that I find myself ignoring the touch friendly PC settings for all but the most basic of tasks in configuring the tablet. The main bases are covered for getting most things done but the reliance on nipping back into the desktop can be frustrating at times. Microsoft needs to pull out the stops and get all the important settings fully covered in touch.
I have been using Windows RT and its touch friendly user interface for a week or so and have noticed that occasionally the onscreen keyboard does not move the display up to show me what I am typing on screen. Also of note is that the light sensor and automatic screen brightness seems overly sensitive leading to flickering of the display when swiping through the start menu or moving my hand briefly over the screen. A reboot has cured the problem of the on screen keyboard but dimming and brightening of the display has occurred on and off even after I stopped the tablet from automatically adjusting the brightness.
The Desktop side of Windows RT
Windows RT still has a desktop and it works just like you'd expect, letting you get on with all the familiar things you have done in Windows over the years. On the Surface and ARM based devices you cannot install programs from traditional versions of Windows, they are incompatible and also Microsoft has chosen to keep ARM devices devoid of 3rd party desktop applications.
The only programs that run in the desktop environment are the limited number of Windows built-in applications such as Paint, Notepad, Calculator and more importantly Office 2013. Office comes as standard with ARM based tablets, perhaps to sweeten the deal as they lack the ability to install the millions of existing applications available for other versions of Windows. Having a free copy of the worlds best productivity suite installed from the get go cant really be argued with as far as I'm concerned.
The desktop side of Surface is best used with the Touch Cover as you'll be typing and generally using it in a way that is just like a laptop. That's not to say you can't use touch alone, it's just that the Desktop generally lends itself to a mouse and keyboard. Some of the on screen elements in the desktop are just too small to touch with a finger. I really like having the full desktop available as a way of working with Windows, mostly due to the better file management abilities of this user interface.
It's all very well having the desktop there but Microsoft could have done much more to make the desktop touch friendly. With some more UI work the desktop could have been given a touch friendly make over to help ease the transition between desktop windows and WinRT. The explorer ribbon when used with touch is simply inadequate and I would say a totally useless gesture, the size of some icons on that huge ribbon laugh in the face of UX design principles. If I'm going to use the desktop I need to use the Touch Cover and that is a missed opportunity. The ribbon in Office 2013 has had more thought put into working better with touch but is still too fiddly.
The good news is that using Office on the Surface is actually very good, the performance on the whole is excellent and it's possible to get real work done. The Surface and ARM tablets should be raising eyebrows for anyone that wants to occasionally use their tablet as a proper work tool. Its ability to play on Windows networks and the very fact Office is simply free should have productivity folks reaching for their wallets.
Performance
In using the Surface I have been generally pleased with its performance, touch is responsive and flipping between apps is on the whole smooth and seamless. There are certainly times when the system gets sluggish. I think in part most of this is down to the apps themselves, the Xbox Music app insists on showing an animated backdrop both when docked to the side and when in now playing mode, this seems to have a dreadful impact on performance and I have noted the app consuming lots of CPU time even when its not on the screen.
On the whole the system behaves well enough and you can run your Office Applications on the desktop while flipping around apps and things move along at an acceptable rate. It's not perfect but for a tablet it's doing very well indeed. My hope is that MS can do more to bring some performance tweaks to the OS or to help developers produce apps that work well on lower power devices. Right now, the experience using multiple apps by docking one to the side or simply swiping through them in turn is good and more importantly lets you get more things done.
Cloud Services & Eco System
Microsoft now have a formidable Cloud Services offering and the Surface is all setup to make the most of all of them. SkyDrive, Xbox Music, Video, Skype and Xbox Games are all here represented in app form in one way or another on Surface.
If you are a Windows Phone user then you're already familiar with things like OneNote syncing your notes to your SkyDrive storage. You might have been using Zune Pass before which is now essentially updated to become Xbox Music. Buy an album on Xbox Music and it can automatically sync it to all your Windows 8/RT devices
You'll have all your playlists synced across your various devices in Xbox Music, your existing music collection can be scanned and matched on and made available to stream free charge on your Windows 8/RT devices. You'll be able to browse for a Video to watch in the store and then send it to your Xbox to watch on the TV, likewise SmartGlass is a great way to control your Xbox using your Surface tablet.
Connecting your live ID to your Surface tablet means your desktop settings, passwords for Wi-Fi, favourites and more are synced between your Windows RT/8 PCs. Apps you buy in the Store will be available to install on your other PCs.
On a device like Surface this cloud connected interplay is essential to help make the tablet viable and Microsoft have built up a strong services offering for Windows RT/8. Like any eco system, your millage will vary depending on how invested in it you are. In my own case I use their email services, Xbox live, Xbox Music and SkyDrive heavily. The Surface fits with my needs perfectly in this regard, allowing me access to all the things I care about.
Windows now has an apps store, for Windows RT this is the only way you can install apps of your choice and so the strength of this is paramount. At present there are reportedly 1000's of apps in the store and that number is increasing all the time but as it stands there remains a lack of big names making an appearance. Whilst there is a good foundation there with Skype, Netflix, SkyDrive, Ebay and lots of news orientated apps you can't find things at the moment you may expect to be there. Facebook, Flipboard, Instapaper, Flickr and apps from the BBC are still missing in action.
There are plenty of alternatives but what is most surprising is that Windows 8/RT has been on the horizon for a long time and there should have been plenty of time for devs to get to grips with the new OS. Windows 8/RT has only just become available at retail and so the Store is likely to fill up very quickly but questions remain as to why there wasn't more top tier apps available at launch.
If you're coming to Windows 8/RT after owning a Windows Phone you'll find lots of familiar favourites already lining the shelves of the Store. Windows RT/8 has a great flash enabled browser, IE10 that shouldn't be overlooked when worrying about "apps". For instance you can run the BBC's iPlayer content without any problem at all, no need to an app, it just plays. The need for dedicated tablet orientated apps is still there but its good not to forget the Surface is a real computer..
Final Words
I have been excited about Windows 8/RT since it was announced, I became even more excited about the prospects of a Microsoft made tablet based on ARM that could give me near, all day use. As someone who has an fully fleshed out Microsoft eco system at home which includes a Media Centre, Xbox 360, Workstation and various laptops I am perhaps in a unique position.
My needs for a tablet have not been met by either Google or Apple so far and for the simple reason is that they do not work well with my eco system of choice. The iPad is great at a content consumption device but won't play nice with all my existing devices, it's a device unto itself and that likely suits some people's needs. With Surface I now have a device that, out of the box will allow me to connect to my home network in normal ways, mapping drives, opening Word documents, syncing with OneNote and connecting to my machines via Remote Desktop.
Being a Windows machine gives Surface so many advantages over other tablets it's hard to list, but general compatibility is the big headline here. Whether you're connecting to a Homegroup /Work network or plugging in a USB peripheral, the Surface is going to work like any Windows computer, you're getting a tablet with access to all the great things that Windows has had going for it for years.
The software is undoubtedly in need of lots of improvements but what is there now is actually very good and more importantly very useable. I personally find using the Surface much more fun and productive than my (now gone) iPad. The device feels solid and well-made and oozes quality, for the most part the performance is good but there are times when it suffers from some slowdowns. I'd like to see Microsoft make positive moves to address this as soon as possible along with rapid fire updates to bring WinRT to the right level of features and functionality. Reliance on the desktop for getting things done should be something we have to do less and less of. Microsoft Office needs WinRT versions released quickly too so that we can move away from the desktop for good.
Sure, there are problems with Windows RT but these are software issues on the whole and should be easy enough to fix. As it stands right now, I can say that quite honestly even with its niggles the Surface running Windows RT is the best tablet I have ever used.
A nicely written review. Thanks

I didn't read the review yet, but I scrolled through to enjoy the artistic outdoor shots of the surface :)

I agree with this "As it stands right now, I can say that quite honestly even with its niggles the Surface running Windows RT is the best tablet I have ever used". I sent mine back because it was not useful enough to keep, but even so it was much more useful than my old iPad which saw most of it's use as a paperweight. Hopefully the Surface will improve and live up to it's initial promises.



I agree with your assessment of tablets running mobile OSes so far, which is why Windows 8 is so cool. A laptop that can double as the tablet is nice for several reasons:
1. Touch + mouse + keyboard is nicer than just mouse + keyboard when doing real work. Tapping is good when you are just typing and only need to click a one or two things, because you don't have to muck about with moving the cursor.
2. A PC that can be a tablet lets you use richer client apps instead of websites, which can be nicer for things like Hulu. Also, you metro apps as alternate desktops (albeit desktops with only one fullscreen app on them). Also, since it's a real PC I can use it for work, so I actually have a reason for getting one when I need a new PC, whereas iPads are hard to justify.
3. A tablet that is actually a PC lets you get around any limitations you might run into with a Mobile OS, like flash or silverlight sites.

This has been one of the best purchases ever for myself.

I haven't put my surface down one day since I got it.

I can think of 3 reasons I use my surface while I shower.

After 2 weeks of usage now, a couple of things I really didn't like:
1- After a couple of days of usage, the back started to scratched pretty quickly. I am not doing anything rough with it but scratches started showing up alot on the back.
2- The speakers quality was not par for me. I tested both my iPad2 and Surface on Youtube and found the speakers quality to be much better on the iPad. I can bearly hear a thing out of the Surface speakers :)

Other than that I am looking forward for the Surface pro :)

In regards to scratching, I purchased the "Skinomi" skin to avoid scratching and also always but it down cover 1sr like I did with iPad. for speakers, I use Bluetooth Nokia 360 so I can't really comment on that. I thought it was okay/as expected.

Nice, I went to skinomi and couldn't find a skinomi for Surface. Where on the site did you find it?

Nevermind, I found it. Thanks

Have to agree with you on the speakers, way too quiet. When I tried bluetooth speakers, the sound kept cutting out. This is probably the single biggest complaint I had. Other than that, it is awesome to be able to chill on the couch with the surface. Everyone in the family uses it with their own id and set up.

Question guys, can I plug my mobile broadband in to the USB port for internet access?

If they made a driver for it I mean for win RT

If it works in "normal" Windows 8 without a driver (and a lot of newer USB cards do), then it'll work. If it requires special software, then probably not. If your provider provides a mobile hotspot rather than a USB stick, those are always preferable in any case.

Have to agree its the best tablet I used. After iPad 2 and transformer prime. Speaker is little low for me too. Apps are actually not needed as the apps needed by other platforms usually runs in the browser (video app stuffs).

I have to agree about the speakers. There are times I can barely hear it over the ambient noise if I am outdoors, but seems more than capable when I am indoors watching a movie or playing a game.

I got to use a Surface at work for a day and this review echos my own sentiments. I will be replacing my iPad2. The Surface RIGHT NOW is a better option for me and will only improve as more apps come.

I'm installing today's Windows RT update...hope for some noticeable performance improvements, but the main problem with Surface is Xbox Music.

I do notice significant IE 10 improvement...more scrolling fluidity

this thing is useless unless it gets some quality apps. even the built in ones takes eons to load and are extremely basic. a pretty UI with flashy animations are exciting, but after a few days you just want to download quality apps.

I've downloaded some quality apps. You need some recommendations?

There is close to 10,000 apps and did you do the update today? It's a firmware update and apps open much quicker now.

Just loving my Surface, bought it day 1 and am very pleased with the purchase. It is quite a compelling device, and in my view has more utility than any other tablet. Lot of it may be because of the full OS that it is running, and not a phone version. The UI is delight to use, grab it in landscape mode and you can do everything just using thumbs, very convenient.
The minor issues faced are related to badly written, mostly 3rd party applications, which should get resolved quickly. The device is certainly enterprise class and should get the success it rightfully deserves.

I whole heartedly agree with your experience, which closely resembles mine. There really isn't any going back to the iPad after some time with the Surface. Everything just goes so much faster, and is so much more fluid. I'm hoping Microsoft quickly addresses the software problems, of which there are many, and update the crucial first party app (the Xbox Music app is just terrible on so many levels, though the potential to be great is there).
I do have to disagree on your assessment of the touch cover though. This may come down to just getting used to it, but I find it to be a vastly different experience than typing on glass. The main advantage is being able to rest your hands on the keyboard without activating a key press.

I've been holding off on purchasing one for the sole reason that I find it to be a bit too expensive, but due to the fact that Ballmer said sales weren't astronomically good and Black Friday is right around the corner, I'm hoping that there are some specials posted up that might include a free touchpad or something. I'd be willing to spend $500 on it with the keypad, but for some reason that extra $100 is really holding me back.

I think you and many others are misunderstanding Ballmer's statement. He said it is off to a modest start. Based on other statements from Microsoft, this is by design, not from a lack of interest. Remember, they are not yet selling this through other outlets.

Has anybody had their credit card "erased" with those big magnetic "clips" that hold the keyboard on?

I finally got mine this past Friday, a surprise gift from the best husband ever, and I agree with everything you said in the article. The Surface isn't perfect but it still beats other tablets to death and I love it. As we used to say as kids it really is "all that and a bag of chips". :D

Awesome, making me fancy a bag of chips now though ;)

Regarding the sound from the speakers, if you go to the sound settings in the desktop control panel and find the speaker properties. Click the enhancement tab and enable loudness equalisation. This makes the sound output much more powerful. No idea why this setting is not enabled by default as it makes a huge difference. Loving my surface so much that i sold my iPad.

Whoa! Great tip,I will try,that! RB

thanks for the tip, ddin't even think about going intot he control panel!

After sending a test email, unfortunately, I'm still getting a "crackling" effect when the email notification sound goes off. So it's essentially the same problem before messing with the soud settings as suggested. I do notice that overall sound loudness is improved though. I might have a defective unit, but I might just deal with it.

I had an iPad before the surface, and the most time I use my tablet is when I'm laying in my bed in the evening or when I wake up in the morning... First time I used surface it made me a little bit upset, because it didn't played youporn videos, but now I figured out how to enable flash for other sites and it REALLY makes me happy everytime I use this tablet... If you know what I mean. Its great! I'm serious.

FYI swiping an app or the desktop to the bottom of the screen fully closes it. From the running app thumbnails on the left, a right-click (press and hold with a finger) will bring up the close option.

I have had mine for a while now and love it. The only real negative is the speakers. Lots of the reviews seem to be from the use of the device as a content creation tool, which I guess is what most Tech Journos use devices for... many reviewers don't understand this device and automatically compare it unfavourably to an IPad or an ultabook.

One thing that seems to be overlooked is the awesome BYOD work integration. Given my work email adress and password, it automatically hooked up using the native email/calendar apps and adjusted my local security settings to match the requirements of my work network. I can remote desktop quite effectively and various tools that you expect to be in windows behind the scenes pop up when you least expect it to solve problems.

As a developer I have also written code for this device. I wrote code on my old desktop running preview Windows 8 a while back. When I got my surface I was able to easily remote debug from my dev win 8 machine via wifi to the surface. The code ran first go. Remote debugging allowed me to trace and break and easily use m y surface as a devkit. Brilliant stuff.

Also if you have a windows 8 desktop and a surface, the automatic cloud integration between the two is something few mention. This is truly a brother to the full desktop OS and not just a baby OS that looks the same.

My 64Gb model arrived on Monday and I took it to work today and used it all day pretty much not even going near to my Laptop. I am not sure I would want to do that all the time as I really do miss Outlook and Windows Mail is no Outlook and missed many features such as mail approvals that I would have to go in via OWA or resort to full fat Outlook. Being able to attach a USB mouse to it for working with Office is also a big bonus as is having the USB in the first place full stop tbh.

I am a little fortunate in some respects as I can used the basic built in VPN to connect to the Office and with Remote desktop connect to my terminal server to run legacy apps. This also provided my first "DOH!" moment when trying to make my Windows Server 2008 work with touch...

I am actually pretty impressed with the Surface RT more so that I was expecting and it does make me wonder whether the bigger Surface Pro would actually make that much of a difference. It lasted all day in fact it lasted well before the day had even started as it had already streamed 1 movie (Previous night) and provided the morning ePaper before hitting the office and only died after my son killed it with a 2 hour Angry Birds Star Wars session around 8pm.

Sadly I am boxing my little friend now as she is my Xmas present to myself and tradition mandates I wait until Father Christmas delivers it. On the flip side it is highly likely that in my organisation at least we will be mandating the tablet of choice as the Windows Pro and RT and supplying them to our movers and shakers.


Any idea here on when they will make it available in more countries? Like... for instance... ooooh... let's say... Belgium... just to name one...? :p

I'd suggest you order it from the UK of (France?) website, as they are just shiped EU wide from the Netherlands.

** ROBERT BRAND** Great article. Well done.
Some points:
* I also replaced my iPad with Surface. Surface is much better, at both content consumption and office use.
* I too get 9->10 hours battery life.
* Office is only free as long as its not used commercially (an uplift license is coming soon after full release)
* @welsboke. When I first got my Surface, I hated (not too strong word) the inbuilt mail app - and pined for full Outlook. Well you know what, 2 weeks later, and I live in the mail app. The more you use touch to work, the more natural that mail client becomes. Its missing some things, like social connector, LDAP lookup of user photos, drag and drop things - but overall it does become second nature. Same with Metro IE, I have now converted! It takes an adjustment time, but it will happen.
But yes I agree, this device enshrines all of Microsofts best and current work. Culminating in this enchanting device. I love mine, and it goes to bed all cosied up to my equally wonderful Kindle Paperwhite. Great times for gadget geeks.



As a owner of both an ipad and Surface I have to agree that the Surface is the more functional and fun to use device. I haven't even picked up my ipad since I got this thing. This is a great product.

Excellent review and I ejoyed your honest criticisms which will only help to make the Surface even better. That being said I purchased my Surface RT 64GB over the weekend and am thoroughly enjoying it. I am also vested in the Microsoft ecosystem as I have a WP7, i7 Windows7 High-Performance gaming laptop, subscribe to Zune/XBox Music, Xbox Live...don't have a game console yet but will strongly probably get an Xbox 360 to utilize Smart Glass (and my 5 y/o son) and replace my Netflix streaming BluRay Samsung DVD...the build quality of the Surface is like the feel of my Zune HD 64GB, very expensive and quality feeling...actually the build quality and materials of the Surface makes it feel that it should be twice as expensive than what it's actually being sold for. I expect to keep and use my Surface for a very long time! Final comment on MSFT's ecosystem...I have been wedded to MSFT because of work and now MSFT is now offering competitive entertainment options to Apple andGoogle. My first step into MSFT's ecosystem was Skydrive when they offered me 25GB free...then I moved on to the Zune Music subscription (I feel that is one of the best music model services out there), now because of my 5 y/o son who likes playing games on my WP7 phone I'm now using XBox Live more which will result in me getting the XBox 360 for Xmas just because of Smart Glass and the seemless integration of enertainment and productivity with all my various Windows devices...Now I'm looking at XBox's movie selections and as their pricing model becomes more competitive I may ditch my Netflix eventually...

I hope that WinRT will be the main focus for a lot of people and next year with 8.1 or 8.5 update the bugs/shortcomings will be taken care off. The desktop side should be marginalised and only in the background for when I need to take care of some detail oriented things, less desktop and more attention on touch interface as that's the place I want to be almost all the time. Since it needs lots of apps to flourish I understand the need for the Pro model and during a transition period better half of users will go with that as they don't want to part with the past (10 000 of new stuff a month should suffice to deter people from legacy PC's and possible fan community tweaks/mods or emulations of old software would convince them to slowly abandon the old Windows). Hardware elements that need attention to make the RT machine a more alluring choice:
Weight - 650-670g is maximum for a tablet so it needs constant work (and it's only possible with RT hardware)
Speakers - many 1st gen products suffer from this issue so it'll obviously be improved
SSD flash internal memory - since it's not a completly trimmed down portable system you get less than 20GB which is unaccteable for the price of $500, only 64GB counts and 128GB is necessary asap (I don't want to buy a heavier Windows 8 model to get that storage)
TouchCover - bundle it with the product because it's part of the package (as the ads show) and make the TypeCover optional for an additional price $60, I know that 10.6" inch display doesn't allow it for the trackpad to be bigger but it needs some work on multitouch
Screen - Full HD resolution and more pixels are essential
USB 2.0 ? forget about that in 2013 and simply go with 3.0
We know that it's possible (except for the display) to build a model with those hardware parts and still make a profit for Microsoft (real cost is $300 to manufacture so offering the model for $600 is bad when the platform is seriously launching at this moment). I understand that they don't want to compete with other companies but in conclusion I expect a $500-600 64GB device with the TouchCover if they want to fight the next iPad. The Surface has potential and looks awesome.

first of all, this was a well done follow up review. i'm enjoying seeing these as i decide whether or not to make a Surface purchase. secondly...MS couldn't even port calculator over as an RT app? i understand leaving it as part of the desktop for copy/paste purposes in word and excel and all that, but they couldn't even build an RT version? i find this quite funny for some reason.

There are quite a few calculators already available (252 in the store, although some of those are likely not generic calculators but for something specific). I prefer RetroCalc myself (docks nicely), but there are options.

Excellent article! I'm in the same boat, and the surface has filled the tablet void of my MS eco system perfectly.

Awesome writing. After I got this tablet, (tablet only) I excited about having it but then I experienced the "wobbly knees" wondering if this was going to work for me. But after I really sat with it, the closer I got to it, Found a few really nice apps to feed my tech blog habit, (News Bento ) I'm in love. Still waiting on WPCentral app for RT.

erm, not sure about the office comment, you want a touch office suite? How would that work? How would touching excel cells with sausage fingers work exactly?

Great review, thanks.
I have to disagree on one point though. You wrote that you think there should be more improvements to control the desktop by touch. If we change the way the desktop is controlled I feel this will alienate people who use windows in the non touch way. The same way they feel that the new start screen doesn't behave naturally when using a mouse and keyboard. If your using windows on a touch screen then stay mainly within the start screen environment, however if you need to go deeper, then expect a small compromise. Because don't forget your using desktop software on a mobile device. Its not one thing or the other, its everything at once.

Thanks for such an informative and complete review.
I'm looking forward to seeing the Surface in action.
What about the fraying issue with the keyboard? Did you come accross this issue?


Great review. A lot of the points you make are ones that I agree with wholeheartedly as a Windows user. I have been using Windows 8 on my work desktop, work laptop, and home desktop since it went RTM via MSDN back in August so having that experience helps bridge the transition to a device like Surface RT.
I wrote my own, informal review for some friends and family that had asked for my feedback. Some of you may find value in my experience, so here is the link: http://gunpwdr.wordpress.com/2012/11/12/1-me-blogging-and-2-a-surface-rt...

As a Surface owner, I fully admit and realize I am an early adopter. Remember that any new tablet will go through growing pains until the next iteration is released (compare iPad 1 to iPad 3, for instance).
That said, I'm really loving mine. I don't use a ton of apps, I just need core apps that I use frequently. The ones I have installed include: News Bento - best feed reader I've used so far Ribbit - best Reddit client so far, though needs some touch-enhancements 4th and Square - great Foursquare client Package Tracker - worth the price YouTubeRT - best YT app, I used it for a week then paid for it MetroTwit - I prefer column-based Twitter clients iHeartRadio Netflix SlapDash TedW Skyscanner, Booking.com AllRecipes, Livingsocial, Wikipedia, Advanced English Dictionary (offline, easy to use, still waiting for the perfect offline/online hybrid app), Urbanspoon, Newegg Trello, Tasks by Telerik, What's IP, and Router.CoCPit Besides a few missing core apps like Facebook, banks, and Amazon (I just pinned the sites to my start screen), I haven't really been unhappy with what's available. This is also a young OS and a new paradigm for developers, so I'd give it a year to mature before we see any solid killer apps.
The USB port is awesome and is a huge boon. Office is excellent. Performance is great, some sites take a little longer to load but hopefully performance issues will be addressed in software updates.

I think that Clover Trail (Atom Version of x86) has the same power profile as Tegra 3 and is faster. You get all the advantages of the tablet (no fan/quiet, 9+ hours of battery life) and still have full x86 compatibility. MS is not building a Clover Trail version of the surface because it would blow RT away (Intel has priced the Clover Trail SOC competitive with ARM Tegra 3). They are making the Surface Pro with Ivy Bridge chips which makes a bigger, heavier, noisier (Ivy Bridge needs a fan) machine and won't compete with Win RT. The next version of Clover Trail will be based on the Haswell Architecture (22nm) with 20% speed improvements and better power profile. If MS had worked closely with Intel Win RT on ARM would not have been necessary and the Windows 8 tablet space would be taking off. The other OEMs designs are not as compelling as Surface but Surface with Clover Trail at current RT prices would be a no-brainer for most of us.

I can confirm this, and in fact, having used both the Tegra based Surface (admittedly before their performance firmware update) and the Clover Trail Atom based Samsung Ativ 500T, I kept the Samsung Ativ. Larger screen (11.6"), and same battery life with similar thinness (plus digitizer in the non-LTE model).
I really wish there was a Surface with Clover Trail Atom. This would be the perfect device imho.

I like that Microsoft has ported Win8 to ARM. Over-reliance on the Intel road map is what has brought us to this point. If MS had made a more forthright decision to port the NT kernel to ARM years ago we would have had better tablets sooner. Now we have the choice of both ARM and Intel. If Intel don't deliver (or keep up) then they'll get left behind as ARM continues to improve. Also, ARM usage will help keep prices down. If it were an Intel only market (AMD is nowhere in the current running), then prices would start high and remain high! The current Clover Trail prices are only due to current Tegra pricing.
Given the growing Windows Store and ARM's competitive pricing, Intel cannot 'lock' you in to Having to purchase an Intel CPU at a more exorbitant price simply due to the need for 'legacy' software. So, for those doubters, Microsoft will continue to develop for, and manufacture, ARM devices. If for no other reason than to give themselves choices, and not be limited to a perceived "crucial" partner that may have gotten too big for its britches.

It's a great review! I am kinda like the Author.. one of the few left with a Windows System at Home. The Surface works so seamelessly with everything just like a laptop. It's brilliant. The one thing that is missing from the review is the super convenience of having a USB and a Micro SD slot built in as compared to the IPad.

One question. Other than the bed and couch, are there any more benefits from using a tablet over your 4.5" smartphone and laptop. I know you will take this out also but I can do exactly the same with my 4.5" WP. The screen doesn't have to be necessarily bigger to check emails. So i've been holding back ever since the first iPad was announced because I saw absolutely no use in a tablet with a Smartphone and laptop.
But then again, the whole world uses tablets now so there must be some kind of merit i'm missing. I'm trying to get started with it and the Surface seems like the best choice for now.
Maybe it's way more useful in a "family" perspective rather than individually? THANKS

Excellent review! I actually find myself avoiding the Desktop as much as possible, although as you say, it is very useful for file management and other "hardcore" OS requirements. Also agree with the WP references - there is a bunch of "mobility" stuff missing from WinRT that is in WP and would have been great on the tablet. Even something like the new WP8 homescreen would have been welcome.
One thing you didn't mention was the Devices charm. This is an absolute beauty.
If you have a DNLA-compliant TV (i.e. network connected Sony Bravia) then you can send Video, Music and Pictures to the TV by selecting it in the Devices menu while watching / listening.
Works really well with a 1080p .m4v. Surface will pause the movie, screen will go blank, and the video will continue on your TV. Use Surface to pause/skip/etc. No Xbox 360 needed. Works the same with most DNLA devices, so long as they are Windows certified. Wish I'd bought a network-connected amp now.
Finally - MS need to improve the SD card support. I had to mount my SDXC card to a folder in the C: drive before I could add Video and Music from the SD card to the relevant Libraries - if this is not done, the media on the SD card is not included in "My Videos" and "My Music" in the Music and Video RT apps. Not very user-friendly for those who are not aware of the trick to get it to work.
Windows Central Newsletter
Get the best of Windows Central in in your inbox, every day!
Thank you for signing up to Windows Central. You will receive a verification email shortly.
There was a problem. Please refresh the page and try again.