Windows Store Collection: Comic Book Fans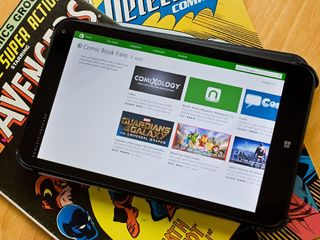 This week we are setting aside our Windows Phone and taking a look at one of the Collections in the Windows Store. As many know, the Windows Phone Store has a series of Collections that pulls together Windows Phone games or apps that are from the same genre such as shopping apps, photography apps or racing games.
The Windows Store also has a large selection of Collections that focus on Windows 8 apps and games. These Collections are very similar to those we have become familiar with in the Windows Phone Store and cover categories of Windows 8 titles such as hidden object games, apps for music lovers, racing games and more.
For this week's roundup, we are focusing on the Windows Store Collection Comic Book Fans. It is one of the smaller collections but focuses on apps and games that delivers the comic book experience to your Windows 8 device. We've pulled four of the titles to highlight this week that you may appealing.
Madefire
Madefire is a free Windows 8 comic book reader that delivers an innovative reading experience that not only includes the traditionally formatted comic books but also motion books. Motion books, as describe in the listing, immerses the reader in an interactive experience with sound, motion and depth. Motion books provide an animated transition between panes of the comic book.
Along with the new format, Madefire delivers a healthy library of comic books and graphic novels to your Windows 8 device. The collection includes paid and free titles that includes your traditional characters such as Batman and Spiderman along with My Little Pony, G.I. Joe, Transformers and more.
Publishers include the likes of DC Comics, Marvel, Dark Horse and Top Cow. You can even pull up the old Star Trek Gold Key comics. The layout is fairly straightforward with a panoramic main menu that will feature titles from each genre or category. You can search for titles by keyword as well.
You don't need an account to download the free titles but, as you would guess, an account is required for the paid titles.
I should note that while Madefire has an extensive library of titles to choose from and the Motion book experience is kinda neat, I did experience stability issues. The app would crash periodically while downloading a comic. This only happened with certain titles and was a little frustrating.
Also of note, Madefire is only available for Windows 8.1 devices running x64 and ARM processor with 2GB+ RAM. Plus, along with the Windows 8 version of Madefire, you also have a Windows Phone version for a more mobile comic book experience.
Captain America: The Winter Soldier
As you might guess, the Windows 8 game Captain America: The Winter Soldier is patterned after the movie that bears the same name. You play the role of Captain American and lead S.H.I.E.L.D. strike team as you try to contain a global attack.
While game play has a strong arcade feel, you will also find some RPG elements tossed into the mix. For example, as you gain experience and move through the game your S.H.I.E.L.D. agents gain abilities and numbers. You will also have the Black Widow and Falcon available to help defeat the criminal organization determined to control the globe.
Captain America will also learn new fighting skills as you advance through the game and additional suits will become available for Captain American to wear. Game controls can be touch oriented or a virtual joystick is available to use.
Along with the main story line, Captain America: The Winter Soldier also has an asynchronous multiplayer mode where you can join a Clan and battle rival players online.
Overall, in playing Captain America: The Winter Soldier for a short time, it has the potential of being a fun game for your Windows 8 device. The major downside to the game is that an internet connection is required to play the game. The initial install for Captain America: The Winter Soldier is slightly over 225MB and you will have an additional download when you first launch the game, as well as downloads while you play the game.
This will not only require an internet connection but also cause noticeable delays with the pace of the game. It also restricts where and when you can enjoy the game.
Overall, Captain America: The Winter Soldier comes across as an entertaining game to pass the time with. You just need a little patience along the way.
Download Captain America: The Winter Soldier for Windows 8 (Free)
Comics
Comics by comiXology is a Windows 8 comic book reader with a library of over 50,000 comics and graphic novels.
Publishers include Marvel, DC, Image, IDW, Dynamite and BOOM! Studios. Titles range from the classic super hero titles (Batman, Superman, etc.) to the more modern Walking Dead series. The selection includes a respectable amount of free titles as well as the paid selection.
The main page will feature top titles from each genre with quick links available to jump directly to what you are looking for. Comic books can be read panel by panel with the cinematic guided view or in classic full-page view. Comics does require an account (free) and your purchases can be synced across multiple devices.
The app only pulls down a 3 star rating in the Windows Store but in looking at the comments, this rating is likely influenced by early ratings when the app experienced performance issues. The app has been updated several times to address these issues and the more recent ratings reflect the developer's efforts.
Download Comics for Windows 8 (Free)
Archie Riverdale Rescue
Archie Comics has been around since the 1940's and centers around a group of teenagers that never seem to age. You have the main character Archie Andrews along with Betty, Veronica, Reggie and Jughead who live in the small town of Riverdale (which I often confuse with Rivendell) and documents their life adventures.
The Windows 8 game, Archie Riverdale Rescue, has your characters finding their home town in a mess. Houses are in need of repair, garbage lines the streets and it is up to Archie and the gang to clean things up and rebuild Riverdale.
Game play is task oriented and the interface can be a little confusing at times with controls scattered about the main screen. You will be walked through a lengthy tutorial that covers gaming mechanics nicely. You just need to remember to tap or click on what the arrow is pointing to and not the arrow itself.
Graphics hold true to the Archie comics and game play does have its fair share of challenges in managing your game time and resources. Archie Riverdale Rescue may not be everyone's cup of tea but worth trying, especially if you are a fan of the classic comic book characters.
There is a Windows Phone version of the game but your gaming progress does not transfer between devices.
What's your favorite?
I grew up when comic books were sold from spinning display racks and didn't cost more than a quarter. The likes of Spiderman, the Avengers, Superman, Batman and Sgt. Rock filled the imagination and I spent countless hours reading these short, illustrated novels.
These graphic novels should be flourishing in the digital age and I have to admit I was surprised how light the Comics Collection was in the Windows Store. There are a few quality comic book readers still available, such as Comics, but it would be nice if the likes of DC Comics would come back to the platform. You do have generic readers such as Kindle and Nook that offer some graphic novels but I cannot help but think Marvel or DC should have a stronger presence.
As far as comic book based games are concerned, there are still a few gems left in the bag. Captain America: The Winter Soldier is a decent title but plagued by slow load times. Spiderman Unlimited had potential but was essentially left hanging by the waist side by Gameloft and never made the jump to Windows 8.
There are a few more comic book related apps and games in the Windows 8 Store and it is time to turn the tables on you the readers. If your favorite Windows 8 comic book app or game did not make the Collection, toss out your recommendation below in the comments.
Get the Windows Central Newsletter
All the latest news, reviews, and guides for Windows and Xbox diehards.
George is the Reviews Editor at Windows Central, concentrating on Windows 10 PC and Mobile apps. He's been a supporter of the platform since the days of Windows CE and uses his current Windows 10 Mobile phone daily to keep up with life and enjoy a game during down time.