Windows XP had secret theme that looked like Apple's Aqua
The source code for Windows XP was recently leaked online!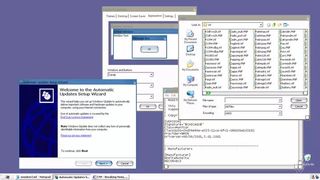 (Image credit: The Verge)
What you need to know
Microsoft's Windows XP source code was recently leaked online.
People have started digging through the code to see what they can find.
Turns out Windows XP had a secret theme that looked just like Apple's Aqua interface from 2000 that was never released.
Earlier this week it emerged that the source code from Windows XP had leaked online.
Digging through the code, The Verge has found that Microsoft actually had a secret, unreleased Microsoft XP theme that looked exactly like Apple's Aqua interface from 2000.
The theme was never released to the public and may have been used as a placeholder for the theme engine. The only description for the theme says "Whistler skin with eye candy". The theme was marked for internal use only.
Interesting find. I think that is just more only for placeholder for testing the new theme engine than really intending to be go further for shipping. Apple that time would be very furious seeing Microsoft directly copying their design. Since other Whistler builds known actually went through more flat design then went back again to skeumorphism until we have the XP Luna theme we know.

I had a theme back then that looked just like this. Not secret. Not made by MS. I didn't use it much, because I had a real Mac. I eventually settled on the Media Center theme. Anyone here remember that?

I was using WindowBlinds at the time, which had many themes. My favorite was probably Aqua, which I still think is a really cool look.

WindowsBlinds were awesome! It was rather hog on resources though, especially on average PC at that time. Eventually even learn how to make my own skin.

The light blue theme, royale?
I preferred the dark brown and orange Zune theme. I guess that was dark mode before dark mode.

Yes, Royale. I used that one for a long time.

I liked the Royal since I find it was more modern that time, with its glossy and more sleeker looks. This is before even Vista. Eventually I moved to Zune since I like its dark theme aesthetic, which is rather not common back in the day.

Chaninja all the way for me.
Windows Central Newsletter
Thank you for signing up to Windows Central. You will receive a verification email shortly.
There was a problem. Please refresh the page and try again.