The Witcher 3: Wild Hunt reaches new all-time high player record on Steam
Many players are going back to The Witcher 3, possibly due to the show's debut.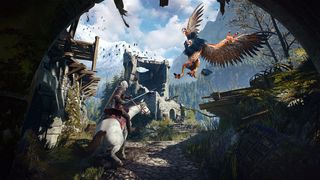 (Image credit: CD Projekt RED)
What you need to know
The Witcher Netflix show had its first season released a little over a week ago.
Since then, the player count for The Witcher 3: Wild Hunt on Steam has seen a massive increase.
The game has broken its record for the number of players on Steam at launch.
The game is also on sale for $12 USD at Steam right now.
Recently, The Witcher show launched on Netflix and instantly became one of 2019's most popular shows. It appears this success in the realm of streaming TV is carrying over and having an impact on the number of people picking up the game.
At the moment of this being written, there are over 94,000 players in-game playing The Witcher 3: Wild Hunt, according to Steam's stats. Marcin Momot, the Global Community Lead at CD Projekt Red, shared a graph of the player count throughout 2019, making this huge numerical leap even more obvious.
Impressively, this number is actually higher than the number of players The Witcher 3: Wild Hunt had at launch, which was around 92,000 players. This new all-time high comes after the game released on May 19, 2015. Needless to say, a game setting player records on a platform over four years after launch doesn't usually happen. Naturally, this only counts PC players through Steam and doesn't include anyone using GOG, CD Projekt Red's digital storefront, or anyone playing on consoles.
Blade of Destiny
One last contract

The Witcher 3: Wild Hunt is a sweeping RPG where players take on the mantle of Geralt of Rivia, a monster slayer tasked with finding a young woman with unimaginable powers.
Windows Central Newsletter
Get the best of Windows Central in in your inbox, every day!
Samuel Tolbert is a freelance writer covering gaming news, previews, reviews, interviews and different aspects of the gaming industry, specifically focusing on Xbox and PC gaming on Windows Central. You can find him on Twitter @SamuelTolbert.
The behavior of the masses is so predictable.

I have to admit, I started playing it a few years ago when I got it and then got distracted by some other game I started playing and never played it again. I had it in my backlog as something to play but never got around to it. I am one of those people that started playing again after I watch the show on Netflix. I started a new game and now I can't put it down. I am unsure though if the show influenced how much I am enjoying it, but I am glad I started playing it again. I will finish it this time.

I found that it started kind of slow, but after leaving the first area and about 10-12 hours in it completely changed. After it opens up it really becomes a big time suck of life. This might have been what you experienced. I almost had the se thing happen.

I'm one like that too though I'm not counted in stats because I'm playing an offline version I bought on GoG years ago. It is a game I really want to like but it has never grabbed me enough to continue but now I'm trying again for the 3rd time. But like the other times, I'm starting to get bored after reaching Velen so I don't think I'm going to get far.

For someone who bought the game during XB1OG era, this is where backward compatibility (or future compatibility?) and mipmap modding shines.
Games you didn't beat for whatever reason, will run on X and SX and it will run better.

Absolutely. It has a mode on X1X where it uses dynamic resolution and an uncapped framerate. Hardly perfect, but on Series X it'll be maxed out, which is awesome. This is why it's important to provide options.

I've given my disc to my housemate and have loaded it up on Game Pass because I never got around to finishing the DLC's, but now I will, got back into it last week.

The DLCs are some of the best that I have ever played.
Windows Central Newsletter
Thank you for signing up to Windows Central. You will receive a verification email shortly.
There was a problem. Please refresh the page and try again.