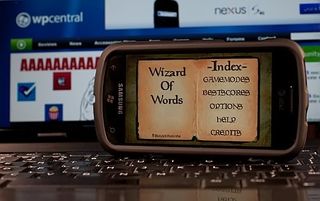 We did a round-up on the various word games available for your Windows Phone a while back. While we didn't cover all the word games available for your Windows Phone, we did receive several suggestions to add to the list. One such game is Wizards of Words.
Wizards of Words is a Boggle-type word game in which you are presented with nine letters and your job is to find all the words these nine letters can create. To help make things interesting, there are four gaming modes.
And to find out more, follow the break.
Game Layout
From the main menu of Wizard of Words you'll find links to the game modes, best scores, options/statistics, a help section and game credits. The game is graphically well presented and has nice transition animations. As you scroll through the various sections, the pages turn as if you're scrolling through an old magic book.
Wizard of Words has three single player games and one multi-player (pass and play style) game. While each game has slight variations, the object is constant. Create as many words (three letters or greater) from a nine letter selection as possible. You create words (or spells) by tapping on the individual letter. Letters carry different point values. You also have a Star Tile, much like the blank tile in Scrabble, that will allow you to choose which letter it represents. Once you have the letter spelled, tap the "Cast" button to record your word.
The single player games are as follows:
Wizard's Stairway: This is a multi-level (reportedly up to 12,000 levels) game that you have to meet scoring objectives to advance to the next level. You are only afforded three misspelled or incorrect words per level. Make three mistakes or let the time run out and the game ends.
Time Trial: This game mode has three levels of difficulty and you have to create as many words as possible before time runs out. To help you out, as you create words, time is added to the clock. To help make things challenging some letters will change so you'll need to be quick on your feet.
You are afforded five spelling errors in this game mode.
Spell Listing: This is a free for all type game in that there's no clock or error limits. You are presented with six letters, instead of the nine, and your job is to find all the words these letters create. To help you out, just beneath the letters is a chart of the possible words that are revealed as they are created.
The multi-player game is similar to the time trial game where players pass the phone amongst each other. You can have up to four players and eight rounds. The round duration can range from 30 seconds to 120 seconds.
At the end of each game, if you've created a word that was ruled incorrect you are able to add that word to the game's dictionary. There are 100,000 English words programmed into the game and it's nice to see the developer acknowledge that some words may be missing.
Overall Impressions
Game play was simple. I think the hardest part was trying to figure out how to erase a letter from the board (simply tap it a second time). From there all you have to do is concentrate on finding the words. The letter groupings were challenging and in the Time Trial where letters changed at random, it was even more challenging to spell things out before the tiles changed.
Wizards of Words is an entertaining, challenging, somewhat addictive word game for your Windows Phone. The game ran smoothly and resumed quickly from a sleeping phone.
There are three versions of Wizard of Words available at the Marketplace. Wizard of Words (here's the link) has a free trial with the full version running $.99. Wizard of Words Free (here's the link) is a free, ad-supported version that has a fewer words and levels as the paid version. Wizards of Words Italian Edition (here's the link) is a free version of the original except it's in Italian.
If you like word games, Wizard of Words will be a nice addition to your Windows Phone library and it will definitely be included in our next word game round up.
George is the Reviews Editor at Windows Central, concentrating on Windows 10 PC and Mobile apps. He's been a supporter of the platform since the days of Windows CE and uses his current Windows 10 Mobile phone daily to keep up with life and enjoy a game during down time.
am i the only one thinking we have WAY TOMANY Word games or?( and puzzle games for that matter )are does REALLY easy to make as a DEV or something??? Or are people just lacking imagination these dayz.

Well, speaking as someone who is currently developing a word game...some people just like word games. I do. My wife plays Book Worm on her iPad pretty obsessively.Word games tend to work well on phones since the controls are usually easily understood and quite usable on a touchscreen.Tower defense games tend to work well too for the same reason.I've tried lots of games and many of them have control issues. Anything that simulates a joystick on the touchscreen starts life with a strike against it in my book.Developing word games is obviously easier than a triple-A list first person shooter, but I think the real story is that it would be very, very difficult to recoup your investment in such a game. Especially on a new platform like Phone 7. There just aren't enough users yet, and unless you are a big-name studio the odds are low that you'll make enough money to cover any sort of investment in your game.That means you have folks like me making games in our spare time. We either pick games small in scope that we can finish, or become like Brian on Family Guy forever working on that great novel...
Windows Central Newsletter
Get the best of Windows Central in in your inbox, every day!
Thank you for signing up to Windows Central. You will receive a verification email shortly.
There was a problem. Please refresh the page and try again.