WNM Live – meet the people around you without leaving your house, now for Windows Phone 8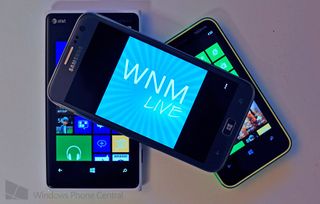 WNM Live is an app similar to other social networks in that you can connect and keep up with your friends. But WNM takes it one step further by allowing you to make new friends with people who live nearby.
With over 650,000 active users worldwide, you could end up meeting your new best friend.
Previously available under the name Who's Near Me, WNM Live was released for Windows Phone 8 a few days ago. By logging into the app with your Facebook account or creating a WMN account, you can browse profiles and strike up a conversation with other WNM users around you. You can send and receive text and picture IMs, engage in a live stream of conversations happening nearby and more without ever giving your phone number away.
You can make your public profile as anonymous or as detailed as you want, from your name being just that – Anonymous – or to listing your pets, favorite drinks, and interests. You can conduct searches by name, view who's nearby, who's online, and mark your favorite profiles. All of your conversations are listed in one place, which makes jumping back and forth easy as pie. WNM Live can be accessed from Windows Mobile, Windows Phone 7, Windows Phone 8, iPhone, Windows 8, Facebook, or your Desktop or Laptop computer's web browser by visiting www.wnmlive.com.
Browse profiles of online users near you
Send free text/picture messages
Send gifts, earn points, increase your rank
Discuss topics in the public, local Live Stream
Create a profile and upload photos to it
Login to wnmlive.com and access your entire WNM Live account from anywhere
In short, WNM Live is a pretty cool little social app for the days when you are looking for a new friend or wanting to spark up conversation with a stranger, but don't feel like actually going out in public. Maybe you're having a bad hair day. Luckily your new friends won't notice.
WNM Live is a free, ad-supported app and it's available right here in the Windows Store, or you can scan the code below.
Hey, so my 'friend' says this is mostly used for booty calls. Is that the case? Just asking for a friend or something.

would your friends name be Sam? ;)

A good friend of mine who I've known all my life said that's accurate. And even he knows someone real close to him that got cat fished. Just what I heard from a friend of mine.

I love tech, but how about going outside & meet people in person?

totally using it for booty calls.


I can't knock your honesty.

This app is dying fast everyone is deleting it is an trying new chat rooms there is no privacy here

Met my current girlfriend on here. :)

Okay this is so weird! i clicked "here" the link for the app, the page opened and said "Already purchased" and beneth it i can reinstall! i was surprised, i checked my phone and its not there! so i clicked on Reinstall and the app started downloading?

I know why! well my first nokia got bricked and my new phone i was not able to restore my data and apps! The reason why it said reinstall its because i used to have it before! So by the that. all apps are saved on my account! Good to know

Mmm, shame there is no remove ads option, removed.

This is a fun community and I've "met" some good people on there. There's a group doing a live meetup here in Los Angeles this weekend, so there is actual "real life" happening.

Hardly anybody uses that app

Anyway you can get rid of the ads. It's actually a nice app. I just dislike ads.

Beware of this app if you speak your mind or have an opinion they will kick you off and ban you
I spend hundreds of dollars on this app and now they kicked me off..the app is going down fast so I would chose another chat app

http://m.techcrunch.com/2012/06/01/whoshere-vs-wnm-live/ humm problems??? Not a good app -5 stars

I'm new user here,nothings special..
Anyway i meet more people,so that iam enjoy with.
Windows Central Newsletter
Thank you for signing up to Windows Central. You will receive a verification email shortly.
There was a problem. Please refresh the page and try again.