Word Teaser: Play this game of words for Windows Phone & PC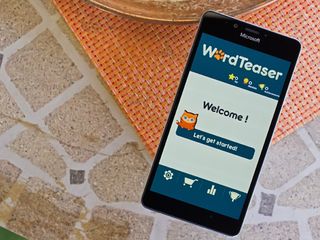 Word Teaser is a fun and challenging word search styled game that is available for both Windows Phone and PC. However, instead of finding all the words hidden in a 5x5 grid of letters, Word Teaser challenges you to find a specific word.
Word Teaser has two gaming modes, over twenty categories of words to search for, and plenty of hints to help you solve the puzzle. Games are timed at ninety seconds, making Word Teaser perfect for shorter gaming spurts. The game also has an addictive pull that allows gameplay to hold up to longer gaming sessions.
When you first launch Word Teaser (the official Windows Store title is "Word Teaser – Challenging Word Game"), you will be greeted by a series of games that are tutorial in nature. These tutorial levels will walk you through the basics of gameplay and seamless transition into the Solo gaming mode. This gaming mode challenges you to solve as many puzzles as possible. Your puzzle-solving streak will then be measured up against global players to see who is the best.
Once you crash and burn with the opening game, Word Teaser transitions to the game's primary menu where you will see options to:
Play one of the gaming modes
View the settings
Visit the gaming store
View your gaming statistics
View your gaming achievements
Settings cover the basics such as sound/music levels, replay the tutorial, and view the help screens. The gaming store for Word Teaser has options to buy additional hints and remove the ads through in-app purchase ($0.99 each).
Along with the Solo gaming mode, Word Teaser also has a Categories gaming mode. Here you can pick you poison, so to speak, by choosing what type of words you are hunting for. You have categories for Cities, Animals, Countries, Brands, Sports, Colors and more. There are even categories suited for younger gamers to help develop their word association/spelling skills.
Regardless of the gaming mode, gameplay is consistent between the two. You have ninety seconds to identify a specific hidden word from a 5x5 grid of letter. You can create the word by tapping and sliding along the letters to build the word and your movements can go in any direction except for backwards.
Along the bottom of the gaming screen you will find your hints or boosts that include:
Grid Unveiled – This reveals how all the letters come into play (more on this in a second)
The Savior – Reveals one letter in the word
Time Booster – Adds ten seconds to the clock
Word Suggestion – Suggests a word that may contain letters used by your target word
When the game begins, you will have letter blocks representing your target word (solution field) and as you locate and identify words in the grid any wrong guess will reveal how those letters come into play.
Letters highlighted in red are not a part of the word you are hunting for. Letters highlighted in yellow are part of the word but in the wrong position. Letters highlighted in green are part of the word, in the correct position and will be placed in the solution field.
At any time during the game, you can use a hint to help you find the solution and your guesses can be word smaller than the solution. For example, if your solution is six letters, you can identify three letter words to help reveal how certain letters come into play. Your guesses will be displayed at the top of the gaming display, just above the solution field.
Just remember you only have ninety seconds to find the correct word and there will be times you will find yourself staring cluelessly at the gaming screen. This is where finding any words in the puzzle grid can help get your creative juices flowing and help point you in the right direction.
Word Teaser is one of those games that are easy to learn, but difficult to master. The game will toss you an easy puzzle to solve then kick you in the backside with a head-scratcher of a puzzle that seems impossible to solve. The Categories mode is rather challenging, especially the Cities mode, in that it includes global city names that some gamers may never have heard of or heard little about.
Having an International flair, it would have been nice to have seen a Wikipedia or Glossary link to words you miss. The game ran smooth and while I did run across a few spelling errors (Denvar instead of Denver for a US City), overall I can't find much to complain about with Word Teaser.
It may come across as a children's game but don't let appearances fool you. Word Teaser is a solid word game for Windows Phone and PC and perfect for all ages of gamers.
Download Word Teaser for Windows Phone and PC (opens in new tab)
George is the Reviews Editor at Windows Central, concentrating on Windows 10 PC and Mobile apps. He's been a supporter of the platform since the days of Windows CE and uses his current Windows 10 Mobile phone daily to keep up with life and enjoy a game during down time.
Where do I go to get the 2 hours of my life back? Lol. Sounds simple...., or so I thought. Think this and Wordament are staying!

Review says you can't go backwards, when clearly a screenshot shows the word formed mostly by going backwards hehe. Anyway it is an interesting game to play :)
Windows Central Newsletter
Get the best of Windows Central in in your inbox, every day!
Thank you for signing up to Windows Central. You will receive a verification email shortly.
There was a problem. Please refresh the page and try again.