As the world gets ready for Windows 10, Microsoft India to host a launch event in New Delhi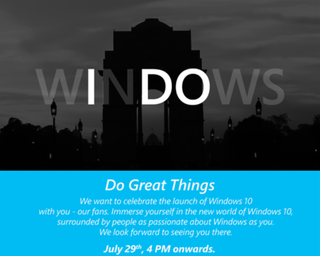 Windows 10 is just around the corner, and Microsoft would be hosting fan events across many countries to celebrate the launch of their milestone release. And of course, the company is all set for a mega celebration in India as well.
The invite-only launch event would happen at Pragati Maidan, an exhibition area in New Delhi – an unusual choice for Microsoft events - although it implies a grander scale of the event, so we aren't complaining. The event invite is titled 'Do Great Things' carrying the 'I Do' messaging of the Windows 10 promotions we've seen.
I'll be there at the event and will bring you all the updates from the ground, and key launch announcements. So, the answer to 'Wen in India' is 4 PM on July 29th. Sorry, I had to make this joke.
Soo excited for Windows 10.

Count me in! 14 km drive from my home. Hard to miss! XD
(Hope to meet you there Abhi!)

Great. Saves me a trip to Noida :P

I'll also be there, count me in too guyz. Hope to meet you all.

How so?
Received an invite?

I am 1000 km away....!!!! Right in Bangalore

its about 2000km if I am correct...bangalorian

I will also be there. Your phone number? Let's contact on WhatsApp and meet up there :D

Or add me on facebook if you not willing to put your number here. Fb.me/ashwani597
And let's meet up there.

Damn the joke already answered..

So when in India:) and I didn't read. Lol

29th of course ;) I'll be there.

Is it? Is it going to be a rolling 29th or is it the 29th based on when it's the 29th in the US?

Nice image. Windows >> I DO.

Image which speaks true...

I'd have liked IN DOS :¬)

Unfortunately, that's not the only question! Hahaha

I understand your feeling Madan , am from Bangalore too

Bangalore was the best place to launch

I wish I could attend that :-/ Can I get an invite?? :P

India is so vast and diverse . New Delhi is not sufficient . More places ...

Hmm...
So Its in New Delhi...
What's the address then ?
I want to go!

Without an invite you won't get far

What about an all access pass from the Indian Government ?

At pragati maidan. It's a well know exhibition place in Delhi

WP 10 update must come up very fast.

I really hope they announce the Surface Pro 3 for India. Or may be other 2in1 hardware

Guys, this is off toipic. But someone help me understand the free upgrade of Windows 10. I'll get free upgrade over Windows update, but if i want to clean install my PC later, how do i get Windows 10 again??

yes! check here: https://www.windowscentral.com/e?link=https2F%2Fclick.linksynergy.co... "Can I reinstall Windows 10 on my computer after upgrading? Yes. Once you've upgraded to Windows 10 using the free upgrade offer, you will be able to reinstall, including a clean install, on the same device. You won't need to purchase Windows 10 or go back to your prior version of Windows and upgrade again. You'll also be able to create your own installation media like a USB drive or DVD, and use that to upgrade your device or reinstall after you've upgraded."

If you used Windows 8 you'll know that there is built in factory resetting features (so nice)

Gud work Microsoft... Excellent venue choice..

this is the first time...i m seeing MS launching an OS with so much promotions & celebration.
I guess this is the first as well

Wen in Dominican Republic

Wow, So event in India will be hosted before USA/UK etc. Will W10 be released ahead of USA in India?? July 29 9AM for USA will result into July 29 midnight here...

Wow!! Thats amazing!! In India, people are getting more technology aware and such marketing and extensive advertising can do wonders, esp with students and middle class.

Who will invite ?? Aren't they selling passes ?? Come on !!

I'm also coming!! Excited to meet you Abhishek Baxi! Hope will meet you soon!! #Windows10

I am in delhi and cannot attend this mega event. Even in India its very seldom that any technology related event is held in Delhi. Oh what wouldn't I give just to attend this event.

Mm, the girlfriend?
Jk ;)

I want an invite please...
Contact me on fb ... fb.com/rrchrga
I want to go...

How can we get an invite?? Really want to attend this! But that invite only thing is bad!

Here's the list of the other cities hosting Windows 10 launch events. Contrary to the slant of this article, these cities will be holding events just as important as that in India. Sydney, Tokyo, Singapore, Beijing, Dubai, Nairobi, Berlin, Johannesburg, Madrid, London, São Paulo, and New York City.

Thanks Abhishek for answering such a stupid question, I hope no one will ask again!!


Anyone tell me how to get an invite to attend this

hey! what about the entry. do we have to register somewhere or it's a free and open one. plzz reply .. can't miss this event
Windows Central Newsletter
Thank you for signing up to Windows Central. You will receive a verification email shortly.
There was a problem. Please refresh the page and try again.