WP7 now features a sex offenders app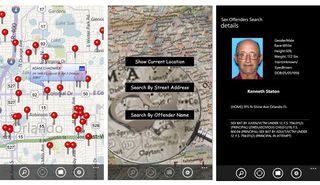 With all the 'bad people' out there and how smartphones solve Human problems (wireless communication, entertainment values, etc.), one would hope that an offering would reach Windows Phone 7 to combat sex offenders. Well, it has.
An app called Sex Offenders Search is slightly like Bronseal's slogan; "It does exactly what it says on the tin" (if you don't know Bronseal (opens in new tab)), where it displays to the user all registered sex offenders in and around your area (using GPS and maps). The app allows you to select an offender and view a photo, name, address and offenses.
Sex Offenders Search is currently only available in the US, bit of a pain for us Europeans, and can be found on the Marketplace for $1.99 here (opens in new tab).
Source: WP7 Connect (opens in new tab)
Rich Edmonds is Senior Editor of PC hardware at Windows Central, covering everything related to PC components and NAS. He's been involved in technology for more than a decade and knows a thing or two about the magic inside a PC chassis. You can follow him over on Twitter at @RichEdmonds.
agreed kind of dumb that the developer is charger, less people will use it. why not just still an Ad or something in it. Some developers are just greedy/idiots they'd make more money with Ads then they would with sales on an app like this.

Well, whatever you do to earn a living... I say you should get paid in jelly beans!!

I think every developer makes pricing decisions for different reasons. Stop being so Androidlike about apps. If you can't afford $1.99 for the safety of your wife or kids, then the dev is not the one with the problem.

Has nothing to do with android. Has to do with this app is using a free openly available service. Then charging you for it, its extremely distasteful for a dev to charge for providing someone else's free service.

Then go use the free service with your browser and call it a day. Or maybe you can write an app tonight and give it away for free and do a real service for your community. Honestly, if it really that easy then in a few weeks you will have a dozen of these apps to choose from. Heven't purchased this yet, like the other 69 apps I have (not including the 28 I have deleted) purchased, but it is on my watch list. Hell, I have a whole phone full of paid apps that use Microsoft apps (browser & maps) or public sites to power their apps, that include saved; historys, favorites and other features.I appreciate the hard work these developers put into creating apps, and then the feedback, support and updates. This one is well worth the $1.99 being asked for it. Although if sales stay down, it will probably go on sale for 0.99 in a couple weeks.

Someone else's free service? It's called tax payer money. Nothing is free silly.Oh gosh, a developer spends hours (days? weeks?) creating a WP7 app and wants actual money for their time? How dare they! They should be a good little socialist and give it away for the good of the world!

I wouldn't spend money on it (Cause its free on my computer) but its good information. If it had a full crime tracker (Show where recent crime has happend) that would be usefull as well.

is ATT on this for raping my WP7 update?

"Sex Offenders Search is currently only available in the US, bit of a pain for us Europeans, ..."If you live in Europe, why would you want to know where the US **** offenders are living?

I agree, this should definitely be a free ad-powered app. Of course, there's always a number of websites out there that pull the data for you for free and you have the advantage of being able to manipulate things much more freely on your computer than on your WP. I don't want to pay for it, and I'm going to save and invest that $1.99 savings so I can buy an actual security system or one of the top surveillance systems (like these)
Windows Central Newsletter
Get the best of Windows Central in in your inbox, every day!
Thank you for signing up to Windows Central. You will receive a verification email shortly.
There was a problem. Please refresh the page and try again.