WPCentral Poll: Lumia 900 and Titan II owners, what were you using before Windows Phone?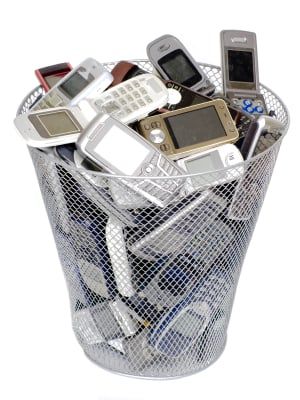 Is that brand new Nokia Lumia 900 or HTC Titan II your first Windows Phone? If so, what phone were you using before making the move to your Windows Phone? And we won't limit it to those who have just purchased tier first Windows Phone.
Feel free to sound off in the comments as to why you moved to Windows Phone. Was it the stylish tiles, stable operating system, or did the design of the particular phone jump out at you.
Windows Central Newsletter
Get the best of Windows Central in in your inbox, every day!
George is the Reviews Editor at Windows Central, concentrating on Windows 10 PC and Mobile apps. He's been a supporter of the platform since the days of Windows CE and uses his current Windows 10 Mobile phone daily to keep up with life and enjoy a game during down time.
Where is the Maemo 5 option? :)

Then last year on April 29 2011 I got focus Samsung love it still now I got a cyan lumia 900 :P

Then wen I get my upgrade next year im getn a wp8 phone

Had a Razr 2 :D then had my Microsoft enthusiast/ employee hype me up all about WP7 before anyone else even knew of its existence, and almost immediately after the release got myself an HTC Surround. Now I'm pushing hard for a Lumia 900, its so gorgeous......

So... where is the Windows Phone option?

It should have a Windows Mobile option. But it does ask what platform prior to Windows Phone, not Lumia

Yeah, I was windows phone the last two years and windows mobile four years prior.

I still have my focus 1.3 before that a tilt2 a pure a treo pro a treo 750 a treo 650 and a treo 600

One sunny day I went and traded in my HTC Trophy for a shiny new glossy white Lumia 9.....Oh crap, I've got to stop day dreaming on Friday afternoons.....

I used a Motorola Droid on Verizon Wireless for 2 years before switching to the Windows Phone 7 platform. I first found out about the platform from Microsoft evangelist Paul Thurrott. I loved the simple, flowing design that seemed to flow through the phone. Metro UI hooked me, even back when it was called "Windows Phone 7 Series". I do not seem myself going back anytime soon.

a little thing called Windows Mobile. Ever heard of it?

I second that, but it should include Windows Mobile Stock or Windows Mobile Cooked :D

Same here. HTC Touch Pro -> HTC Touch Pro 2 -> LG Quantum -> Samsung Focus S -> Cyan Nokia Lumia 900.

Very good poll!
We are also missing Windows Mobile 5/6/6.5

Would be interested to see a similar poll but not only Lumia 900 - any Windows Phones

I had a sidekick 2 and 3, then the HTC Surround

iPhone -> Samsung Focus 1st Gen -> Nokia Lumia 900. Love everything about the OS.

I had a Samsung focus and I broke it. Had my old iPhone 4 till I got the Lumia 900.

Sony Ericsson k770i and LG chocolate

Windows phone should be on that list. Some of us stayed in the ecosystem.


I was using HD2 dual boot Android and WP7. But not I love my HD7 and hoping T-mobile get Lumia 900

I can't vote because I was using first the HTC 8100, tilt, tilt2, tytn, tytn2, I even had the motorola MPX200...and you don't have windows mobile there, just saying.

Windows Mobile - 6.5 - with REAL multi-tasking!


Sony Ericsson Xperia X1-still much better than any Windows Phone because of Windows mobile OS. IT experts don't like very limited OS, Windows phone OS is for kids and people who don't need anything complex. I was forced to buy new phone but I don't like iOS (because everyone got it), neither some Android. I got it because nobody ever heard about Windows phone...

Really!? You got it just because you thought you would be different, but you don't like it? Am I missing your message here?

Have Samsung Focus, before that Samsung Link. Really want Lumia 900, but wp8 will be out when my contract expires

Apparently, according to his poll, no one had a Windows Phone before the Lumia 900/Titan II. Oversight?

Well they were all beta phones...right? =P

First sentence says, if one of these is your first windows phone
...

Palm Pre -> HP/Palm Veer -> HP/Palm Pre 3 -> Nokia Lumia 800 My only real grips with WP is the awkward handling of webOS-style card multitasking, lack of notification light, and no Touchstone inductive charger. The app support and build quality almost make up for it :)

Palm Centro -> palm pre -> lumia 900. I miss a few things, but the app support is nice. I really like Surfcube 3D browser. It supports swipes! :)

Currently using a Dell Venue Pro. Previously a feverish Nokia feature phone devotee. When I found out that Nokia was going to make Windows Phones, well, you can probably imagine my excitement. When the proposed Lumia PureView is announced, I'll follow it to whichever carrier it heads to. As an aside, should the stars align and Nokia makes a lime green Lumia PureView handset, then I'll be able to die a happy man. That would be good, as I'm fairly sure my head would explode from pure excitement.

I finally retired my first-gen iPhone to get the L900. As in the 2007 one. I can't believe an initial version of any tech lasted so well for 5 years. This was what I was waiting for, and it seems absolutely fantastic.

The Verizon Trophy. Still using it, actually. I have 1 month left of my VZW contract...

Xperia X1, HD2, HD7 & now HTC Titan. Was gonna go for a Lumia as I'm due an upgrade but I'm gonna wait for an Apollo device, see what's available on 3rd Gen Windowsphone.

the update worked without a hitch. It should be noted that the update can be loaded for us Mac users with the Windows Phone for Mac Connector. I do notice a difference. I don't have LTE in central PA, but my wi-fi used to disconnect and reconnect when I locked the phone. It doesn't now. It stays connected all the time. Good job Nokia. I didn't have any battery issues, so I am unsure about that. I don't notice any difference in the camera.

I had a really meager W490 flip-phone (is that still insensitive to say?) which irritated me until I jumped onboard to an HD7! I'm on a Lumia 710 now and in a holding pattern till either the 900 becomes available elsewhere, another color or mayhaps even a next Gen device for the 8??? =P

I had a blackberry storm, htc Imagio, and Motorola Droid. All of those were unlocked and rooted due to insufficient speed and limits. My HTC Trophy has NEVER froze or crashed on me, and I still didn't find the need to root it.

This is a very telling statement. ;-)

my very first comment... had an hd7 since it came out and was loyal to tmo for 15 yrs. loved my hd7. Now I'm w/ att and head-over-heels in love w/ the Titan II.

Jailbroken iPhone 3GS, Jailbroken iPhone 4, Jailbroken iPad 2
I am extremely pleased with WP7 Mango, it's really responsive and the interface is unlike anything I have ever used.

Last June I purchased the Samsung Focus in which I still love that phone. I'm now the proud owner of the Nokia Lumia 900 in black!

I been a windows guy had a tmobile wing, touch pro 2, HD 2, & jump to Android HTC sensation bc windows 7 didn't offer much but once mango hit I got a Nokia lumia 710 wasn't a good phone for me upgraded to the Samsung focus s & now the Nokia lumia 900

Just finished up my contract with a Motorola Droid X... Now I got a super smooth LUMIA 900!

HD7S to Titan II, but i also carry a Galaxy S2 also. WP in my pocket and SGS2 on my side. No choice as there are no accessories for the Titan II yet or I'd swap them around to show some WP love lol.

I have been using WP since HTC launched HD7 bit now using Radar4G. I love WP in other words i can't live without it cuz live tiles, OS and many more functions those really got me into it. Love u WP!!! Now i m ready to buy WP8 so eager to....

IPhone 4s... And happier with Lumia 900

HTC titan hated it laggy as shit much happier with the Nokia

Droid Bionic. I'm very proud to be a new WinPhan!

Where is the Windows Mobile option?

I had a MyTouch 4G (which still has service). Now the Nokia L900

Gladly gave up my iPhone4

Just came from a Pre 3 into a LG Quantum as my first WP7 phone. I'm on a DVP now and couldn't be happier. I'm very impressed with this MS product. I miss the true multi-tasking of webOS and I especially miss the swipes and gesture area but the build quality, the usable apps and the Office Hub have made me forget webOS. I still have an old HP Glisten in my bag for the BT PAN capability that only Windows Mobile 5, 6 & 6.5 had. Wi-fi tethering is nice and all, but BT uses so much less power and the speeds are basically the same. I have a Sprint iPhone 4S from my company and I HATE it with a passion. The perfect WP7.5 phone would have the gesture area and multi-tasking from webOS and the BT tethering from WM6.5.

There is no where to put WinMo (Windows Mobile).

Samsung F700 > Samsung G600 > Nokia 5800 > HTC Hero > iPhone 4 > HTC Desire HD (worst decision I made in my life, horrible phone) > iPhone 4 > Nokia Lumia 800

I used a Motorola Q9h, so where is the Windows Mobile option?

I've been using my trusted HD7 since the day it went on sale at Tmobile almost two years ago. I nixed my contract so I could sign a new one with ATT in preparation for the Lumia 900. But then the Smoked By Windows Phone challenge came up. I took an old BlackBerry to the Mall of America and now I'm writing this on a shiny, new, off-contract Titan. Now I can by Nokia's WP8 offering as soon as it comes out at contract price. Thank you Microsoft! P.S. I did the right thing and passed my HD7 on to a disgruntled Android user and made a WP convert in the process.

Geez guys. How soon you forget. You do realize that some poeple may still be using Windows Mobile, the grandaddy of all smartphones.

XDA MINI, XDA ORBIT, HTC DIAMOND, HTC HD, HTC HD2, HTC HD7, SAMSUNG OMNIA 7, SONYERICSSON XPERIA ARC, HTC HD7, HTC TITAN, SAMSUNG GALAXY S2, and now the Best of all: NOKIA LUMIA 800

Still using my Samsung Focus as an extra phone. Actually my wife has been using it on long drives for voice command and dialing since her brand new Samsung Android phone doesn't have it. Now she wants my phone.

Just upgraded to an iPhone 4s a month ago. Was always interested to know how well winphone will collaborate with the enterprise emails and workflow. Went in to att yesterday and got a lumia 900 black! Chucked away the iPhone 4s to my wife. I don't know why anyone would stay with the iPhone! Winphone is the smartest and most enterprised phone OS I have used. Love Microsoft for making this great product. And love Nokia for creating such a simple yet functional piece of ART! All that we need now is great apps to get onboard and this OS will beat Android in the next 2 years hands down!

I had my Samsung Omnia WM6.1. I replaced the digitizer 3 times and the screen twice just to keep it alive until the end of my contract. I now have the 800. I couldn't bring myself to get an iPhone, they are just so common. And i didn't like the Android interface. WP was just so obvious, and the Nokia phones are so pretty..... Now all I want to see is a WP version of Pleco

I had two Windows Mobile HTC phones in the past before getting the Surround 7 on launch day in Canada at Telus. I've never mentioned this before but I was the first one in Canada to buy a Windows Phone 7 LMAO! I personally couldn't believe it because others had gone in prior to the tiny lineup that was there that morning at the Eaton Centre in Toronto. I guess they were looking for the LG Optimus 7 which was delayed for a few weeks which is what I heard them saying in line. I had the Microsoft people come up and congratulate me and took my pic with the Surround 7 and Free Xbox 360 in hand. Like I said I couldn't believe it! Personally I stuck with Windows because I loved the phone and because of Windows Live. We've had cloud service before it was even called a cloud and dare I say first and get no recognition for it. I love when I logged in on WP7 the first time and all my contacts were there that I stored years before.

I was using a palm pre, running webOS. Was fantastic but got no support, then Leo appotheker went insane at HP. Now I have HTC Mozart and can't wait for my upgrade to get a Lumia handset.

Sony erricsson k790i-- Nokia 5230 -- Lumia 710.
This phone has got all I want. Bluetooth transfer is the only concern.
Intially wanted iPhone but its damn costly over here in India. Its about 850 USD. But now I have no qualms about not having it. Lumia 900 is not available in India.

I'm surprised that the majority are ex-iphone users. Why no option for Windows Mobile? I had a windows mobile 6 and a Blackberry for work.

Some crappy Samsung then I went to iPhone 2g then g1 then I went to nexus 1 then mytouch 4g then I fell in love with WP when I got my hd7 then money probe so switched to bb bold 9700 then went to prepaid carrier LG optimus v then went back to mobile with hd7 then got iPhone 4 then got htc radar 4g then got the lumia 710 4g the finally my lumia 900 :)

Ps I made 2 converts and working on a third

Had a Galaxy S2 for a month but didn't like Android and was bored with the iPhone so I just picked up a Focus S on October 2011.

Blackberry 8900>iPhone 3GS>iPhone 4>Galaxy S2>Focus S as my primary phone and iPhone 4S as a secondary phone.

my phone history is: Nokia 1260, various dumbphones including a K800i (I was a Sony Ericsson fan), Cingular 8525, Nokia e71x, LG Quantum, and now a Nokia Lumia 900 :D

Every couple of years I always ventured back to Nokia - amazing hardware, consistently!

LG v350, waited for Verizon to offer trophy, took toooooooo loong so I hooked up with mobile and HTC's HD7. Lovin' it.
Unless there is another phone with a kickstand in the back, I will keep this for a long time!

64gb iPhone 4S.. Yeah. I did it.

HTC Inspire which I loved and still like but sick of Android and the constant lag and 4 hour battery life. Really liking the Lumia 900 and the OS is fantastic.

what would present company say to an HTC wizard running windows mobile 5>Samsung Focus (1st Gen)?

Nokia E73...Have always thought they were the most aesthetically pleasing and most durable. Saw Lumia 710, knew it had me

iPhone 3GS & now htc TITAN.. It's very easy to use!

Just convered the wife from bb torch 9800 to Lumia 900 and she loves it. Plus got mother in law her 1st smartphone L900 also. I am still using my trusty Samsung focus that I got on launch day :)

I'm sure this has been pointed out prior (didn't want to read 91 messages) but this poll is horribly deficient, because it's missing Windows Mobile! That's a sin for this web site! I used Windows Mobile before my current HTC Trophy.

nokia n95 to 96 to 97 then htc desire, from there to HD7 x2 (first one went swimming) now Lumia 900. its such a sexy phone !!
Windows Central Newsletter
Thank you for signing up to Windows Central. You will receive a verification email shortly.
There was a problem. Please refresh the page and try again.