Wunderlist Windows 10 public beta app is now available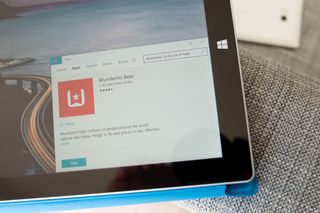 German-based company 6Wunderkinder, which was recently acquired by Microsoft, have just launched a Windows 10 beta version of their popular "to-do" list app Wunderlist in the Windows Store.
The version notes for the beta include what's new in the Windows 10 version of the app:
While the app is available for all Windows 10 users, it's still considered a beta, so there will likely be a few bugs. People who want to provide feedback back to the Wunderlist team about the app can do so by emailing beta@wunderlist.com.
Download Wunderlist Beta from the Windows Store (opens in new tab)
Source: Wunderlist
Let's just hope this trend continues. And a massive release in W10M RTM.

I can't wait for the day that bank of America comes back and Snapchat gives us love.

All banks. That is my main issue with the store. Other than that I honestly don't miss much. The wife wants the target app. Cartwheel/pinwheel or whatever it is called.

I really hope the interest in snapchat dies out eventually, it's a horrible app that didn't hang around long on my phone. Posted via the Windows Central App for Android

You know, I hope Microsoft acquires a company with some audiobooks or e-books. So they sell them at the store, that would attract more people. I heard some reviews and when store was reviewed some said books were needed.

I think going head to head against Amazon (who owns both spaces) would be a bit foolish. I think it would be more interesting if Microsoft came to an agreement with Amazon to distribute their digital books and ebooks through the Windows Store. Although the particulars would be far more complicated, one item Microsoft could look for in exchange is Amazon bringing their app catalogue to all Windows device types and have guaranteed feature parity with their apps on other device types. That said, I don't think this arrangement is likely.

I am thrilled with having the now excellent Audible app.
I think that it would be a mistake for MS to try to match every move that Apple or Alphabet make, just to be able to offer "me too" services.

Because they are different companies with different business practices. Apple likes to own and control everything its users touch; Microsoft has always had to work with companies like Dell, Hp, Acer, etc. Right now, it should collaborate with other big players like Amazon to offer an excellent consumer experience, helping boost the Windows platform.

Makes it all the more frustrating that t hey invested hundreds of millions into Barnes and Noble's Nook and then got nothing in return for it.

While their app is nice I'd never log in through their website. It wants access to all your contacts. Not for me and thankfully the app doesn't request that access.

Amazingly the mobile app wants your contact too! But this new Windows 10 one doesn't. Thankfully someone has realized people care about privacy. Let's hope they update the other areas where they do want contact info.

What do you mean? When you log in via Microsoft Account? Just create account via email address and you won't have to share anything.

I was struck by how similar the Wunderlist Beta and the Win10 Mail app look. Specifically in regards to Titlebar, Searchbar, and Menu. Unforutanetly, Wunderlist chose to follow the same pattern of using a titlebar with a similar but not quite the same color as the accent color found at the top of the app's interface. Search icon's orientation is mirrored to the one found in the Mail app #Win10Inconsistencies Additionally, I wish Wunderlist Beta alligned it's design more around the Dark and Light themes found in other Microsoft apps, gave users free reign over background selection (including the ability not to select one), and made better user of the user's selected theme color.

Wunderlist beta now is more similar to what is Wunderlist Desktop app it so beautiful the UI changed to Windows 10 from Windows 8 Next please MS
Give us Sunrise App

Wunderlist is my todo list. It has it all, reminders, assignments, tasks and task comments and so on. Just perfect.

Curious on the benefits of it over outlook/onenote.

Personnaly, I found it easier for those spontaneous "wait a second, I'm gonna write this" moments. Making lists on Onenote and Outlook just isn't as simple as "add and forget". Their exhaustive options can be overwhelming when you simply want to make sure not to forget to buy cat food with your groceries, or when you want to note how much sugar and milk Susan wants with her coffee.

Sell me on it: why should I use it instead of tasks in Outlook, To-do lists in Onenote, or reminders in Cortana? Frankly, I'm a little overwhelmed and confused by all the overlapping options Microsoft is providing here.

I assumed this would be rolled into the existing products. I am with you though, I want to know benefits.

Exactly: I just want it all integrated into one interface.

Wunderlist with its multiple list support, hashtag support, sub-lists, and small notes area make it a powerful service for organizing my unscheduled tasks. I keep general contexts as lists (@computer, @store, @home, etc.), projects as multi-step tasks, and hashtags for more specific contexts or large multi-project projects. It gives me the freedom to do all my tasks when I'm in a specific context (like @computer) or only tasks for a particular client or large project by filtering my hashtags.

Quite easy of a task. Wunderlist lets you organize your tasks as you please. You can even invite people to colaborate with certain tasks. You can create sub-tasks for asignments that need certain steps to be complete. You can asign specific tasks to people that you have invited over. You can even comment on tasks. I'll give you an example: Imagine you and your wife have a 'Shopping List' that both of you share within Wunderlist. You add several groceries to buy and asign Peaches to your wife because you can't make it and you know she can. You even add a comment to that item saying "Hey honey I can't make it today, job is taking longer than planed, please buy this kind of peaches" -and you add a picture to that asignment. Not only do you have much more flexbility with Wunderlist, you can do more than any kind of tasks and flagging in outlook. I just scratched the surface. Install it, it's free you will like it and be using it from then on.

Wunderlist needs to step up their game and sync with Outlook "Exchange" tasks, including Categories and offer more serious controls for the tasks. Wunderlist has a lengthy Uservoice list they seem to be making SLOW progress on.
Unless they want to be just a simple to do app?

I'm trying to decide which Microsoft task manager to use: Wunderlist, Outlook tasks, OneNote to-do lists, or Cortana reminders. Which is the best and why?

Wunderlist fits the bill for those who don't want everything consolidated. You just do lists. You can share the lists. They have alarms, sub listed, notes on lists. It is clear, easy and straight forward. The nice thing is it does synchronize with the , so it isn't completely isolated. For me, OneNote and Wunderlist occupy two different needs very well.

I agree. Onenote is much better suited for long, elaborate course notes. Wunderlist is about quick, simple to-do's and lists. You could argue Onenote is to Word what Wunderlist is to Notepad.

As far as I know Outlook mail and calendar doesn't have tasks, so Wunderlist has that ability over it (especially on mobile). Does OneNote do reminders? For me that's one of the most important parts of any task manager.

Lately I'm using a combination of Trello and Cortana for task management and reminders. I use OneNote to store all sorts like my receipts, and to do simple todo lists that don't need managing between different states, and of course for all my meeting notes or other useful or interesting snippets from around the web / real life (as pictures, or board notes using OfficeLens)

Inb4 "this came out two weeks ago" comments

Is it available for Windows mobile as well??

Yes, Wunderlist is available for Windows Phone 8.1. I don't know about 10.

I'm talking about wm10 :/
Thanks though

Was hoping once Microsoft bought the company, they'd provide the option to integrate with Exchange Tasks. No such luck... because we all want as many different services for Tasks as possible.

The beta is not working on mobile :/

The best app for office combo with Sunrise App
Windows Central Newsletter
Get the best of Windows Central in in your inbox, every day!
Thank you for signing up to Windows Central. You will receive a verification email shortly.
There was a problem. Please refresh the page and try again.