WWE 2K15 coming soon to Xbox One and 360, gets a hard-hitting soundtrack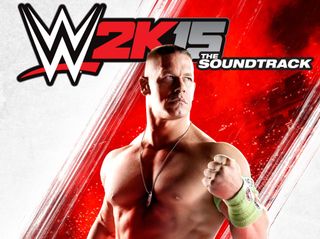 Sure October is the month for scary games, but plenty of non-spooky stuff comes out this month as well. You could just as easily call it the month for sports games, with NBA 2K15 already released (review coming tomorrow!) and EA Sports NBA Live 15 on the way. WWE 2K15 will arrive on Xbox 360 on the 28th (followed by Xbox One next month), so we can add sports entertainment to the list as well.
To help get wrestling fans excited for WWE 2K15, 2K Sports has just revealed the track list of the game's soundtrack. You'll find 12 licensed songs in-game to set the mood for punches and suplexes. The official WWE 2K15 soundtrack album features 8 of those songs, plus two exclusive tracks from John Cena and Wiz Khalifa, which is apparently a name and not a urinary disorder. The whole soundtrack was curated by our man John Cena, who happens to be a successful rap artist when he's not busting heads.
Read on for our full game preview and the song list!
The songs of WWE 2K15
Soundtrack album
Big Smo – "Workin'" (Feat. Alexander King)
B.o.B – "Ready" (Feat. Future)
Flo Rida – "Wild Ones" (Feat. Sia) [WrestleMania 28 Version]
Knife Party – "Bonfire"
Mystery Skulls – "Ghost"
Royal Blood – "Come On Over"
Rudimental – "Free" (Feat. Emeli Sandé & Nas)
Wiz Khalifa – "We Dem Boyz"
Wiz Khalifa & John Cena – "All Day"**
Wiz Khalifa & John Cena – "Breaks"**
The John Cena songs are exclusive to the album and won't be found in-game. The album is currently available for preorder at iTunes (sadly not at Amazon, my preference). Preorder and you'll get the two exclusive tracks right away.
In-game only
In addition to the 8 non-Cena songs above, you'll hear these four songs in-game but not on the album:
Avenged Sevenfold – "This Means War"
Dizzee Rascal – "Heart Of A Warrior" (Feat. Teddy Sky)
Florida Georgia Line – "This Is How We Roll" (Feat. Luke Bryan)
Rise Against – "Zero Visibility"
New wrestling systems
WWE 2K15 is a big deal because it marks the first time in years that developer Yukes has gone back to the drawing board and dramatically upgraded the game's wrestling engine. One of the big changes is an all-new chain wrestling system. Players can initiate a grapple with the press of a button, at which point both sides can press one of three buttons to initiate a different type of move. These moves have a paper-rock-scissors style balance, giving both players a chance to come out on top of the grapple. Each combatant will then rotate the right analog stick as they attempt to find the sweet spot and pull off the intended move (or escape).
The new stamina meter affects each player's performance as well. Running and performing various moves depletes your stamina meter. As the stamina meter depletes, speed decreases and moves become harder to perform. Let the meter run all the way out and your wrestler will be too exhausted to pull off finishing moves. Stamina refills between moves though, so a little evasion and rest will keep your fighter energized and on his or her feet.
Wrestling modes and AI
Computer AI has also been improved in this year's game. Wrestlers now behave more like their real-life counterparts. Larger wrestlers can't do things like climb the turnbuckle that they couldn't do in real life, while smaller and faster characters won't bust out power moves uncharacteristically. Having recently enjoyed the excellent AI racers in Forza Horizon 2, it's great to see Yukes and 2K Sports striving to improve their wrestlers' AI as well.
Finally, the game will offer a couple of new or revamped modes: MyCareer and 2K Showcase. The former allows players to create their own Superstar and progress through his or her career. MyCareer is similar to the equivalent mode in NBA 2K15, and will be exclusive to Xbox One and Playstation 4.
The 2K Showcase mode is a story mode focused on wrestling history. The mode will feature 33 matches, all based on real-life events. It centers around John Cena's rivalry with CM Punk, but will also include matches with other wrestlers.
WWE WK15 will first debut on Xbox 360 and Playstation 3 on October 28. The Xbox One and Playstation 4 versions (which both run in 1080p at 60 frames per second) will follow on November 18. The new-gen versions will also be available in a deluxe "Hulkamania Edition."
WWE 2K15 – Xbox One – $59.99 – Amazon Link

(opens in new tab)

WWE 2K15 Hulkamania Edition – Xbox One – $99.99 – Amazon Link

(opens in new tab)

WWE 2K15 – Xbox 360 – $59.99 – Amazon Link

(opens in new tab)
Windows Central Newsletter
Get the best of Windows Central in your inbox, every day!
Paul Acevedo is the Games Editor at Windows Central. A lifelong gamer, he has written about videogames for over 15 years and reviewed over 350 games for our site. Follow him on Twitter @PaulRAcevedo. Don't hate. Appreciate!
Those graphics look pretty excellent.

Yes, your comment is lame.

They still haven't showed much of the game and it's right around the corner this is ridiculous

No Linkin Park.. I call this bullshit.

So not impressed with Cena and the rap stuff for this game. I'll definitely be buying this though. Just wish I could get someone else on the cover (I'm so SICK of John "Superman" Cena).

On 2K14 we had The Rock which is actually awesome

And before that, it was CM Punk. Cena hasn't gotten in the cover for years and years. The "Superman" remark is just overused and lame. Without him, WWE wouldn't be where it is now.

Cannot wait for this game!

Skin textures look more realistic on Day Of Reckoning 2.... :) Good ole ATI GPU in the Cube was punching above expectations.

Can't believe people still watch this crap let alone play it. To each his own I guess.

Actually, it looks a lot better under 2K. Cena is my favorite too, so I might just get this.

Cena doesn't give a crap about your opinion though.. You suck.

cena still has the best physique

How about we talk about the real problem .... The sad excuss for an app that the WWE has right now for windows and windows phone!!! Why haven't they updated that to the latest version to support the WWE Network. Just about everything else can stream the network.

Yeah, that does need to happen.

Will it also release for PC?