Xamarin expands global partnership with Microsoft, announces free edition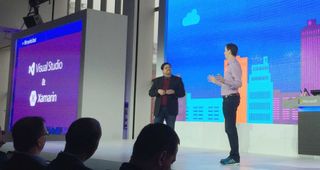 At the Connect() event in New York City, Xamarin extended their partnership with Microsoft and announced a new set of offers for developers. Xamarin enables development of cross-platform mobile applications targeting phones, tablets, and embedded devices running on iOS, Android, Mac, and Windows.
Connect(), a developer event hosted by Microsoft outlining the company's next steps with their developer tools and application platforms, was branded as a cloud-first, mobile-first, developer-first, virtual event. At the event, Nat Friedman, CEO, Xamarin and Miguel de Icaza, CTO, Xamarin joined Microsoft executives on stage and talked about their partnership.
The company executives shared that after launching the partnership with Microsoft one year ago, they've reached over 20,000 companies with Xamarin's platform. Taking the partnership to the next level, the company announced a free Xamarin Starter Edition for Visual Studio users. Earlier in the event, Microsoft announced a new, free edition of Visual Studio —Visual Studio Community – and the freely available Xamarin Starter Edition will work with Visual Studio Community. Also, the size limit on apps that can be created with Xamarin Starter Edition has been doubled allowing developers to build even more capable apps for free.
Xamarin also announced support for the Visual Studio 2015 Preview release. The preview version includes Xamarin templates that make it easier to discover and download Xamarin from within the IDE. Also, Microsoft is now including templates for building iOS and Android apps with Xamarin directly in Visual Studio 2015.
To round off the announcements, the company shared that they've worked with Microsoft to create a special offer for MSDN Subscribers. Visual Studio Premium and Ultimate MSDN subscribers can avail a 20% discount to purchase Xamarin Business or Enterprise Editions, or mobile development training with Xamarin University, available up to 60 days after the Visual Studio Purchase.
If you are an app developer and have been thinking of trying out Xamarin, this is a pretty good deal. Also, the friendly folks at Xamarin have asked developers to write to them to extend their expired trial period to another 30 days to explore the new features.
Source: Xamarin
Windows Central Newsletter
Get the best of Windows Central in in your inbox, every day!
Hang on bro! I know! I know!

*buys visual studio ultimate edition*

Dude, Visual Studio Professional 2013 is free now. Buy something else with that wallet XD

You're right.....hmmmm........a new Lumia 1520 green might be the one.
+930

I love mine with a32gb micro SD for now, soon to be 64gb

That much? I only filled half of the memory with apps half pf whitch i dont use regulary.

I have a 920, and the system took 7GB of space *angry grin*

19 GB still free here ;D.
But 2 of those are "others"

8gb of apps ,1.1 Gb of photos, 2gb maps, music and all +4gb system=16gb. More than enough for me.

2.4 apps, 5.4 photos/media

Others 2gb? :o ihave 225mb what do you hace there pall? Lol

Cleared storage, 1.9 now. Not sure why I have so much though.

Cleared storage, 1.9 now. Not sure why I have so much though.

Must be some odd files from previous installations or config files or all sort of stuff.

Its a flaw with the OS. But I don't know what exactly they are if they could be read. That's alot of .txt or code for nearly 2gb...

That's a TON of error logs if they are. 0_0

7 woah...4 gb max for me.

I have a Lumia 920 (32 GB total), also, and I am loving the OneDrive for my photos. Haven't filled my phone, since I started using it. Something my two sons need to start using to save memory on their Lumia 925s (16 GB total). Might replace theirs with the new Lumia 830, which have same to better specs, and expansion memory slots than the Lumia 920, minus NFC, but has wireless charging.

Now thats a cool dad!! +930

Wait, the 830 does have NFC. I think I just misunderstood what you wrote.

I really hope that this will bring more apps to Windows phone as developers can make apps for other oses from the same kode. C# is far better then java 6 (used for Android development).

You would be SHOCKED if you knew how many app's on Android actually used C# with Xamarin currently.

Well, my turn... 254473744646380000000

Perfect!, been asking them for a year for a cheaper version that works with studio!! Cheapest license with studio support was 1000$ a year. I was at the event too! Still a very weird story around Cordova vs Xamarin. Good that everybody is partners and we have choice, especially for indie devs. Lucky for devs xamarin just made that choice easier.

I feel some envy if you are actually attending the Connect(); event. Kidding! I hope you are enjoying it.

Just yesterday in NYC. Had lunch with Miguel last year, this year he is VIP and up on stage!

Sounds interesting. I wasn't planning developing cross platform, but with that, there really is no reason not to...

Testing on ios still needs a Mac. It isn't exactly a no brainer as you don't get to use 100% of shared code across all platforms... While the droid/ios APIs are wrapped for xamarin, there is not a common abstraction to access them in the same way like with Cordova. But many barriers are gone :)

Luckily, the Mac isn't an issue for me. I guess I have to have a look at Cordova too then, sounds quite interesting.

You can also use a virtual machine, which is what I do. It works very well and I have no issues.

A good reason NOT TO is the license price for a useful edition of the Xamarin IDE.
I've been to a demo by them some months ago, got really hyped up from what I saw, and when I checked for the price I almost sh*t my pants.
There's (almost) no way an indie developer could cough out this amount of money they're asking for - hell, even a small company would have to think twice before spending so much just in order to be able to develop cross platform (and even then, only about 70% of the code is actually cross platform)...
It's easier just to commit to a certain platform than having to buy such an expansive solution.

Would the new free version they're offering up in partnership with MS be enough to develop an app on? Or is it more a teaser?

There is actually an indie license now that is 25 bucks a month, pretty affordable I would say. https://store.xamarin.com/

Its not exactly winRAR, but I agree.

Sounds really good especially for small development groups.

MS it's being smart on this. Anyone seen that too?

Finally!!! THANK YOU VERY MUCH!

Just buy them, Microsoft, then give me the full version free via MSDN. $13k/yr subscription gets me 20% off... Great.

I have a Indie grandfathered business Xamarine licence, so get Business licence for $120. So it is not clear what the Apps developer limits apply on the free community edition. I have been happily using Xamarine to develop Android Apps in Visual studio, the sweet spot for any development. But I am confused as to whether I should stump up next licence payment, if I get all my capability with free version ?

What's difference between the new Visual Studio Community and Xamarin?

Xamarin is a plugin to visual studio, the past visual studio express version did not allow plugins. The past free version of xamarin did not support visual studio.

oh god no, pls not another JAVA, that freakin nightmare for lazy devs to spread absolute crap across operating systems

Xamarin uses .NET and C#/VB.NET, not Java.

This is all great and dandy but now my job is forcing me to swap my 8.1 phone with a Droid or iPhone. To late sadly for app support. Good luck to all of you that are holding on.

I don't get it correctly. When I create new projects(iOS, Android) in VS 2013, and try to build, Xamarin says, I need a Business Edition to build. So These things goes away with free version now? Can I use that template and API from xamarin for free to build iOS and Android in VS 2015? Am I Correct or missing something?

I missed this too, read the official announcement. free "later this year". I watched it live and didn't catch this. You can sign up for one month trial and maybe it will be free by the end.

It's nice, but even double the size is still very small for any real project, but I guess they are not a charity.

Xamarin has done amazing stuff to turn MSFTs thinking around. And its a perfect match. MSFT want to be a software company with apps running on every platform. Xamarin want to allow C# devs to great beautiful apps with for iOS, Android and Windows. I'm glad this news finally made the pages, here.

Great news... So how much dollars do we need in total so we can publish our programs to iOS, Android(is this one free?) and Windows/WP etc?

It seems xamarin also has a special deal for startups (company of les than 3 years) or companies with less than 20 employees.

I was just thinking about .net 5 been cross platform now, its the first step to ms include some other tools in visual studio and make xamarin/mono useless. Am i missing something? At Build i herad some rumors about ms buying xamarin, but seems it stepping over them, despite the partnership, as usual.

Come on Microsoft, just buy Xamarin already, you know you want to. Back up that brinks truck In all seriousness though, this is awesome news

Important tidbit of information. Xamarin for VS is not free YET... Later this year :/. Found that out after an hour of installing 2015 and xamarin

Great news. How would you get use of Xamarin Forms with the Start Edition - would you then have to buy a licence?

That's a good news for what I was waiting for some time!

Offer is rubbish. Xamarin offers 20% discount now to anyone. Just say its too much for you and they give you 20% off... So basically they are giving nothing more to visual studio community. Even than its expensive, but also great if you don't want to deal with java or objective c.

Being a C# developer for more than 15 years I was impressed with Xamarin's effort. But due to sofware price plus the updates payment I dont like it. I tried another option to swim Objective C and of course Java which is very simple like C#. It turned out that it wasnt that bad.
Windows Central Newsletter
Thank you for signing up to Windows Central. You will receive a verification email shortly.
There was a problem. Please refresh the page and try again.