Rumor: Xbox Game Studios building 'reboots,' 'gorgeous fantasy worlds,' and 'big sci-fi' for future Xbox games
A noteworthy insider recently offered some tantalizing teases about what could be on the horizon for Xbox Game Studios.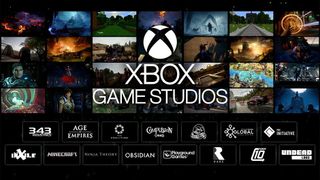 (Image credit: Microsoft)
Microsoft's Xbox has enjoyed the power advantage over PlayStation for quite some time now, but in the world of gaming, that alone simply isn't enough.
Microsoft has been playing catch up to Sony's increasingly potent stable of high-quality AAA games, with titles like God of War, Spider-man, The Last of Us, and many others achieving widespread critical acclaim. Microsoft's Xbox Game Studios have been on the back foot, to some degree, with only a handful of titles like Ori and Forza Horizon achieving unanimous praise.
We've written previously about how this needs to change for Xbox's long-term future, and noted that Xbox Game Studios is well-positioned to improve the situation. Microsoft is investing more in first-party content than ever before, and we're beginning to see the fruits of those efforts in the teaser trailer for Hellblade II, which looks phenomenal.
What about other games though? We have no official word on what The Initiative, Playground Games' RPG team, or The Coalition may be working on next, although we have some pretty good guesses.
Noteworthy insider and all-round lovely chap @Shinobi602 recently offered some small teases about what Xbox Game Studios fans can expect in the future from the teams at Microsoft.
For what it's worth, there are some long-standing rumors floating around that Playground Games' is working on a big reboot of Microsoft's dormant Fable RPG franchise, while some others suggest The Initiative may be working on the Perfect Dark IP of Rare fame. Phil Spencer has also recently commented that he'd like to explore MechAssault again, despite the potential issues with franchise rights.
Either way, we could be waiting a while for any of these titles to materialize in full, perhaps even longer given the way most game developers are currently working from home, impacting productivity pipelines across the entire industry.
E3 2020 may be canceled, but Microsoft is planning a digital event to showcase some of its upcoming content, so hopefully, we'll see some of these rumors coalesce into reality sooner, rather than later.
Related: Everything (we know) Xbox Game Studios is working on
Windows Central Newsletter
Get the best of Windows Central in in your inbox, every day!
Jez Corden a Managing Editor at Windows Central, focusing primarily on all things Xbox and gaming. Jez is known for breaking exclusive news and analysis as relates to the Microsoft ecosystem while being powered by caffeine. Follow on Twitter @JezCorden and listen to his Xbox Two podcast, all about, you guessed it, Xbox!
Fantasy worlds strikes me as referring to RARE's next project.

I really believe the coalition is rebooting perfect dark and the initiative is making a new IP. Imo, XGS needs just one major new studio in Japan. Whatever happened to the old leader of team ninja?

Wasn't Phil that said The Initiave was working on old things and new things? Or was that just a rumor?

MechAssault yes please!!!!

He specifically mentioned it was an ip that they weren't working on, unfortunately.

I wish they would come up with a licensing deal with Nintendo to release the remastered Goldeneye 64. Xbox already releases some of their titles on both Switch and Xbox so I feel like this would be a no-brainer. The game is already completely done too, all they have to do is agree to publish!

Remastered goldeneye?! Where?! On the switch? I'll order one right now

It was developed for the Xbox 360 as an Xbox Live Arcade title just like the remastered Perfect Dark 64. It was canceled at the last minute because Nintendo wouldn't agree to a licensing deal. https://www.theverge.com/2016/8/24/12620640/goldeneye-007-xbox-remake-video

For me, and this is 100% no, I'd like to see them make Sunset Overdrive, but without the rail grinding. The art style was superb, but having to bounce and grind just annoyed me. Hellblade 1 was so atmospheric, seriously a hugely engaging title. I didn't like the mechanics, and struggled with it, but it was beautiful and the audio was great. I've said it before, but I'd love them to bring back ReVolt. A battle racer from the Dreamcast and OG Xbox. Sunk weeks into that game. Never understood why the Rocket League guys don't do one, they have the vehicles, just add a track and weapons. Be interesting to see how the new Fable turns out. Also, bring back Xenon 2.

They gave Sunset Overdrive's rights to Insomniac when Sony bought them, sadly.

Dang, wasn't aware of that.

I know it will never happen, but a full Series X reboot of "Crimson Skies" using an advanced engine like the latest Frostbite would be drool-worthy.
Make it a MMORPG with clans and nations and crafting and it would be fantastic. Massive air-ship battles, boarding opposing air-ships to take them over, land battles, train-heists, military opposition to the clans, etc.
sigh.......a guy can dream can't he?

Sky of Thieves? Lol. Crimson Skies was well thought of.

With so many studios now this is expected. And literally all of them are now working on Series X games. This guy is actually an incredibly good leaker. Nearly always correct. I'm totally guessing here, but I think fantasy means a Fable reboot. Perfect Dark reboot also sounds highly possible. I also think Halo Infinite is a big reboot for the series. Especially with leak awhile ago about a screens hot of Halo which got removed quickly showing a way point that was 60.5 km away. The rumour that the entire Halo ring was the game world. Much like the first game for Halo. But instead of levels a living breathing world. I also think we will get something before the E3 digital event as well. Whether that is more graphic demos from developers. Or full insight into how Velocity Architecture really works with BCPack. MS are at the stage where they can just show games and more games.
Windows Central Newsletter
Thank you for signing up to Windows Central. You will receive a verification email shortly.
There was a problem. Please refresh the page and try again.