Xbox Music update for Windows Phone restores ability to buy individual tracks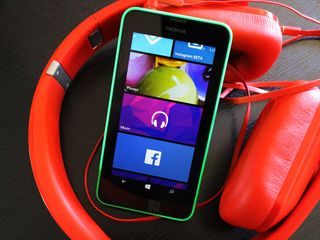 Microsoft has rolled out an update to Xbox Music today that brings with it a number of notable fixes, including the ability to buy individual tracks or songs that was removed after the update last week. Microsoft advises that updates to the app will be less frequent now as the team will be working on new features that will be coming to Windows 10.
Here are some of the fixes that the Xbox Music update brought:
Thirteen of our top unexpected app exits (e.g. playback during sync, changing filter with selected songs)
Album and artist art issues:

Some local tracks not showing album art in Now Playing
Album art flashing while shuffling large collections
Background artist art flashing
Inconsistent display of album art when offline
Local or sideloaded albums not showing album art in Recent Plays

Content sync interruptions causing all future syncs to fail
Deleted songs don't always get removed from your collection
Unable to playback albums in certain circumstances
Inconsistent sorting of songs that start with an article (e.g. "A")
Thanks to everyone who sent in this tip.
Source: Xbox Music
Windows Central Newsletter
Get the best of Windows Central in your inbox, every day!
Chuong's passion for gadgets began with the humble PDA. Since then, he has covered a range of consumer and enterprise devices, raning from smartphones to tablets, laptops to desktops and everything in between for publications like Pocketnow, Digital Trends, Wareable, Paste Magazine, and TechRadar in the past before joining the awesome team at Windows Central. Based in the San Francisco Bay Area, when not working, he likes exploring the diverse and eclectic food scene, taking short jaunts to wine country, soaking in the sun along California's coast, consuming news, and finding new hiking trails.
Ugh this app just gets worse and worse. :(

No matter how many times they are going to update it, this app will always be crap until they make it native.

Completely disagree. There fact that carriers control OS rollout approvals, Microsoft used forced to decouple native apps so bud cab be fixed and newer features can be added. Trust me, there were a shit ton more issues with the Xbox Music Hub. As the fact that stupid do not have native access to all OS level features like native apps do, they had to rewrite a lot of the app.

Bud= bugs. Plus, this update truly fixes album and artist art not bring displayed correctly and the art flashing.

Its good for preview. Improved a lot. If you aren't preview, you'll find it soon in official.

But why is mixradio so good??!! And it is not native to the OS. The Xbox music team maybe needs better devs??

Conversely, I've noticed that the ratings have changed from 2 stars to 3.5 since recent updates.

I couldn't update Xbox music app for 5-6 times now.

Couldn't update?!? What does that mean?

I get weird errors. 5-6 times means every new updates app has received. Been months now without updates.

Double check to see if it is pinned to kids corner, that was keeping me from updating, I was getting error codes. Once I unpinned it, it updated right away.

I had the same problem for a couple of months, where no matter what I did the music app wouldn't update. Eventually the music app stopped working completely. I suggest giving it a week of trying to update the music app, if it still doesn't update after that; do what I did and reset you phone back to factory default.
(also how big is the data usage on your music app, I found that my music app was using 600mb of storage space on my phone which definitely meant something was wrong).

That's good to hear. I might do factory reset as well. What so you mean by music app storage space? I have music in locally not through clouds so it doesn't use any data.

Yes I mean storage space. I also don't believe in using cloud storage for my music haha. Call me old school.

So, they're adding bug fixes to art display and you think that's for the worse? I'll have to disagree on that - I think it's great that they're doing something about a problem that's been bugging a lot of people! Next I'd like to see seamless track transitions and faster loading of album track list...

Faster loading of album track lists when viewing content in your collection or the store? Or both?

They said that they're working on it with the aid of FLAC, but in the win 10 version not for current version of OS, and thus we'll see less updates, probably 1/month.

The word part about it is its actually waaay better on android. Just the way it looks and the UI is much better on Android. I miss the UI from 8.0 which was more in line with the Xbox

Actually the app keeps on getting better... It's very fast now.

Syncing and managing tracks in XBM is still painful. We told them at the time via the 'Master List Of Issues' thread and they promised to sort it out. These features were messed up over two years ago and never repaired.
Please add your support to the uservoice suggestion to sort it out:
http://xboxmusic.uservoice.com/forums/209733-xbox-music-suggestion-box/s...

LOL that is such a weird thread. Its mixing up issues into one conflated mess. For example: >Streaming music on a mobile is expensive and unwieldy Hell no it is not. I have literally spent the last 4 to 5 years of my life streaming in various places like my car, trains and the gym - via Xbox Music, Spotify and Nokia Music. They all work. I also sync my Xbox Music playlists, collection everything on my Xbox, my Windows Phone and Windows Desktop and Suface. One of the reasons Microsoft is my chosen eco system is the ACTIVESYNC -> IMAP or ICAL and all that sh*t. ACTIVESYNC for calendar and email and contacts works. Its been tested to oblivion in most Enterprise IT shops for nearly 2 decades. Xbox Music sync is the same. I have bullet proof syncing everywhere on all my MS kit - its why I love it so much. The days of buy / managing FILES on local PCs is trying to "push sh*t uphill". The world has moved on. Stream or sync from the cloud as the central point. DVDs / Blueray and physical media is a thing of the past. This like when Jobs removed the floppy disk from the first iMac. Everyone whined. Wind the clock forward 17 years, and boom my kids don't even know what a floppy disk IS ! (and thats a true story, my eldest kinda knows) I absolutely love the Xbox Music app on Windows. And try this. Use the Cortana or BING search to grab a song out of the air. When you get home start the Windows 8 Xbox Music app, it will find and sync those discovered tracks right into your collection. Its amazing, its powerful, I love it.

And in countries where streaming is prohibitively expensive? Or for folks who want decent quality files? Or where Cortana and Bing aren't available/MS don't invest in making accurate?

Wow. Fortune 100 can't get the simplest of features in?

I made a thread about this earlier! Glad to see it fixed.

The update seems to have fixed the popping sound when skipping tracks, and more artists images are showing up. The startup time still needs work though. The old music hub launches way faster.

A new Music app for Windows 10, again. Better not be broken like the initial release with 8.1.

On wp 8.1 xbox music and xbox video apps were in beta stage and ended in beta. Lol

It took them months to make it usable. Haha

And they are Microsoft... Just give it to Rudy Huyn...

Right... Just like that crappy lock screen app he developed...

He was involved, but it was not solely made by him Alone or majority by him.

That and Music app will forever be in BETA. Oh wait, forgot Instragram. Haha

Even Rudy's 6stag is not working properly. Haven't got a single notification from that app. Many times i have mailed him but no response from him. Tried reinstalling many times.

Yeah... I'm starting to think he gets to much credit. Many of his apps have sat un-updated forever...TVSHOW!

Ditto! No notifications in 6snap for ages, and TVShow is buggy as hell. I understand he's a nice hero figure right now, but there are devs who are more dedicated and output work of a higher quality than him. Not to put him down, but he's not Jesus and I'm sure he never wanted to be seen that way himself.

LOL
Rudy can do no wrong for so many, they ignore things like that.

or just replace it with VLC haha

I wonder what Microsoft will do if Windows 10 isnt the panacea they seem to be hoping it will be. Judging by their fumble with the Mclaren they probably dont have a Plan B so will they completely implode, since they are incapable of producing even the simplest of software? Will be fun to watch that fire burn. :)

Implode? The largest software company on the planet? Do you realize what an idiot you sound like? They will be just fine and Win10 is looking superb.

Well, the track record on the music experience isn't great is it?
WP7 > WP8 > WP8.1
Will WP10 be better or worse than any of these? I'd like to be proven wrong, but my money is on worse I'm afraid. They have had no decent vision on the music experience since the crazy decision to flush Zune down the drain.

Zune HD > WP7 > WP8 > WP8.1 Totally agree, no vision with Xbox Music. Could they just copy/paste Zune HD Music Player, make a Zune Live Lockscreen, and merge the Music into Windows Phone Store? Is that so hard :/

I would bet anything that it will be even worse on W10. It has gotten worse every time since WP7, WP8 and now WP8.1. The XBM team is incompetent.

Xbox apps gets worse, and they get updated too! O.o weird!

Removing a feature and then adding back it again won't be called an update and when they don't get anything they just update it with bug fixes. It have been about 6 months but still default music and video app are not upto the mark.

it is because you use wp or windows like I do. MS don't care too much for wp and windows users and do care for ios and android so ios and android user can have better apps and service from MS but wp and windows users are dumped by MS because they have to do mobile and cloud first.

Android and ios is where the money is, Microsoft is like any other software company as absurd as that may sound :P.

Holy crap. Where have these effing morons come from? Looks like we need to get the place fumigated.

Just pick up a Moto g for $39 and give Android a try. I swear I barely use my 1520 now and Xbox music actually works on there

On Android, Xbox Music is no replacement for the Play Music app. It works about as good as the Music app Windows 8.1, but you still can't buy music thru it. Posted via the Windows Phone Central App for Android

@Thelawnboy Yeah! Your Personality Stinks the most. Fumigation is essential here!

I like how they are slowing down the apps dev even tho it needs all the help it can get. The app is still bad Mircosoft.

Slowing down dev for this app, ramping up dev for the Windows 10 version, understand?

Thank you ole wise one, what would we do without your supreme intelligence?

Makes sense for them, but not for us. Sucks for us.

Are there any bugs blocking you from using the app, lippidp? Looking for specifics...

Yes. I haven't kept a log, but thinking off the top of my head it crashes sometimes, slow to resume, confusing for me to navigate (not a bug per se), can't read the entire title of tracks with long names, scratching noise in between tracks, doesn't seamlessly play tracks that don't have pauses between them. It is mostly good and I am mostly happy. It's just that the items above seem like such basic functionality for a music player that it's just sad that they are missing here..

Scratching sound between tracks? As they playback or when you skip tracks?

Either. It is not every time, but the majority of the time. Perhaps it's a firmware issue or something specific to the 1020 - I don't know. I think it was introduced after the WP8.1 upgrade, but I'm not totally sure about that either. I think it is also only when using the headphone jack. I don't think it happens when using Bluetooth, but again I'm not sure. I never took the time to document or test it. If you're on the Xbox Music team let me know and I will do my best to work with you to find the root cause.

This has been in the app for months. Between any two tracks (not skipping) there is a "crack". Like static. It's so bad as to make listening with decent headphones actually painful experience. Let alone pleasurable. It came with 8.1... And wasn't there before.

Yep, it still does it on mine too. Do people who have this problem mainly listen to music locally on the device (as opposed to streaming)? I never use streaming and get the cracking. Forget gapless playback, I would like at least crackless playback.

No streaming here - there's no way I'd give MS any cash for a pass until they could demonstrate the app could at least play local music error-free. But now they're leaving it broken and moving on to 10. Sigh. And I may have been wrong earlier, I think it was there before 8.1.

I had heard reports of the cracking with WP8 because I remember not having the problem. For me, I'm pretty sure it started with WP8.1/Cyan, which was the official ATT deployment (I am not in the Dev Preview program). I, too, use only local music. I have also noticed a similar, but different, cracking noise while fast forwarding videos and using the built-in speakers.

Either way, for me it came under the "not of merchantable quality" banner, so my original 1020 went back to the retailer for a refund. They can't sell an audio player with such a glaring defect. It's the same as if the screen didn't work - it's not fit for purpose. So I got my cash back for that one :D

I just tested and the cracking does happen when using the built-in speakers. Something weird just happened unrelated to the cracking: One of the albums I downloaded a few days ago now is missing most of the tracks. They were there earlier today. Now they're gone.

Well, it is the time of year for turkeys.

I just tested with my Nokia 360 Bluetooth speakers (which are killer, by the way) and there is no cracking. Missing tracks reappeared after I killed Music and reopened it, but I had to redownload those missing tracks. I only recently started downloading music since getting the Music Deals app, so I don't know if this is a known issue. All my other music was copied manually using Windows Explorer from tracks previous ripped from CDs via Zune.

My understanding is that BT audio is handled differently (hence the equalizer settings aren't available for BT audio playback). The cracking is apparent on the 3.5mm jack. Which led me to suspect some sort of hardware/firmware issue I was hoping Cyan would fix. So I waited for Cyan. And waited. And waited. Then it came. And the problem was still there. So it got sent back for a refund.

It definitely started with 8.1 for me, had no issues before that. It also happens every time you use the seek bar as well. As you say, a standalone music player with the problems this has would be unsellable. Simple as that.

For those of you who are reporting the cracking sound between tracks, please confirm your phone model and carrier. We're investigating this issue and believe we have it isolated to specific phones but want to be sure. Thanks!

Nokia Lumia 1020 RM-875_apac_australia_new_zealand_222 Not carrier-supplied/locked, but it if matters, that handset's currently got a Telstra SIM in it.

NOKIA 909 (aka Lumia 1020) AT&T. I am so happy you're looking into this!

Nokia 920 on AT&T. XBox music used exclusively for local tracks, no streaming. Static between tracks is actually part of the last played song. 50% chance it happens between songs. Internal speakers or headphone jack doesn't matter. Started with the developer preview. Firmware updates have helped but not eliminated. running Developer Preview 8.1 update OS: 8.10.14203.206 Firmware:3051.50009.1425.2001 Would love this fixed. Huge music fan and am swaying out of Windowsland because of all these issues. Good job on the artwork tho. I like the background images on the live tile working

Streaming works perfect here and I do not have music pass. I took the promotion for 50 albums and downloaded five albums I liked and they appeared on my 1520 without me syncing. They were under streaming and not on my SD card. This is a nice update so far. All my album artwork is working although custom artwork does not appear in the background or on the home screen. I'm going to look into the albums I purchased from the XBox music store and locate the tag id to see if I can figure out what tag they are using to put the artworks so that they show up in the background and on the home screen. I would give this update a 3.5. I have no noise between tracks reported by some of you and honestly... I don't really have any problems other than features I would like added back to this app.

It's reproducible on any 820. It's part of the gapless playback mess, top-voted item @uservoice. When I get my new 830 next week and it's absent, then it should be a driver problem. I didn't try bt, but the scratch is there in any case. If you resume the app, the timescale freezes in. Still no Dlna (client), which IMO is such a basic function. No lyrics. Still a lot of work.

This update hasn't solved jittering of now playing list on my 925. Wth! Hope the fix coming soon(?) for 925 & 1020 address that.

Why is a simple thing like "recently added" list not implemented. Remember all those free albums we got on black Friday I still haven't listened to most of it cause I can't find it or remember what I downloaded :(

This is exactly what I have been asking for since day one. Finally someone else realizes this! I don't know why they haven't done this. It's a common sense feature that they can't seem to get right!

It's because these dumb asses still haven't brought back smart playlists. Again... People need to be fired for this mess. There is no vision as to how this should work. It appears those at top have not given any guidance as to what this app needs to do, because they constantly are working on useless crap instead of the main missing features. And this is without mentioning the fact it runs like a pile of dung.

I already gave XBM tips on how to add features/ functionality with this app. Add a drop down arrow/ menu at the existing recent plays so we can select recently added/ top played/ most liked etc. But until now, I dont see any new features.

Maybe in Win 10 version? They said they're working on Win 10 XBM app, so less focus on present OS supported app.

I submitted this suggestion three months ago tho.

Normally I would be fine with you saying that but the thing is that they have been updating this app for months. Hardly ever do they add new features. All they do is fix bugs and undo the changes they made such as bringing back the option to purchase individual tracks. A recently added feature should have been there from the start.

Same here. I grab lots of albums at a time (usually I hear an artist on Pandora, Xbox Radio, 8tracks) and then download their latest album. But half the time I can't remember who they were.

Albums still display alphabetically rather than order of release = still broken.

I'd rather have it sorted by date added... = not broken just because its not to your preference.

Lots may prefer alphabetical list rather than age of album, for easier location... Most, probably! Still, I think it would be nice to have the option - shouldn't be too hard to add a toggle...

Yeah I prefer it alphabetical. Who remembers what was released when though.

I think the idea is albums of the same artist could be in order of release.

Now under "get music" if I tap on "top music" there is nothing in there, anyone else getting this?
Edit... Actually it does come up, just takes ages before they appear. But only as an ugly list. Why not show album art? This is by far the ugliest music app around.

Odd. Mine appeared (in a list) in under half a second.

Give us OneDrive music locker access already!

If you read between the lines, that's coming with windows 10 as a feature

Why should we have to wait until WP10? The unbundling of the app from the OS was supposed to decouple it from OS updates. If that isn't the reality then we're having to put up with this 8.1 app downgrade for no reason at all.

Create a Music folder on your OneDrive and with an Xbox Music subscription, you can stream the music. I already had a music folder, can see the music on the app but can't listen since I don't have a subscription...

It's good to see that people love Xbox music app

I call it as xbox music crap

I actually do :) I really don't see what all the whining is about. I love it!

You clearly haven't used a well built music store app

You haven't used iTunes on iPhone, I believe.

Who the hell buys music they don't know? If you got free music, its pretty easy to figure out who you own and what you just. Got =/

Such a big company can't even make a decent music player? Where is the Microsoft that had give us decent windows media player?

they did make a decent one, on WP8 and 7 and got rid of it to update the app frequently but they still haven't made it better... I wish they would just kill this and focus on the one they had already, been more than six months and havent gotten it right...

yep ive said this before, leave the old one there, release new one as beta and once its working well then remove the old hub People who are happy to try new stuff can help get the new version right before ruining things for people who just want a music player that works

I can't use it! It's for Windows Phone 8.1 ......my Samsung ATIV S still hasn't gotten the Windows Phone 8.1 update yet! Very disappointed with Samsung! Going to have to wait for MS Lumia 940 "Windows Phone 10"

You don't know how lucky you are

The battery just died on my Lumia 820 running 8.1, so I had to pull my old Lumia 900 (WP7.5) out of the sock drawer and press it back into service. I miss transparent tiles, and Cortana, and the Notification Center, and the tiles feel too big & slow to me - but DAMN, the music player feels nice. Fast, smooth, pretty - the kind of code you really shouldn't just throw in the garbage.

Well the app has been improved over the time, but compared to others, not quite good!
I dunno why they wouldn't keep the native music+videos for non-Xbox music & video countries!
We don't have Xbox services and yet... We need to put up with this uncooked app!

Because with it not native they can update the app periodically without needing to send out an OS update.

But what I miss is the stability n quickness the old one had. Honestly think the old one didn't need any updates on the stability part... Updates with every Gdr would've done good!

I totally agree with you,Xbox music is so slow and laggy on my 520 that I had to stop listening music on my phone

But they are now abandoning it to concentrate on WP10 and it's still not as good as the WP8 version (which in turn is nowhere near the WP7 version). So they've made the experience worse to be able to provide more app updates, but they haven't been able to get it to where it was and now are giving up. Where's the logic in this again?

Seconded..... They should couple it with W10 again when it releases so atleast we'll get fast start up and resume.

Xbox Music
Welcome to shit

Ever since you were with WMP from several years back all the way to here at Windows Central, you've never said anything positive about WP and Microsoft - don't you ever get tired of saying negative things, or as it's really called trolling? You love Android and nothing wrong with that but why do you need to troll WP and Microsoft everywhere?

Can't wait till I can actually enable "ringer" during music playback. Incoming calls playing through the external speaker when I'm on the transit listening to music near full volume is extremely embarrassing. Tired of missing calls just because I want to listen to music and forced to it to vibrate.

But the music and ringer volume are set separately, so there shouldn't be any connection...?

When I'm playing music I hit volume rocker, then the "V" arrow it allows me to turn the "ringer" on and off. No separate controls. Whenever it's set to on my calls and notifications play through external speaker at whatever volume my music is set at.

You must have WP 8 still. 8.1 has split volume controls (unless you've got headphones plugged in)

I have that option but not with headphones plugged in and music playing.

Can anyone please tell me how to uninstall this app? Because ever since i got it to 8.1, I don't get artist picture in the background and its slow... Wish I could get the old music app in w8.... :(

Just go to the app list and press and hold until the drop down menu shows up and then select uninstall

That's the worst thing - you can't uninstall Music like other apps. You're stuck having that POS in there.

This update fixes those issues you just listed.

I would just be thrilled if, when I tap my pinned playlist, it would play the songs in the order I meticulously put them in instead of turning on the shuffle 90% of the time. I mean, really, what's the point of creating an ordered playlist if the songs don't play in the order I want? If I want to shuffle the songs in the list, I'll hit shuffle. I don't need it to shuffle automatically. Getting to the point I just launch Music, select my playlist from there and tap on the first song. Hasn't turned on shuffle play that way...at least not yet. It's the simple things like this that can make this app frustrating to use at times.

Yeah, I think that it defaulting to shuffle is incredibly annoying as well; I only ever use shuffle when running... Being forced to listen to, say, Pink Floyd or Mike Oldfield albums in the wrong order as per default is absurd!

Cant update since cyan.. I dunno what happed..

Try again. Or Store>3 dots>Download>History>Music>Update and its there.

"Microsoft advises that updates to the app will be less frequent now as the team will be working on new features that will be coming to Windows 10." Interesting. I guess we'll be going back to "beta" once again eh? So, two years on WP8 with duplicates, DRM issues, and no syncing. And since the W10 will be "new," y'all start the party all over again. That's Totally Awesome!

Don't understand why so many complaints\ hate for the Music app. I use it every day while cycling and works just fine. Only thing that's been glitchy is album art on the but I generally have phone in my pocket so it's a useless feature to me anyway.

Yeah, I use this app almost everyday (while cycling too), and works great. I think this hate thing has becoming a vicious trend.

Because its cool to hate on Xbox music ;)
I also use it everyday (walking) & its much much better than it was in April.

That's like saying the syphilis I had in April is nothing compared to the gonorrhea case I have come now.

Exactly! If you guys went back to WP8? Trust me...you'd hate it! It lacks SOOO much functionality that the new app has today. I love Xbox Music. And I love the app....works perfect for me, and i have a collection in the cloud of >16,000 songs.

And if you went back to WP7 or Zune then you'd also hate WP8 with a passion.

This. Ever look back at some of the wish list from then? It was like, gapless playback. WP8 added bring back WiFi syncing, fix duplicate issues, and "could we please do better playlist support". WP8.1 is like, "I'm sorry baby, 8 was fine, please take the steaming turd off my phone!"

Not every person is dissatisfied with Xbox Music, but the application doesn't exist in a vacuum. Many people are exposed to multiple OS' and notice areas where Xbox Music is inferior. Expectations vary by the individual, but the number of people asking MS to step up their game is not just a fad, it's feedback they should be heeding. Posted via the Windows Phone Central App for Android

Site down? It can't build playlists, etc. It also duplicated tracks on an album I can't seem to stream.

Please allow users to remove items in the "recent play" list.

That's a great suggestion; not a first priority must-have feature, but it would certainly be nice to remove an album that one added by mistake...

Seems like all Xbox Music updates are patches, instead of upgrades. That shouldn't be the case. The saddest part is that Zune was such a beautiful program. Xbox Music has been a disaster.

I don't know, at the beginning I understood all the b*itching about the app. But now that it seems fine I don't get it. -_- App seems to work just fine for what it was designed for. Seems like complaining for heck of complaining at this point to me.

It's quite clear that for some users, many issues remain. I've picked up a Windows Phone this morning and put the update on. The following major functionality issues are still there: 99% of album art (that was there before the update!!!) now not showing. The static noise between tracks remains. Playlists duplicated (again). Resuming time still sucks. Recently Played list contains tracks that have since been deleted. Tracks previously listed under one album now displayed as being part of two, identically-named albums. And no, it's not a tagging issue.

Although Xbox Music works just fine, but fine isn't what we're settling for. It lags significantly on startup time compared to music+video Hub in WP8. That's a fact that you can't deny.

Can't download music over Wi-Fi, only on cellular plan. Unable to sign to XBox Live also...

I remember when launching the Music Hub was instantaneous, oh those were the days. Do the app developers try out there apps on the phones and are they happy with the performance? I think that we are all in agreement that this music player is a downgrade from what we once had. Just out of curiosity are the iOS and Android default music players tied into the OS or are they separate apps?

iOS is tied into the OS, Android is separated I believe

What about xbox video app. It has rich feature capabilities but, not drawing attentions. Please make Xbox video and music as an identical native hubs for music and videos.

Video app sucks unless all your movies and tv shows were bought directly from Xbox Video. Your own personal library is a giant mass need of files with no rhyme or reason. Ask your movies, all your tv shows thrown in one pile. Shows aren't delegated from other shows. Third party apps created in someone's basement, go and collect info for each movie and show and use it to look beautiful. Not the Xbox Video app though put out by a billion dollar company.

When i had an iPod video (5g) i could select all my music videos and click "music video", all my movies and select "movies" and so on... So you just keep on lying... It's not gonna work.

Exactly...itunes allows you to organize your videos into music videos, tv shows, and movies and is actually uses DVD and movie covers and has slowly started using backdrops...we just get a giant pile of sh't.

I still remember back during the WP7 days when Joe Belfiore said that Windows Phones were technically Zune devices. WP7.5 was probably the best point for music, and it's never been the same since...

Joe needs to go. This thing has gotten worse and worse under his watch and he just keeps smiling.

lmao Idk why the he just keeps smiling part made me laugh so much but what you said is true

I've been thinking that...certainly needs to be some new blood directing this thing. Something -- they make a show of listening to their users but the reality seems different.

I just don't understand how he can still be in charge. There's not one perceivable metric I can think of that indicates there isn't a major problem at the helm. The ongoing debacle with getting a simple music player application working on their own platform is surely very telling about executive performance.

Totally agree. Much of my beef with WP8+ is with locally stored collections, syncing and music management, as described here:
http://xboxmusic.uservoice.com/forums/209733-xbox-music-suggestion-box/s...

And when the app will open faster?

iam unable to view my xobox music insted only music i have

Seems to run much better on my 920. No audio clicks and smoother.

Microsoft advises that updates to the app will be less frequent now as the team will be working on new features that will be coming to Windows 10.

Or to put it another way, they've given up on it. So to recap: 1) Take lovely working app 2) Separate it from OS to make it "better" 3) Completely screw app for most users so that even the most basic functionality of a music player is broken 4) Fail to fix app in any major way despite half a dozen updates over many months 5) Run away Well done team! Bonuses all round I hope!

"runaway" is about as accurate as it gets. They should have been fired before the "runaway"

First why don't they fix that buggy piece of shit make it music + videos again or collaborate with music hub tile
Huh ( annoyed windows phone user)

Fired it up out of curiosity. Way-hey! All my playlists duplicated again. Glad it's not my music device.

Yeah, I think most here are just crying and moaning just because that has become the thing to do here for some reason. smh The app isn't perfect but it plays my music just fine.

If it: Didn't regularly crash requiring a soft reset Respected ID3 tags Played music without a "crack" between each track Didn't duplicate playlists Had a responsive UI Could actually sync with a Windows PC (as in two-way playcounts etc) Got weekly updates to address the issues then people might stop crying and moaning.

No crying for me I refused to put up with it. Gave Apple money instead. Now have a half-decent music player. And Apple made 3 other sales from my recommendations too. And just because MS can't get a music playing app to, well, play music. It's MS that should be crying.

​Exactly! What fanboys do not understand is that things do not work, and do not get fixed.... people move somewhere else.

So, yes you're still crying over a music app. Man, you must have a lousy live. Anyway, americans and apple are a diffirent breed for us non-americanos.

Life's great. Even better now I don't have to put up with Xbox Music app to enjoy my music. That's my point, people don't have to put up with substandard software. They can use their consumer power to get a refund (where local laws allow), get a better music experience and move on. As I, in my non-american country, have done.

If you have moved on then why are you here?

I like Windows Phone. And I like music. Why are you here? Don't answer that, it's rhetorical. ​ ​ ​ ​

Then you really haven't moved on then have you? How sad for you.

Still shows incorrect artist art/biographies for some artists. Still no option to turn off info syncing from Xbox Music.

To be fair, that's the only thing you can turn on/off in the Settings.

and yet, even with it off, it still does it...

I can't remember the ones I've seen before, but it's still showing Swedish House Mafia's artist picture for Knife Party. http://oi58.tinypic.com/29pddmt.jpg I made a report via the Xbox Music app several months ago when I first noticed it...

Thanks for reporting it then...and now. :) I'll see what I can do.

Correction; I reported it on the Xbox Music app in Windows 8.1, not Phone. Thanks :D

So far this is promising, though it is still re-indexing all my music (roughly 60GB worth) so will give it some time to get settled. In all honesty, I would be able to enjoy using Xbox Music if it weren't for the constant crashing (yet still plays the music but I can't open the app???), misreading ID3 tags, and overall slowness of browsing the artists list. I could even put up with the playlist syncing issues if the damn app just worked! On a side note, I hope the UI is redesigned for Windows (phone) 10. Right now it's just plain ugly and unintuitive.

Mine is still stick on RESUMING screen.. :P

For some reason after this update music runs smooth and fast that's strange...

Just a warning. I updated and all my playlists are gone -__-

Same issue here. Even though they are in my recent plays, when I select them they are empty.

lol I had the opposite problem; I had doubles for all my playlists that I needed to delete...

Just updated. And it really is faster (no joke on that).

My only complaints are not being able to change the track info/tag directly from the app and not putting all the tracks in the same album when it is a compilation. Other than that, it plays my 25go of music just fine from my SD card. No problem whatsoever with album picture... I make sure the tags and pictures are good before uploading to my SD card.

I haven't used this app in months. I use SimPlay, it works very much like the old native app except for the the "Repeat 1" function not being available.

LOL, they're NOW saying that updates will be less-frequent? This was the first update in about 5 weeks, and the app is still a relative turd. If they are basically admitting that they intend to abandon this app to work on Windows 10, then at least update the OS to unhide the original app, then allow us to uninstall these fragmented junk apps.

I dunno. Maybe its cause I don't listen to that much music but what I do I've never had any problems with xbox music and always liked it the way it is and appreciated the updates. Maybe I'm just a text book MS fanboy.

Yeah, if they could fix bug that displays tracks separately even if they have same artist and/or are in the same album, that would be great. Also playing from folders would be nice.

Thanks for the specific feedback, Peter. It's very helpful.

Zero sarcasm. I work on Xbox Music and specific feedback IS very helpful. It makes taking it all in and acting on it much easier. Thanks.

Sounds like an issue with tagging. I had this problem until I cleaned up all my ID3 tags.

Winamp displays them correctly.

Mmm, that's what I mean. They looked fine in Winamp, but the moment I had them in Windows Media Player there would be problems. I recall having problems with capitalisation throwing it off (like for instance System of a Down as opposed to System Of A Down - the capitals would make it screw up in WMP/XBM) and having "artist" tagged but not "album artist" etc. Once my whole library had uniformed capitalisation for each artist and both the album artist/artist tags filled in everything was fine in WMP and XBM. Winamp seems to be less picky about how it organises songs :)

The music-playing ability of Windows 10 phones had better be out of this world if they want any dollars.

Still can't download anything.. Even after talking to Microsoft support for hours... Error code 8000ffff

Hours? And they didn't know Xbox Live is under massive DDoS attack atm?

Still not loading album artwork. This app is such junk!!!

When? And for what music? Your own stuff or tracks you've purchased through the service?

99% of my (previously displayed) artwork has gone too. It's in there, cos all other apps/devices using those files display it just fine. You couldn't make it up.

Microsoft finds it difficult to develop for Windows Phone, what more of third part developers? Going nowhere slowly is what I am feeling.

Still no art flash in background

Something else must be wrong. Art flash is just fine on my Lumia.

Just wish, that we could some how clear the app data on the x box music app, is way too much

Clear the app data? The items in Recent Plays or the files it has saved on the device?

Can anyone tell me is this app support folder play ? If not any alternate app available. ?

Is it just me or is this app finally useable?

Now I want that to get my recent plays to reset. It's irritating that it's on that list even though the song is deleted.

Music experience on Windows phone is so terrible....

Still not showing Cortana launched songs in recent plays.

Well I downloaded the update last week and had none of the apparent problems... spooky!

Nah man. This update only came out today...

maybe, but I've been able to download individual tracks all week with no hassle...

What we need is ability to remove albums from recent plays list!

It would be nice to get gapless playback with Windows 10.

Honestly I don't use it anymore...

My question is the following. If Windows Phone 10 is going to be the same OS as Windows 10, that means that the existing Xbox music app that is available in Windows 8.1 is the one that is going to replace the Xbox music that is available in WP 8.1? (sorry bad English)

But with 10, it will be a single OS. Seeing how much disarray MS is in at the moment, I doubt even they yet know how they'll be sorting out things like XBM across the hardware ranges.

I was waiting for a hugde update today, we had none for a month... But it still sucks. How is it possible

I love how a part of the next page spills out into the right side of the current page. I love how the massive XBOX MUSIC logo (trust me Microsoft with the shoddy overspill from the following page do you really think its wise to advertise that its your app so boldly) turns into OX MUSIC then into XMUSIC with each right swipe

How do you buy single sings? Even with the latest update it's only possible to buy the whole album.

Correction, how do you buy a single song?

I just opened up the app again having restarted the phone, just to see if that kicked the album art into life. Nope. But it has made a further copy of already-triplicated playlists. Guys, this thing is so broken there's no way they can say they're moving on to something else and not feel ashamed. Heck, I'm embarrassed for them. No physical product would be allowed to be shipped/retailed in this state.

Seriously, the app opens faster now.
Except recent played list which comes long after the app is opened.

I seriously loathe this app. It's not working, half of the songs listed in XBM are not even on my phone anymore and cant be played back, playlist control and creation sucks. I wish I could unistall it completely and simply use a decent third party app...

I want to see most recently added to the collection. That would be helpful. That and gapless playback. I keep forgetting with each update I must let my catalog repopulate a bit. Still hard to tell but looks like duplicates are back and lock screen artist is fit and miss.

BTW the random stopping between tracks when playing shuffle and via headphones (not BT) still not fixed. Will it ever?

Updates less frequent from now on?
So that means: They BROKE it, they DIDN'T FIX it and now they're LEAVING it like that?

Pretty much. Last one out turn out the lights. No one expects 100% bug free software. But, as others have said, if MS can't even get the basics of a core-functionality app right on their own platform, how do they expect 3rd party devs to be interested in the platform?

So the broke the native app to build a crappy app supposed to be updated easily through updates, and now they focuses on W10 so they won't update it ? Just bring back the old app for WP8, it will work great for anyone of us !

But for some reason the music tile is it my kids corner, its faded, and I can't remove it. Posted via Windows Phone Central App

The situation with the last update where they removed the ability to buy songs from my phone essentially eliminated the only thing I was still doing with Windows Phone. I am grandfathered in to the 10 songs a month with the Music Pass, so I could quickly identify a song and then buy buy it with my credits. With that feature removed, I started making other plans. Basically, I decided that Microsoft was going to have to win me over with Windows 10 and the device that it comes to T-Mobile on. I am going to hold onto my second line hoping this will happen. I have exactly 7 payments left before my L925 is paid off which means my last opportunity to JUMP to another Windows Phone will happen around June 2015. The first Windows Phone 7 was launched in October of 2011 (I believe). If they haven't got to the point where they know what they need to deliver in a flagship smartphone some 5 years later, I really doubt they ever will. This isn't to say that I am giving up or leaving Windows, I am just saying I will no longer stand still waiting for the perfect Windows Phone as many have faithfully done for Microsoft. This may sound dramatic but it's amazingly very literal: Microsoft reeled me in on the Zune and when I followed Zune all the way to Windows Phone they broke the Zune and have been looping a promise of something better than the Zune coming for half a decade. Like I said before, no more standing still, I am now a moving target. The Galaxy Note 4 is now my 'daily driver' and I plan on buying the Amazon Fire Phone. It is a decently specced phone and most of the bad reviews surround it's price point error which is no longer the case snice it is $199 unlocked now.It's effectively $99 since I am a Prime Member, and the price includes a year of Prime service. When I buy a new Windows Phone, it won't be for a Music app that now just works, it will be for a Music app that is superior to what I have available to me, and Google Play Music is pretty formidable. The fact that I am willing to pay money to keep a line open on the chance that the next big Windows phone will be 'the one' should say that I believe in Windows Phones potential. But I have been paying for my Music Pass for 5 years and when it comes to music, I really think I have been taking better care of Microsoft than Microsoft has been taking care of me.

This is how most of us feel. I'd still never let an Android in my life. My lady uses Android. They're nice for a few months tops and start shitting the bed because in reality they're crap and so is Samsung. That's why their sales are down 40 and they're rushing to slow production since they're pouring money into a fire. Just like all Android buyers do lol. Windows phone, as well as their phones, are superior. Software is updateable. Hardware is essential. Android doesn't have that.

They have almost a billion users for one.

When my Android experiences match what you say of Android I will dump them too. It's just that every Android problem I've ever had can be attributed to the fact that I purchased a cheap device. Even then, my worst complaint was being left behind on updates. I was using Android before I switched to Windows Phone. I allocated Android to tablet use when I did and I enjoyed it there much more than I did on a phone. I have experienced Androids growth. My original Galaxy S Vibrant still works as my alarm clock in the cradle I purchased for it. Slow but still functional using Android apps like YouTube and Play Music. In that same period, Windows has taken many steps backward especially with regards to music. Microsoft had a head start when it came to music as a service and in the years to follow, every other OS has left them still trying to figure out how to deliver basic functions while the competition all have refined identities and UI's. It's a sad state that I no longer wish to suffer in. The next Windows Phone I buy will have to excel as a device AND in its music service. I'm still paying these guys. Snapping Xbox Music to a side of my Surface Pro screen is a highlight of my use of the device, I just wish the app was more functional. I really hope Windows 10 turns things around. Posted via the Windows Phone Central App for Android

This app is more of a mess than I thought.. Will MS every fix this weak point they have? They need to fire the Xbox music dev team lol.

Thats great news!! A few more updates and it will be almost as good as it was 3 years ago.

Thats great news!! A few more updates and it will be almost as good as it was 3 years ago

Application crashing after update

THIS US FUCKIN BS, NO MORE UPDATES? ALL THESES UPDATES DIDN'T BRING ANY FUCKIN FEATURES IT WAS ALL BUG FIXES AND IT'S STILL FUCKED UP. AGAIN, FOR THE ZILLIONITH TIME, TAKE ALL OF THE ZUNE FEATURES, PUT THEM IN XBOX MUSIC AND HIT ENTER YOU STUPID FAILED ABORTIONS OTHERWISE KNOWN AS THE XBOX MUSIC TEAM. IDIOTS. Posted via the Windows Phone Central App for Android

No changes seen still missing artist background

2 years into this Xbox Music debacle, still now way to keep playlist on your computer and on your Windows phone in sync. (Not using the cloud). Album art still a disaster. Nowhere close to the functionality of Zune. The Xbox music team is going to be the team that finally drives me to the iPhone.

hello friends. after the update my xbox music is not opening. I'm unable to play music. when i try to open it then it says "Completing the Update" and then crashes. i tried soft reset but it didn't worked. please help me what should i do???

Still no gapless playback. Elementary technology still absent. Think they're intentionally messing with us, or are they just too untalented to figure out how to write/copy code that has existed for twenty years? And in their own products!

oh really, who will buy when the app doesnt work properly?

I mean, yes its not perfect. But I don't need a lot of fancy crap on an app that plays music. Just playing music to me is enough. It plays the music and it does it well on my phone. So I just don't understand the fuss.

Anyone know how to get the music app to show background images? That's basically the only thing I'm missing. And a recently added list. :p

I switch around several music services. By far Xbox Live is the worst. Limited selection, bad music discovery (basically everything that played I hated), and when I tried to listen to some songs I was told it was not available for streaming but it can be purchased. So what am I paying $10 a month for? Plus the cloud storage ability is very limited. Not sure why people are bringing up iTunes here. Google music is king IMO. I swear everytime I show my android to iphone users its like a bunch of cavemen discovering the invention of fire. Everyone is in awe. Google music has great selection, really good discovery mode, awesome cloud service for your mp3, and now plays videos of the song you are listening to. Unlimited music for $10 a month.

I miss Windows Phone but I'm glad I don't have to deal with this mess anymore for now. Posted via the Windows Phone Central App for Android

After updating my playlists are gone....what the fuck

Anyone faced this issue of playlists just disappeared after the update?

Make it available world wide .....

Just wanted to say, I tried syncing my music with the new update. I still get the duplicated songs. I understand when there are songs from different albums, just not the same song from the same album. Guess I'll give that fire phone a shot. Maybe they'll fix this eventually. But until then having a Windows phone is pointless.

This is great. I was really annoyed when this problem appeared. I even went to an MS store and asked the guy to show me how to do it, because I wasn't 100% sure I wasn't doing something wrong. And then this fix appears! you're welcome. ;-p

I want to punch Xbox music in the face. So frustrating to have to deal with this gimped program, and worse that I pay for it. It is like musical Calvinism.

Is original Xbox music app available in India?