Xbox One X preorders will go live soon, FCC approval complete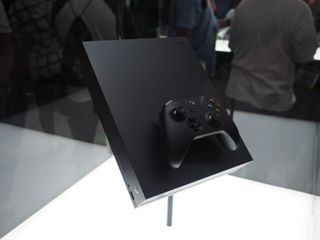 Last month at E3 2017, Microsoft announced the Xbox One X – its upcoming flagship gaming console set to drive 4K gaming in the living room. While at the time both its release date and starting price point were revealed, preorders for the device are still yet to go live. Xbox head, Phil Spencer, has now confirmed it "won't be too much longer" until the Xbox One X is available to purchase, with the Federal Communications Commission (FCC) approval process already complete.
When the Xbox One X was first unveiled, Microsoft clearly stated preorders for the device would be delayed, while awaiting certification from the FCC. The government-owned agency, which regulates digital communications, has now approved the hardware, alleviating a hurdle to bring the Xbox One X to market.
Responding to a fan on Twitter, Phil Spencer confirmed its "plan is set" for delivering Xbox One X preorders, affirming eager fans will soon be able to secure the device ahead of launch.
Our plan is set for this. All approvals are done so now just landing the announce with all the info, won't be too much longer.Our plan is set for this. All approvals are done so now just landing the announce with all the info, won't be too much longer.— Phil Spencer (@XboxP3) July 24, 2017July 24, 2017
Although the statement comes off as relatively vague, we may see preorders going live in the coming weeks. While it's possible the announcement may simply drop with little warning, many are also expecting an announcement at Gamescom, which takes place next month in Germany.
When the Xbox One X is available for preorder, consoles will start at $499 in the United States, with the UK and European pricing set at £449 and €499 respectively. As of right now, only a 1TB model has also been confirmed, though variants with larger hard drives may be offered.
Are you planning to pick up an Xbox One X this fall? Let us know your thoughts on the console in the comments.
A complete list of 'Xbox One X Enhanced' games
Matt Brown is Windows Central's Senior Games Editor, Xbox & PC, at Future. Following over seven years of professional consumer technology and gaming coverage, he's focused on the world of Microsoft's gaming efforts. You can follow him on Twitter @mattjbrown.
Article price correction: £449 in the UK as can be sen on the MS UK store page

Whoops, typo - thanks for the heads up (:

Is there a mail app for xbox?

I haven't seen one, but there's nothing preventing it, and there may be a third party UWP app that runs on the Xbox. The out of the box Windows Mail app runs on PC/Tablet, Mobile, and HoloLens so far.

Anyone know if there will be any trade-in deals? Happy to upgrade my Xbox One to an X but I'm going to need an incentive Microsoft.

Highly unlikely. It will depend on local retailers. Unless you live in the US, in which case Microsoft might do it themselves as per tradition of pandering exclusively to the American market.

They do sponsor trade in deals around the world periodically.

I plan to bring my old xb1 to office XD Or... I could 1) plug it into another monitor in case if my GF wants to use the main TV 2) simply keep it for LAN party...

I won't be as I have one s and am happy with it right now, but I'm not a big gamer and want a Studio before I'd get this. Love what MS is doing though.

I just hope the trade-in deals show up at the same time, I really want to trade my day one xbox one for the X.

I bet the trade-in deals will suck like always. Better sell your XboxOne in private.

I'll wait for the Christmas deals. Or maybe even a bit longer. I hope I can sell my original One for 100€.

Keep in mind when the Xbox One first came out no deals were offered. I remember the Black Friday "deal" at Wal-Mart was simply that they had it in stock, since it was hard to find. It was still full price at $500. Not saying the Xbox One X will surely sell out, but it was the most wishlisted product on Amazon when it was announced, and I doubt they are making as many as they did when the XB1 first launched. Don't expect any deals until at least Amazon Prime day next year, and even then it may be only $50 off at the most.

No problem for me. I'm from Germany. We're a PlayStation county. Xbox is not that popular here. We never had any problems like this. And then there's France where they always have some good deals.

You never know though. With so much more power over PS4 Pro and all 3rd party games potentially looking vastly superior people may migrate.

I suggest to wait if you're in Europe. The XB1 goes out for so cheap over here. Early this year, they were selling XB1 1TB with Forza 6 or Rise of tomb raider for less than 75€ and these consoles were out less than one and half year back. I feel these xbox sells so badly in Europe that sooner or later retailers are forced to drop the price so soon after launching...

I will get it, but waiting for some trade in at Gamestop

When these pre orders goes live, can I pre order 5?

I'm putting my Xbone in the Master bedroom and XBOX in the basement.

Same thing I'll do!!! but in office XD

I don't know if I'll pre-order, but I'm def gonna get it. Probably going to part with my 360 for the couple bucks Gamestop or Best Buy will give me and hook the X1 up in the bedroom.

Let's get this up and running I have been waiting for over a year to preorder it lets go Phil

I was actually trying to find out this information 12 hours ago... Thanks! Will be putting my order in as soon as its available.

Don't really know whether i'm cashing in on day one or not. i would love to get my hands on a black 2 tb model.

I'm definately Pre-Ordering as soon as it becomes availabe. I upgraded to the world of 4K 2 weeks ago when I finally bit the bullet on a Sony XBR65A1E. Expensive, but one of the best pictures on the market, hands down.

Waiting for the SKUs with larger capacity HDDs.
Windows Central Newsletter
Get the best of Windows Central in in your inbox, every day!
Thank you for signing up to Windows Central. You will receive a verification email shortly.
There was a problem. Please refresh the page and try again.