Xbox One's backwards compatibility now supports multi-disc games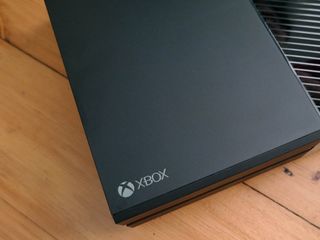 The backwards compatibility feature on the Xbox One now officially supports multi-disc games, Microsoft has confirmed. In fact, this week's addition of Deus Ex: Human Revolution Director's Cut was the first instance of a multi-disc Xbox 360 title making its way to the list of backwards compatible titles.
Responding to a post on Reddit, Xbox's Larry "Major Nelson" Hyrb confirmed the news:
The list of backwards compatible titles has continued to expand at a fairly rapid pace, with multiple titles hitting seemingly every week. Thanks to this latest development, we could see that list grow even larger with multi-disc games like Blue Dragon, Final Fantasy XIII and more.
Do you have any favorite Xbox 360 games that came on multiple discs that you're looking forward to playing again? If so, let us know in the comments!
Dan Thorp-Lancaster is the Editor in Chief for Windows Central. He began working with Windows Central as a news writer in 2014 and is obsessed with tech of all sorts. You can follow Dan on Twitter @DthorpL and Instagram @heyitsdtl. Got a hot tip? Send it to daniel.thorp-lancaster@futurenet.com.
Grrrrr, MAAAAAAAAAAASS EFFEEEEEEEEEEEEEECT!!

Only disk I have left from my old Xbox 360 is Mass Effect 3, hopefully its on the list soon.

Really hoping for Lost Odyssey now. Never got to finish that game and wouldn't mind taking another crack at it.

I second Lost Odyssey. That game was awesome and the writing was simply amazing! Posted via the Windows Central App for Android

I came here to say this. Lost Odyssey was amazing and I regretably sold it before finishing.

Same, I got up to the final area too, just never bothered completing it, very fun game though.

Yep I still have yet to finish the fourth disc

Lol how come so many of you couldn't complete what you started

Lol, I'll throw my hat in the ring... got to disc three and never finished :) And like everyone else, I thought it was a fantastic game, too, lol

Personally, it was the crazy grinding required from the latter part of disc 3 on. One of the achievement sets was to have every unlock for every character, and that takes a lot of fighting. Additionally, at the end of LO there's an optional boss (with achievement) that requires you to be a lot higher level than the final boss. Unfortunately, the best grind location in the game was tuned for the final boss, not the optional boss. Even for a JRPG it's a hell of a grind, but the game was an opus. Mistwalker and Hironobu Sakaguchi knocked it out of the park with this and Blue Dragon (also multi-disc, and hopefully coming to BC).

Yup I remember the end game grind. Worth finishing though!

Nice! The Xbox team has their stuff together and are one of the real champions at MS. Well done.

Despite loosing in sales, Xbox One is the real winner of the generation. So many option for us the gamers available. Lumia 640 XL

Yes!! Posted via the Windows Central App for Android

I sure hope so. Hand's down my favourite x360 along with Mirror's edge. Would've loved a remastered version with improved draw distance etc but I know that's pretty unlikely. Fingers crossed it'll happen around the same time as Red Dead Redemption

There are so any as near the end if the 360's life is when we started to see it more and more. One I can think off the top of my head would be Max Payne 3. Loved that game and think it has some of the best third person shooting mechanics.

Please bring back Tom Clancy's Splinter Cell. All of them.

+1 Really feels like rogue agent should've been on Xbox One.

Mass Effect 3!!!! Better yet, mass effect trilogy.

It's happening. Lost Odyssey, Blue Dragon and more. Think of all the possibilities. Next they'll tell us original XBOX games are coming with Shenmue 2 as a flagship game.

I would love to play Panzer Dragoon Orta and the Xbox Conker on Xbox One. Here's hoping!

Enchanted arms!!!! Halo reach , halo reach!!

Didn't they release Halo Reach as DLC for the MCC already? God told me to say that.

Yup. Its already supported.

I said nothing to you my child.

Halo ODST was added as part of MCC. Reach is"only" BC title.

Lost odyssey!!!!! Posted from Windows Central for Windows 10

lost odyssey please , but the game isn't even available through the xbox 360 digital store i wonder if this even possible Posted via the Windows Central App for Android

Mass effect 2 & 3!! Dragon age 1 & it's expansion pleeease!!

Make that Forza 2, 3, 4 and Horizon.

With their additional discs

I would be all over Forza Horizon. Here's hoping!

Assassin's Creed 3, anyone? I would love to replay that one.

W10 MOBILE FOR AT&T ......WHERE IS IT FOR 1520......??

How does this relate to xbox gaming?

AT&T will wait until the final hour to release the update as always in hopes that you will buy a newer phone. I got tired and just went on the Insider program and update through the release ring. It works and I'm able to get OTA updates now that my phone is on 10. That said, this isn't really the right article to ask that.

Stop Activision from milking everyone with the COD Games. I'm still waiting for them to support the dlc for AW ON 360

Final fantasy I wanna play

Have they figured out xbla compilation discs yet

I've installed Deus Ex Human Revolution Directors Cut and only Disc One installs but the download file is nearly 13GB, so I'm assuming it's both discs content running from the nearly 13GB install. As the standard Deus Ex Human Revolution is under 7GB on backwards compatibility.

Battlefield 3 and I can check that quest off my list. Posted from Windows Tactical Neural Implant for Windows 10

Star Ocean and Lost Odyssey, the One seriously needs some JRPGs. Wouldn't mind Magna Carta 2 as well.

We do have Edge of Eternity and Star Trek Online on the way, at least. But more RPGs is always better.

I've been following Edge of Eternity but not sure when it's coming out. Star Trek is a nice addition though.

Mw2 and where is bo1 that tjey promised in january Posted via the Windows Central App for Android

Final Fantasy XIII please! It's the main reason I don't let my brothers sell my X360. Sent from my Lumia 830 on Windows 10 Mobile Insider Preview

I'm rooting for that one too. I've always meant to go back and finish it someday.

It was a very rewarding game. I'm very glad I listened to it's overall ratings instead of the people who swear FFXIII was the death of FF, RPGs and gaming all at once.

The writing is pretty bad and boy is the game linear until you reach the end, but I can't help loving the actual gameplay and upgrade system.

I still haven't seen Tales of Vesperia... ):

I'd like to see that too. Never finished that one, but I always wanted to see if any part of the cast became well developed and less... flat.

Mass Effect 2 & 3, but especially Mass Effect 3. I'd like to be able to play Mass Effect Multiplayer on the Xbox One.

Fallout 3 Game of the Year Edition. I would hate to have to buy the dlc all over again.

I'm tired of the press releases when it comes to backwards compatability. I'm a Xbox One owner, NONE of the games we really want to play from the Xbox 360 are availible, NONE of them. We've been patient, but releases 2 games every 2 months isn't backwards compatability. Microsoft needs to stop the BS and get serious.

Given the obvious interest in backwards compatibility and the fact that 8+ games have become compatible in the last month, you must be incorrect. Your own tastes might not include downloadable games (which is a shame), but that doesn't mean nobody likes or plays them. And clearly this news means that the path has been opened for more retail titles to become compatible anyway.

To be fair, they have been steadily releasing a list of games, but I have a bunch of games that I don't see the developers/publishers deciding its worth their effort to test their performance on the Xbox One. I highly doubt EA will make any of their Need for Speed titles available. I don't see Rage or some of the other ID titles that were belittled by critics to be published. I don't see Project Gotham where the teams are essentially gone elsewhere. I know that we are supposed to look forward to everything new, but I ended up getting a 360 secondhand for almost nothing because I'm done waiting for titles to come out. I do hope eventually they create a blanket emulator to cover the rest of the 360 disc titles in the end as they have only scratched the surface to date. Posted via the Windows Central App for Android

F*** Yeah! Blue Dragon here I come!

Ohh there are so many I'd like to see... Mass Effect 2, RAGE, LA Noire being some of the multidiscs I'd like to see return. I'm still waiting for more of the others, Skyrim, Oblivion, Splinter Cell's (any and all), and that elusive Red Dead Redemption we were promised at the commencement of the BC releases. Bring them on!

This is really a good thing form Xbox tho!

Looking forward to see Red Dead Redeption GOTY on Xbox One :D

How GTA IV and episodes of liberty city äs well.☺ Posted Via Win Central App for Win 10.
Posted from my Lumina 950 on AT&T.
Windows Central Newsletter
Get the best of Windows Central in in your inbox, every day!
Thank you for signing up to Windows Central. You will receive a verification email shortly.
There was a problem. Please refresh the page and try again.