Xbox, PlayStation leaders set console-war tensions aside during pandemic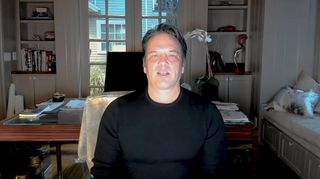 (Image credit: Microsoft)
What you need to know
Microsoft recently hosted an Inside Xbox show from home.
Sony's Shuhei Yoshida congratulated Xbox's Phil Spencer on pulling off the show and launching Xbox Game Pass in Japan.
Spencer hoped that PlayStation employees were working from home and staying safe.
This is in direct contrast to what happened in 2013 when Yoshida mocked the digital-only policy and the lack of 1080p games on Xbox One.
Recently, Microsoft hosted an Inside Xbox show from home. The event had a number of amazing announcements, and we got a look at a lot of titles like the upcoming Grounded. However, what happened after is the focus here.
Sony's Shuhei Yoshida, who's now working on improving relationships with indie developers, congratulated Xbox head Phil Spencer for launching Xbox Game Pass in Japan and the Inside Xbox show.
Thanks Phil, the same to you and the team Xbox. The recent Inside Xbox was very nice, recorded from home.Thanks Phil, the same to you and the team Xbox. The recent Inside Xbox was very nice, recorded from home.— Shuhei Yoshida (@yosp) April 8, 2020April 8, 2020
Spencer replied by wishing the PlayStation team well and hoped that they were staying safe. Usually, Yoshida is known for taking digs at Xbox. This was quite common when the Xbox One was revealed. Everyone remembers the infamous "game sharing" video as well as the comments on how "1080p makes you a better gamer."
It's nice to see a cordial interaction. Let's hope that once the Xbox Series X and PlayStation 5 launch, it continues.
Play more games
(opens in new tab)
Play for a few months

Xbox Game Pass gives you access to over 200 games for one monthly fee. Xbox Game Pass Ultimate also adds Xbox Live Gold to the package so you can play online with your friends.
Asher Madan handles gaming news for Windows Central. Before joining Windows Central in 2017, Asher worked for a number of different gaming outlets. He has a background in medical science and is passionate about all forms of entertainment, cooking, and antiquing.
This is bs lol.
Don't think for a sec that inside Xbox and the dualsense reveal dropping on the same day just happens to be a coincidence

Sony very well knew what they did But who cares. this whole fake war is the BS part of everything. Grown up men fighting like kids with memes and edited pictures.. Cmon man.

As we all quitely wish he'd just say and you can suck my fat ones Spencer.

Nope, you're wrong. Sony announced the DualSense controller on the same day to counter Microsoft's Inside Xbox. Sony are still doing the whole toxic console war stuff. And they originally had plans to do DRM on PS4, as evident of a DRM patent they filed in January 2013, but did a U-turn after they saw the negative reaction Microsoft were getting. and used that situation to look like the good guys.

If they did that on purpose it was really the wrong one to do it for. This was always going to be about Grounded and Gears Tactics really. The only 2 games left for this Gen we already knew about. I'm not sure they intended to try and out shadow Grounded and Gears Tactics. The latter appealing mainly to the PC gamer as well. Personally I think Sony were already planning on showing it. It just happened to be on Inside Xbox stream as well. Now if Inside Xbox had of shown SERIES X games like Fable reboot or Perfect Dark reboot. No amount of controller would have overshadowed eye watering SERIES X game footage.

Competition is great. And both teams although have the same goals of visual fidelity, actually have differing paths at the moment. Xbox is alot more about ecosystem. And have been designing their Direct X 12 Ultimate APU to control the PC and Xbox space together. Sure Steam is big and Epic want that to. But MS have gone for the underlying API for all gaming on PC and Xbox which will mean PC and Series X development can basically go hand in hand together. Sony have built a console that walls itself off from other devices and even PS4. As PS4 controllers won't work with PS5 games. At least from a charging perspective and a rumble perspective. As opposed to Xbox One controllers having Haptic feedback and triggers since 2013. Xbox is also much further ahead in the cloud gaming sector and Netflix style Ganepass subscription having all first party content on launch for free. As well as big 3rd party games fairly quickly coming to Gamepass. Both companies actually are approaching next Gen differently. What you will find next Gen is game development will be more than likely be first and foremost on Direct X 12 Ultimate and then ported to Sonys API. As there will be more gamers with PC and Xbox Series X than PS5 gamers. Developers were extremely happy at the Direct X day that both PC and Series X development has the same low level API now. Exactly the same.

Sony are slowly becoming a bit more open and that can only be good for gamers in general. Every little bit helps.
Windows Central Newsletter
Thank you for signing up to Windows Central. You will receive a verification email shortly.
There was a problem. Please refresh the page and try again.